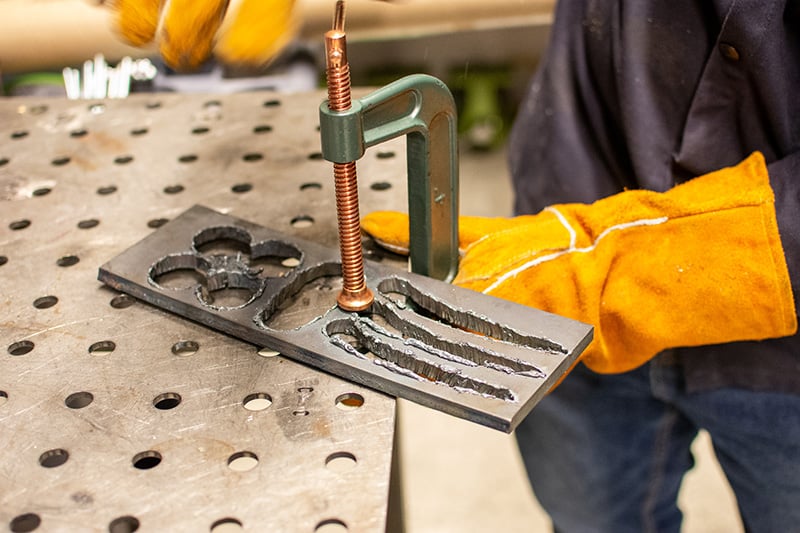 Hot Metals Lab Overview
The mHUB hot metals lab is outfitted with MIG, TIG, and spot welders for high quality welds on various metal parts, in addition to handheld plasma cutters, band saws, and sanders. Training is required for member use of the hot metals lab, and for entrepreneurs looking to shorten the prototyping process or more quickly manufacture their products, opportunities exist to hire fabrication specialists.
20" Disc Sander
3HP Motor
20" Disc

[Hot Metals] General Information
Hot Metals Lab
Welding, grinding, plasma cutting, and torch work.

Cold Saw
4HP Motor
Blade: 12"
Max. Material Thickness: 3"

Handheld Plasma Cutter

Max. Material Thickness: 3/8" Mild Steel

Horizontal Bandsaw
Variable Speed
Max. stock capacity: 5"
Used for cutting thin walled & hollow stock

Kingpin 88 Evenheat Metal Clay Kiln
8"x8"x6"
2000F Deg
Programmable

Magnetic Base Drill
300/450 rpm
2 Speed
Drill Point Pressure 1/2" Steel: 741lbs
Max. Drill Depth: 4 3/8"

MIG Welder
220v. Power
0.35 Wire Spool
Max. Material Thickness: 3/8"

Pedestal Grinder
8" Wheel Diameter
Coarse Wheel
Fine Wheel

Spot Welder
Quickly join sheet metal parts
TIG Welder
Make high quality welds on various metal parts

Tour the Prototyping Lab
Come see the 11 prototyping labs for hardtech product development. Schedule your visit today!