With nearly a thousand people in attendance at the mHUB Five-Year Anniversary and Product Showcase, June 23rd was a day full of activity and engagement which included 50 hardtech demos, 25 startup pitches, 3 panel discussions, a lively keynote, and an afterparty that enabled entrepreneurs, manufacturers, investors, and corporate teams to expand their network while celebrating mHUB's fifth year in operation.

The anniversary celebration kicked off with opening remarks from Haven Allen, co-founder and CEO of mHUB, Melissa Lederer, mHUB's Chief Experience Officer, and Chicago Mayor Lori Lightfoot.

"mHUB has been essential to our city's bout with the pandemic and a key driver in our economic recovery," declared Mayor Lightfoot. "It's an example of the big thinking we need to build a more prosperous and equitable economy."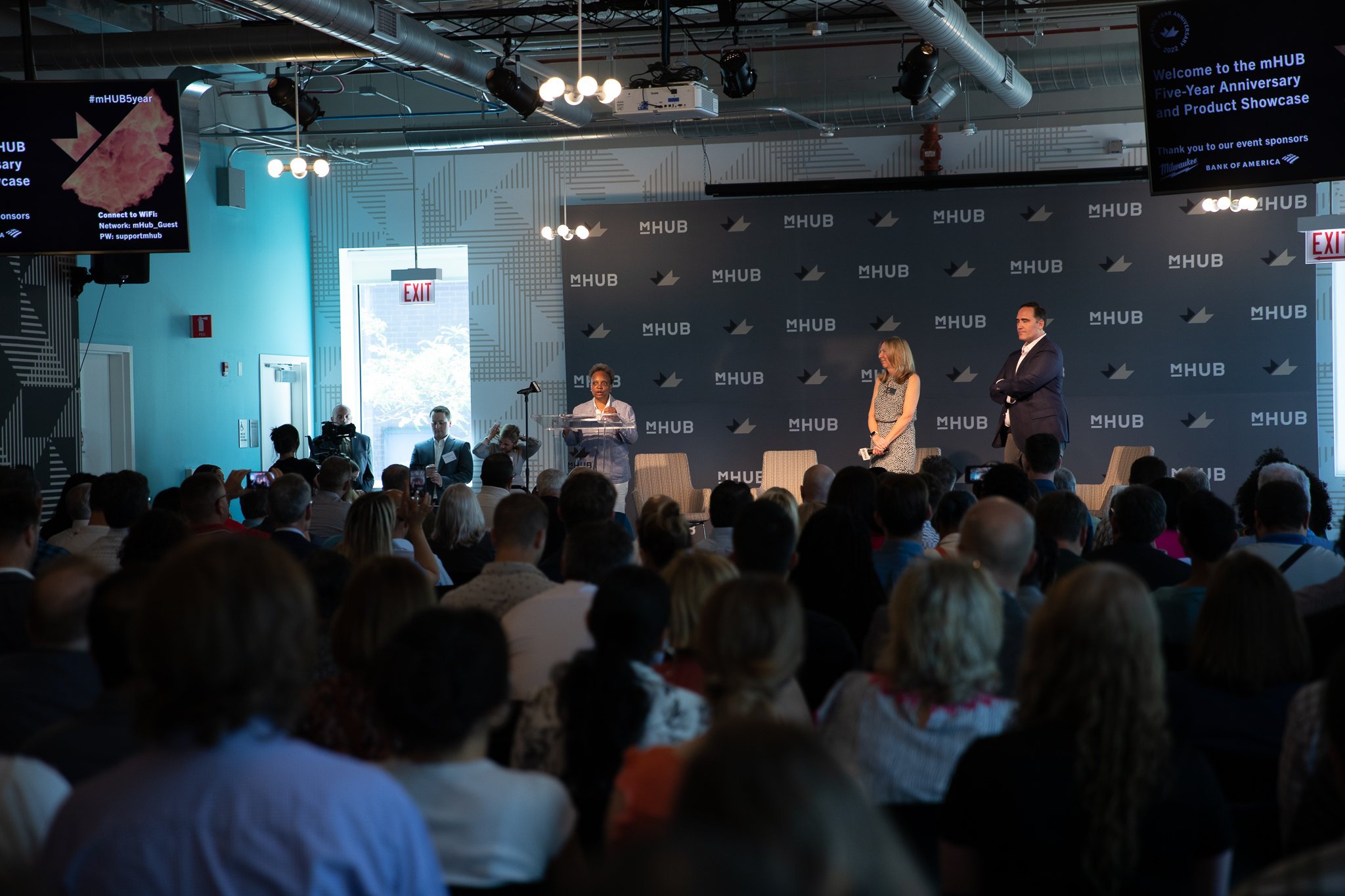 In 2017, World Business Chicago brought the manufacturing industry together with government and the philanthropic community to address the region's anemic industry growth. Through that collaboration and with all private funding, mHUB was born - a resource accessible to all Chicagoans focused on building a physical product or manufactured goods-based business.

"The results have included attracting over $1.3B in investment and the creation of approximately 4,000 jobs," states Allen. "With the Product Impact Fund and the wider investor community, mHUB is making investments at a rate 6.5X the national average when it comes to deploying capital to under-represented founders."

"To build a more prosperous and equitable Chicago requires intentional collaboration and all of us to engage and focus on building and activating community," says Lederer. "Measuring and celebrating impact is essential to tracking progress and building momentum. Every startup in this community, all 450 plus, are driving incredible impact that's going to continue paying dividends for generations. They've generated 450 patents, created jobs, grown our economy by attracting investment, and have already generated over $780M in revenue."

The mHUB Five-Year Anniversary and Product Showcase presented an opportunity to celebrate major accomplishments and share with the general public how mHUB is leveraging its hardtech innovation programs to be a national leader in advanced manufacturing, medical technology, and climate and energy solutions while building the most equitable, diverse, and inclusive entrepreneurial ecosystem.

The first panel discussion focused on fostering equitable and sustainable impact through entrepreneurship. Moderated by Nicole Wolter, President & CEO of HM Manufacturing Inc., the panel included Darren Riley, CEO & Co-Founder of JustAir Solutions, Juan Salgado, Chancellor of the City Colleges of Chicago, and Jeannette P. Tamayo, J.D., Associate Vice President, Office of the Vice-President for Economic Development and Innovation at the University of Illinois.

"Being able to generate jobs within a community is an opportunity to regain production capacity," said Tamayo. "We must allow ideas to flourish in a way that creates economic value."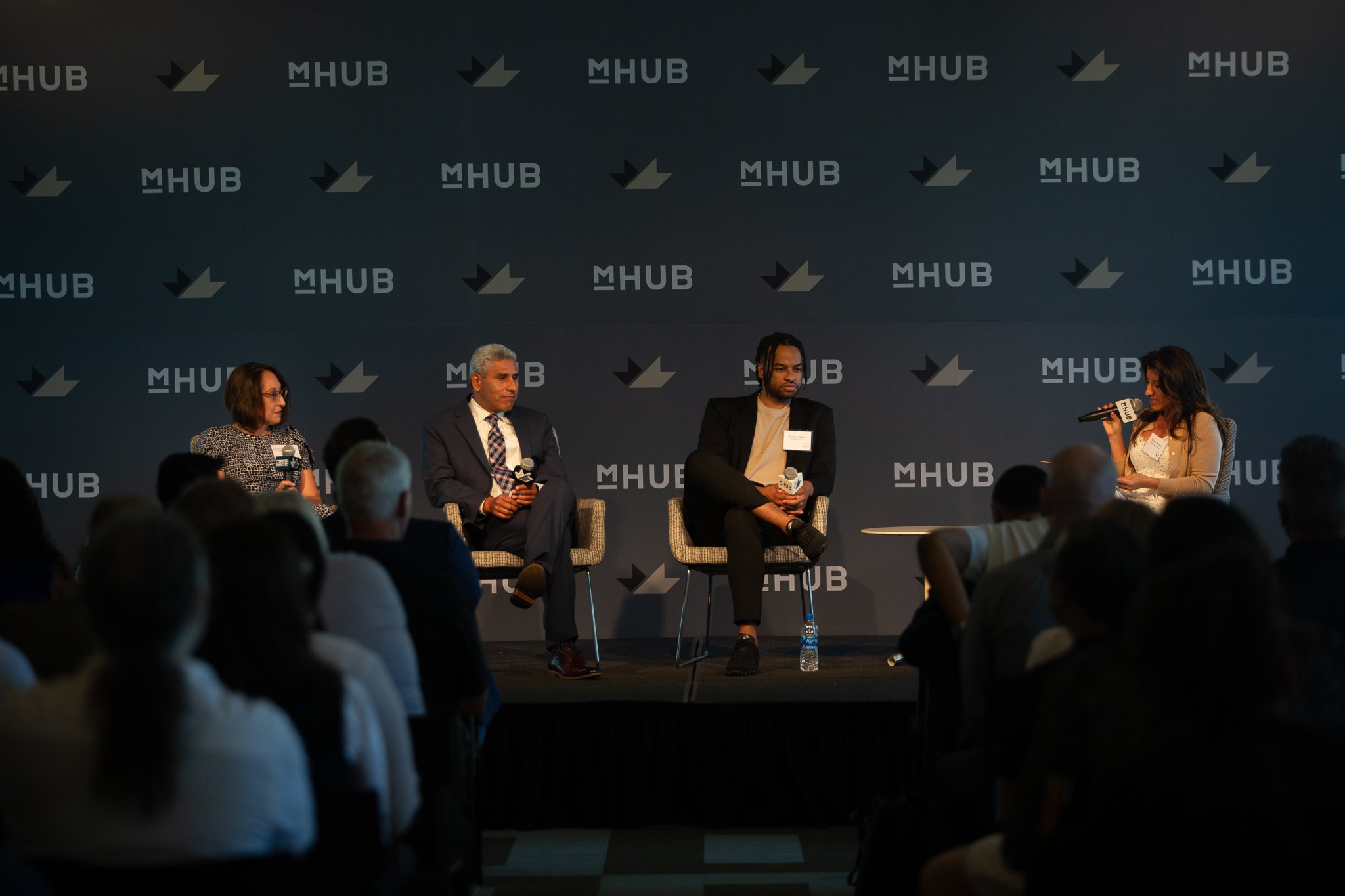 While the conversation continued on the main stage, climate and energy tech startups pitched their innovative products in another area of mHUB's 65,000 sq. ft. innovation center during a session sponsored by Bank of America. Nana Arkouful, Founder of Arke Global, introduced their conversion kit for transforming bicycles to e-bikes. Dante Vaisbort, Co-founder of Haylon Technologies, showcased a pilot drone battery pack. Sophia Wennstedt, CEO of Blip Energy, and Mark Anderson, CEO & Founder of Icarus RT Inc., also pitched their disruptive hardtech in addition to fellow mHUB Accelerator program participants, Bert Wank, Founder of InfiniRel Corporation, Sanza T. Kazadi, PhD., CEO & Founder of Kazadi Enterprises, Oluwaseyi Olaleye, CEO & Founder of Organic Harvest Digital, and Michael Willemot, COO of OXTO Energy Storage.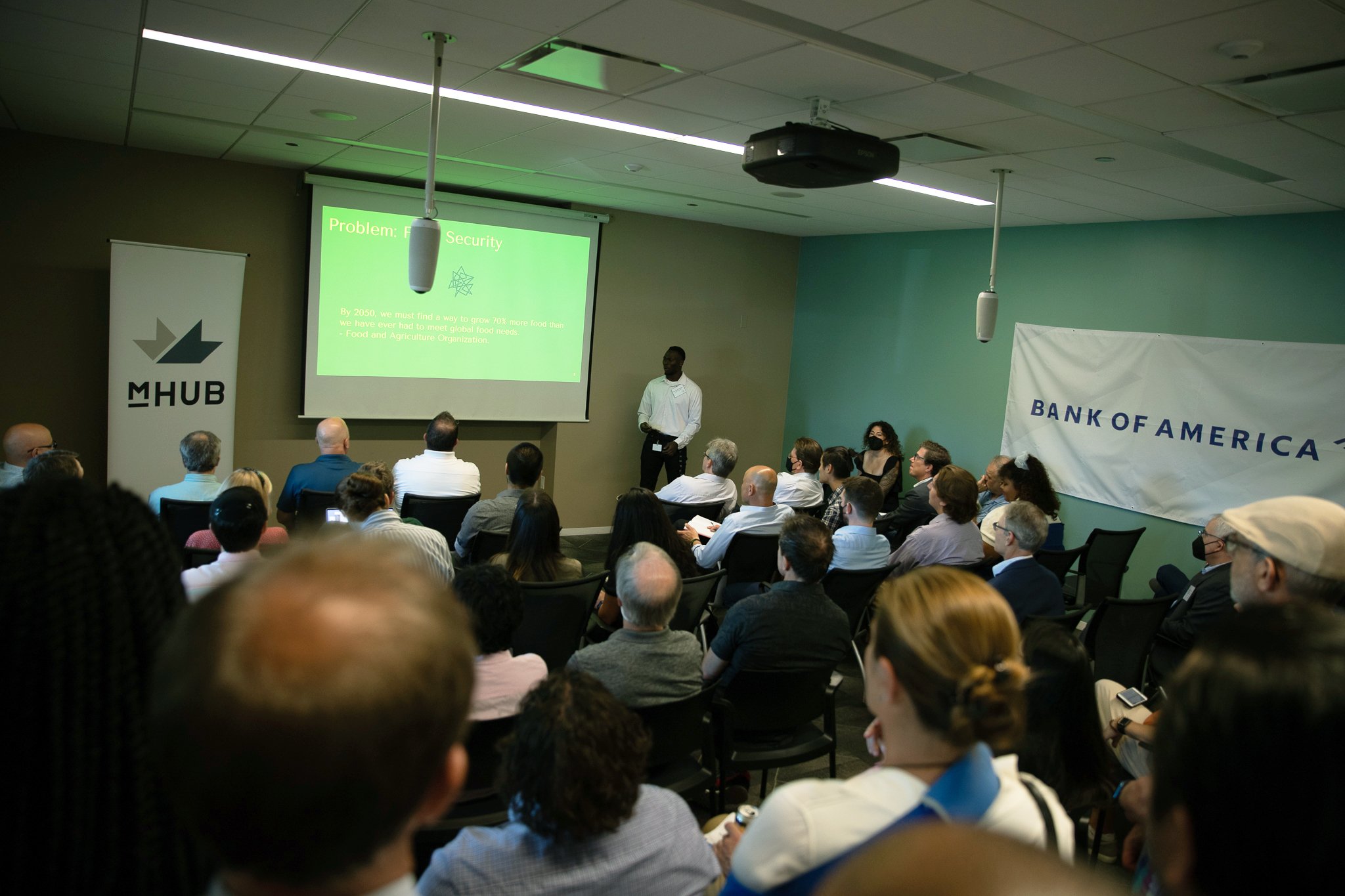 The second panel discussion, moderated by Kevin Willer, Partner at Chicago Ventures and mHUB Chair of the Board, was a thought-provoking conversation around growing the hardtech venture community around humanity-centered technologies. When asked what they were most excited about, panelist Thru Shivakumar, CEO and Co-Founder of cohesion, responded "ClimateTech! We're a resilient region with water and energy stability plus a phenomenal startup community." Nancy Sullivan, CEO and Managing Director at Illinois Ventures, replied "AgTech! Innovation is moving fast in this area." Joey Mak, Executive Director of Chicago:Blend added "Food & Packaged Goods" while Corey Ryan, Managing Director & Partner at William Blair, talked about automation and the status of investment in this area.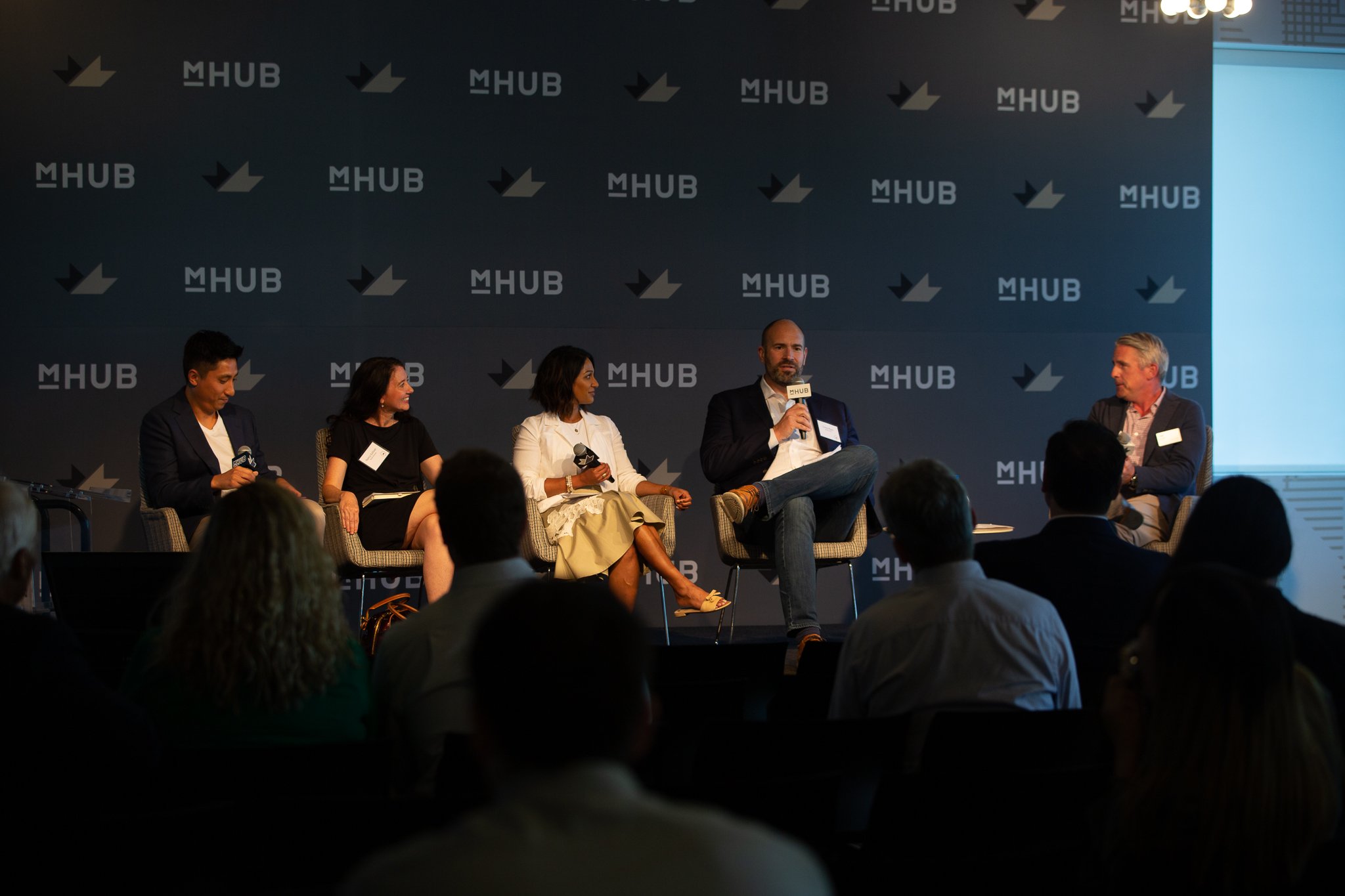 Simultaneously, startup pitches continued to experience an overflow of audience participants for its MedTech focused session as Charlie Erdman, Co-founder & Industrial Designer of AION Prosthetics, unveiled a mobility device; Sumeet Dagar, CEO of Bionode, demonstrated hardtech designed for glaucoma patients; Alyssa Bailey, Director of Product Development with Innoblative, introduced next-gen surgical solutions; Geoff Hutchins, Director of Engineering at IntuiTap, discussed a novel device for diagnostic and therapeutic spinal punctures; Sybil Berry, Founder of Lemonaid, shared her sporty, sleek and chic-looking mobility devices; Sona Shah, CEO & Co-founder of Neopenda, showcased their 4-in-1 wearable vital signs monitor; John Ralston, CEO & Founder of Neursantys, presented their accelerated prototyping; and James Balman, Founder of Walela, demonstrated technology for continuous fetal pH monitoring.
While panel discussions were being held on the main stage and startup pitches were being presented in the large classrooms, mHUB members in the co-working space shared news of their companies, products, and value proposition, while other mHUB members conducted live product demonstrations in the prototyping lab.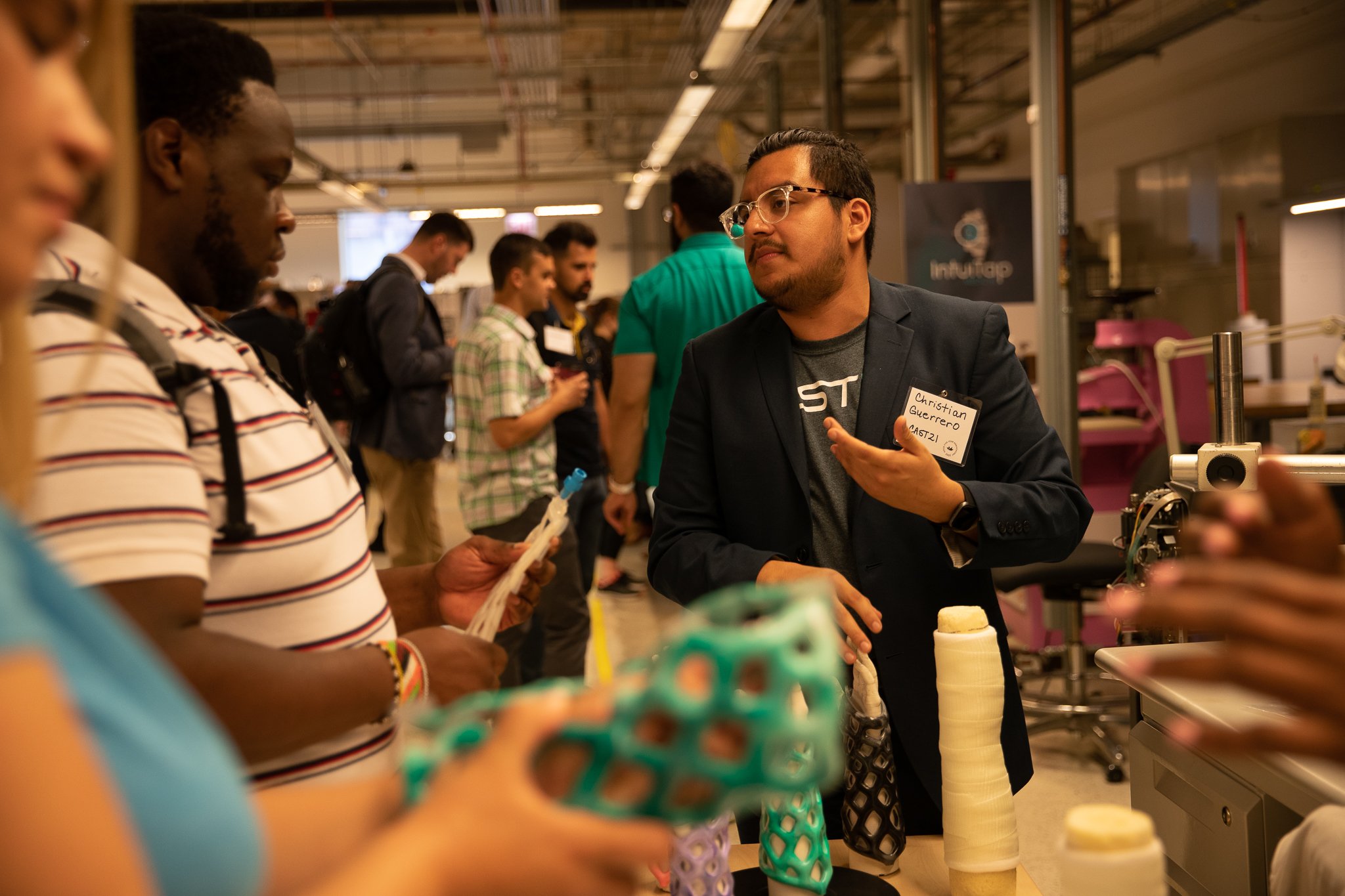 The third panel discussion on energy infrastructure and advanced energy storage to drive the cleantech revolution was moderated by Garry Cooper, CEO and Co-Founder of Rheaply, who acknowledged "the green transition has to be multicolored." Panelist Shashank Sane, EVP, Transmission at Invenergy, remarked "The electric grid is evolving tremendously and the technology that got us through the last ten years won't get us through the next ten years." James E. Fritz, Senior Advisor & Commercialization Executive at the Office of Technology Transitions with the U.S. Department of Energy, stated "there are significant technologies coming online, driving grid requirements, and there are things we can do to advance the tech space." Carrie Zalewski, Chairman of the Illinois Commerce Commission, shared that as a regulator she works to remove barriers to access while Megan Clifford, Associate Laboratory Director of Argonne National Laboratory, commented on grid modernization and the potential from the Build Back Better Regional Challenge to further make a once-in-a-generation investment in rapidly scaling Illinois' energy infrastructure and advanced energy storage clusters.


During the smart manufacturing pitch sessions, Anil Uzengi, Co-founder & CEO of Stroma Vision, showcased their edge processing devices and computer vision models that prevent accidents in industrial settings. Craig Rupp, Founder & CEO of Sabanto, talked about how they're addressing the #sustainability problem in agriculture by using more efficient automated machines to perform field operations. Alex Ocampo, Founder of Ganance, Max Antonenko, CEO & Founder of Ant Robotics, and Paul Couston, Co-founder & CEO of Ascent Integrated Tech, also pitched in addition to Krystian Gebis, Founder of Autobon AI, Christopher Autry, CEO of Iothic, and Tom Xinyuan Zhang, Co-Founder & CEO of Zenblen.

mHUB was honored to have many corporate and community partners in attendance at the day-long event, including The Landis Family who supports the fellowship program for hardtech engineering and entrepreneurship, representatives from Milwaukee Tool, which also sponsored the event, and other mHUB industry partners including Marmon, Omron, Avnet, Baxter, and Comcast, to name a few.

Participants who stayed into the late afternoon witnessed a lively keynote, which featured Michon Ellis, CEO of CLOUT and Charlie Bachtell, Founder and CEO of Cresco Labs, a leader in the emerging cannabis market. Bachtell shed light on the company's explosive growth, offering some historic context for how his background working in the mortgage industry post-recession provided vast experience navigating hyper-regulated industries. With no prediction on federal regulation, Bachtell discussed the importance of normalizing cannabis as you would any other CPG product to reach consumers who might benefit most but have some hesitancy. Bachtell and Ellis touched on how to make the industry more sustainable and equitable, and the Q&A ventured into territory such as cannabis in the Metaverse. Cresco Labs was recently named the #4 fastest growing company in Chicago by Crain's. Of that list, 10% of the fastest growing companies are cannabis related.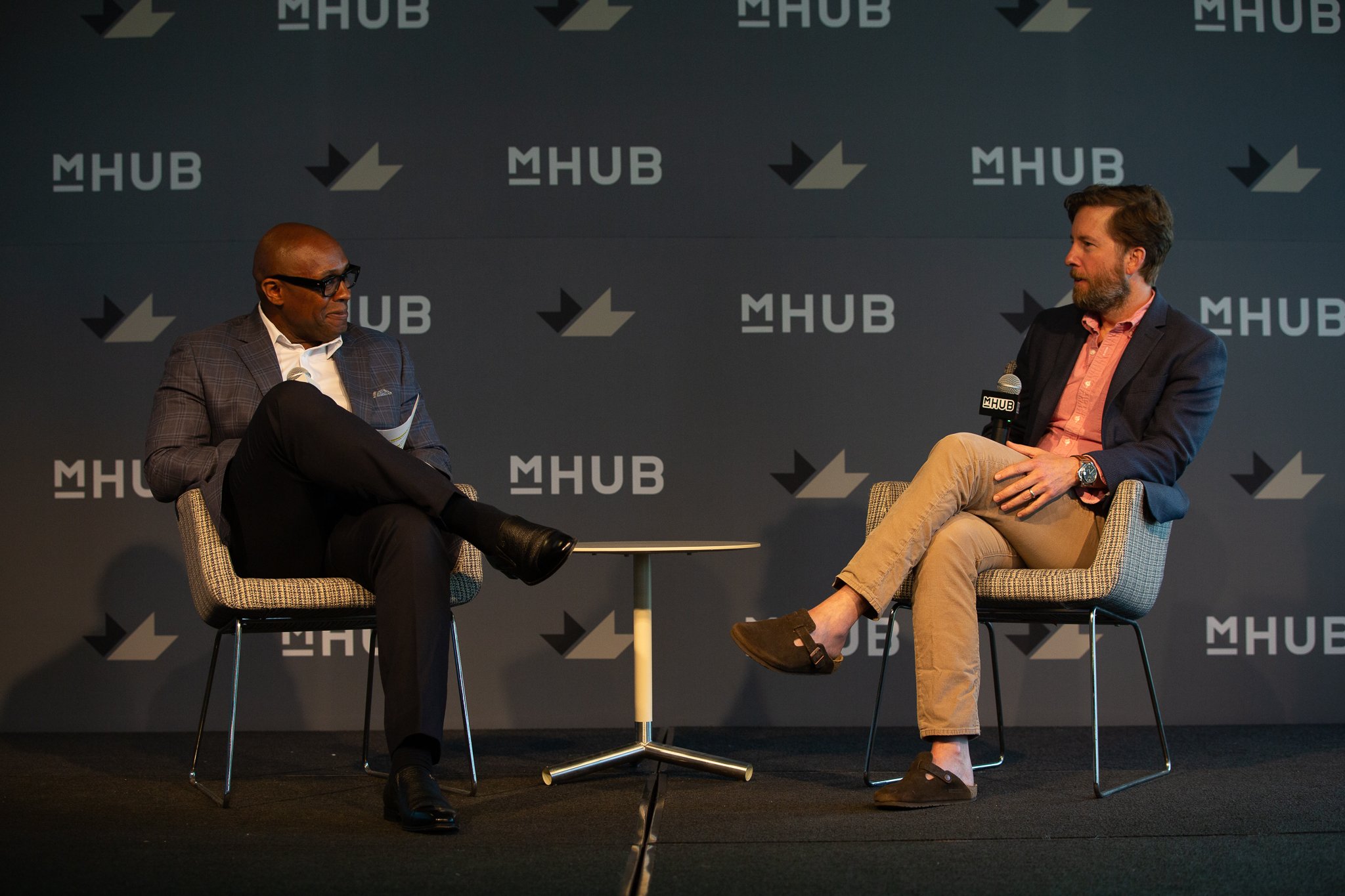 mHUB was honored to have Cook County Board President Toni Preckwinkle give closing remarks, with the crowd filling the main event space and video live-streaming into the shared co-working space to accommodate for the overflow of attendees.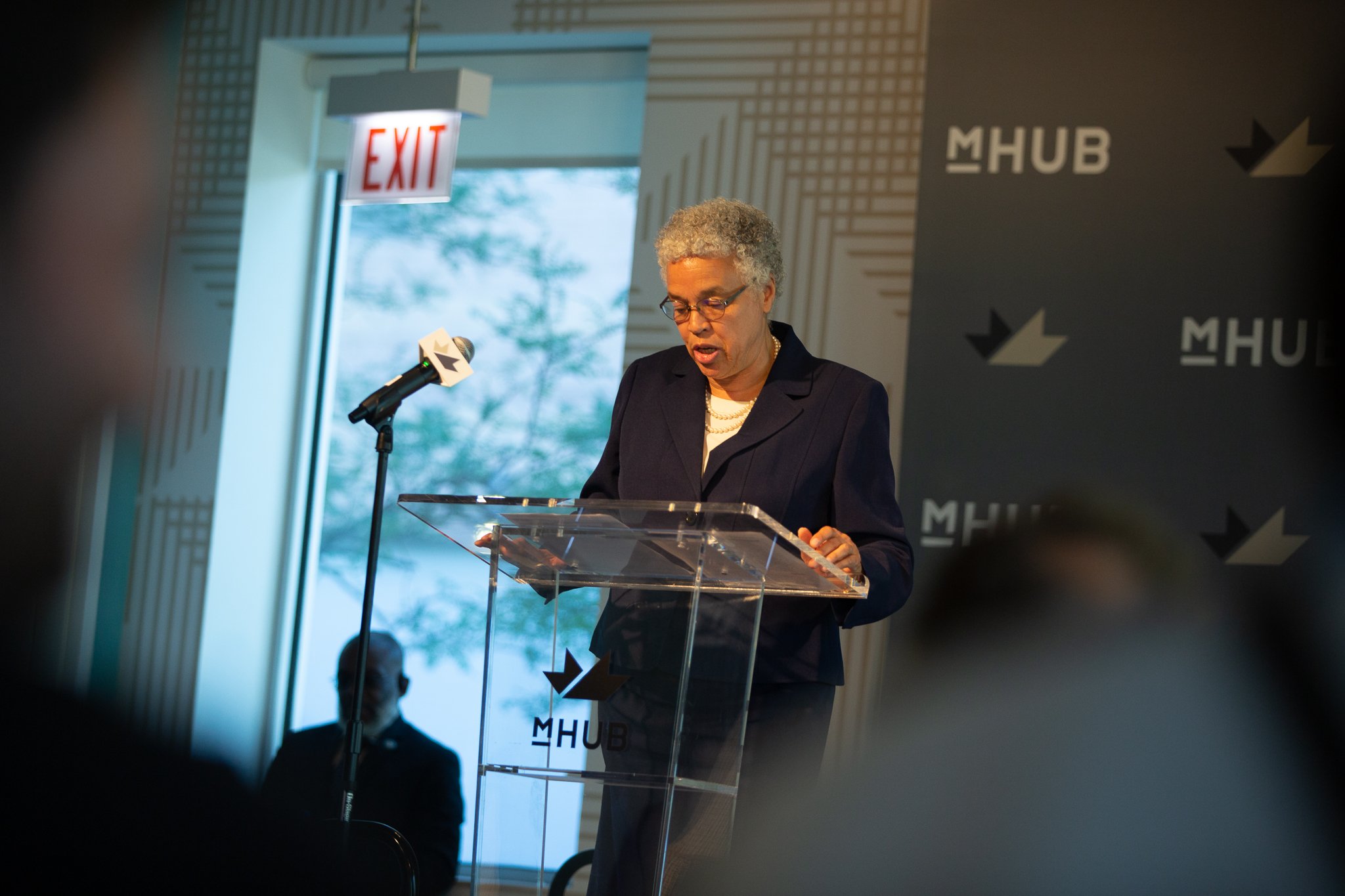 The evening moved into an after-party reception that included live music from Chicago band Verzatile and concluded with team photos by a display created at the mHUB innovation center by mHUB members Lional Rivero, and her amazing team!