FOR IMMEDIATE RELEASE
Press Contact:
Kim Blomquist
872.222.5279
kim@mhubchicago.com
mHUB Innovation Center Closes $15M Venture Fund for Early-Stage HardTech and Physical Product Startups
mHUB has raised over $15M for its Product Impact Fund I, which invests in hardtech startups focused on climate and energy, medical devices, and smart manufacturing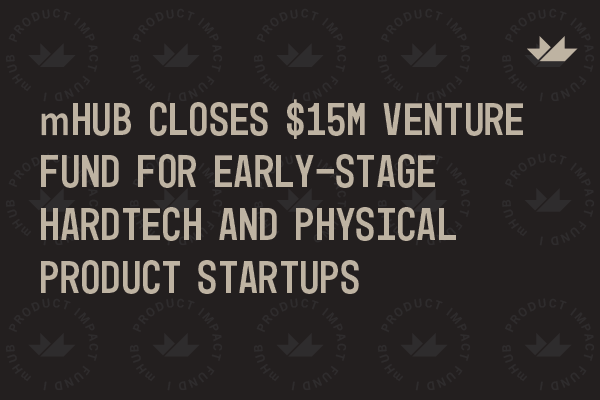 (CHICAGO September, 7 2022) – mHUB, a leading independent hardtech and manufacturing innovation center, announces the closing of its $15M mHUB Product Impact Fund I, LP (the "mHUB Product Impact Fund"). The fund was raised across 79 limited partners, mainly individual investors and some institutions. The mHUB Product Impact Fund is currently investing in seed and early-stage hardtech companies accepted into the six-month mHUB accelerator program and has constructed half its portfolio with 26 investments to date.
"Hardtech development is capital intensive. The barriers to entry are high, which is why we've seen the list of unicorns grow in software over the last three decades," said Steve Koch, Managing Director, Bowline Group and managing partner of the fund. "This fund, along with the unparalleled resources at mHUB, is changing that and provides some of the earliest backing hardtech companies need to prototype for manufacturability and get to commercial production faster."
The mHUB Product Impact Fund attracted a group of limited partners interested in the reemergence of hardtech solutions to solve some of the world's biggest challenges in areas such as climate, energy, advanced manufacturing, and healthcare. They recognize that through the Midwest's manufacturing legacy, unique access to established U.S. supply chains, diversified economy of potential customers, and incredible engineering talent, a fertile ground is created for scaling hardtech and hardware startups.
"Through this first fund, we were able to bring together 79 titans of industry to build a hardtech entrepreneurial ecosystem and provide the essential risk capital needed for hardtech startups to scale," said Haven Allen, Co-Founder and CEO, mHUB, and managing partner of the fund. "Bringing in the right group of strategic limited partners has created a network effect that benefits both the limited partners and portfolio companies."
Since launching the fund in 2020, mHUB has witnessed a renewed and increased interest in technologies impacting humanity. The funding gap between software and hardtech technologies is beginning to narrow as the pandemic and its effects have ushered in a new sense of urgency around healthcare, climate, and supply chains. This has resulted in a hardtech renaissance where public and private entities are coming together to lower costs and barriers for hardtech founders. This includes more capital, with notable investors taking a newfound look at the upside and imperative of hardtech solutions.
The fund's current portfolio has companies developing solutions from carbon capture and thermal cooling to sepsis diagnostics and devices for remote monitoring of drug delivery. In just a year and a half, startups in the portfolio are collectively looking to raise nearly $45M over the next year. They've also received significant support and investment from leading technology companies like Baxter, Panduit, Invenergy, Avnet, and Southern Company.
In addition to impacting the outcomes of global, pervasive challenges, the fund is taking a head-on approach to identifying demand-driven technologies at startups with founders typically underrepresented in tech. Of its current 26 portfolio companies, 30% have underrepresented founders, 15% have Black or Latino founders, and 23% have women founders.
"The Product Impact Fund not only focuses on the challenges identified by industry, it's also asking how these problems can be solved in an equitable way," said Melissa Lederer, Chief Experience Officer, mHUB, and managing partner of the fund. "When compared to the national average of deploying capital in founders of color and women, the fund is currently making investments 6.5x the national average, proving it can be done."
The Product Impact Fund is building a new foundation of investment activity in the Midwest. Through mHUB, it's activating the region's ecosystem of manufacturers, customers, talent, innovation hubs, and research institutions to stretch capital further for a faster, more successful, trajectory to market. It's created a base of investors willing to bet on hardtech solutions for the future of people and planet.
The mHUB Product Impact Fund received early support from the U.S. Department of Commerce Economic Development Administration through the Regional Innovation Strategies (RIS) Program. It's anticipated that the portfolio will be fully constructed by 2024 with its initial round of investments and will make follow-on investments up to $750k in select portfolio companies. mHUB plans to continue to scale in venture investing activity with successive funds and accelerator programs. Managing partners of mHUB Product Impact Fund I UGP, LLC, the fund's investment managers, include investor and serial entrepreneur, Mark Tebbe; global investment banker and former City of Chicago Deputy Mayor, Steve Koch; entrepreneur and former athlete in the National Football League, Israel Idonije; mHUB Chief Experience Officer, Melissa Lederer, and mHUB Co-Founder and CEO, Haven Allen.
Outside of the Product Impact Fund, mHUB will continue to deploy capital in these sectors and leverage its leadership as one of the most active hardtech investors globally. To learn more about the fund's portfolio of companies, visit https://mhubaccelerator.com/portfolio/
About mHUB
mHUB is a leading independent hardtech and manufacturing innovation center that exists to convene the entrepreneurial ecosystem around physical product innovation to ensure that the manufacturing industry continues to accelerate, grow and thrive. The mHUB community includes over 428 active and alumni startups and small businesses supported by a deep talent pool of product designers and developers, entrepreneurs, engineers and manufacturers, corporate leaders, industry experts, mentors and investors. mHUB provides a hyper-resourced environment to entrepreneurs with the goal of commercializing new hardtech innovation that will lead to new businesses, intellectual property, investment, revenue and job creation. Since launching in 2017, the mHUB community has generated more than $721M in revenue, launched more than 1,398 products, hired more than 3,987 employees, and raised over $1B in capital.