FOR IMMEDIATE RELEASE
Press Contact:
Kim Blomquist
872.222.5279
kim@mhubchicago.com
mHUB Innovation Center Raises $1.35M for Equitable Access Programs Through Its Catalyze Initiative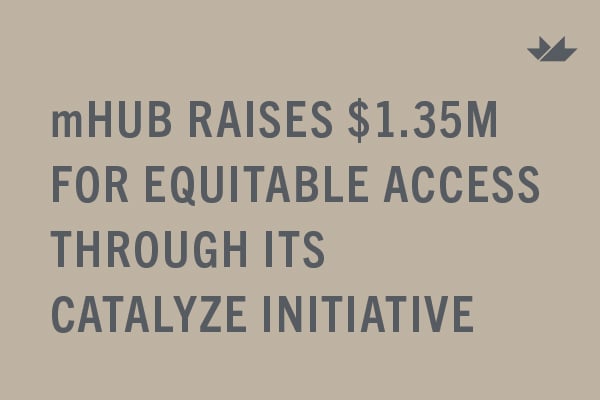 mHUB has raised over $1.35M for its Catalyze programs, which drive equitable access for women and people of color within the hardtech and manufacturing innovation ecosystem.
(CHICAGO Nov. 22, 2022) – mHUB, a leading independent hardtech and manufacturing innovation center, announces it has raised over $1.35M for a series of programs that reduce barriers to entrepreneurship for underrepresented startup founders.
The Catalyze Initiative was founded in 2021 and ran pilots through 2022 while raising funds from its first supporting partners, including: The Landis Family Foundation, We Rise Together at the Chicago Community Trust, Bank of America, Christopher Family Foundation, Wintrust, and Verizon. The Catalyze Initiative is seeking to raise a total of $8.6M to support 5 years of programming.
The goal of the Catalyze Initiative is to drive wealth creation for a more diverse set of business owners. By supporting underrepresented entrepreneurs in the early stages of product development, Catalyze sees the evolution of an idea from proof of concept to commercialization. Programs include granted partnerships with community-based business development organizations, the mPOWER pre-accelerator program for idea-stage startup founders, the Landis Family HardTech Development Fellowship for product engineers and founders, and grants for later stage R&D and product development.
"We set an audacious plan to re-think traditional approaches to supporting marginalized founders," said Shannon McGhee, Director of Community Impact and Engagement, mHUB. "This incredible milestone in fundraising enables us to scale from proof of concept for our community-centered approach to equitable economic growth."
The Catalyze Initiative has attracted a group of supporters from industry and the philanthropic sector who recognize that complex solutions are needed to dismantle the systemic barriers to entrepreneurship for marginalized innovators, including women, Black, and Latino founders. Catalyze programs provide non-dilutive capital, hands-on support, and are designed to meet the needs of entrepreneurs at any stage while ensuring resources from the mHUB network are available beyond technical program timelines.
"mHUB is committed to reducing the barriers of entry for all hardtech founders, ensuring equitable access is central to all of our core business units, from the mHUB accelerator and Product Impact Fund to the mHUB innovation center and incubator," said Haven Allen, Co-founder and CEO, mHUB. "The Catalyze Initiative anchors this commitment in tangible, multifaceted solutions that allow us to measure outcomes and directly connect into communities. Thank you to the initial funders and participants of Catalyze for helping us prove real impact is possible."
"mHUB has made a commitment to dismantling the systemic barriers that marginalized innovators face, and not just narratively but through actual dollars and programs," said Meredith O'Connor, International Director, Chairman of Headquarters Practice Group, JLL and mHUB Board Vice Chair. "It's exciting to watch the Catalyze programs grow and meet the needs of founders at various stages and to know resources and support will extend beyond technical program timelines."
This first fundraising milestone enables two years of the 6-month mPOWER program, now providing participants with a $500 monthly stipend in addition to microgrant funding to underwrite the time and cost investment of scaling ideas into businesses; program funding for the two annual cohorts of the 6-month Landis Family Fellowship where technical entrepreneurs can earn income on contract R&D projects; and the launch of a granted partnership with a community-based organization to deliver technical assistance for manufacturing and product entrepreneurs located on the South or West Side of Chicago.
"The Catalyze Initiative will write a new blueprint for equity in tech, one that includes space and resources for the organizations that have been operating in Chicago's communities of color for decades," said Ed Coleman, Founding President and CEO of Westside Forward, mHUB Board Member and Catalyze Initiative Advisory Committee Member. "This is a significant step forward in mHUB's mission to drive economic inclusion and, I believe, will set a precedent for collaboration between the tech ecosystem and community-based business development organizations."
The $1.35M funding will be integral to moving these programs beyond the pilot stage and engraining them further into mHUB and the communities it serves. mHUB is seeking to raise the full $8.6 million, which will fund five years of all Catalyze Initiative programs. At full scale, the Catalyze Initiative is projected to support nearly 200 companies to generate more than $500 million in revenue, raise more than $300 million in capital, and support more than 3,000 jobs throughout the economy.
To learn more about Catalyze programs and how to get involved, visit the mHUB Catalyze Initiative webpage.
About mHUB
mHUB is a leading independent hardtech and manufacturing innovation center that exists to convene the entrepreneurial ecosystem around physical product innovation to ensure that the manufacturing industry continues to accelerate, grow and thrive. The mHUB community includes over 428 active and alumni startups and small businesses supported by a deep talent pool of product designers and developers, entrepreneurs, engineers and manufacturers, corporate leaders, industry experts, mentors and investors. mHUB provides a hyper-resourced environment to entrepreneurs with the goal of commercializing new hardtech innovation that will lead to new businesses, intellectual property, investment, revenue and job creation. Since launching in 2017, the mHUB community has generated more than $721M in revenue, launched more than 1,398 products, hired more than 3,987 employees, and raised over $1B in capital.