As part of our series "Five Questions with," Shannon McGhee, mHUB's Director of Community Impact and Engagement discusses how mHUB is driving equitable business ownership for women and people of color with two new pilot programs.
The barriers to Hardtech entrepreneurship with women and people of color are systemic. The racial wealth gap and income inequality makes it harder for founders to tap into friends and family for that critical early funding. But, capital isn't the only challenge. Incubators are a proven model for acceleration of early-stage ventures. So, the question is: how do we build on our existing resources to develop targeted, wraparound support to address systemic challenges?
You're leading new pilot programs focused on equitable access to entrepreneurship. Tell us about these pilots and who is qualified for them.
Two pilot programs are open and accepting applications right now. They are focused on powering business ownership at the earliest stages of entrepreneurship. Both provide 6-months of free access to the full breadth of mHUB resources, mentorship and hands-on support to scale ideas to businesses. These are sister programs targeted at the two primary groups of mHUB members: high-growth startups and product design freelancers/businesses.
mPOWER Women Founders Program: Focused on turning startup ideas into businesses
8-10 women founders begin 6-month program
Flexibly designed for 1-2 hours synchronous time a week
Full access to mHUB resources
Matched 1-1 mentors tailored to participant industry and needs
Monthly speaker series with women founders across industries
Hardtech Development Services Fellowship: Focused on engineers, designers, and developers with aligned skillsets to develop products and Hardtech startup founders looking for contract jobs to extend their runways.
10-12 engineers/entrepreneurs in 6-month program
1-1 support for portfolio development, professional development
Access to $2-5K/month potential contracting pipeline through mHUB's Hardtech Development Services
Full access to mHUB resources
These are part of a larger initiative we're currently fundraising for designed to reduce the structural barriers to entrepreneurship for people of color and women. When resourced, non-dilutive capital in the form of grants and stipends will be tied to both programs. We'll also build on our existing partnerships with grants to do collaborative Hardtech entrepreneurial training across Chicagoland, establishing a network of resources focused on skills training and powering businesses at the earliest stages.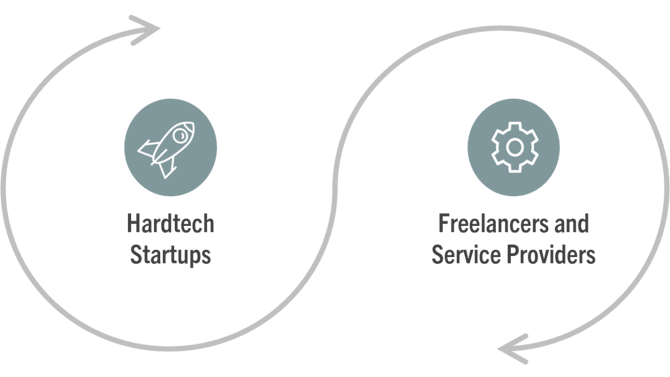 How do the structures of these programs align with mHUB's mission?
mHUB has always had community partnerships with organizations focused on manufacturing skills training and business development for women and people of color, as well as professional associations supporting underrepresented engineers. We've provided free access and space, but we realize that we need to dig deeper to truly broaden access to entrepreneurship and couple those partnerships with programs that fuse non-dilutive capital and wraparound support to seed and nurture startup ideas to businesses.
Can you talk about some ways that corporate partners and members of the innovation ecosystem can get involved at mHUB?
We have fantastic partners that have made these pilots possible including the Christopher Family Foundation and Molex. But, we're looking to scale these programs underneath a larger effort that will tie non-dilutive capital throughout both, include granted partnerships with trusted community-based organizations, increase support resources, and extend mileage through scholarships. We're actively looking for partners to join us and lead in these efforts. Organizations, individuals and foundations can get in touch with me directly at Shannon@mHUBChicago.com.
In conversations that you've had with industry leaders, what are some new themes that the innovation ecosystem is considering when it comes to equity in tech business ownership?
There has been incredible momentum and energy across the tech ecosystem to rally around closing the opportunity gap. VCs, incubators, and accelerators alike have established roles like mine to focus 100% of their time on developing equity-centered programming. Groups have also come together to bridge across organizations including GET Cities Chicago's Tech Equity Working Group and advisory councils across a number of individual programs to ensure connectivity across efforts and to foster shared learnings. A few themes have emerged:
There's much more work to do, and especially to support Hardtech founders. But, this momentum is an encouraging show of commitment from the Chicagoland community to drive equity in access to entrepreneurship.
What's the next step in this work?
I'm so excited to welcome the mPOWER Women Founders pilot and Hardtech Development Services Fellowship cohorts in January. mHUB will continue to learn from our program participants about what works, what doesn't work, and where we need to grow.
I'm also hyper-focused on bringing more partners to the table to support these early-stage product innovators. To stay updated on the program's progress and informed of upcoming application windows, subscribe to the mHUB newsletter.