mHUB 2021 Annual Report
Transformation on the Horizon
Dear Friends and Supporters,
As mHUB celebrated its five-year anniversary this past March, it is with pleasure that we present the mHUB 2021 Annual Report with a lens on what the community has accomplished during its first chapter. Last year felt shaky as the reverberations of the pandemic continued to hammer our global supply chain, labor market, energy, consumers, and the manufacturing industry as a whole. But mHUB also witnessed a transformation in mindset and urgency to solve problems through HardTech solutions and a revitalized manufacturing sector.

The conditions of the pandemic have made our global challenges much more acute. As the world starts to recover, innovators and great minds are coming together to pull the good out of the pandemic rubble and focus on ways to improve the lives of everyone, so our health, planet, and economies don't feel so fragile. In the U.S., a reinvestment in and transformation of manufacturing has been recognized as a vital part of economic recovery and long-term sustainability.

Within what seemed like a transitional year, the mHUB HardTech and manufacturing ecosystem celebrated several major milestones. In late 2021, the mHUB community announced that $1B of capital was raised by its startups and alumni. This capital infusion was across the board, but to site a few sector specific examples, investments were made in advanced manufacturing supply chain, at-home solar power systems, industrial safety solutions, medical devices for safer drug delivery, and AgTech for asset management. In 2021, mHUB HardTech Development Services continued to expand, reaching $3M of income infused into the mHUB member community while connecting industry with highly skilled talent.

At two November Demo Days, members of the inaugural mHUB accelerator showcased to the world how technologies in smart manufacturing will enable industry to be more resilient, efficient, and green. Also, mHUB welcomed nine MedTech startups at the end of the year to begin their own 6-month accelerator journey here in Chicago. We also piloted two programs focused on driving equitable access to entrepreneurship, mPOWER Founders and the HardTech Development Fellowship. 21 innovators are currently working to launch product-based businesses: 86 percent are women and 76 percent are people of color.

Our last annual report for the year 2020 was titled "The Future of Innovation is Collaborative." mHUB has held true to that sentiment, and in 2021 entered into coalitions around climate and energy technology. This includes the Heartland Climate Tech Partnership to commercialize innovative startups across the Greater Midwest Region and the 2025 Clean Tech Economy Coalition (CTEC) to support a clean tech economy in Illinois.

In September, mHUB and the other 19 partnering organizations will hear from the EDA on whether CTEC has been selected as one of the 20 – 30 regions to win Build Back Better Regional Challenge funding. This potential $189M investment was supported by over 160 organizations and will be a transformational investment for the state of Illinois and position the region to lead the innovation and commercialization of energy infrastructure and advanced battery storage.

As we look further into 2022, mHUB will gather its community to celebrate its five-year anniversary this June. Two Demo Days will be hosted for the MedTech and Climate & EnergyTech cohorts that will complete the mHUB accelerator in 2022, one in May and one in November.

We hope that you join us at one of these celebrations as we reflect on five years.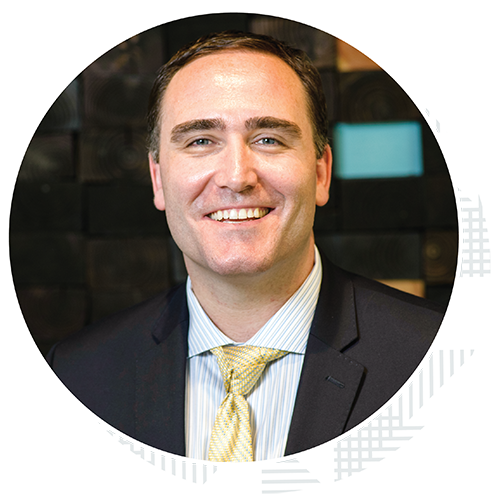 Haven Allen, CEO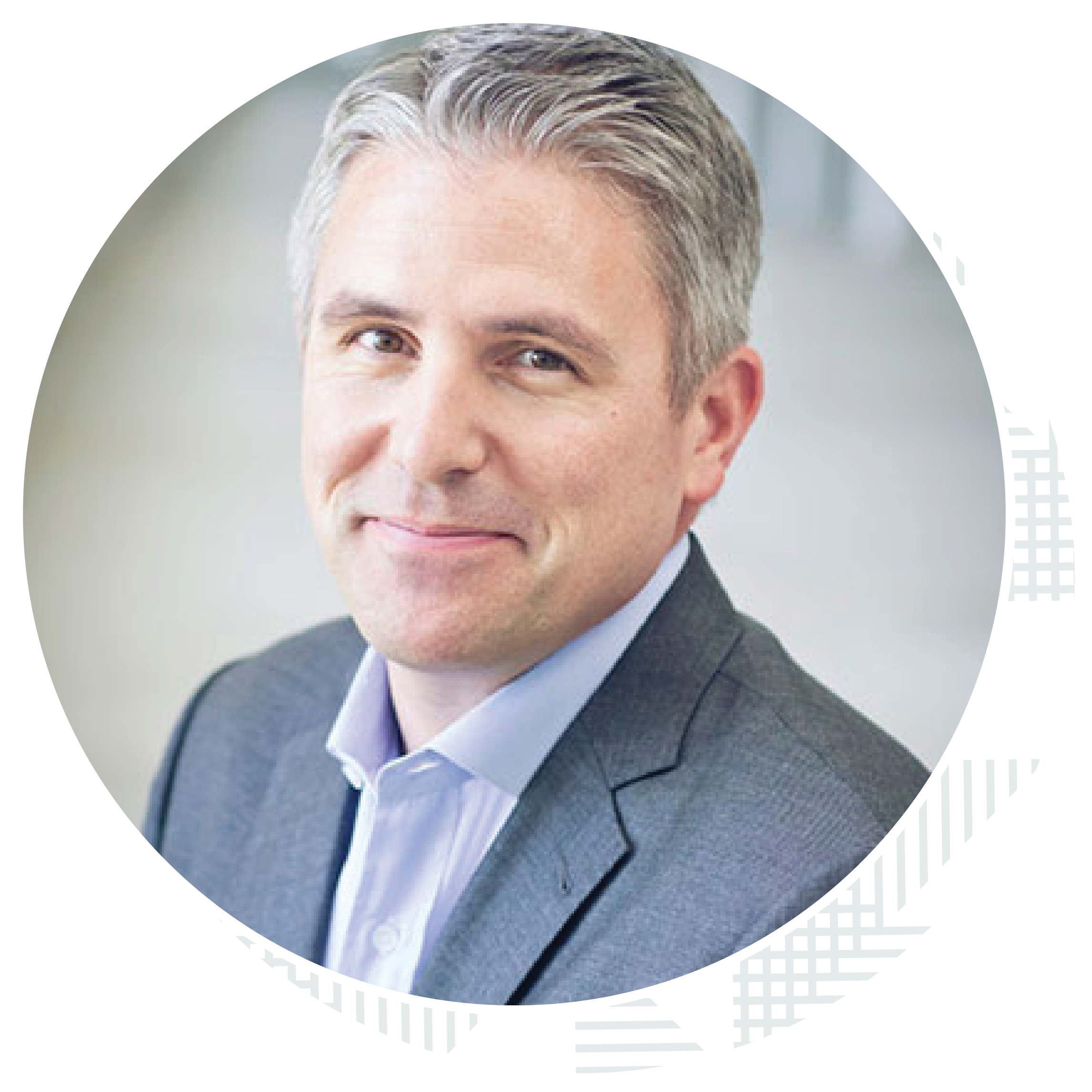 Kevin Willer, Chair of the Board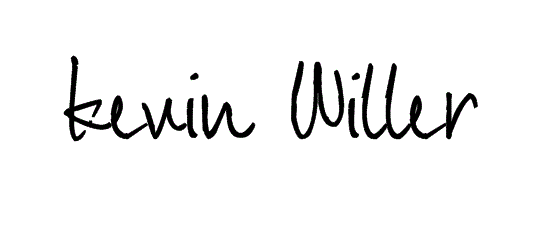 A snapshot of the community and its economic impact in 2021


$291,192,184
Revenue Generated

$132,678,195
Capital Raised by Members and Alumni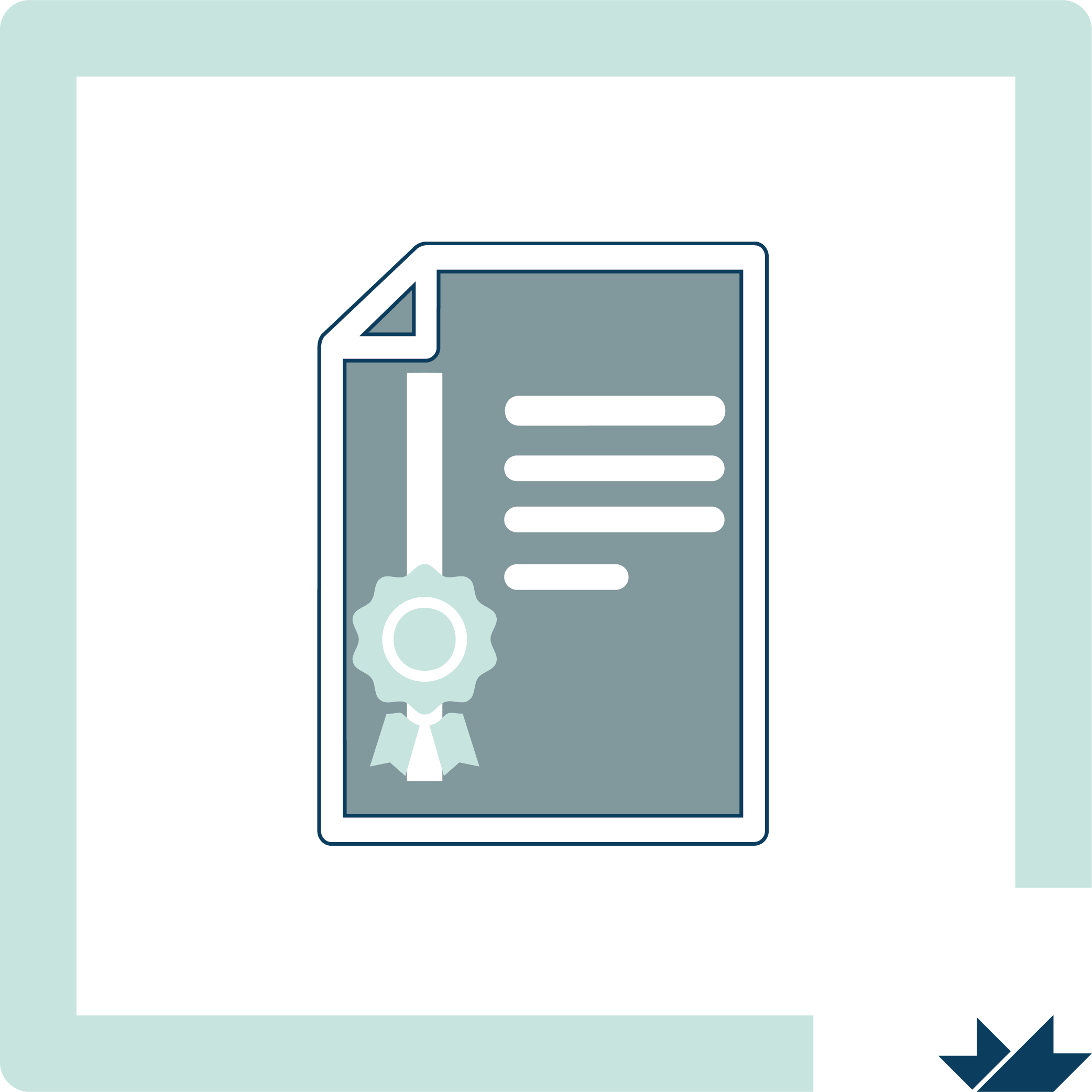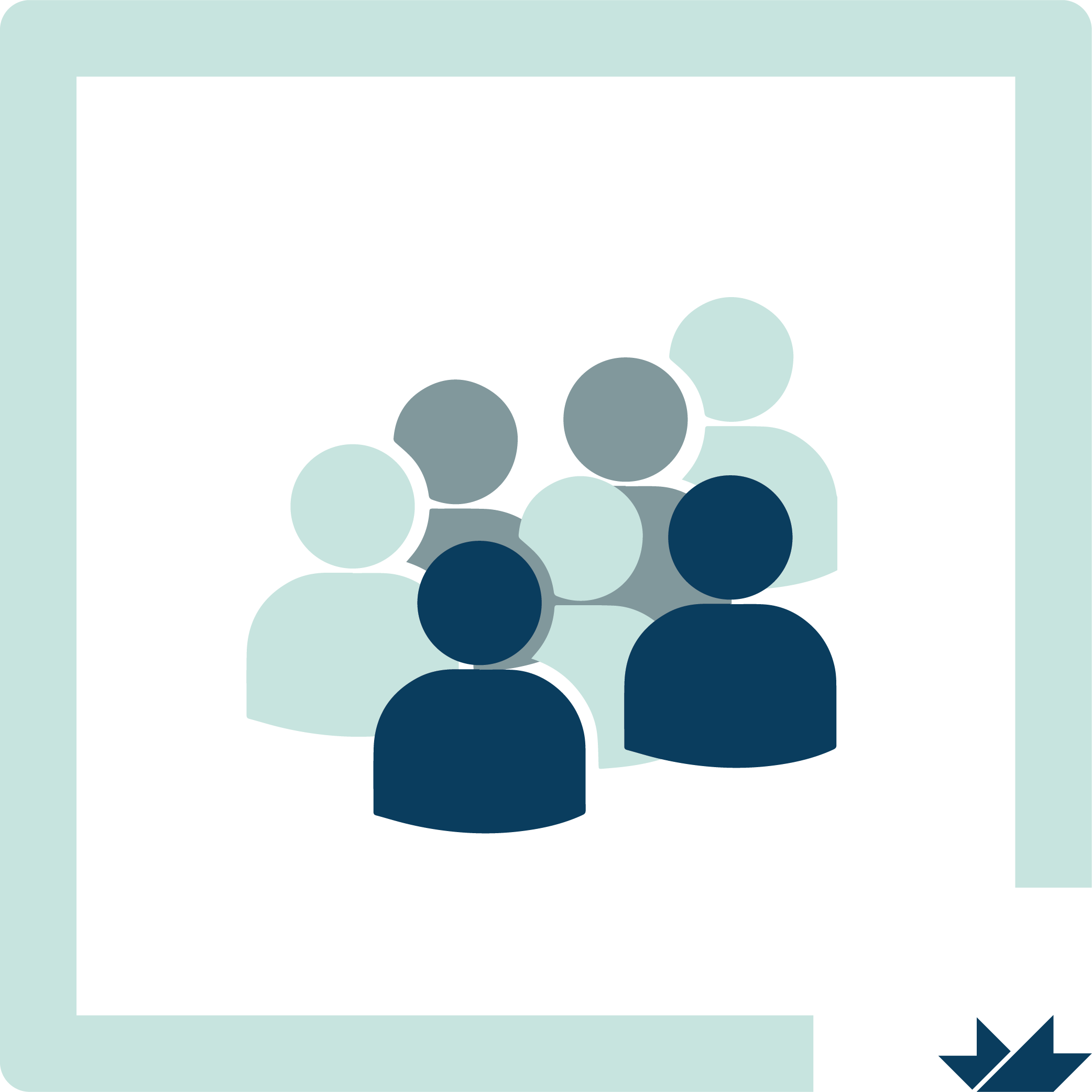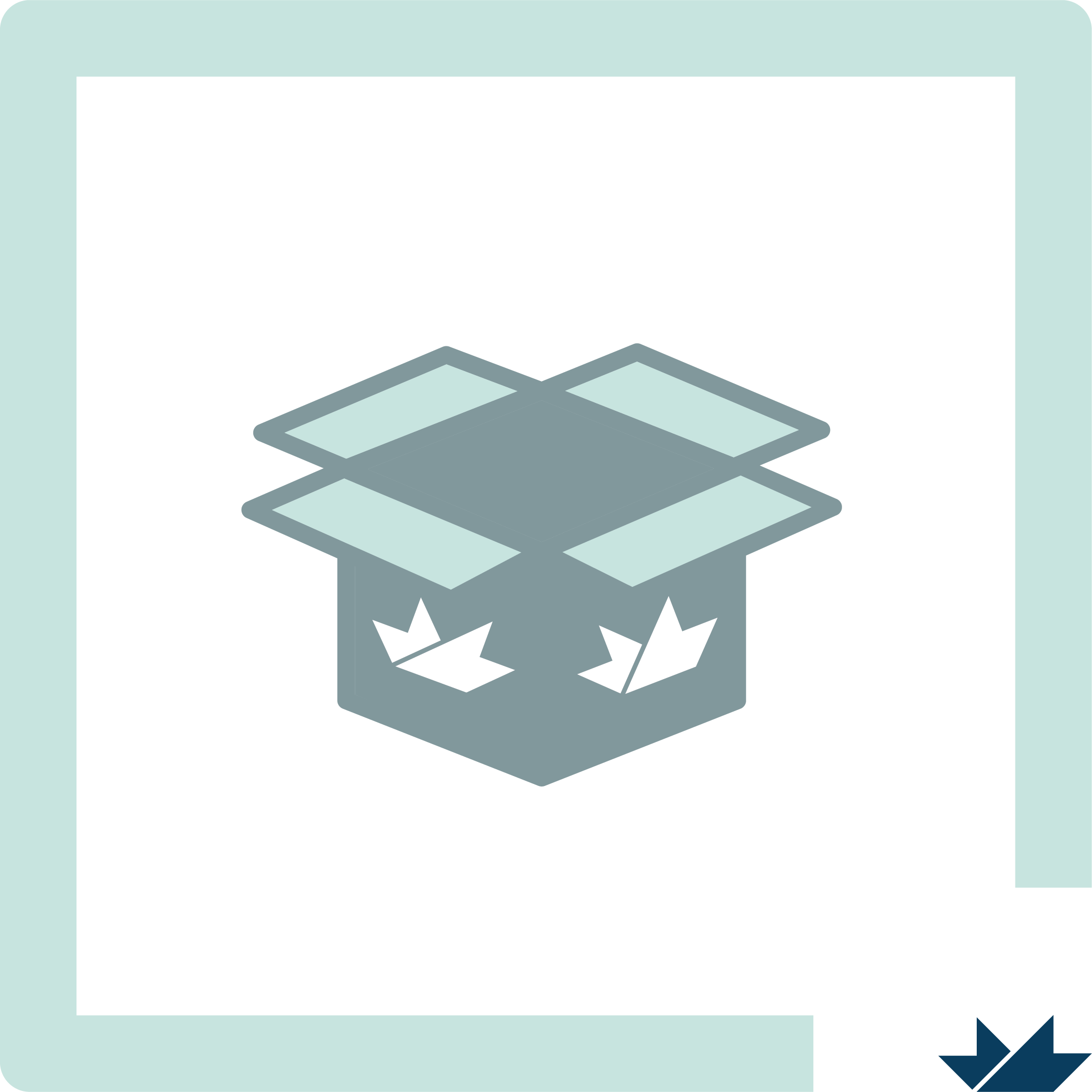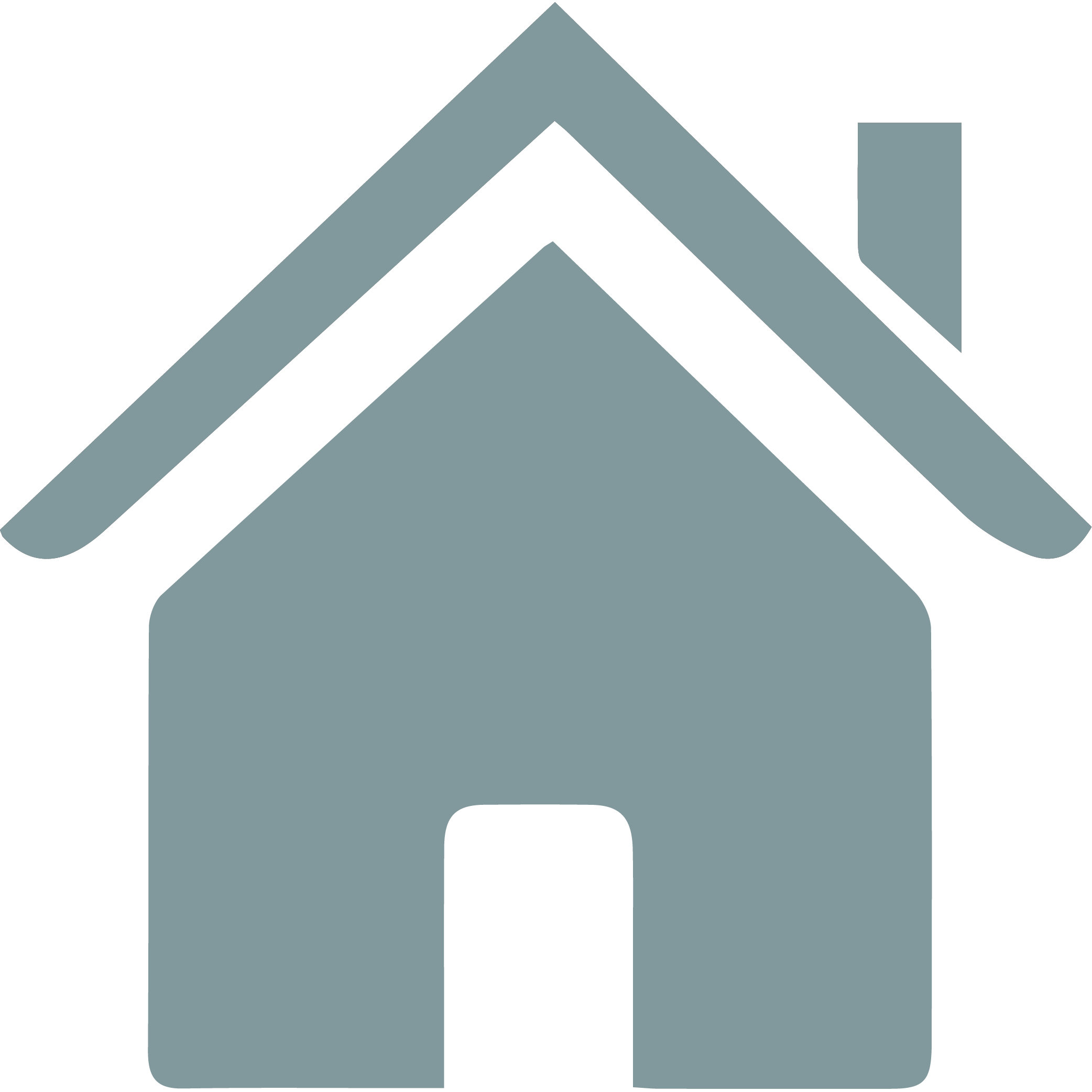 $16,403,065
Spent on Domestic Manufacturing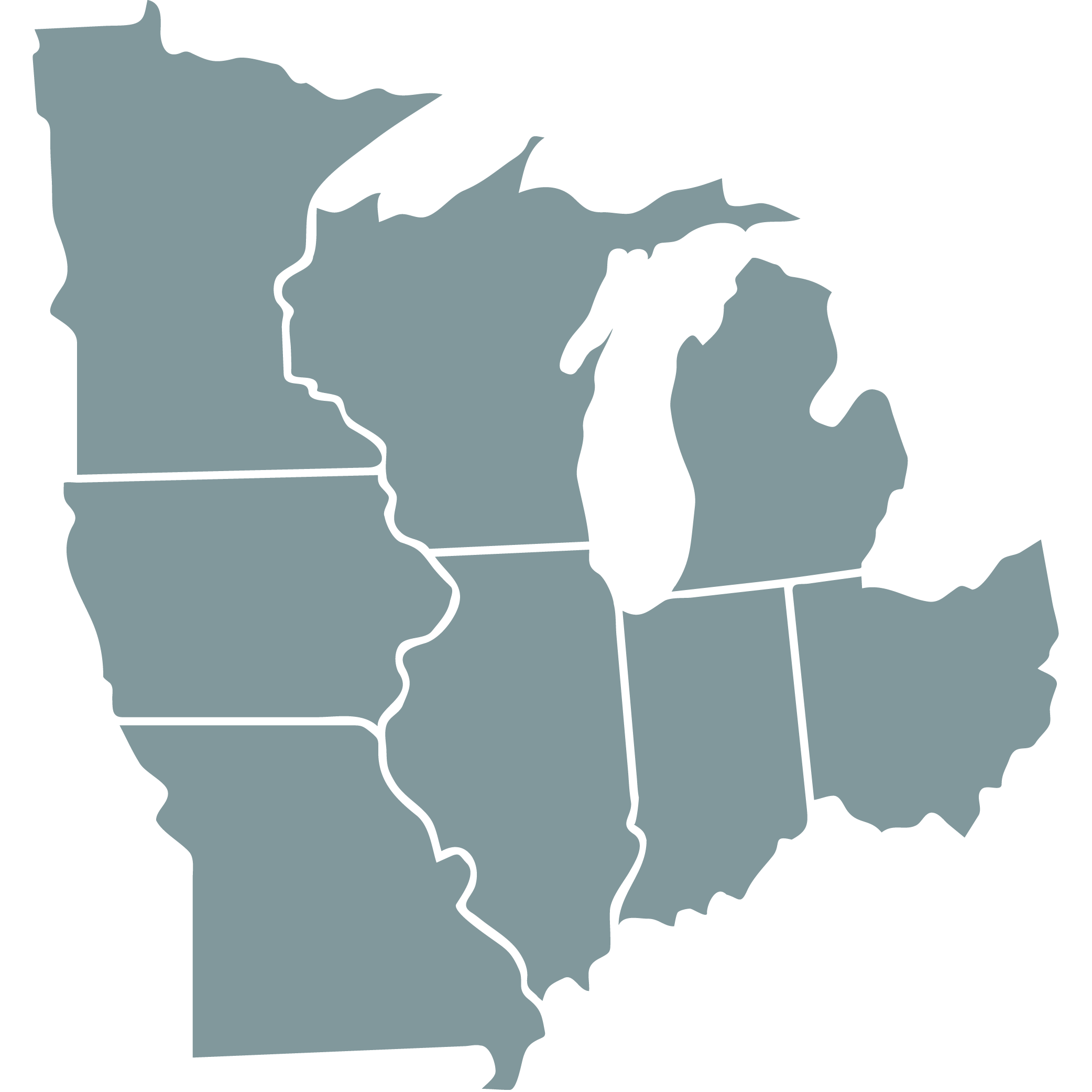 53.8%
Domestic Spend in the Midwest
Tech Concentration by Industry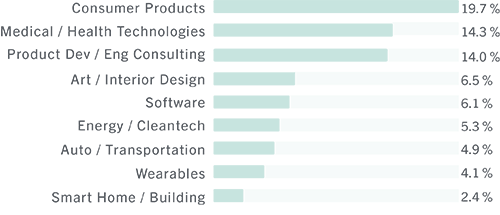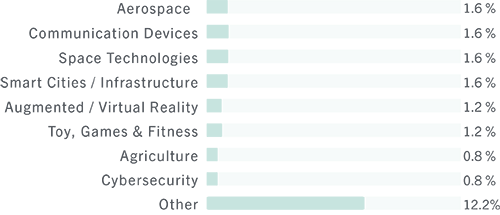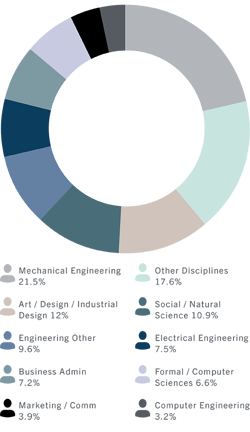 Join mHUB in taking a look back on the milestones reached over the past five years
In early March of 2022, mHUB turned five. Looking back, mHUB remembers how the HardTech and manufacturing innovation center got its start in 2017 and launched at the site of a former Motorola factory. What was then an expansive 65,000 square feet of space waiting to be filled is now equipped with 11 prototyping labs, private offices, corporate suites, a loading dock with storage, co-working space, and an events center. What started out as a mission to pair Chicago's manufacturing base with its thriving innovation community has resulted in a globally recognized ecosystem for HardTech and physical product development. Here are some of the biggest (and most fun) milestones mHUB has reached during its first five years.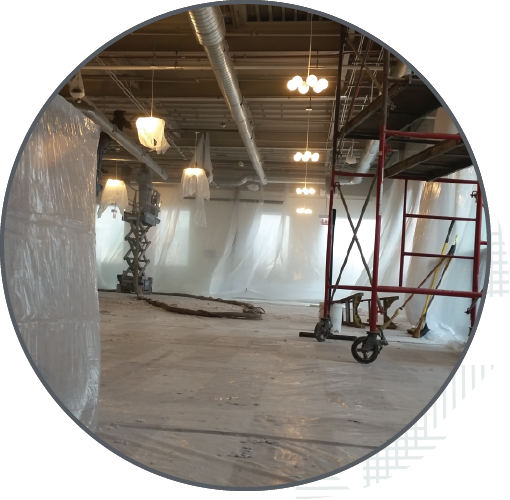 SEPTEMBER 2016 | mHUB acquires maker space Catalyze and former Motorola building. Construction begins.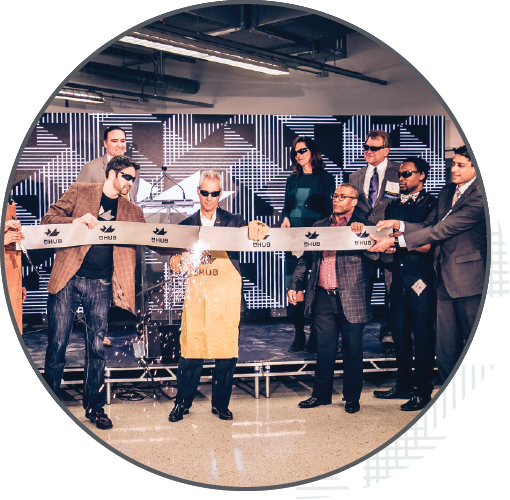 MARCH 2017 | Grand opening party & prototyping shops open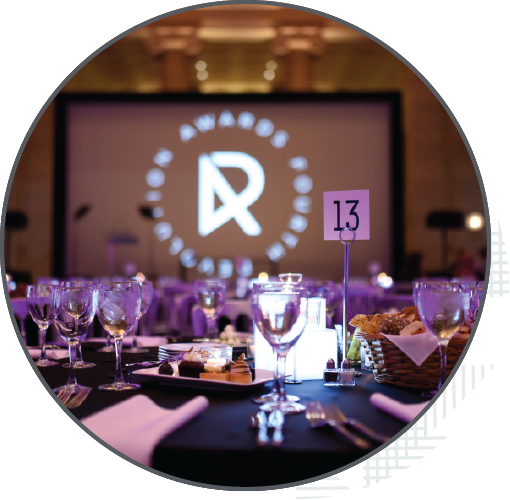 JULY 2017 | First Fourth Revolution Awards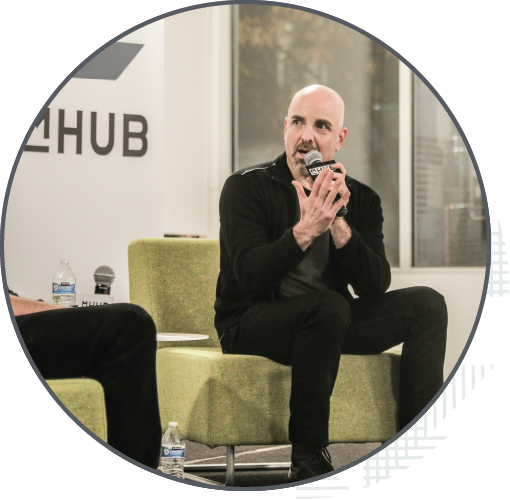 NOVEMBER 2017 | First Industry Disruptors conversation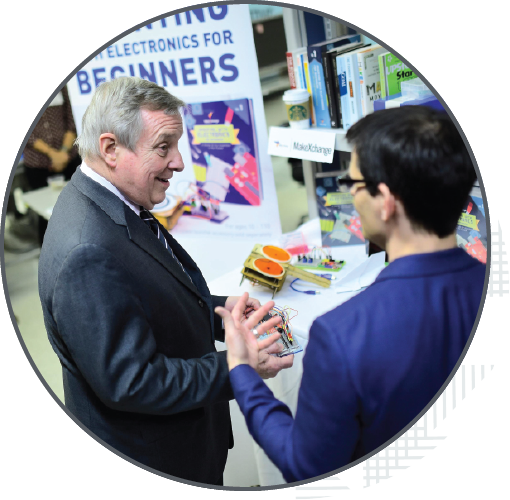 MARCH 2018 | mHUB celebrates one-year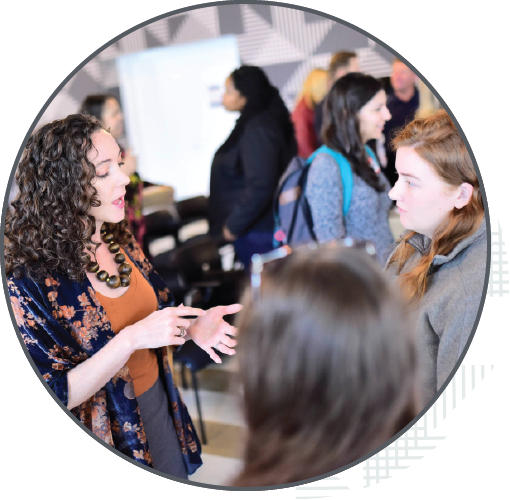 OCTOBER 2018 | First Women in Manufacturing & Engineering event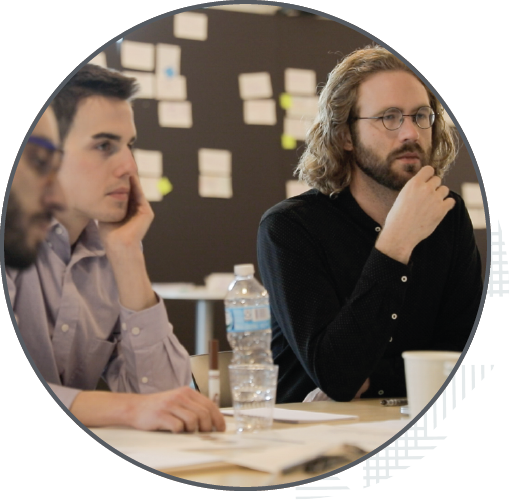 JANUARY 2020 | HardTech Development Services launch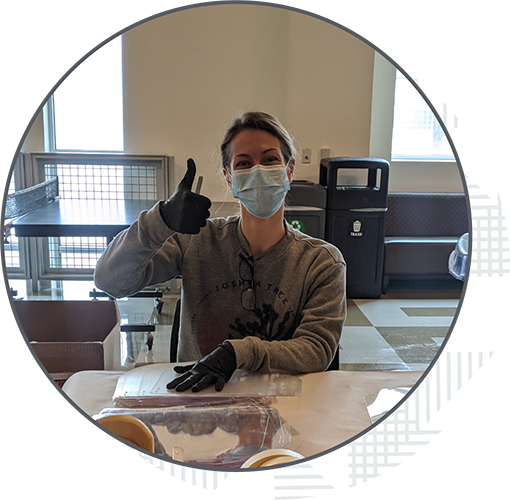 MARCH 2020 | Chicago Proactive Response (CPR) COVID - 19 Collaboration launches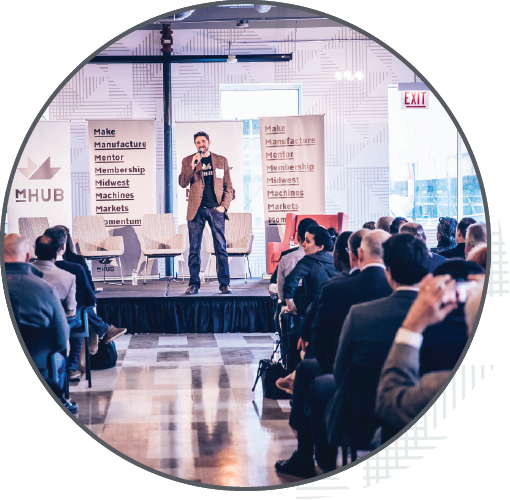 AUGUST 2020 | mHUB closes first round of ~$15M Product Impact Fund I to back hardtech startups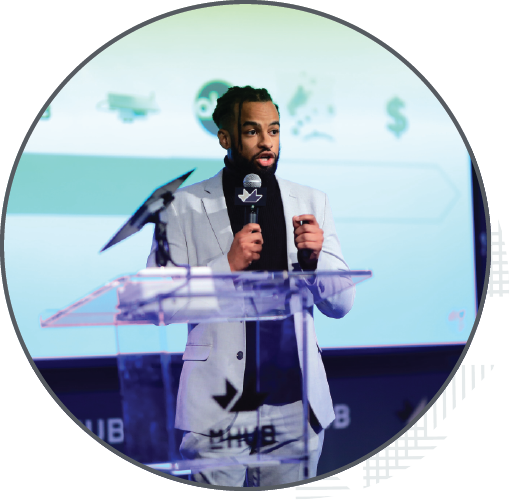 SEPTEMBER 2020 | mHUB accelerator program announced

NOVEMBER 2021 | mPOWER and HardTech Development Fellowships launch to drive equitable access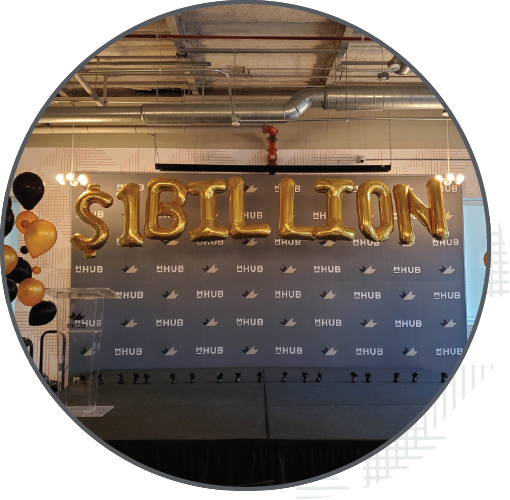 DECEMBER 2021 | mHUB's startup community raises over $1B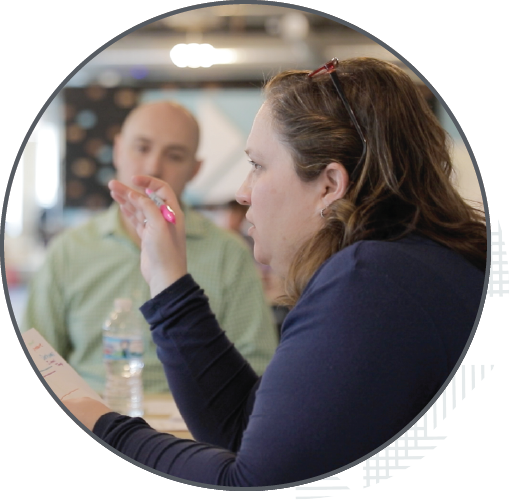 MARCH 2022 | $3M of revenue has been generated for mHUB members through HardTech Development Services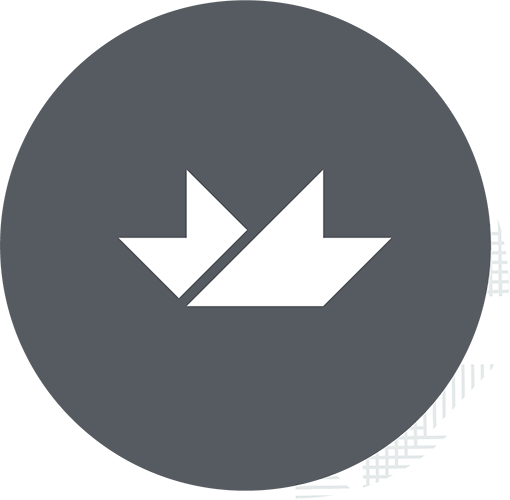 JUNE 2022 | Five-year anniversary event

In five years, mHUB has quickly expanded its reach and impact with support from the following grants:
mHUB Innovation Center - $500K
Grant from Economic Development Administration
November 2016 i6 Challenge
mHUB Innovation Center - $150K
Grant from Department of Energy
June 2018 American Inventions Made (AIM) Onshore Prize
Accelerated Impact Fund - $300K
Grant from Economic Development Administration
July 2019 Seed Fund Support
Chicago Proactive Response COVID-19 Economic Recovery - $1.5M
Funding from Searle Funds at Chicago Community Trust, Walder Foundation, and Bank of America
Scaling Hardtech Development Services - $1.3M
Grant from the Economic Development Administration
September 2020, Venture Challenge Scale
mHUB Innovation Center & Accelerator - $50K
Grant from the Department of Energy
October 2020, Energy Program for Innovation Clusters #1
Chicago Proactive Response COVID-19 Economic Recovery - $2.8M
Grant from the Economic Development Administration
May 2021, CARES Economic Adjustment Assistance
Midwest Regional Innovation Partnership - $1M
Grant from the Department of Energy
June 2021, Energy Program for Innovation Cluster #2
Clean Tech Economic Coalition - $500K
Grant from Economic Development Administration
December 2021 Build Back Better Regional Challenge
mHUB leaders look back on five years
"mHUB was born from a desire to create a home for manufacturing innovation and a central hub for the manufacturing community in Chicago. So many things we never anticipated – both opportunities and challenges – but the core mission has succeeded beyond our dreams."

Steve Koch
Managing Director
Bowline Group
"I knew mHUB had the potential to help local entrepreneurs launch hardware related companies. I never imagined it would become a global hardtech innovation hub attracting entrepreneurs from around the world, or that in less than a decade, the companies supported would generate over a billion dollars in capital."
"From hiring Haven to lead World Business Chicago's "manufacturing strategy", to reviewing the original mHUB name and logo, to touring the facility that became our first mHUB home, to spinning off the venture… the words to summarize the last 5 years include: surreal, leadership, community, success, and pride."
In 2021, mHUB welcomed two cohorts on their startup accelerator journey
One of mHUB's major milestones since its 2017 opening was the founding and launching of an accelerator program design solely for early-stage HardTech startups. Having worked with entrepreneurs around hardware and product development, one thing became abundantly clear. The barriers to entry are much higher for HardTech innovation than for software. Prototyping, supply chains, manufacturing partners, and access to equipment and materials are all unique challenges to people building physical technologies. Not to mention the lack of venture capital in the space. mHUB saw a need to lower these barriers, and make sure that they were lowered for everyone.

Importantly, mHUB set out to leverage its ecosystem of innovators, manufacturers, and industry partners to build an accelerator that could connect high-potential startups to partners for faster commercialization while they utilized mHUB's facility to rapidly prototype – a type of accelerated acceleration unlike any other.

Backed by the mHUB Product Impact Fund I, the mHUB accelerator has attracted a network of limited partners, mentors, and corporate partners acutely interested in the success and longevity of HardTech innovations to improve the ways we live and make things. To date, mHUB has supported two accelerator cohorts, with cohort three and four launching in 2022.
Industrial IoT Portfolio Companies
MedTech Portfolio Companies
Meet some of the first founders to experience mHUB's accelerator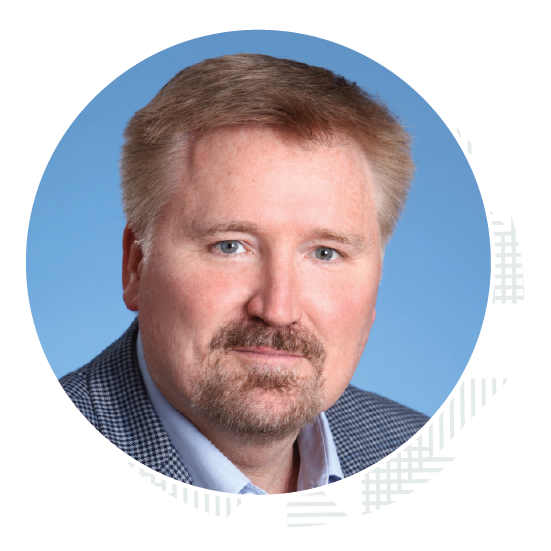 "The support we've received from the mHUB community has allowed us to make significant progress on many fronts, including product prototyping and manufacturing, lining up partners for clinical pilots, preparing for FDA medical device clearance, refining our pricing and reimbursement strategies, and broadening our investor outreach."
Neursantys develops and markets innovative wearable medical devices that deliver more accessible and effective solutions for diagnosing and treating age-related balance disruptions.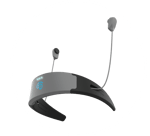 "mHUB is like a family to us. The mentors, corporate partners, staff, labs and facilities are all world class for hardtech developers. Over the course of the program we got investment from the program's corporate partners Avnet and Panduit which are both critical partnerships for our expansion in US manufacturing."
Stroma is building a computer vision system to understand human physiology in industrial settings and stop preventable accidents.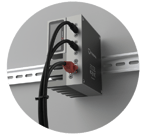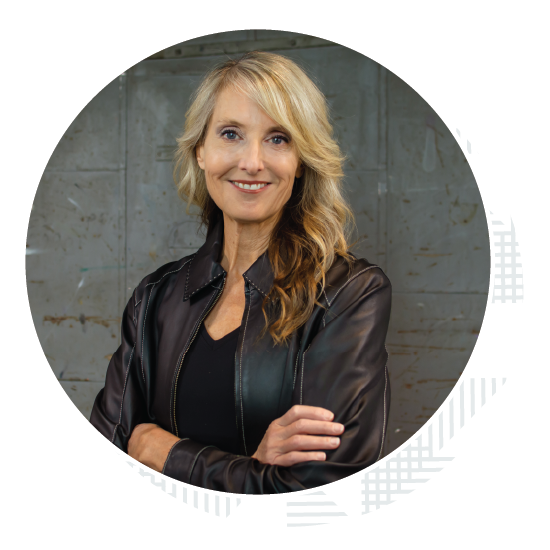 "The Team at NXgenPort has enjoyed meeting fellow entrepreneurs, business leaders, and mentors in a variety of fields. These interactions provide robust dialogue around our pitch and product development, which help us refine our value proposition, raise capital, and grow the company"
NXgenPort Inc is addressing an unmet need in cancer care by remotely monitoring patients between chemotherapy visits with an implanted Smart Port.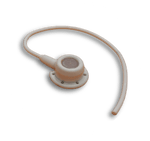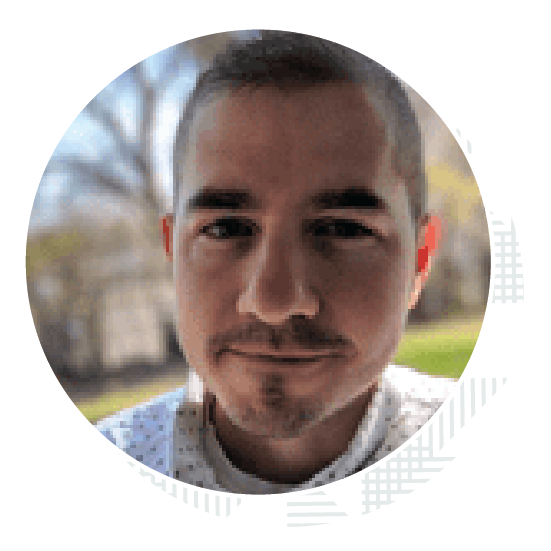 "mHUB HardTech Development Services have been instrumental in providing machining and hardware capabilities we otherwise wouldn't have had access to. They also connected us to incredible industry experts and mentors for deep-dives during product design, and helped us to engineer experimental frameworks for validating our product's performance. We hope to continue to utilize mHUB's expertise and resources as we grow with them into the future"
Founded in 2020, Maxwell Labs produces state-of-the-art radiative cooling solutions aimed at taking high-performance computing, discovery, and energy storage to the bleeding edge of what is possible.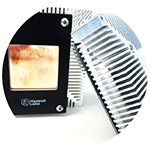 The mHUB accelerator is supported by the Product Impact Fund I
The mHUB Product Impact Fund I is a ~$15M venture fund that invests in the accelerator's seed and early-stage HardTech companies and is currently being deployed from 2020 to 2023. The fund has garnered significant interest as an opportunity to engage with the wave of innovation that lies ahead in industrial IoT, MedTech and clean energy, to name a few. To date, the Product Impact Fund I has raised $13.49M from 67 LPs who are leaders in industry across entrepreneurship, manufacturing, private equity, and venture capital.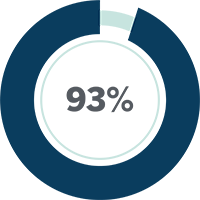 $13.49M Raised
67 Limited Partners
Members and Alumni Reach New Heights
Important milestones and industry partnerships gain momentum
On its official 5-year anniversary, March 4, 2022, mHUB announced that its member and alumni community had raised over $1B in capital. As this annual report states, the number of jobs created and revenue generated continues to grow in significant ways. This momentum is a testament to a new era of disruptive technologies. The world is facing complex problems that can only be addressed through physical solutions. This includes innovation around infrastructure, industrial processes, and medical devices, to name a few. But of equal value, as a consumer-based economy, are the products that power and improve our day-to-day lives. Whether mHUB members are working on technologies with the potential to change systems or lifestyle products that meet a specific market demand, they are creating jobs and building economies through manufacturing – something known to have a multiplier effect.
Click here to see all mHUB members and alumni that have raised over $5M.
Innovators from The mHUB Ecosystem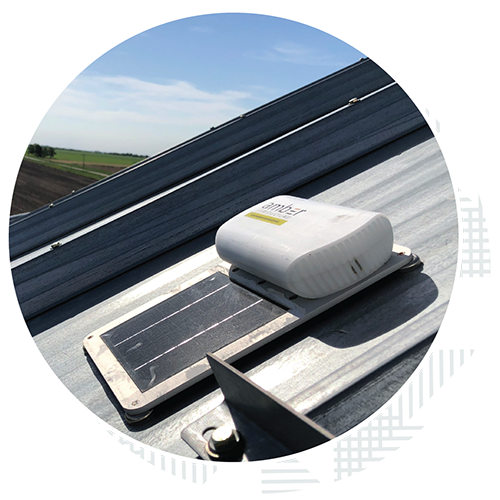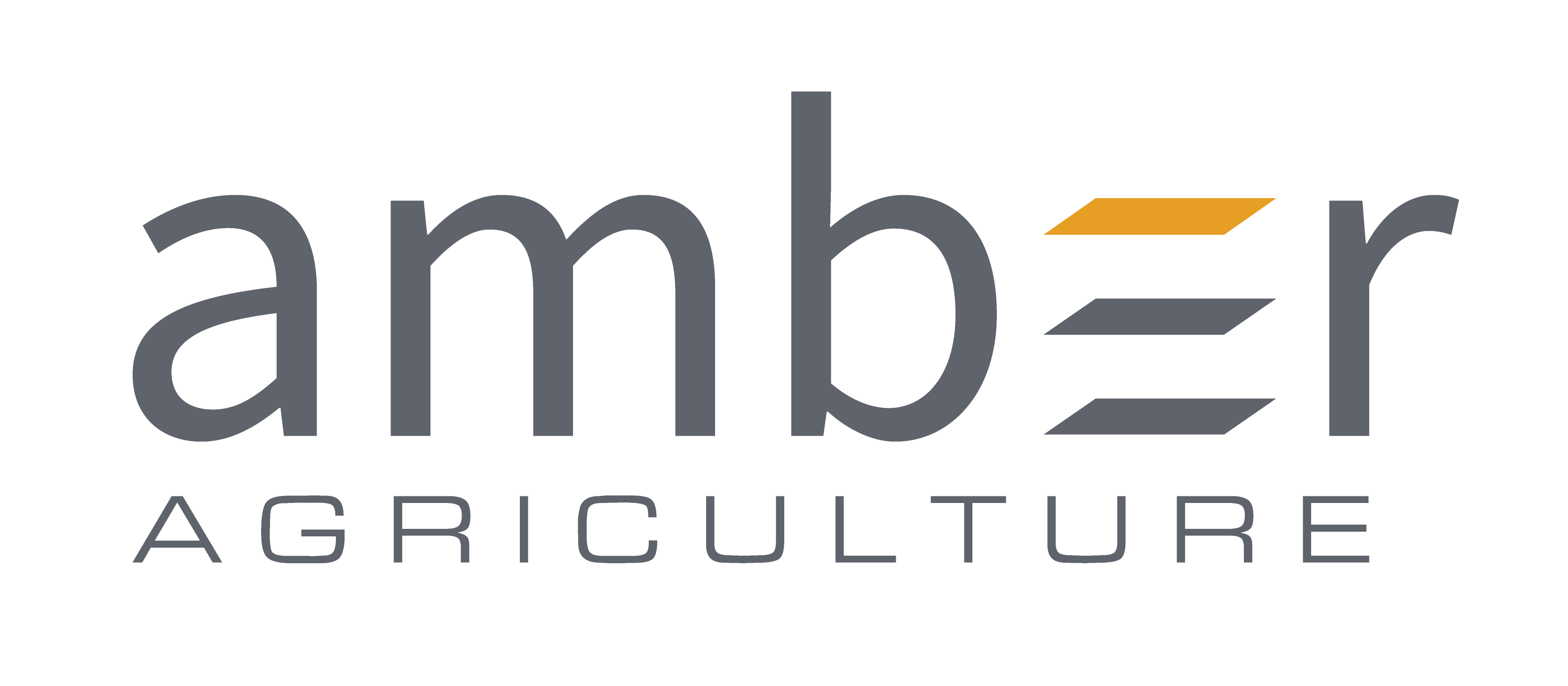 Amber Agriculture was built by founders with a Farm + Fitbit background, Lucas Frye and Joey Varikooty. The firm is on the leading edge of automation technology development in agriculture. Its first product is an IoT self-install kit for farmers to automate one high-return process at the farm level. The company has raised $3M from 2 funding rounds with firms including the National Science Foundation and SOSV. In 2021, both of Amber's co-founders were featured in Forbes 30 Under 30 for Manufacturing and Industry. Amber Agriculture has been an mHUB member company since 2017.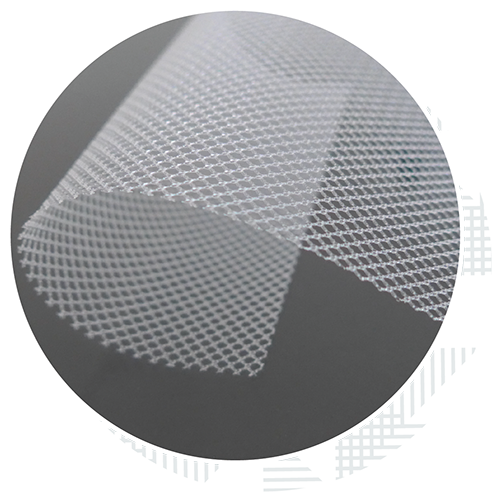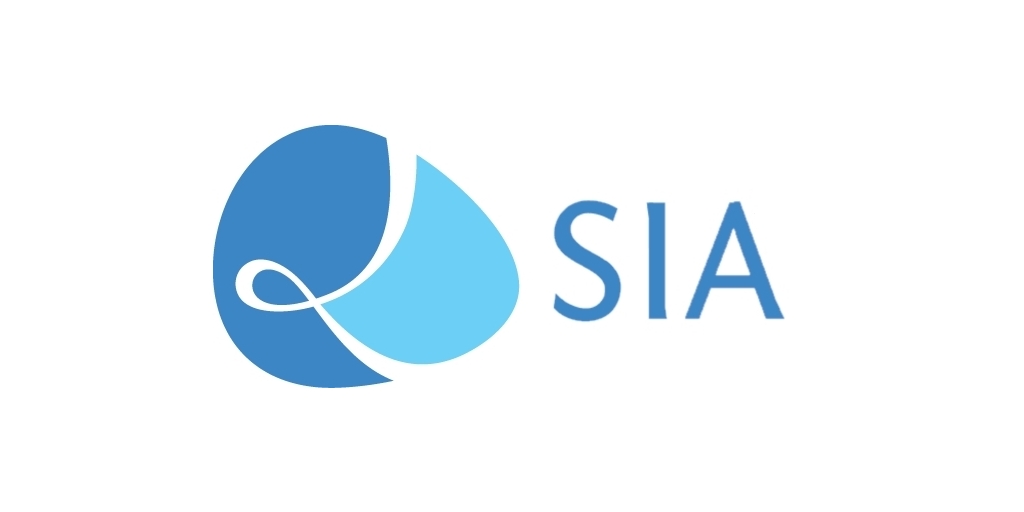 Surgical Innovation Associates (SIA) is pioneering novel, implantable polymeric surgical devices for plastic, reconstructive, and general surgery. The company is lowering systemic costs through "for surgeon, by surgeon" implantable device innovation. Since its founding in 2016, SIA has attracted over $25M of total capital including 3 funding rounds with investors such as Gopher Angels, Harvard Business School Angels, and Pioneer Healthcare Partners as well as a $2M NCI SBIR grant. The company began commercialization in 2020 and has quickly grown to approximately $5M ARR at nearly 80% gross profit margin, with over 100 customers now supported by more than 20 employees. SIA is a spin-out of Northwestern University co-founded by Alexei Mlodinow, MD, MBA, Todd Cruikshank, MBA, and John Kim, MD and has been a mHUB member company since 2018.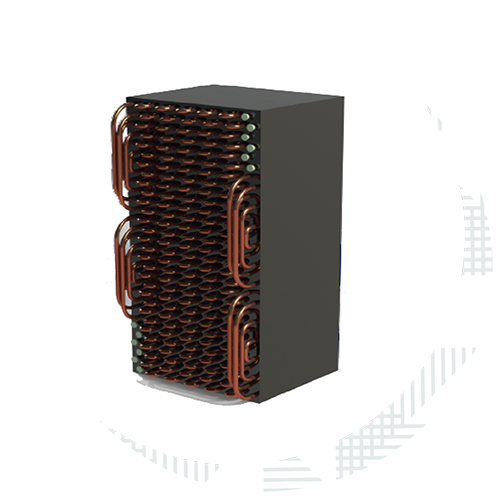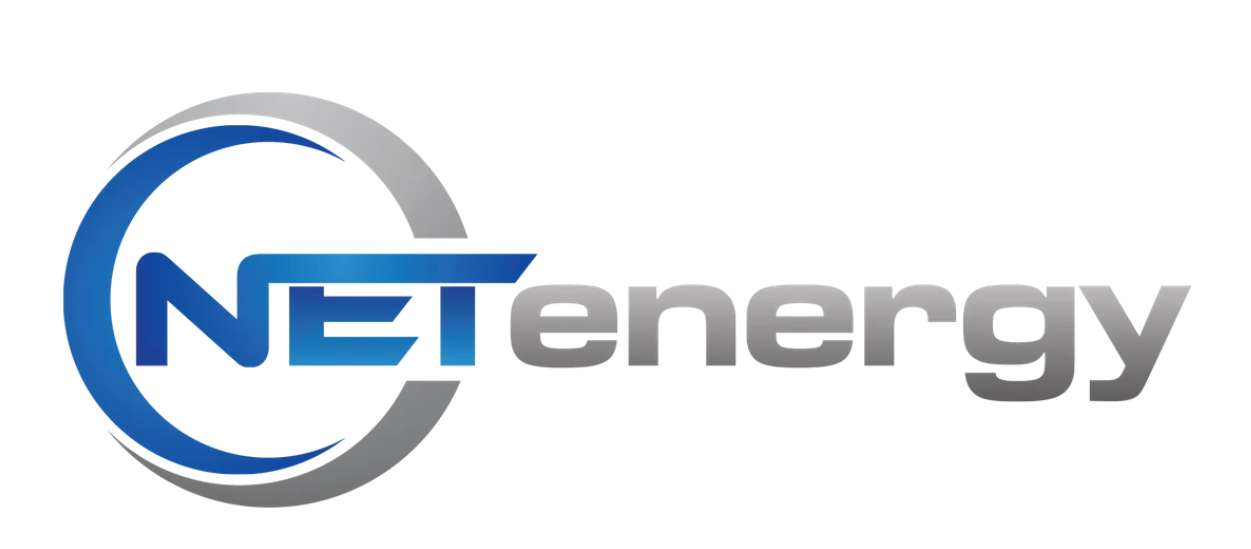 NETenergy is a thermal energy storage company that is creating a thermal battery designed to offset peak electricity load. By utilizing NETenergy's thermal battery to store cold energy, building owners can save 30% or more on their energy usage and reduce carbon emissions by 50%. The company has raised 750K from 1 funding round with firms like International Copper Association and Evergreen Climate Innovations. In 2021, NETenergy executed a license to commercialize thermal energy storage technology developed by the National Renewable Energy Laboratory. NETenergy has been an mHUB member company since 2020.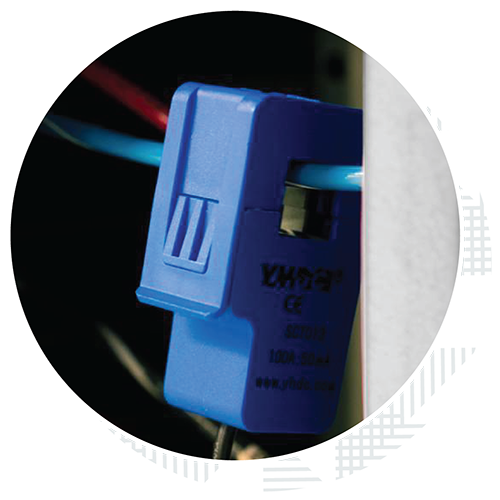 Amper is helping manufacturers digitize the manufacturing floor, empower operators, and meet daily production goals. Amper's non-invasive IoT solution provides real-time data to optimize job costing, reduce unplanned downtime, automate production reports, and accelerate set up times. OEE data creates a detailed optimization roadmap with actionable insights. In April, Amper announced it closed a $11M Series A led by Lewis & Clark Ventures. The round will enable expansion in building the next phase of products, including Amper's product-led engine and free trial program, to accelerate towards a vision of a FactoryOS. Amper was an mHUB member from 2017 – 2019.
mHUB Inside: launching a YouTube channel to educate and entertain
In the summer of 2021, mHUB launched the mHUB Inside YouTube channel to welcome a digital audience inside the 65,000SF innovation center for hardtech and manufacturing. The channel is focused on sharing stories that connect likeminded innovators by highlighting member projects and equipment capabilities. If you have not already joined mHUB Inside, you can subscribe to the channel here.
Providing Capital and Supporting Industry
mHUB HardTech Development Services for contract R&D grow
mHUB HardTech Development Services connect manufacturers to a rich talent pool of over 500+ highly skilled engineers, designers, and developers for outsourced product development and process innovations. These partnerships enhance the region's ability to commercialize innovation while extending the runway for high potential startups. To date, mHUB has infused over $3M of income to members through Hardtech Development projects. In 2021, mHUB's Hardtech Development Services generated $1M of income for members while driving the development of 19 new products and over 1,000 new product concepts that supported more than 30 regional small and medium manufacturers.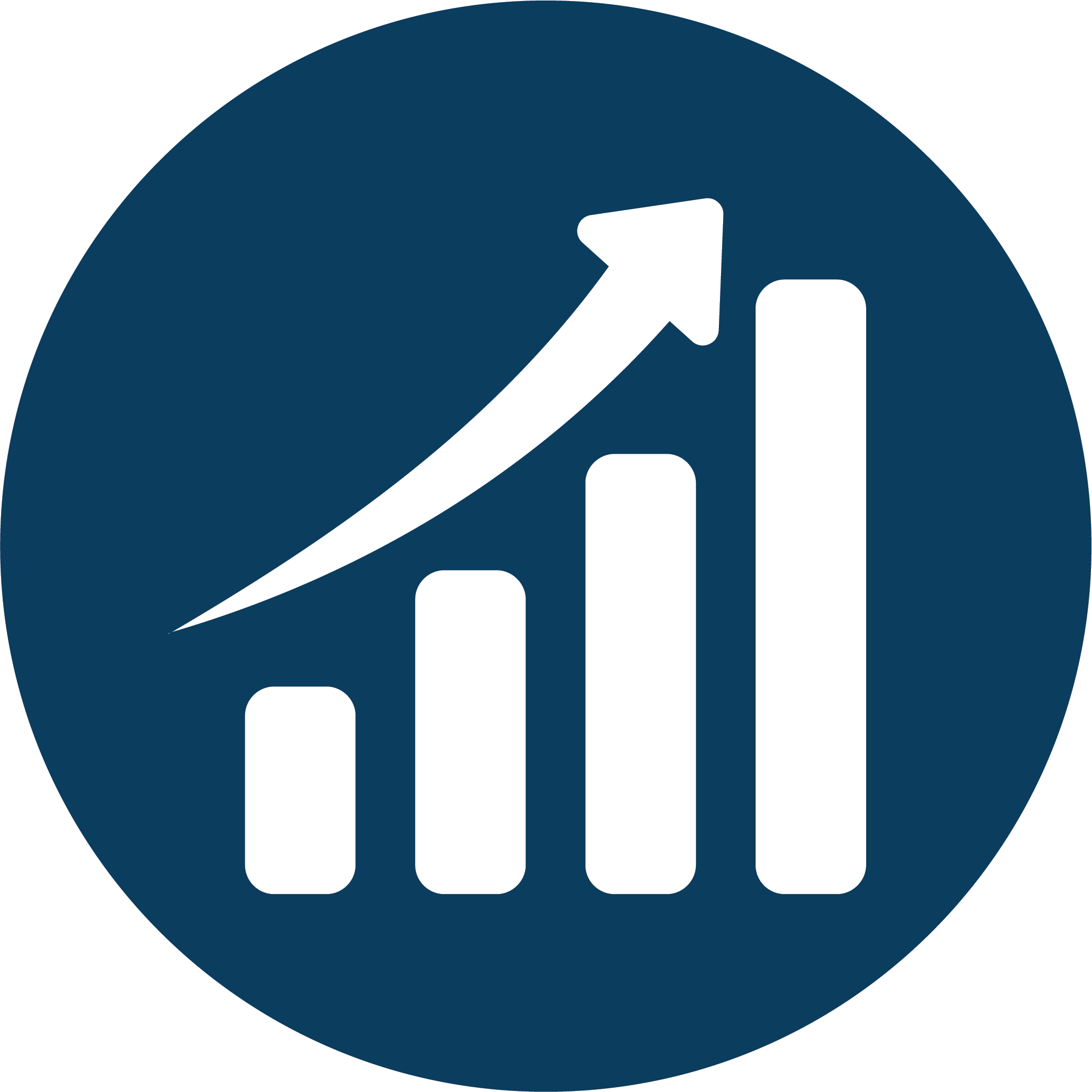 $1M
Revenue generated for members in 2021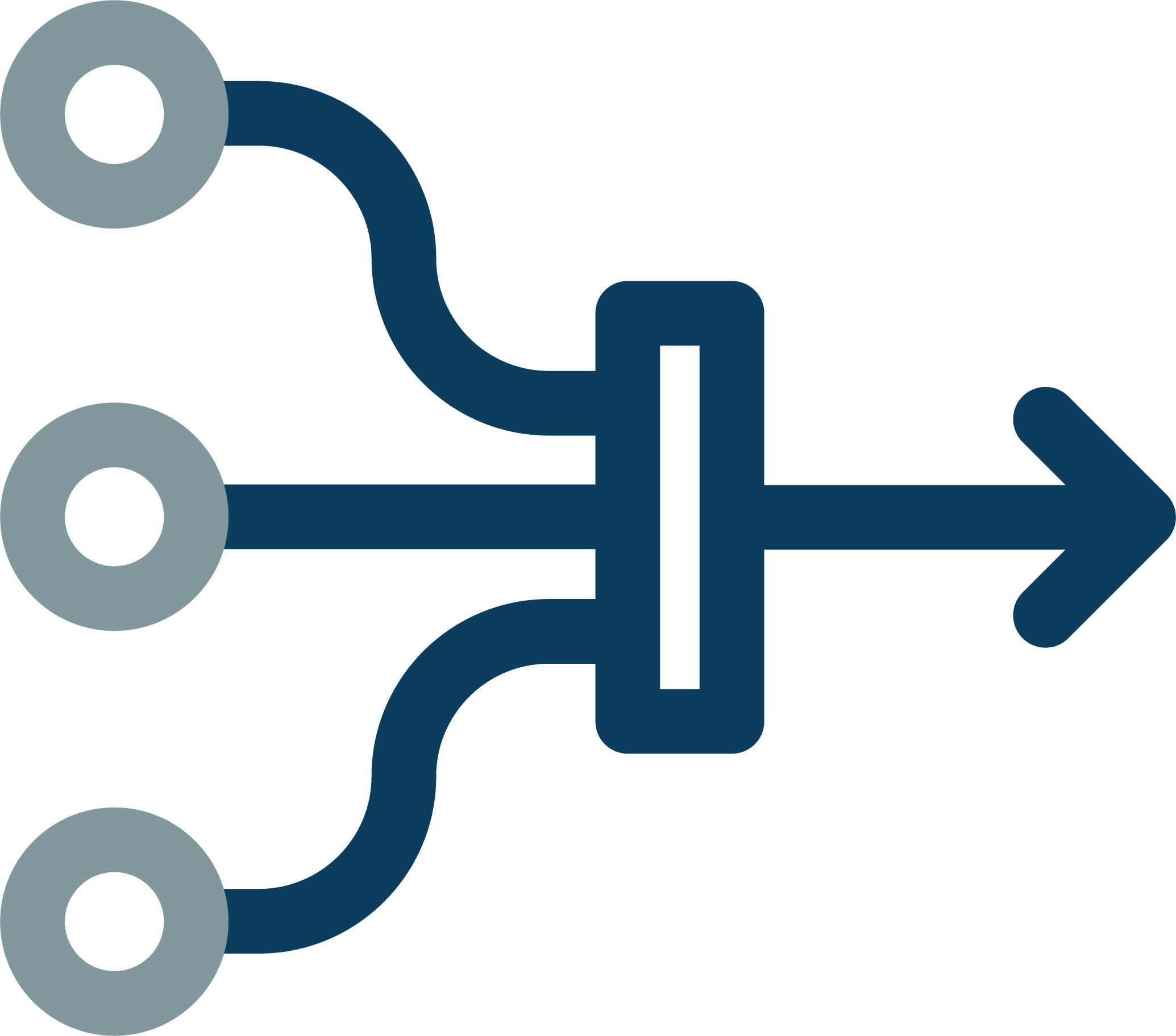 1,000
New Products and concepts developed
Meet HardTech Development Contractors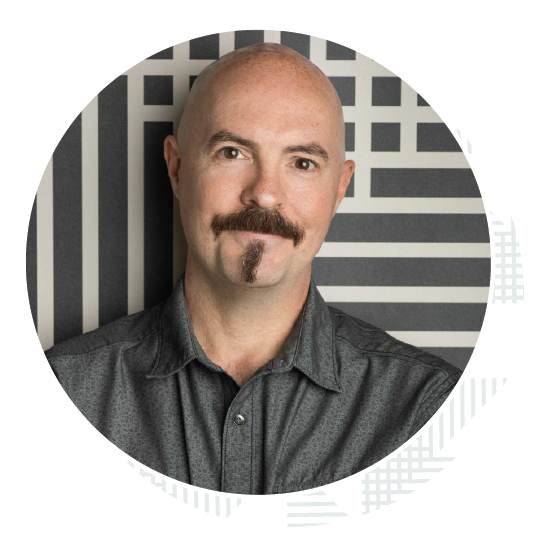 I enjoy solving engineering puzzles – projects that require a careful touch to balance numerous design criteria, or projects that involve intricate or complex features. Past hardtech challenges have ranged from complex locking mechanisms to compact wrist-wearable electronics packages to light piping through apparently opaque surfaces. Different technical skills predominate in each phase. But one technical skill is put to use in each and every phase: design for manufacturing (DFM). As I apply the first pencil marks to a preliminary concept sketch I am thinking of how the components of the product can be manufactured. A knowledge of many manufacturing processes is applied in final engineering to create a production data package that can be smoothly handed off to the manufacturer
-Mike Rafferty, Rafferty Engineering
Rebalancing Opportunity and Access
The mHUB mPOWER pilot program
The mHUB mPOWER program is part of a larger effort focused on equity and began with a pilot cohort for women. The pilot cohort opened applications in 2021 and is now underway with 13 women founders representing a wide diversity of industries including clean tech, med tech, cannabis tech, and more. These women founders all began the program in slightly different places on the spectrum of early-stage companies. For many, this program is a first step in a long journey of customer discovery and product development. The first 2 months of the program have been focused on problem identification, customer discovery, and getting matched with experienced founders from a variety of industries to be their mentors throughout the program. As the program progresses, the cohort will be focusing on the product feasibility phase which includes concept design, IP, product testing, and more.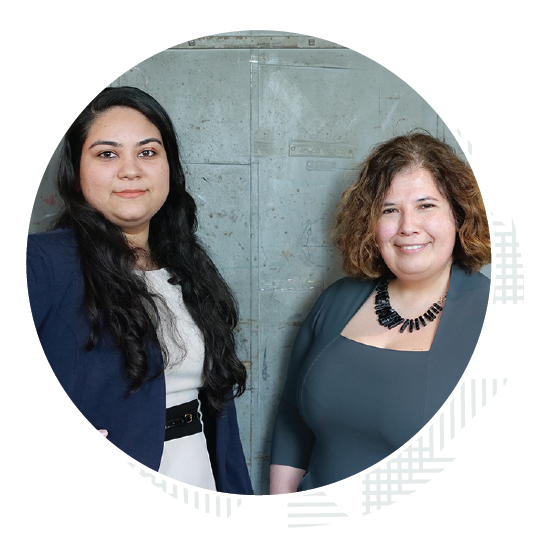 "As two women who have built careers at the nexus of sustainability and construction, we want to ensure our industry is ready to transition to a low carbon economy and seize opportunities that come along with combating climate change. In addition, as women in a male dominated industry, we value mPOWER's community of amazing women with a shared vision to change our world."
Sustainafy is a hardware and software solutions provider for the construction industry to enable reporting of greenhouse gas (GHG) emissions for current regulatory and future carbon-related disclosure requirements.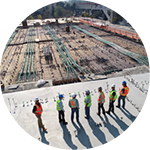 mHUB HardTech development fellowships
The mHUB HardTech Development Fellowship Program pairs a complementary 6-month membership to the mHUB innovation center with the opportunity for contract work. Membership provides access to $6M in equipment and resources. Engagement with the mHUB Hardtech Development team offers a pipeline for paid work in product design, innovation, and R&D. The first class of fellows began the program in July 2021. It included mechanical engineers, software engineers, industrial designers, and business strategists, some of whom have carried on mHUB membership and work with Hardtech Development clients.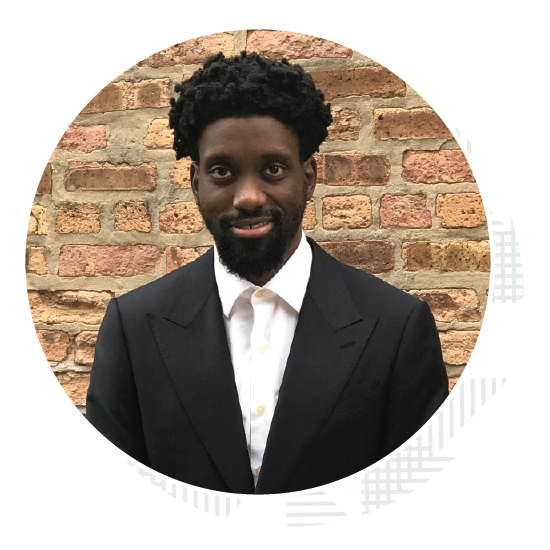 I joined mHUB by being a member of 1871. My fellowship last summer was interesting, I wanted to gain more hardware exposure as a software engineer. I knew it would help me understand the connections of a project. I met a lot of very smart people at mHUB and have been grateful to learn things from a variety of people. Being at mHUB is like a continuous college experience which I would recommend to any engineer of any experience level.
-Elbert Dockery
New Partnerships to Expand Reach and Impact
Heartland Climate Tech Partnership
As a founding member of the Heartland Climate Tech Partnership, mHUB is proud to partner with Evergreen Climate Innovations, Centrepolis Accelerator at Lawrence Technological University, and Spark Innovation Center to advance the commercialization of innovative climate tech and clean energy businesses across the Greater Midwest Region. Project affiliates include Chain Reaction Innovations based at Argonne National Laboratory, the Innovation Crossroads program at Oak Ridge National Laboratory, and the National Renewable Energy Laboratory.

The partnership will help support and accelerate climate tech and clean energy hardware startups in the Greater Midwest. The partners plan to support more than 360 startups and small businesses via the tailored programs, which include both virtual and in-person events, sector-specific curriculum, accelerator programs, mentorship, prototyping resources, and connections with industry.
2025 Clean Tech Economy Coalition
The vision of the Illinois Clean Tech Economy Coalition (CTEC) is to grow Illinois' regional economy by becoming a national leader in energy infrastructure products, components, and services, and advancing clean energy efficiency through a modernized grid. Historically disinvested and coal-impacted communities will co-create and drive growth as business owners, employees, decision-makers, and consumers to ensure the virtuous innovation lifecycle fully aligns economic, equity, and climate goals. The Coalition is seeking funding through the EDA Build Back Better Regional Challenge as well as commitments from local and state governments. Projects are developed around the following themes: innovation & entrepreneurship for clean technologies; production capacity for supply chain and workforce improvements; and the development of EV infrastructure.
Thank You for Being Together
TO OUR PARTNERS, TEAM AND BOARD
Our Mission
To develop an entrepreneurial ecosystem around physical products and hardware innovation and accelerate industry growth by cultivating a community of collaboration and connectivity between innovators, entrepreneurs and manufacturers.
WE ARE MAKERS AND MANUFACTURERS.
COMING TOGETHER, TWO EQUAL PARTS.
A LAUNCHING PAD. A SPARK.
ACCELERATING IDEAS AND PRODUCTS.
Keep in Touch with mHUB
Stay connected to what mHUB and its innovative community by joining our email list for monthly updates and event notifications.