FOR IMMEDIATE RELEASE
Press Contact:
Kim Blomquist
872.222.5279
kim@mhubchicago.com
mHUB Founding Partner, Marmon Holdings, Commits $1M to Extend Partnership through 2026
mHUB and Marmon Holdings announce a new five-year partnership to extend the original five-year relationship between the organizations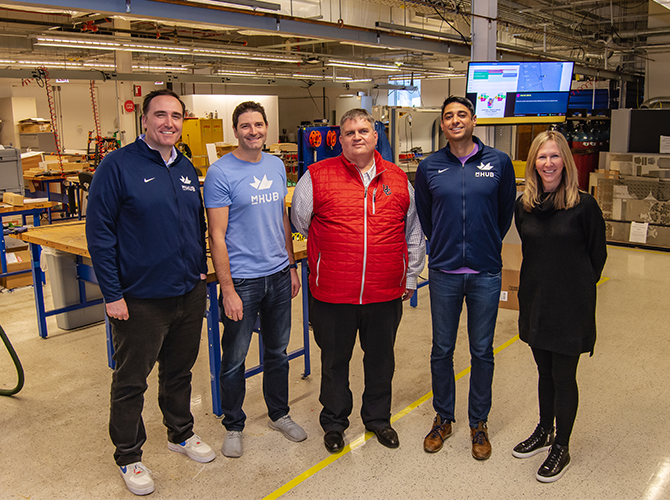 (CHICAGO March 21, 2022) - Marmon Holdings, Inc., a founding partner of mHUB in 2017, will extend its partnership with the organization for another five years by committing $1 million to the hardtech non-profit innovation center to support product innovation and access to talent.
Chicago-based Marmon, part of Berkshire Hathaway Inc., is a global industrial engineering organization with more than 100 autonomous businesses, more than 20,000 employees, and annual revenues of $10 billion.
The continued partnership will further connect Marmon to mHUB's growing entrepreneurial ecosystem for access to talent and early-stage tech to help solve complex problems. This includes working with mHUB's Hardtech Development services on research and development projects. Marmon innovation teams also have membership access to mHUB's 65,000 SF innovation center in Chicago. With onsite office-space, Marmon teams use mHUB prototyping labs and engage with the broader innovation community for professional and technical development opportunities.
"Product innovation and technological advancement are vital to manufacturing's future. With manufacturing operations in diverse industries worldwide, we at Marmon recognize the importance of bringing new ideas to successful commercialization," said Angelo Pantaleo, Chairman and CEO of Marmon Holdings. "We view mHUB as a creative approach to meeting this critical need and are pleased to extend this important partnership."
"Working with mHUB has opened our scope on problem solving. It gives us an outside-in perspective where we can take or adapt existing technologies and quickly pull them into something that Marmon is working on," said Jeff Garascia, Chief Innovation Officer of Marmon Holdings. "mHUB helps our businesses bring new product to market with everything from software development and control systems to advanced manufacturing technology."
"One of the mHUB missions is to bring novel, early-stage ideas to corporate partners that can help solve pervasive industry challenges," said Bill Fienup, Vice President of Innovation Services and Co-Founder of mHUB. "The collaborations between mHUB and Marmon have resulted in new solutions that have made its businesses more competitive, efficient, and relevant in markets where technology is advancing at an extraordinary rate."
About mHUB
mHUB is a leading independent hardtech and manufacturing innovation center that exists to convene the entrepreneurial ecosystem around physical product innovation to ensure that the manufacturing industry continues to accelerate, grow and thrive. The mHUB community includes over 350 active and alumni startups and small businesses supported by a deep talent pool of product designers and developers, entrepreneurs, engineers and manufacturers, corporate leaders, industry experts, mentors and investors. mHUB provides a hyper-resourced environment to entrepreneurs with the goal of commercializing new hardtech innovation that will lead to new businesses, intellectual property, investment, revenue and job creation. Since launching in 2017, the mHUB community has generated more than $721M in revenue, launched more than 1,398 products, hired more than 3,987 employees, and raised over $1B in capital.
About Marmon
Marmon Holdings, Inc., a Berkshire Hathaway company, is a global industrial engineering organization compromising more than 100 autonomous manufacturing and service businesses, organized within 11 groups. Marmon's 20,000-plus team members serve diverse industries and markets worldwide from more than 400 facilities in 23 countries. Annual revenues total $10 billion.