FOR IMMEDIATE RELEASE
Press Contact:
Kim Blomquist
872.222.5279
kim@mhubchicago.com
mHUB Announces Portfolio Teams of Its 2023 MedTech Accelerator Cohort
10 Startups Will Participate in the Chicago-Based Program Supported by NorthShore – Edward Elmhurst Health Venture Capital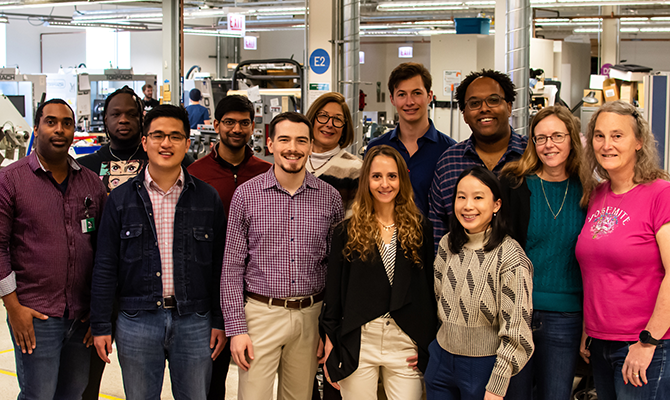 (CHICAGO March 21, 2023) – mHUB, one of the nation's leading independent hardtech and manufacturing innovation centers, welcomes ten startups into the 2023 cohort of its 6-month, hands-on accelerator for high-potential medical device businesses. Teams will move from across the country to participate in the program at mHUB's state-of-the-art facilities in Chicago. The program is set to commence in March 2023.
NorthShore-Edward-Elmhurst Health Venture Capital (EEH VC) will support the program as lead partner to provided mentorship and guidance for strategic connections within industry and clinical access. EEH VC was highly involved in the competitive selection process that reviewed global applicants for acceptance into the program.
The program will also be supported by industry partners, Cooley LLP, EdgeOne Medical, MP Consulting, and Ontogen Medtech. Industry partners will conduct topic-specific workshops and provide designated mentorship access for consultation across healthcare, product development, and business strategy.
The selected cohort features early-stage ventures focused on commercializing disruptive medical device solutions such as: devices to automate point-of-care diagnostics, continuous monitoring, therapeutic devices, sensors for medical equipment management, and more.
"I've observed firsthand how innovation can deliver exponential impact, especially from a health equity lens," said Dr. Garth Walker, Senior Medical Director of Value Based Care, Rush Health. "As an mHUB board member, I look forward to tracking and supporting the progress of these teams as they experience the incredible program mHUB has built with resources specifically tailored to the commercialization of medical devices."
The selected startups are the result of a rigorous selection process that included an advisory committee of healthcare industry experts, venture capitalists, manufacturers, and serial entrepreneurs. The startups were selected based on their ability to address large, unmet needs with innovative solutions that will transform patient care.
In alphabetical order, cohort teams include:
The mHUB accelerator provides access to capital through a $15M Product Impact Fund with follow-on investment opportunities from the program's lead partner as well as access to over $6M of capital-intensive prototyping equipment and business resources. It matches seasoned mentors to each startup, focuses on business and leadership training, and offers access to a broad manufacturing ecosystem. Being situated in Chicago, one of the nation's largest manufacturing regions, mHUB has built a supplier network of over 500+ U.S. manufacturers and growing.
"There is a huge opportunity for impact through healthcare innovation. The industry is on the brink of transformation as smart technologies are allowing for improved diagnostics and monitoring in addition to an increase in at-home care," said Bill Fienup, Executive Director, MedTech Accelerator, mHUB. "I can't wait to dive in with the ten startups selected to participate in the program and help them position their novel solutions for market through the excellent set of resources we've built around the program."
The 2023 MedTech Cohort of the mHUB accelerator program will conclude in the fall of 2023 with a Demo Day event spanning two days.
mHUB continues to launch sector-specific accelerators approximately every six months with the next cohort set to open applications later this year. For more information visit mhubchicago.com/accelerator.

About mHUB
mHUB is a leading independent hardtech and manufacturing innovation center that exists to convene the entrepreneurial ecosystem around physical product innovation to ensure that the manufacturing industry continues to accelerate, grow and thrive. The mHUB community includes over 428 active and alumni startups and small businesses supported by a deep talent pool of product designers and developers, entrepreneurs, engineers and manufacturers, corporate leaders, industry experts, mentors and investors. mHUB provides a hyper-resourced environment to entrepreneurs with the goal of commercializing new hardtech innovation that will lead to new businesses, intellectual property, investment, revenue and job creation. Since launching in 2017, the mHUB community has generated more than $1.1B in revenue, launched more than 1,500 products, hired more than 5,100 employees, and raised over $1.5B in capital.
About NorthShore - Edward-Elmhurst Health Venture Capital
Edward-Elmhurst Health Venture Capital (EEH VC) is the corporate venture arm of Edward-Elmhurst Health (EEH) and was founded in 2019 to invest in innovative solutions that advance EEH's vision of transforming healthcare while diversifying its revenue base. Our $5M venture capital fund focuses on Seed, and Series A rounds where we can partner with portfolio companies addressing current and future pain points in healthcare.