Everything You Need to Know About the Technical Side of Launching a HardTech Startup
You have an idea for a physical technology product. Perhaps you've already built a prototype. You're excited to bring it to market and have a vision for how it will impact customer lives. But you soon realize that developing a physical product is not the same journey as that of an app or software product.
When it comes to physical products, there are real-world considerations to factor such as sourcing parts, material selection, product testing, acquiring your initial customers or industry partners, shipping, supply chains, and the complications of licensing and patenting intellectual property.
Further, hardtech solutions can't be launched as early as software when you're dealing with devices that monitor and save lives, power critical operations, or have user safety implications. And to top it off, physical products and solutions are expensive to build and deploy.
There are a lot of steps to take when launching a hardtech starutp, and the path may feel hidden at times. In this article, we'll cover the technical nuances physical product founders must consider, like how to find your initial customers, prototyping, market and product testing, how to hire a contract manufacturer, and how to build your team.
If you're an entrepreneur developing physical technology, here's your official guide to the startup resources you need to commercialize your hardtech product.
Early Milestones for the HardTech Startup and Physical Technology Product
Since hardtech and product development are capital intensive, it's even more important to outline an initial business strategy before you start building. There's no point in spending the time and resources to make your idea come to life if you can't prove someone is willing to buy it.
Because of the higher risk involved in getting a physical technology product to market, and the longer return on investment, investors will often require a proven track record with a functional product before making an investment. This means you may actually need to be in market or have a clear path to market through pilots and partners before you can even start raising funds.
So again, don't burn through your own resources or a family and friends round on an idea you think will be in demand. Prove it.
One good place to start is in understanding the risks involved with your idea. This includes:
Tech Risk: What aspects of your product might present a performance issue (or simply not work) and what aspects might be too expensive to build?
Market Risk: Can you identify who will actually buy your product or is there a potential lack of demand for your product or solution?
Viability Risk: Are there gaps in your go-to-market strategy? Is there a clear path to revenue generation?
To unlock more startup resources for how to assess these risks and answer these questions, read: "So, You Have a HardTech Product Idea - Now What?".
What Type of Personal Investment Will Your Physical Technology Product Require?
Now you know how to formalize a proof of concept and access risks. If you're confident in your idea and strategy, how much can you expect to spend to get started? At the earliest stages, you'll mainly be dealing with operating expenses (OPEX). Capital expenses (CAPEX) will come later when you start making long-term investments in machinery, real estate, etc.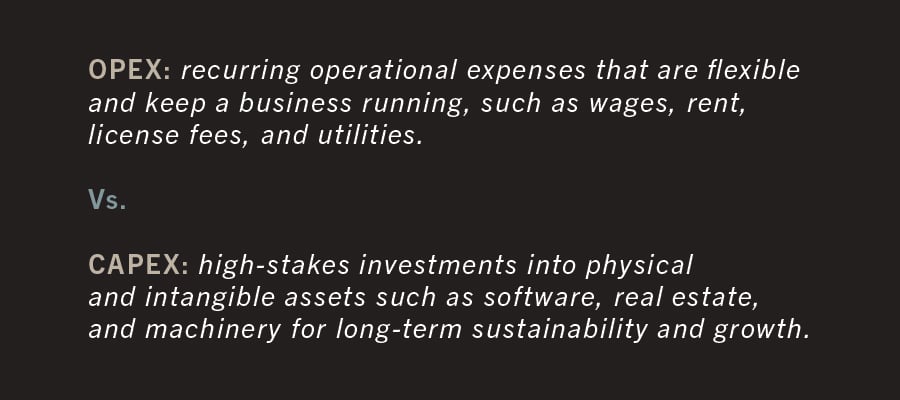 So how much OPEX will be required? The answer is: it varies greatly. Startups using basic materials and processes might be able to get away with spending a few thousand on prototyping materials and 15-20k in consultants. But for most working in the hardtech space, this is way too little.

A friends and family round may be important for your startup since you'll need finances to build an MVP and test before investors start paying attention. Or, if you have the ability to secure a loan, this is another way to get you through an initial prototyping stage.

Here are a few cost considerations to keep in mind:

Talent / Team: You may have a few direct pay employees, either full-time or contractors. For employees, equity is often used in addition to salary. The equity component will be larger for important hires while early employees will usually get equity through a common option pool.
Prototyping Materials: As mentioned above, the cost of prototyping will depend on what you're building. At the low end you might need some components, a board, and a casing – not so expensive. At the high end you might need rare earth materials or industrial scale processes and equipment – so expensive.
Access to Labs / Equipment: Before you start making CAPEX expenses in your own equipment and space, are there places you can develop out of? Universities and national laboratories often have programs for hardtech and deeptech startups. Or innovation centers, such as mHUB, a 63,000 SF facility with 11 prototyping labs, offer programs and membership options.
Consultants: Throughout prototyping and planning your business strategy, you'll need advice (more on this below). You might start with free mentors but eventually consultants will need to be paid and board members will typically get some equity for their support.
Product Testing / Pilots: Again, there is a huge range here based on what you're building. The low-end of spend is probably on the B2C side, which could be a few thousands dollars to build initial prototypes and get it in the hands of consumers. The higher end will be B2B solutions in more controlled environments with larger implementations timelines and considerations.
Certifications: Securing certification from entities like UL, CE, and MDR are often mandatory for physical products and devices. To say this expense can range from $5,000 - $50,000 is to say that it varies incredibly.
If you're looking for startup resources for product testing, compliance, and certification, read: Product Testing during Product Development.
Startup Resources for Customer Discovery
After you've assessed potential risks and put your initial business strategy and tech stack to paper, you'll come to realize one main theme. Your startup really isn't about the product at all, it's about the problem you're trying to solve and the customer.
If you're beginning your startup journey as a technical expert, you might be more focused on the physical technology product or solution itself rather than the problem or customer. It's common to have the mentality "if I build it they will come." After all, you've thought up an awesome product idea AND know how to build it – easy! How can they not come?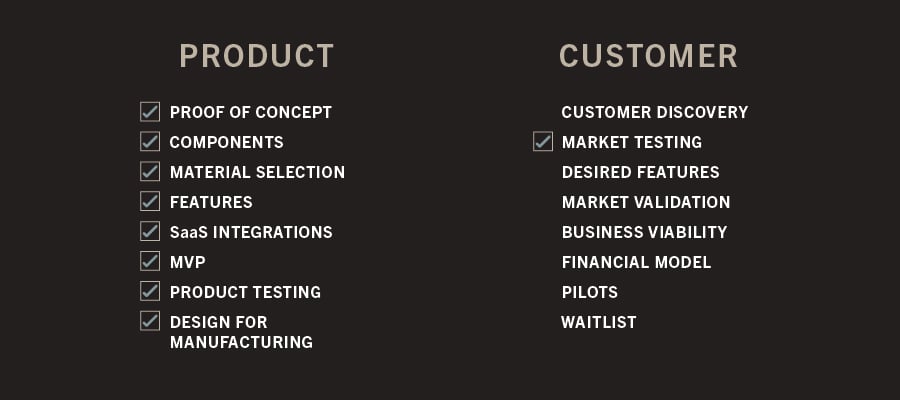 As you start to prototype and build, it's important to not get stuck in the weeds of product development without engaging potential customers. No investor is going to fund a company where the CEO doesn't know how to sell. Think about getting to an MVP early so you can start to build a case for sales: letters of intent, memorandums of understanding, and positive indicators of market traction.
Here are some articles that can help you pair product development with customer development so you're addressing both in tandem:
Proof of Concept, Prototype, and Minimum Viable Product (MVP)
Once you've framed your product idea around the customers willing to buy it, you can finally start developing. But before you even start tinkering with an actual prototype you should have a written, visual documentation of the why, how, and what. The why will focus on the customer, the business case for why your product is needed and what problem it solves. The 'how' will focus on the actual solution to the problem, and the 'what' will describe the technical properties that power the how.
Lots has been written on getting from proof of concept (POC), to prototype, to MVP. The main takeaway here is that this is cyclical, not linear. For example, don't leave the business case and customer behind after your POC phase just to pick them back up at the MVP or piloting stage, engage them throughout the entire prototyping process.
Once you're laser focused on the customer and have identified the most basic set of features that need to be built to start testing the market, you'll start an iterative prototyping process.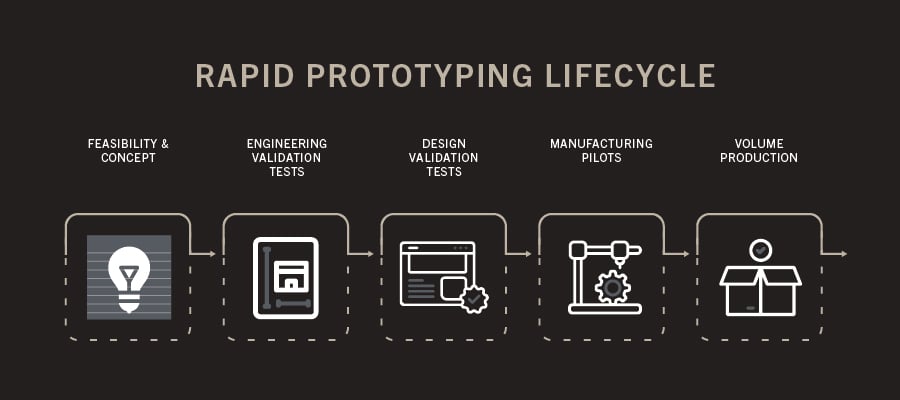 There are five main stages to prototyping a physical technology product.

Feasibility & Concept: This is the stage you'll be in as you outline all the business risks and customer needs addressed above. This includes hand-drawn sketches and scrappy prototypes made from cheap materials.
Engineering Validation Tests: In this stage you prove that your product is actually going to work.Design Validation Tests: At this stage you're focused on the look and design elements of your product, often working with an industrial designer.
Manufacturing Pilots: You're final product will actually be constructed at this stage and you'll confirm manufacturing times and costs.
Volume Production: The manufacturing of a thousand or more units specifically for product sales.
The prototyping process is called iterative as you'll cycle back through these stages at the various stages of your startup. You'll also take away and add features as you learn more about how your product works and customer needs.
To learn more about the iterative prototyping process, read: Rapid Prototyping: What to Expect during an Iterative Product Development Process provides a number of startup resources.
Who Should You Bring to the Table?
Throughout the prototyping process, and as you get closer to market, you'll need a group of experts. Know what you don't know and seek input on the rest. Your path to commercialization will be slow and grueling if you attempt to be an expert in all things.
To find talent, try to identify professional associations or coalitions in your area with a focus on entrepreneurs and startups. Most cities will have startup resources such as incubators, accelerators, or innovation centers for developing technology.
If you're still in college, your university should be the first place you look as most universities also have designated programs for entrepreneurs and budding startups. Wherever you identify these groups, they should have intranets, slack channels, newsletters, or job boards. Just keep in mind that you may need to pay a fee to access them.
Don't be afraid to share details of your project with contractors or temporary hires. They'll need access to all your IP and documentation. Have an NDA ready to go. Typically, you wouldn't offer equity to someone in a temporary contracting role, but you will need to pay them!
This article about key roles for an early-stage hardtech startup will help you identify who you might need to bring on and when: Advisory Boards, Contractors, and Hiring for Your Startup.
Startup Resources for Getting Your Physical Technology Product to Production
Throughout the product development process you're not always thinking about manufacturability. You'll use what you can, where you can get it, and as fast as possible. But once you've landed on your MVP, including a final form factor, product features, and materials, you'll need to start sourcing final parts and vetting contract manufacturers. Investors are going to want to know how you intend on actually bringing a product to market by understanding how much each unit will cost to produce.
If you've planned ahead, you've brought design for manufacturing (DFM) into the product development process early. This means throughout each MVP build, you've determined which process and material can make each component and confirmed it's attainable and affordable. If you haven't practiced DFM through prototyping, you could run into a bunch of product design issues as you start talking to manufacturers.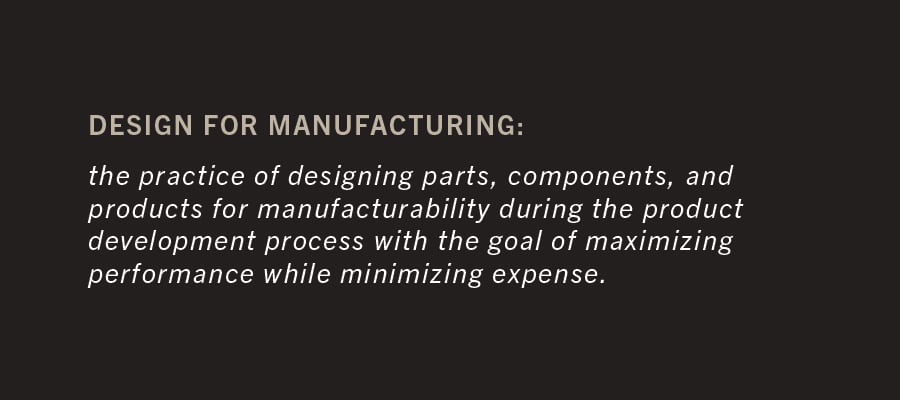 Once you do start talking to manufacturers, they'll want the following at a minimum:
Drawings and STEP format CAD files
Dimensional specs, tolerances, and critical features called out
Volume needs
What other mating parts there might be
Your vision – get them interested in the job!
There are several things you'll need to know about each contract manufacturer as well. As you vet partnerships, it's important to remember there isn't always one right way to do something. One manufacturer might suggest one process and another something different. Both could be viable options.
This article explains the process of selecting a contract manufacturer from start to finish: How to Hire for Contract Manufacturing.
Once you determine the best partner, building an initial set of tools and running an initial batch of parts will be required. You'll want to test assembly on your own and might even assemble your first product run yourself. Once the kinks are worked out, you'll hand assembly documentation and process off to your manufacturer.
From there your main worries will be supply chain, shipping, and tooling considerations. If something changes with your product, you'll likely need more custom tools, which are expensive.
The Business Side of Launching a Physical Technology Product
This article covered the more technical aspects of launching a hardtech startup for taking an idea to manufacturable product. While, it touched on things like business modeling, customer discovery, and value proposition, these things happen early in the lifecycle of a startup and are often paired with product development.
The mHUB hardtech innovation center has a suite of startup resources and an entire curriculum that covers both the technical and business aspects of launching a hardtech company. Courses are on-demand and follow a startup's journey from discovery to delivery to launch to growth.
The curriculum is available to mHUB members whether they're virtual or building products on-site in mHUB's state of the art facility for prototyping physical technology products. Pair the labs and curriculum with other mHUB startup resources such as its mentor and investor network, connections to industry, and supplier network, and you've got all the tools you'll need. But don't take our work for it – check it out for yourself.
mHUB Entreprenurial Curriculum
If you're not based in Chicago or near a similar innovation center like mHUB, you might consider temporarily re-locating or traveling for an accelerator program. Read about mHUB's accelerator.
There is a lot to consider when launching a physical product technology. Utilize these available startup resources and others in your own networks and communities. Founding a company is difficult, and while you don't need to listen to every ounce of advice, you don't need to go it alone either.


Review mHUB membership options for further supporting the launch and scaling your physical product idea.