Each accelerator program at mHUB is supported by a group of esteemed, industry-aligned mentors. Participants in the program can tap into the entire network, but they are also matched with a mentor for consistent, ongoing coaching over the course of the 6-month program and beyond.
During the MedTech Accelerator, these invaluable relationships help startups connect with industry, navigate the regulatory path, define product market fit, and design for manufacturing. (For a full list of mentors participating in the 2023 Cohort of the mHUB MedTech Accelerator, visit the medtech accelerator program page.)
Read on to hear from mentors who participated in the 2022 Cohort, Dimitra Georganopoulou and James Waring, about their experience mentoring and how they contributed to the startups.
Describe your industry background and expertise.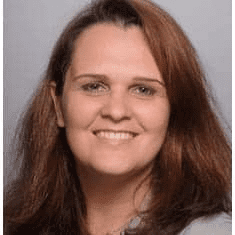 Dimitra Georganopoulou: When I began working in the Technology Transfer office at Northwestern several years ago, I started as the Commercialization Officer for Medical Devices before expanding to all Northwestern technologies. During that time, I developed an iCorps-like program for medical devices called INVO-forward. Later, I became a faculty member at the MSL Entrepreneurship Lab on Medical Devices, and then an Innovation Faculty member for MIT's LinQ Catalyst program.Currently I am a General Partner of Qral Ventures and a Venture Partner for MBX Capital (formerly FundRx). I also serve as Chief Business Officer (CBO) in select portfolio companies, on the investment committee of the Aim-Hi Accelerator Fund, and as a Technical Due Diligence lead for the Keiretsu Forum Midwest Investments, a next-generation life science venture capital firm.
I am an experienced biotech professional with deep knowledge of personalized medicine projects, therapeutics, medical devices, diagnostics, and Health IT. I also have expertise in Tech Transfer with deep connections to the local and national innovation ecosystem. I continue mentor in various local programs, including as a Venture Mentor for the Polsky COMPASS program and as a Venture Advisor for Northwestern's N.Xt Fund and InQbation lab. I am also a Director at Large for Women in Bio (WIB), an organization dedicated to promoting careers, leadership, and entrepreneurship for women in the life sciences.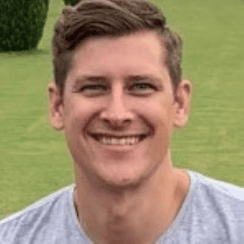 James Waring: I have over 12 years of experience working in the medtech industry through my time at two startups, Stryker and ResMed. I originally trained in mechanical and biomedical engineering and spent several years in R&D and product development, bringing multiple product ideas to market. For the last six years, I've worked in product management, strategy, and commercial operations across North America and Asia, launching new features, products, and business models. Most recently I focused on building direct-to-consumer experiences for patients online in the sleep space. I've worked on medical product development from idea to end of life and understand the intricacies in detail. My expertise lies in strategy, product management, and digital operations, with a particular focus on customer-centered design.
Georganopoulou: I have been passionate about growing the medtech ecosystem in the Chicagoland area for over two decades. My early professional experience was entrenched in medical device spaces, being an entrepreneur myself, and realizing how few resources existed locally at that time. We had conversations about a Medical Devices incubator and accelerator at Northwestern for years, first with Matter, then Catalyze, and finally with mHUB. It has been such an amazing initiative spearheaded by mHUB leadership and the former MedTech Accelerator Executive Director.
Waring: I was fortunate enough to move to Chicago just as the mHUB team was building out the network for their MedTech Accelerator program. I had the opportunity to meet the full cohort through various activities but spent most of my time working with the HIVE and Minimize teams as they developed their business strategies and validated their business model with customers. I was excited to mentor this cohort as I've previously participated in startup accelerators and enjoy the opportunity to meet energizing founders and help them bring their ideas to market.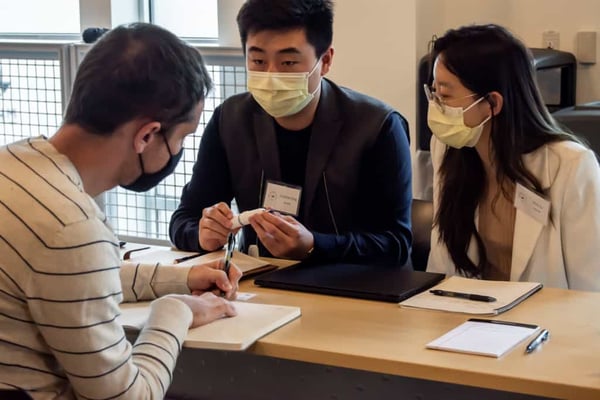 What was your approach when mentoring the MedTech cohort?
Georganopoulou: My approach was to first try and become a member of the team that can be trusted to provide credible advice. I started by making my priorities for each company clear: to address the biggest risks to mitigate, identify the next value inflection milestone, and clarify the value proposition of their product.
Waring: A founder's time is precious and often has competing priorities, so I let the teams tell me how I could help. Sometimes that was an in-depth discussion on a topic, a review of some of their work, or a warm intro to my network. Whatever helped them overcome their current challenge and keep moving forward.
How was your overall experience? What do you enjoy most about mentoring?
Georganopoulou: I thoroughly enjoyed being part of the experience and appreciated the events planned by the mHUB team. I also connected deeply with the executive team of PROMEDIX— it was amazing to see their progress and growth from the beginning of the program to the end.
Waring: I had a fantastic experience with this cohort! mHUB did a great job involving the mentors throughout the program. They made sure there were opportunities to support each team, even the ones I wasn't individually mentoring. I enjoyed helping the founders overcome some of their present challenges and get to a solution quicker, which allowed them to keep their momentum and move forward.
What's one example where your insight was able to guide one of the MedTech cohort teams?
Georganopoulou: I had a discussion with a team about potential strategic partner meetings and planning out their partnership approach, which was immensely beneficial to the team. Thinking about presenting their technology as an integral piece of a potential partner's portfolio and identifying what's in it for the partner makes the conversations better positioned for success and follow-up.
Waring: In one case, I helped the Minimize team get up to speed on the durable medical equipment retail space, which was their initial go-to-market sales channel. We covered the considerations for selling into this channel and given my prior experience in this space, I was able to provide real-world examples of successful product launches.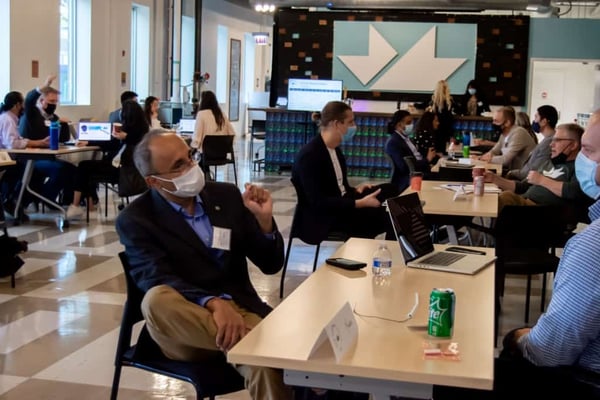 Why is mentorship important for early-stage startups?
Georganopoulou: Different startups benefit from mentorship in different ways. The best mentoring programs are the ones that adjust the support to meet the startup needs. Some teams need guidance on how to maximize the benefits received from programs like the mHUB accelerator program.
Waring: As an early-stage founder, I cannot emphasize enough how important mentors are to the success of ventures. For founders, tapping into an expert's knowledge of an area or network allows them to shortcut months (or years) of potential trial and error to get to the same place. This allows them to focus on building great solutions that customers want and get to market much faster.
What's one thing you think early-stage medical device startups commonly overlook, or is there one piece of advice you find yourself always giving?
Georganopoulou: Startups often overlook two things: Clearly explaining what their product is, and positioning it in a competitive, differentiated way from the existing Standard of Care solutions or emerging competitors.
The key every time is to concisely define the value proposition of your product early on. After that, know your audience and set out to show what's in it for them.
Waring: I think it's easy to get focused on building the solution, particularly for engineers or folks with industry experience. But no matter how much you think you know the solution; the best input comes directly from your customer. So, helping founders prioritize customer discovery and engagement early and often is something I constantly reinforce, as I've seen it move the needle repeatedly.
Get to know the nine disruptive MedTech startups from the mHUB MedTech Accelerator 2022 cohort.