"Life is an inventure (invention + adventure)," says Jessica Cobb, Mission Control Lab Founder.
Mission Control Lab is redefining the barriers between people, culture, education, and entrepreneurialism with creative technology and collaborative storytelling. Their MAKEON® kits, for example, enable anyone to make wearables, walls, and objects come alive with light, movement, and sound. These accessible tools are establishing pathways for individuals, education, and industry by cultivating EQ, CQ and IQ awareness.
In this Member Spotlight, learn how Mission Control Lab is cultivating the Cyber Cognitive Physical Systems (CCPS) of the future by generating synergy, igniting equity, inclusion, creativity, and community in STEAM experiences today.
Where did the idea for Mission Control Lab start?
While I was working on developing emerging technology, I realized that it's the shared time and space between people, problems, and solutions that cultures humans and their ingenuity. It's not the top of the mountain that is the adventure, nor the resulting invention, it's the field-wield-yield process that delivers real transformation. This is where the concept of inventure came from.
Technology has a tendency to expire, hurt feelings, and not be understood by the majority. The systems change, their parts are exchanged, and the objectives are rewritten. From navigating the frontier on the industry and education side of this I found that when individuals adapt and connect to changing situations, ideas, tech, materials, and people is when the extraordinary, yet everyday person metamorphosizes into a resilient engineer, brilliant designer, and captivating storyteller.
I decided to focus entirely on creating products that would accelerate access to this experience, starting at age 5 by building a low-floor to high-ceiling product eco-system that could cause systemic impact in the relationship between humans and technology worldwide.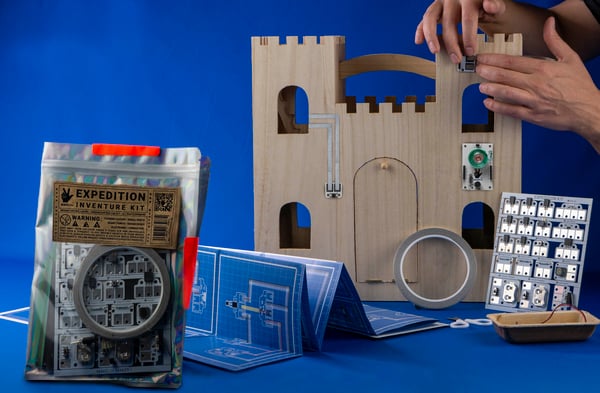 What got you interested in early childhood STEM/STEAM engagement and why do you think it's important?
Before I got into Edtech and Medtech startups, new media, etc., I was working in dynamic systems research in the field of neuro-endocrine-immunology, mapping how the brain, hormone, and immune systems would change from mindfulness activities. I thought to myself, "I can make human-machine interfaces that can do this," so I stopped measuring and started making.
I dove deep into materials, sensors and IoT, and worked on products in prosthetics, architecture, wearables, data acquisition modules, etc. and on a few big campaigns by the BBC, Google, Motorola, Wired, to name a few. At different points I developed curriculum for teaching teachers, programs for early youth to university, and even corporate team building. It was there I witnessed the distance growing between individuals in education and industry.
The conditions for human development require equitable, inclusive opportunities that cultivate ingenuity within thriving social systems. The curriculum I developed used mindfulness activities to support this idea on a smaller scale. When people made ordinary objects come alive with light, movement, and sound in just minutes, the trajectory of their development and success changed dramatically.
This ignited my passion for changing the tech experience culture for both newbs and nerds, making it more like an art material that is universal, social, scalable, and with serious style.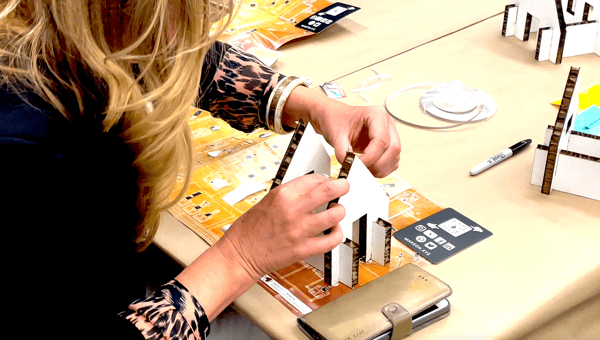 Since expanding out of the Netherlands and joining the mHUB community, how has your business grown and/or evolved?
Global dexterity is critical for hardtech and since we have set our sights on being the next LEGO— placement, process, and partnerships are fundamental in our strategy. Expanding out of NL profoundly affected our product roadmap in terms of user adoption, R&D, manufacturing ability, and relationship development.
We have been able to hone our key activities in purpose-built facilities on two continents, letting our footprint expand by being able to adapt to the changing markets and company growth needs efficiently. Having within short reach the access to prototype, fabricate, test concepts, and manufacture has let us launch without the wild logistical threats and process roadblocks that are all too common.
After working globally for over a decade, being originally from Chicago, there is nothing better for this proud female founder than circling back to the USA, to my hometown, and having everything in place to think and go BIG.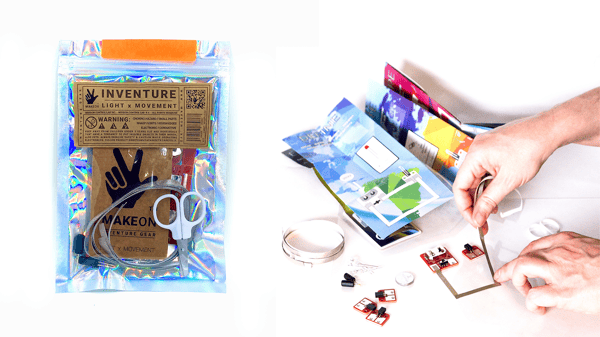 Outside of use by younger demographics, who else do you see engaging with your products? Are there other markets you've identified?
Cyber-embedded physical systems are expanding their reach rapidly across markets, current and emerging, so humans of all ages, from consumer to developer are going to adapt, connect, and engage. From workforce development to consumable/reusable circuitry, there is much opportunity in the space.
Since launching, we have had a number of interesting niche adopters like architects, museums, astro-photographers, neurology researchers, besides our main users of tech-experience facilitators, such as educators, parents, and hobbyists. On the hardtech side, blaring short-scope examples of where our MakeON® product could thrive is in wearables and in tech-toys.
The Inventure app has great potential for creative workforce development in global social skilling as a networking marketplace for individuals seeking education or cutting-edge pathways to industry.
What's on the horizon for Mission Control Lab?
Mars — We have space programs using our products now, most recent being NASA at the JPL. Our hardtech, MakeON® is being used for delivering educational programming here on Earth about their Mars projects, simulating vehicle relationships. Another agency is working on developing modular, flexible wall membrane circuitry architecture for human residences on Mars.
2023 — A series of wearable, wall, and object experiences are on deck from LED to IoT in the form of smart cities, living wall dashboards and wow-factor wearables.
Inventure App — Workforce development and 5th Industrial human-machine skilling is where we can make the most global impact. Therefore, we are working on a software experience that synergizes individuals, education and industry and generates purposeful, meaningful, work lifestyles.
If you are a budding entrepreneur looking for a vast community of innovators, take
a tour
at mHUB to learn more about the
hardtech ecosystem
and how to
get involved.