Innoblative is Driving Innovation in the Breast Cancer Space
Innoblative is dedicated to achieving better care for cancer patients by developing next- generation, advanced energy surgical solutions that improve the way surgeons coagulate and ablate soft tissue. Learn more about their value proposition and what's on the horizon from Alyssa Bailey, Director of Product Development.


Where did the idea and value proposition of the company start?




Innoblative was co-founded in 2013 by our first CEO, Tyler Wanke, in collaboration with a couple Northwestern doctors. The three of them were really drawn to the need in the breast cancer space. The standard of care at the time was for women with early-stage breast cancer to get a lumpectomy and then they would go through five to seven weeks of radiation. That's every day they're going for this radiation. It's really tough if you have kids or a job or difficulty getting transportation there. There's a ton of side effects, and unfortunately it doesn't always work and the cancer returns. Also, often times after removing the tumor the patient is brought back for a re-operation as the tumor was not completely removed. The three of them saw this opportunity and thought, since 90% of the residual cancer cells are within a few millimeters of the lumpectomy cavity, "What if we could do something at the time of the surgery where we could not only remove that lump, which is the bulk of the tumor, but then also do an ablation to kill the residual cancer cells there?"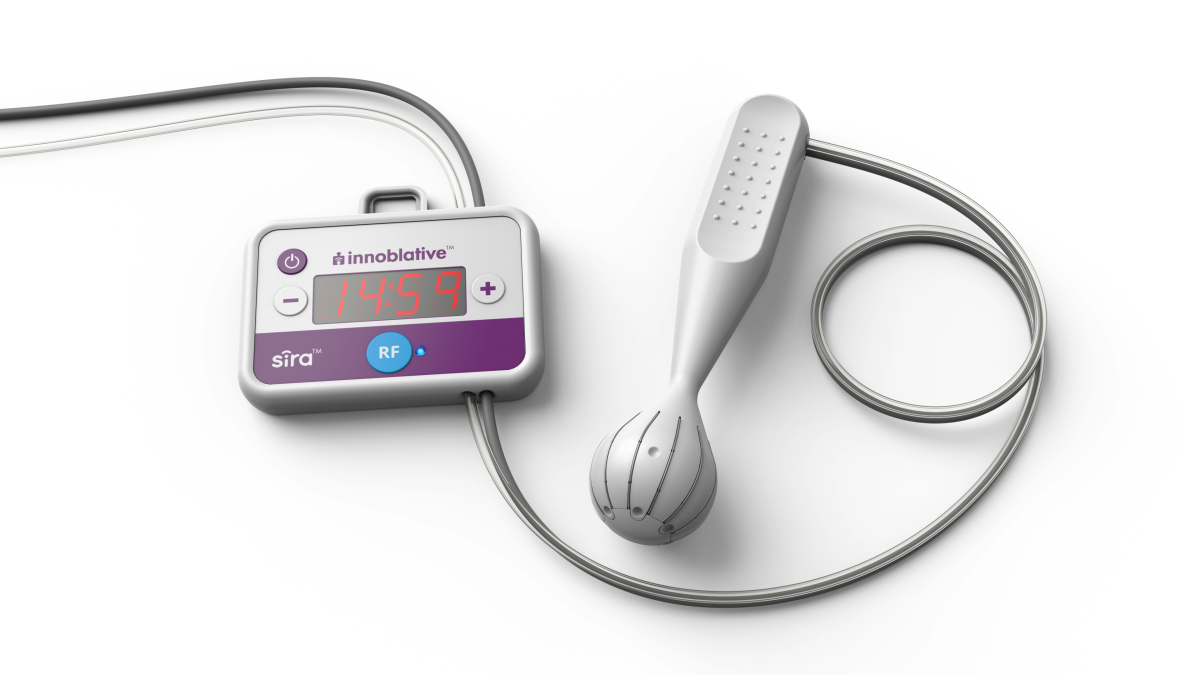 What led you to mHUB? How are you utilizing mHUB's resources?
We initially got involved with mHUB during the ventilator project at the beginning of COVID. Some of our engineers were tapping into that, working with mHUB members, getting a feel for the space. At the same time we were looking for a new office and lab space, and we soon realized that mHUB was really the only place that checked all the boxes for us. We are a small, early-stage startup. We couldn't afford anything huge and fancy, and we needed a wet lab space for testing. Many of the wet lab spaces in Chicago were geared towards companies with very sophisticated chemistry needs and were expensive, and it wasn't really anything that we needed. The space at mHUB checked the boxes for co-working space, space to store a lot of our stuff, and a place to do our testing. On top of that, it also gave us access to things like the laser cutter, the machine shop, the 3D printers, all these resources that we weren't necessarily looking for. But now that we have them, it has made our prototyping go so much more smoothly and has allowed us to get things done quickly and iterate quickly.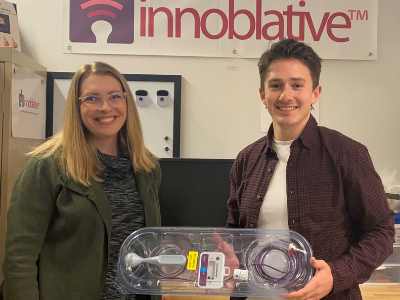 How have you grown since launch and what's on the horizon for the company?
We received FDA clearance and CE mark in 2019. That was really the first huge milestone for the company. Before that it was a lot of prototyping, getting through validation testing, pre-clinical testing, all that stuff. At that point, we decided to do a quick redesign of the product for manufacturability, and then COVID hit, and that quick manufacturability update became a long haul. We are finally now gearing up to get the new and improved device validated and we've got our manufacturer set up and running. We are hoping that soon we will be ready to take the next big step either in breast clinical trials or gathering the data we would need in order to start those trials hopefully in 2022. We also recently hired a new CEO, Rick Stark, which is super exciting. He has a lot of connections and experience in the breast space which will help take us to our next big milestone. He is actively raising money to close out our SAFE round (anyone interested in investing can reach out to Rick at rstark@innoblative.com).

Is there a story that comes to mind about how your company has pivoted to find success?
We're a really small team and our team has changed a lot over the years. We've gotten thrown a lot of different directions and the team has pivoted within their roles to fill the gaps and learn as we go. It's been challenging. For example, we needed to learn how to do software and PCB testing, production, documentation, and troubleshooting, in order to advance our software to production without relying on outside vendors. Traditionally this work was done by a supplier, but in an effort to take more control of our project, we brought much of the software work in house. One of our biomedical engineers, Tommy Kurth, took it upon himself to learn how to be a software engineer. He's worked with mentors, did a lot of hard work researching it, and has become our software expert. He saved us a lot of time and money by bringing the knowledge in house. I think that's one of our greatest strengths. The whole team is really flexible and it's great for our company because now we have all these different tools in our back pocket. It's not only going to help us in our career growth, but it will also help guide future products that we design for Innoblative.
Learn more about Innoblative here. If you are a budding entrepreneur looking for a vast community of innovators, check out mHUB's membership options.