A detailed recap of what the first two months of the hardtech accelerator program looked like for the IIoT cohort, the inaugural group to experience the mHUB accelerator journey.
It's been roughly 2 months since the 9 Industrial IoT startups participating in mHUB's hardtech accelerator program came to Chicago and met for the first time. Two months into the program, and these teams have fully integrated into the mHUB community. It's not called a hardtech accelerator for no reason.
The first week was packed with introductions. Startups met program corporate partners (Avnet and Panduit), mentors, and most importantly other mHUB members. Since only two of the teams are Chicagoland-based, mHUB took the teams on an accelerated city tour, which culminated in a storied Chicago architecture boat tour.
That first week, the startups pitched to each other and workshopped their way through customer discovery and validation. Starting with the basics is important. For some of the cohort, it's validating the problem to solve – is there a deeper underlying problem? What's really the job to be done? Teams get so focused on solving one aspect of a problem that they fail to see the fuller picture of what needs to be done. Adding a sensor to know if a machine operator is in a toxic environment helps, but fundamentally the problem is trying to save that operator's life.
For others it is exploring different market segments – are we focusing on the right segment? What is a good pilot customer? In what industry segment do we have a much bigger impact and create more value: is it automotive, medical, industrial?
The first major milestone was when teams pitched to the investors in our Product Impact Fund in early June. There was some perspiration, some of it is nerves but mostly tropical temperatures – 90F plus Chicago's infamous humidity.
I remember talking to two of our California-based startups during the application about 'cold' Chicago – as mHUB knew it wanted to have startups physically based in Chicago for the 6-month hardtech accelerator. We never discussed the high temperatures. And widely, we discussed COVID. Bottom line is that regardless of temperatures and COVID, mHUB has nine startups, from an application pool of about 500 and from all over the USA and Europe, that moved to Chicago for its Accelerated Incubation program.
With just three weeks into the program, the founders did great pitching to the Product Impact Fund investors. For some co-founders, it was routine as they are serial entrepreneurs (nine of the program co-founders are not first-time entrepreneurs). For others, it was the first time pitching in front of investors. Let me emphasize: the teams loved to pitch real, live, and in-person! What a change after all the Zooms and virtual pitching.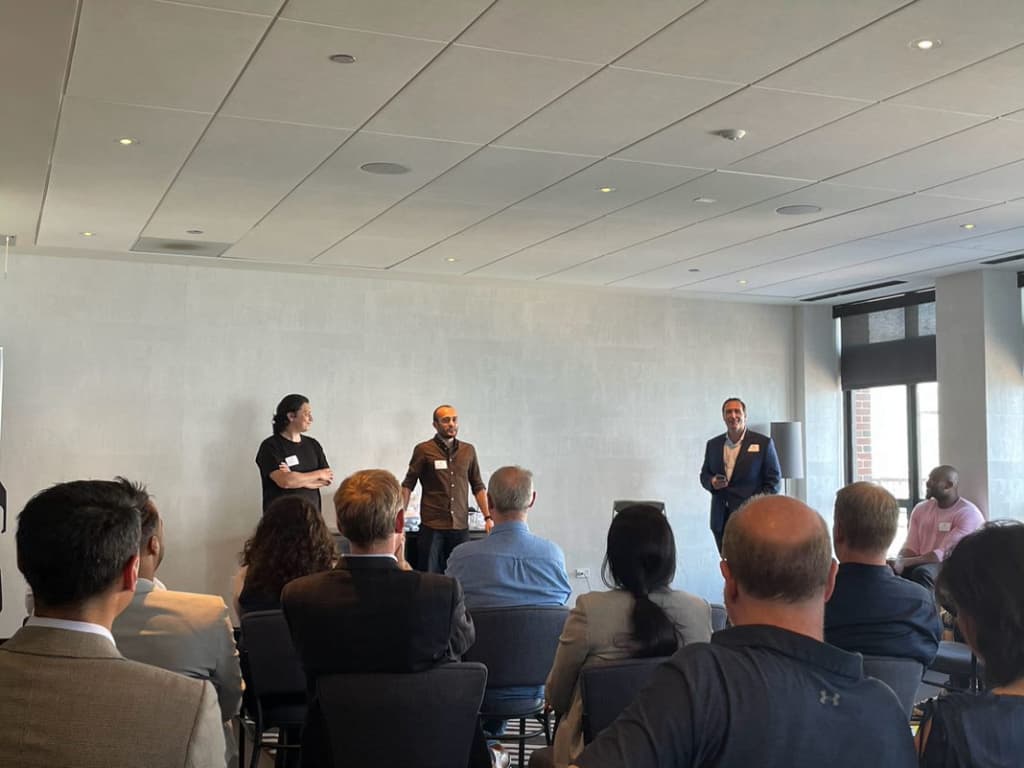 Very quickly, we started receiving positive feedback about how accessible the community is and willing to help. mHUB has almost 300 member startups. All of them are experts in their domain, going through start-up or scale-up phases. The value of being part of this community is enormous. The learnings are fascinating. The program has over 25 handpicked mentors that are domain experts and super-networked. After a mentor matchmaking exercise, nine of them matched, one-on-one, with the cohort companies and will guide them throughout the program and hopefully the long-term. And the sponsoring corporate partners, Avnet and Panduit, have introduced liaison officers for each startup. All these meetings ended up in some form of happy hour – celebrating an introduction and the start of a new relationship. Cheers to that!
Now, each startup is going through innovation sessions, or skunkworks, with mHUB's Hardtech Development team. The term originates from Lockheed R&D workers who thought that the strong smell from a nearby plastic factory that wafted into their secret lab made them think of the foul-smelling "Skonk Works" factory in Al Capp's  Li'l Abner  comic strip.
Nowadays a skunkworks project typically refers to a relatively small and loosely structured group of people that work on a project pursuing radical innovation escaping routine management constraints. The term is used for semi-secret projects like those at Google X Lab, Microsoft Research, Boeing, and many others. Also, at mHUB.
Oftentimes, startups lack all the skills and talent to build and prototype solutions. Based on the team's problem statement and the startup team skills, mHUB helps define the missing talent to build meaningful solutions. That temporary talent augmentation is the secret sauce that makes the mHUB's skunkworks so unique. We can tap into more than 1,000 talented individuals from over 300 hardtech startup members.
The brainpower of this augmented team is enormous: only relevant skills and experience are brought to the table. They know first-hand what entrepreneurship means and want to help fellow entrepreneurs and build relationships for the long term. And, multi-disciplinarity accelerates innovation power. Think of bringing in a proven technology from another industry, having an industrial designer sketching out a new idea conceived by engineers immediately, listening to a material scientist on applicability, all resulting in a portfolio of options that can be validated. Moreover, these experts can be further contracted to actually help build the prototype in mHUB's own prototyping facility. Speaking of acceleration!
We just started our journey: progress is great and it already feels we are part of a big family. The mHUB family.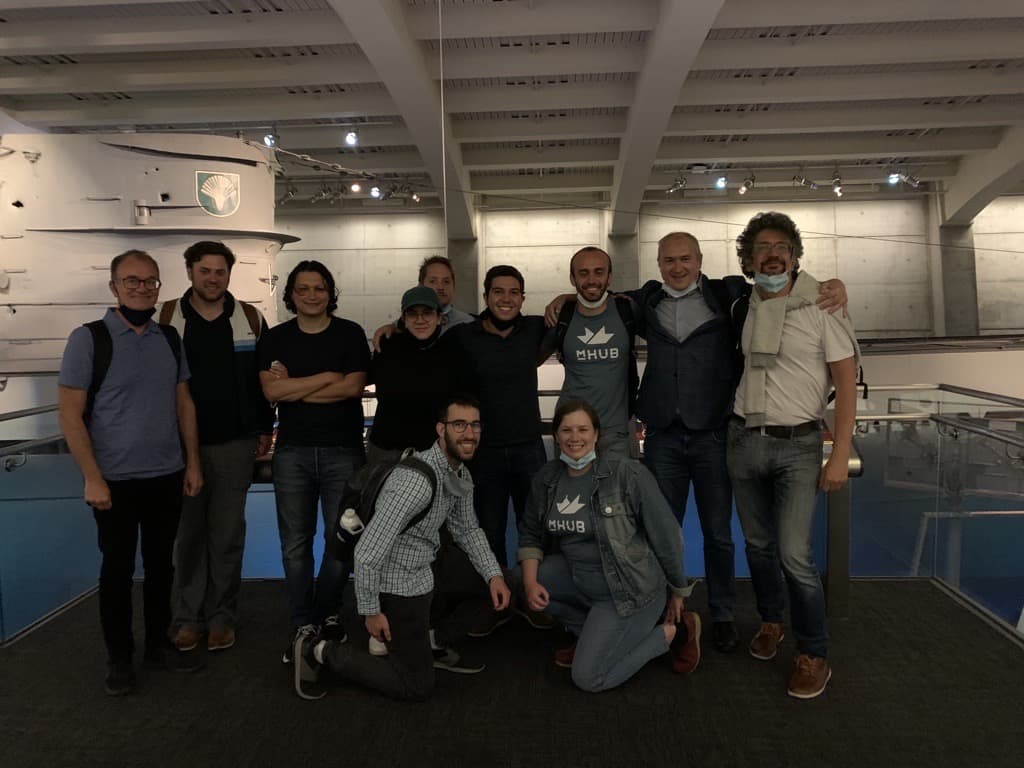 mHUB is accepting applications for our Medtech Accelerator Cohort – Now through August 23rd, 2021. Apply Now!
About the Author:
Thierry Van Landegem, leads the inaugural IIoT cohort of the mHUB Accelerator, a program that fast-tracks hardtech startups on their journey to becoming a scalable, profitable and sustainable business. He is responsible for startup sourcing and evaluation, as well as program development and execution.
Thierry brings over 25 years of innovation leadership with a focus on creating sustainable business impact. He has extensive venture building and startup incubation experience in the telecom, IT, internet, automotive, mobility and manufacturing industries launching new corporate product lines, incubations, ventures and startups.
###

If you are interested in being contacted about the next open application window for the mHUB Accelerator, complete the interest form below.