We've worked hard to build Chicago's most exciting innovation space since our press announcement last year. Guided by our mission, we've literally knocked down walls as we seek to build a community of physical product developers and manufacturers. We want our facility to be as inspiring as the work that takes place within it. Along those lines, we've added windows to let natural light into the building, created private office spaces and lounge areas to encourage collaboration, and painted vibrant colors on the previously drab walls of our co-working space and prototyping labs.
mHUB aims to be a one-stop shop for manufacturing innovators and physical product developers. We continue to add equipment to our prototyping labs based on the current and expected needs of our members. As we add equipment, we're also establishing training and safety protocols so that our members can build their prototypes efficiently.
We've also walled off workshops to limit noise and protect air quality in the co-working space. Most importantly, we've built out the labs that make up our prototyping shop. This process will actually continue throughout our first year.

You can see more renovation photos on the mHUB Facebook page.
Chicago's premiere prototyping shop is open for business
Here's a peek behind the walls above, which enclose our 3D printing lab. The lab includes six different types of printers (with more on the way) in order to meet a broad range of member needs.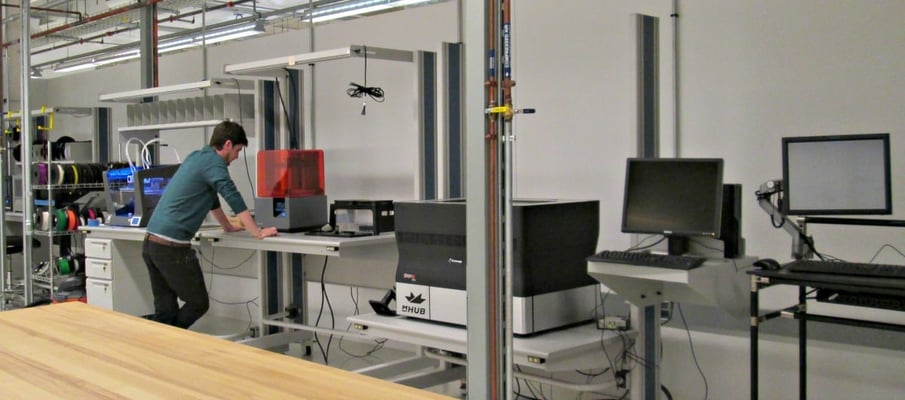 We have a ten labs and several work areas that make up our state-of-the-art 12,000 square foot prototyping shop. Click to learn more about each one.
mHUB Prototyping Shop Highlights
Electronics Lab
Access to mHUB's electronics lab is a boon to any entrepreneur whose product relies on connected technology or embedded circuits. This lab will provide the tools needed for electronics prototyping, with equipment including a manual pick and place, as well as equipment for soldering and desoldering, and a table top reflow oven.
The grand jewel of the electronics lab is our Surface Mount Technology (SMT) line, which includes a reflow oven. It's like the Easy-Bake oven of the electronics world. The full SMT line will allow for at-volume production. mHUB will provide the lowest cost possible for initial production runs of up to several thousand pieces. This fee-based service is provided by our partner, Twisted Traces.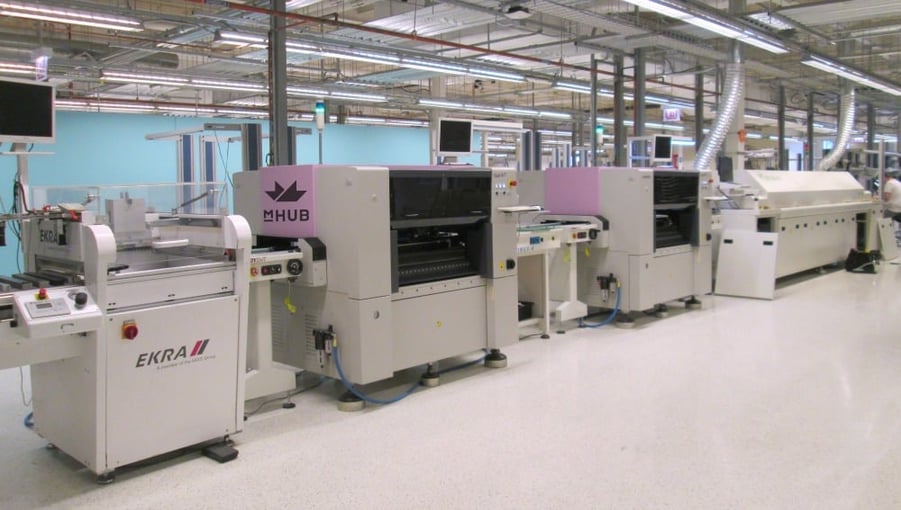 Twisted Traces, a Chicagoland electronics supplier and printed circuit board manufacturer, has been helping the entrepreneur community in Chicago for several years and is an incredible partner to mHUB. The partnership is a game changer for mHUB members who need high quality, quick turnaround prototypes and low volume production runs.
Click for the full list of electronics equipment.
Plastics Lab
The Formech vacuum former will be in place by mid-February. For now, you can get a glimpse of it in action here. The Formech makes rapid copies of a mold out of thermoplastic sheets. The molds can be used for packaging or creating single-wall parts, like enclosures, housing and casing. It can even be used to provide low-volume part production. Our plastics lab also features a desktop injection molder and a line-bending table.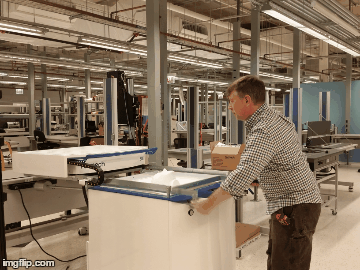 Software
A great product may start as a rough sketch on the back of a napkin, but developing a prototype and bringing an idea to life requires more sophisticated designs. Thanks to AutoDesk, a supporting partner, and SolidWorks, a manufacturing sponsor, members have access to 6 CAD stations loaded with theAutoDesk software suite as well as SolidWorks Premium. These products not only provide Computer-Aided Design (CAD) support but also produce 3D animation and perform design analysis. Through simulations, the software tools assess issues like fluid flow and mold flow and provide other critical feedback to add efficiency to the prototype and product development process.
Check out our software suite here.
Testing Lab
There's more to launching a product than building a prototype or a finished project- it must be tested as well. How much force is needed to press a button? How strong is the enclosure? Does your product meet safety standards? Are the components up to snuff? These questions can be answered in mHUB's testing lab.
Equipment includes:
A video microscope,
Temperature, pH, and magnetic field testers,
A precision scale that weighs objects to the microgram,
A thermal camera that attached to an iPhone,
A motorized universal test stand for precise and automated tension and compression testing,
An RF chamber that blocks radiofrequency signals to assess the strength of an item's signal without interference, and
An environmental test chamber with heat and humidity settings that range from –40 F up to 150 F and 95% humidity.
See the full list of our testing equipment here.
Woodworking
mHUB's woodworking lab contains a compound miter saw, band saw and hand tools—basically it's got everything one would expect from a well-outfitted wood shop. The wood shop also contains a few more specialized items like an industrial table saw, a panel saw to cut down large board to project-friendly size, and the gem of the space, a sweet ShopBot CNC router featuring a digital interface and an automatic tool changer and vacuum system to hold the cutting surface in place.
Of course, our woodworking lab also features an air filtration system for the safety and comfort of our members. Click to see the full woodworking lab equipment list.
We're Just Getting Started
We continue to add equipment based on the current and expected needs of our members, so join today and have a say in the future of our prototyping shop. We know that it takes more than a sound prototype to build a solid business, so we're also building out mentoring services, training courses and other programs to help members achieve their business goals. Additionally, we're working hard to make mHUB the place to be as we add new events, like pitch sessions and hackathons, to our calendar. Stay tuned for more news as we continue to build Chicago's best membership-based manufacturing innovation center.