FOR IMMEDIATE RELEASE
Press Contact:
Kim Blomquist
872.222.5279
kim@mhubchicago.com
mHUB Announces Portfolio Teams of Premier MedTech Accelerator Cohort
Startups to Participate in the Chicago-Based Program Are Developing Novel Solutions for Patient Monitoring, Drug Delivery, and Therapeutic Devices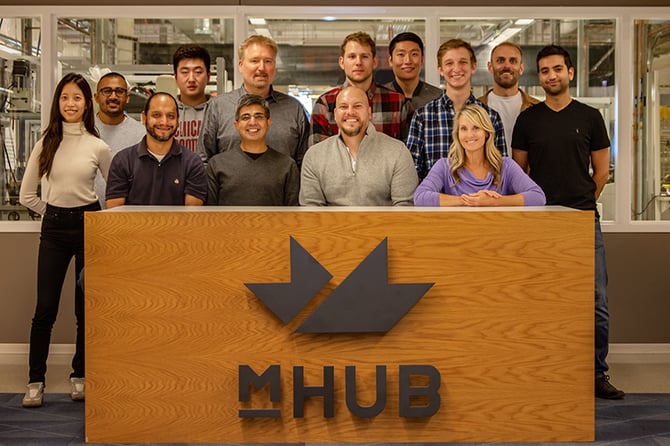 (CHICAGO November 10, 2021) - mHUB, one of the nation's leading independent hardtech innovation and manufacturing centers, has selected the startup teams that will participate in the premier cohort of its 6-month, hands-on accelerator for high-potential medical device businesses. Teams will move from across the country to participate in the program at mHUB's state-of-the-art facilities in Chicago. The program is set to commence in November 2021.
Supported by Baxter and Edward-Elmhurst Health Venture Capital, the program's industry partners will engage with the startups over the course of the program, providing mentorship and guidance for strategic connections within industry and clinical access. Community partner MATTER will provide additional programming and industry access, and Cooley LLP will provide legal programming, resources and office hours.
The selected cohort features early-stage ventures focused on commercializing disruptive medical device solutions such as: a needle-free platform to deliver biologics; wearables for reducing tremors, detecting and treating vestibular disruptions, and capturing wellness markers in elderly patients; as well as monitoring solutions for fetal care, cancer patients, diagnosing sepsis, and tracking IV drug delivery through sensors.
"Chicago is a great place for entrepreneurs, and mHUB has built an incredible community around supporting startups that are manufacturing products, including medical devices," said Lyle Berkowitz, MD, a Chicagoland physician, entrepreneur, and investor. "As a program mentor, I'm excited to welcome to the city a group of hardtech focused healthcare startups that will help revolutionize how we diagnose and manage patients across the world."
The selected startups are the result of a rigorous selection process that included an advisory committee of healthcare industry experts, venture capitalists, manufacturers, and serial entrepreneurs. The startups were selected based on their ability to address large, unmet needs with innovative solutions that will transform patient care.
In alphabetical order, cohort teams include:
Bionode (Indianapolis, Indiana): developing smart contact lens system that rapidly reduces intra-ocular pressure in patients with glaucoma;
Equibands (Chicago, Illinois): developing Minimize, a lightweight, non-invasive, and discreet bracelet designed to counteract hand tremors- restoring independence for over 120 million people worldwide;
HIVE (St. Louis, Missouri): developing CloudConnect, a smart IV line that monitors when patients take (and forget to take) IV medication, continuously sending data to clinicians to empower them to act quickly and prevent expensive readmissions;
Neursantys (Calgary, Alberta, CA): developing NEURVESTA, a wearable which detects neurophysiological impairments disrupting balance and gait and delivers personalized neurostimulation to treat vestibular disruptions caused by aging, head impacts, and other medical conditions;
NovaXS (Coto de Caza, CA): developing Telosis, a needle-free medicine delivery platform delivering biologics into the lymphatic system for applications such as gene therapy, oncology, muscular degenerative disease, and endocrinology while improving treatment compliance;
NXgenPort (St Paul, Minnesota): developing NXgenPort (NGP), a device that maximizes remote care in cancer patients by combining proven chemo-port efficacy with microchip and sensor technology to monitor and report physiological measurements in vivo;
Ping (Chicago, Illinois): developing wearables that capture the wellness information of seniors to drive up engagement and understanding between aging populations and their caregivers
ProMedix (Portland, OR): developing HydraSense to provide a rapid, accurate, and noninvasive assessment at the clinical bedside or remote care setting to help diagnose sepsis and monitor patient decline and response to treatment;
Walela (Mundelein, Illinois): developing sensor technology that measures fetal heart rate and blood pH to improve fetal and maternal outcomes and reduce unnecessary c-sections. 
"When the mHUB accelerator program was launched, MedTech was an obvious vertical for mHUB to support," said Melissa Lederer, mHUB Chief Experience Officer. "The development of medical devices is a complex process. mHUB is positioned to help accelerate the product development of hardware while supporting the teams with the resources, guidance and healthcare industry access they need to navigate the commercialization path to market."
The MedTech cohort is the second cohort of mHUB's Accelerated Incubation program launched in 2020. The program was founded to address the specific barriers of bringing a hardtech solution to market. Mainly, the ability to rapidly prototype and scale and connect with investors who realize the upside of disruptive hardware solutions.
The mHUB accelerator provides access to capital through a $15M Product Impact Fund, nearly closed, with follow-on investment opportunities from the program's corporate partners as well as access to over $6M of capital-intensive prototyping equipment and business resources. It matches seasoned mentors to each startup, focuses on business and leadership training and offers access to a broad manufacturing ecosystem. Being situated in Chicago, one of the nation's largest manufacturing regions, mHUB has built a supplier network of over 500+ U.S. manufacturers and growing.
"Advances in technology are revolutionizing digital health and personalized medicine," said Cathy Skinner, CEO, NXgenPort. "The mHUB accelerator program provides tremendous value to a medical device company like NXgenPort that uses microchip and sensor technology to enable remote monitoring of cancer patients. As an entrepreneur with over a decade of startup experience, accessing a prototyping lab as well as investment, on top of mentorship from healthcare leaders in Chicago, is a unique opportunity."
"The healthcare industry is primed for disruption, partially due to the global COVID-19 pandemic and partially the speed at which smart technologies are transforming industries," said Heather Walsh, Executive Director, MedTech Cohort, mHUB Accelerator Program. "Demand-driven, novel medical device technologies are being developed in response to the identification of new pain points in healthcare and an understanding of how the current technology can meet those challenges. I'm thrilled to work with this group of startups who are bringing novel approaches to solving large, unmet needs."
The hyper-resourced accelerator program began on November 8 in Chicago.
mHUB will launch additional sector-specific accelerators approximately every six months with the next cohort focused on EnergyTech set to open application early next year. For more information visit www.mhubaccelerator.com.
###
About mHUB
mHUB is a leading independent hardtech and manufacturing innovation center that exists to convene the entrepreneurial ecosystem around physical product innovation to ensure that the manufacturing industry continues to accelerate, grow and thrive. The mHUB community includes over 428 active and alumni startups and small businesses supported by a deep talent pool of product designers and developers, entrepreneurs, engineers and manufacturers, corporate leaders, industry experts, mentors and investors. mHUB provides a hyper-resourced environment to entrepreneurs with the goal of commercializing new hardtech innovation that will lead to new businesses, intellectual property, investment, revenue and job creation. Since launching in 2017, the mHUB community has generated more than $430M in revenue, launched more than 1,256 products, hired more than 2,153 employees, and raised nearly $702M in capital. For more information go to www.mhubchicago.com and follow us on Twitter, LinkedIn and YouTube.
About Baxter
Every day, millions of patients and caregivers rely on Baxter's leading portfolio of critical care, nutrition, renal, hospital and surgical products. For 90 years, we've been operating at the critical intersection where innovations that save and sustain lives meet the healthcare providers that make it happen. With products, technologies and therapies available in more than 100 countries, Baxter's employees worldwide are now building upon the company's rich heritage of medical breakthroughs to advance the next generation of transformative healthcare innovations. To learn more, visit   www.baxter.com and follow us on  Twitter,  LinkedIn, and  Facebook.
About Edward-Elmhurst Venture Capital
Edward-Elmhurst Health Venture Capital (EEH VC) is the corporate venture arm of Edward-Elmhurst Health (EEH) and was founded in 2019 to invest in innovative solutions that advance EEH's vision of transforming healthcare while diversifying its revenue base. Our $5M venture capital fund focuses on Seed, and Series A rounds where we can partner with portfolio companies addressing current and future pain points in healthcare.