mHUB's Startup Pitch Competition showcased cutting-edge Climate & Energy Tech startups founded by women and entrepreneurs of color.
The mHUB Climate & Energy Tech Startup Pitch Competition was held virtually on Tuesday, July 27, 2023 to showcase disruptive startups founded by women and entrepreneurs of color. This pitch event is held as part of mHUB's broader priority to increase the diversity in the hardtech and manufacturing sector, while giving startups from across the world a platform to showcase their cutting-edge climate, energy, and enviro tech solutions that have the potential to positively impact the ongoing climate crisis.
Six finalists pitched for cash prizes and industry connections in front of a group of esteemed judges, Ritu Bromley, Senior Manager of Strategy at Invenergy, Mary Stefanidakis, Commercialization & Development- Clean Energy Solutions with Constellation Energy, Alexandra Gross, Program Manager at Evergreen Climate Innovations, Roxanne Charles, President of West Side Forward, Kelly Evans, VP Entrepreneurship and Economic Development at Chicago Urban League, Dan Miller, Director of Innovation Crossroads at Oak Ridge National Laboratory.
Congratulations to the winners:
1st Place:

TerraFixing Inc
. - Developing a Direct Air Carbon Capture (DAC) technology for capturing CO₂ in cold dry climates,
with the goal of fixing global warming.
2nd Place

Tikal Industries
- Specializing in water quality testing products and services with a hardware system that utilizes a machine learning-powered RAMAN spectroscopy technique to detect contaminants in water.
3rd Place: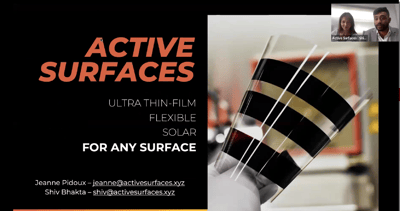 Active Surfaces Inc.

- Co

mmercializing an ultra-thin film solar technology that can unlock terrawatts of dual land use next generation deployment.
TerraFixing, represented by Vida Gabriel, received a cash award of $5,000, Tikal Industries, represented by Tayyaba Ali, $2,500, and Active Surfaces, represented by Jeanne Pidoux and Shiv Bhakta, $1,000.
Thank you to our event partners: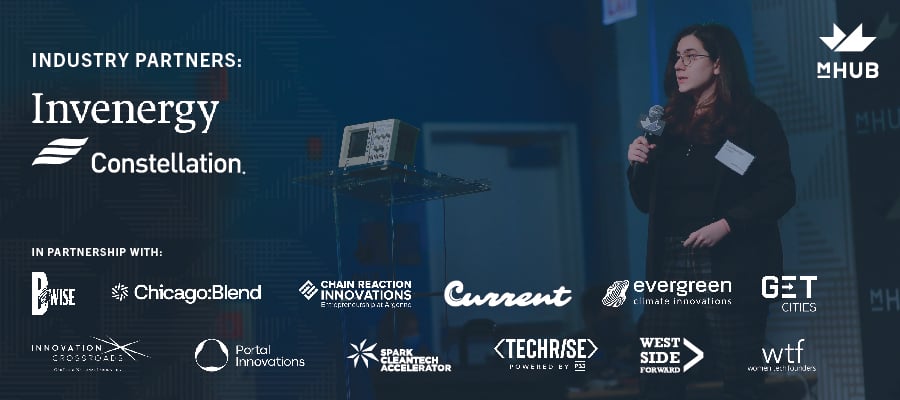 All the pitch finalists have been invited to apply to the 2023 Climate & EnergyTech Accelerator program, which will commence in October 2023 at mHUB's new hardtech innovation center in Chicago.
The 6-month accelerator advances demand-driven, cutting-edge climate and energy startups on the path to commercialization. Startups selected into the program will receive an initial investment of $175k in cash and services and access to over $6M worth of mHUB prototyping equipment and manufacturing resources. The intensive six-month incubation program includes rapid product development and prototyping, business development and leadership training, mentorship, customer validation, and piloting. Industry will provide direct mentorship, industry insight, and potential strategic partnership and pilot opportunities.