A recap of what the first few months of the accelerator program looked like for the MedTech cohort teams from the eyes of the Executive Director.
As the mHUB MedTech accelerator program nears its halfway mark, I have been reflecting on the effort and progress these teams have made, the relationships that have been built, and the exciting next steps planned.
After being involved in a number of accelerators for early-stage startups, it became clear that there was a missing link for companies developing physical devices. They need unique support for the long, hard road of product design and development as well as market access and go-to-market strategy. The mHUB accelerator program provides that link, and I was excited to discover the novel technologies and startup companies that could benefit most from the resources and programming the mHUB MedTech program is developing
After reaching out to ~800 companies and nearly 1,000 organizations and institutions, we received over 150 applications from across 20 states and 22 countries. It was a difficult selection process, but we identified 9 teams that represented disruptive technologies solving real problems in healthcare to join us in November of 2021.
We started the program with two busy weeks of activities and introduced the teams to many of the resources that would be essential to their success. We threw them into the deep end right away starting with a two-day workshop on identifying needs with world-renowned professor, Paul Fearis. It was a lot for them to take in as they were adjusting to a new place, new people, and (for some) a new city. Some of the teams admitted to being overwhelmed by this call to action but now, more than two months later, they recognize the value in being held to a high standard in order to understand deeply the true need of patients, healthcare providers, and other stakeholders.
That first week they put in a lot of time prepping for the big mentor matching day where they would have a chance to participate in over 100 individual meetings with mentors that took place in-person and over Zoom. They also pitched to the larger pool of MedTech mentors. It was so energizing to see the enthusiastic response from the mentors, to see them eager to pitch, and to hear the great feedback and ideas that were passed along. Now each of these teams has been matched with one mentor that they meet with weekly, and we continue to stay engaged with the larger group of mentors through our LinkedIn group and monthly help calls.
The teams had their first meetings with the mHUB Hardtech Development team starting the second week. We learned so much more about their products and the challenges they are facing. Quite a few of the teams planned for their brainstorming sessions right away to keep up the momentum on addressing the engineering questions and to solicit feedback from the wider community. Having access to a team of engineers and business strategists to help you solve problems is a huge value-add of the program. It's something we discuss frequently during the application phase and its gratifying to watch it come to fruition for each startup. Each team has been surprised by the diversity of solutions offered and the authentic engagement of mHUB contractors working through Hardtech Development services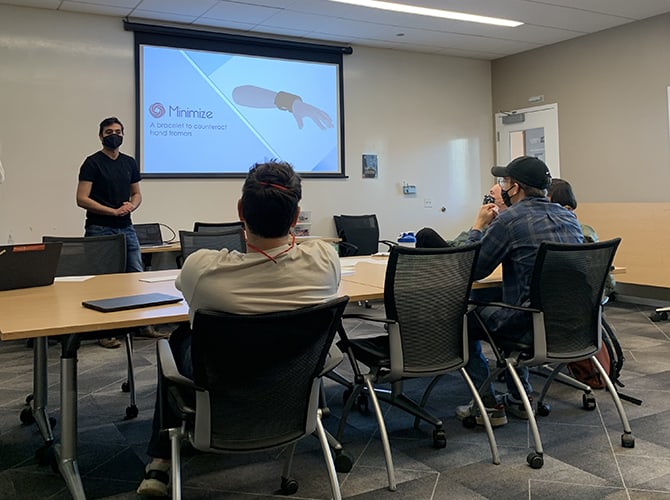 As we went deeper into November and December, we extended the customer discovery work through sessions on Market Segmentation, Product-Market Fit, and Customer Validation. We continued work on needs statements and criteria that culminated in hands-on workshops leading the teams through crafting their unique value proposition. Meanwhile, in those two months, the teams were thrilled to be introduced to other local founders and MedTech companies as well as community partners. Site visits to MATTER and Portal Innovations were key in showing the companies the vibrant and growing ecosystem we have here in Chicago.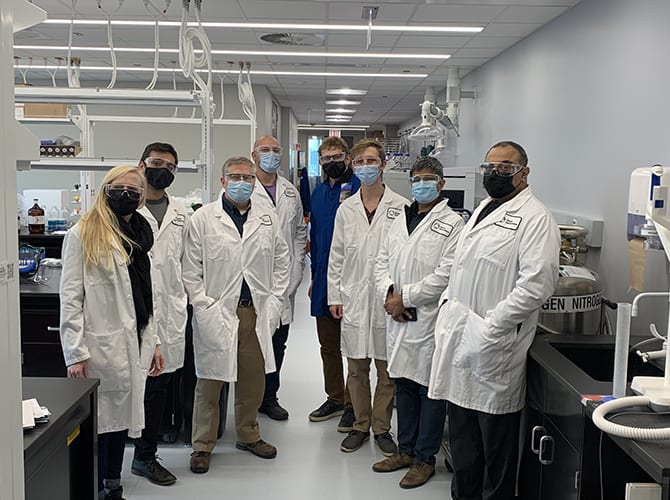 Of course, it wasn't all work as we took advantage of the holiday season to show them the fun side of the city. It was nice to get to know the teams on a more personal level over a steaming mug of Gluhwein at Christkindlmarket or while throwing axes at the Jack Frost Holiday Pop-Up.
The surge of Omicron cases kept us virtual through the first few weeks of 2022, but we have used this time to address important market access issues like regulatory and reimbursement. As we prepare for the upcoming mid-point corporate pitch event, we asked each team to look back on all the progress they have made in these last two months and project their goals for the next 30, 60, and 90 days. The cohort members were delighted to catalog all these accomplishments that might have gone unnoticed otherwise. Many of them commented that if we told them they would be at this point by January, they would have laughed.
So here we are, with many milestones and achievements to celebrate and a lot more work to do but we wouldn't have it any other way.
mHUB is accepting applications for the third accelerator cohort focused on climate and energy technologies – Now through March 28th, 2022. Apply Now!
About the Author: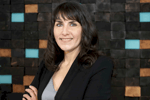 Heather Walsh, executive director, MedTech cohort, leads the MedTech cohort of the mHUB Accelerator Program and is responsible for sourcing and evaluation, as well as program execution. Prior to joining mHUB, Heather headed up the Medical Operations team at Baxter, managing research grants, tracking and driving medical affairs activities, and building relationships with clinical research organizations.