Last Thursday, March 23, mHUB brought together two of its flagship events for the first time— the mHUB HardTech Summit and the Fourth Revolution Awards.
Click here to view the event highlights from the event's official photo gallery.
The annual HardTech Summit (an evolution from mHUB's Product Showcase and Demo Day event) opened its doors to the public to highlight the year's accomplishments and showcase how mHUB is leveraging its hardtech innovation programs to be a national leader in advanced manufacturing, medical technology, and climate and energy solutions, all while building the most equitable, diverse, and inclusive entrepreneurial ecosystem.

The Fourth Revolution Awards recognized regional manufacturers, community organizations, and hardtech entrepreneurs for their leadership and innovation as the industry stands on the brink of a new technological revolution. After two years of hosting the awards virtually, mHUB reintroduced the 6th Annual Fourth Revolution Awards alongside the HardTech Summit for a combined two-part celebration of innovation in hardtech and manufacturing.

Nearly a thousand people gathered for the mHUB HardTech Summit, which featured 47 hardtech demos from mHUB member companies, 27 startup pitches, three panel discussions, and a closing keynote fireside chat with Arduino Co-Founder, Massimo Banzi. Winners of the Fourth Revolution Awards were also announced throughout the day. After the daytime program, attendees were invited to an Evening Reception where entrepreneurs, manufacturers, investors, corporate teams, and award finalists convened to celebrate the accomplishments and leadership of the regional manufacturing industry.
Thank you to Event Sponsors: BlueCross BlueShield of Illinois, Comcast Business, Gensler, OMRON, Old National Bank, and World Business Chicago.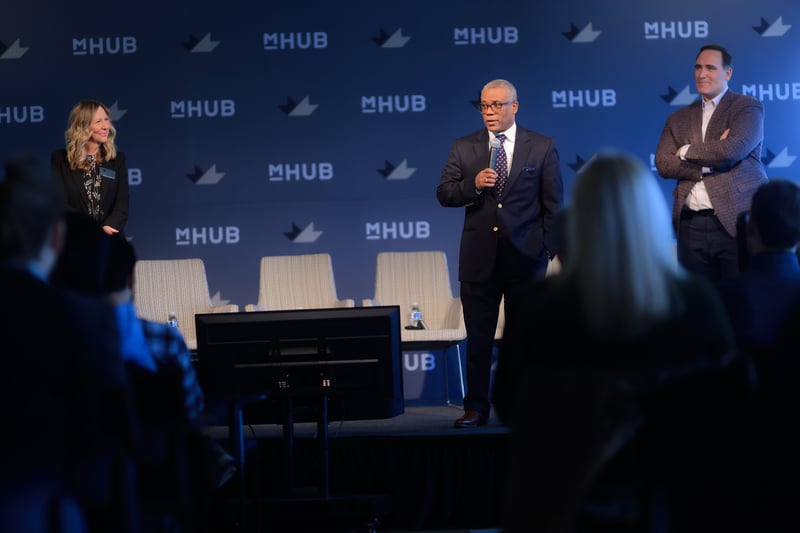 The mHUB HardTech Summit opened with remarks from mHUB Co-founder and CEO Haven Allen, and mHUB CXO Melissa Lederer. Alderman Walter Burnett of Chicago's 27th Ward joined the stage to congratulate mHUB on its growth and express a continued commitment to mHUB through its potential relocation to an opportunity zone within the same ward.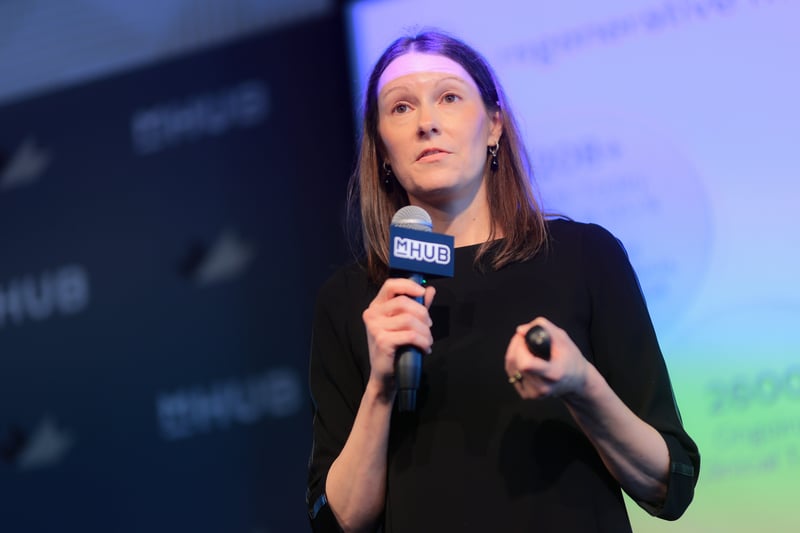 The mHUB HardTech Summit stage program kicked off with the Fourth Revolution Awards' Rising Star Pitch Competition. This award category recognizes a pre-series B round startup company, before its seventh year in operation, for its innovation, creativity, and position as the next great company to emerge in the region. To determine who would take home the award, this year's Rising Star award finalists took to the stage at the HardTech Summit to pitch before a live panel of judges. Congratulations to Dimension Inx for winning the Rising Star award!

Other award winners announced during the mHUB HardTech Summit include:
Learn more about the 6th Annual Fourth Revolution Award winners.


The first panel of the mHUB HardTech Summit explored emerging venture investing trends in hardtech. Moderated by Kevin Willer, Partner, Chicago Ventures, the conversation started with a deep dive into the impact of the SVB failure and the ongoing conditions of post-pandemic recovery and the war in Ukraine. Panelists then discussed the realities of what it will take to advance innovations in areas such as smart manufacturing and hydrogen and shared optimistic perspectives on things like quantum computing, additive manufacturing, and biotech. They gave advice to startup founders on how to position for acquisition or raise capital.
The panelists were Nina Essandoh, Investor, Corazon Capital; Karen Kerr, Managing Director, Exposition Ventures; Victor Pascucci, Managing General Partner and Co-Founder, Energy Capital Ventures; and Cathy Skinner, CEO, NXgenPort.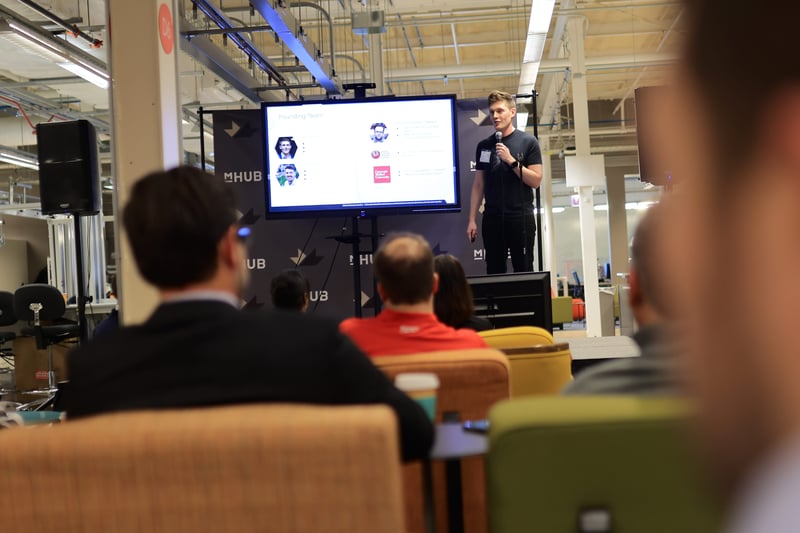 As panel conversations were underway on the main stage, the mHUB co-working space kicked-off three hours of startup pitches. The following HardTech and Smart Manufacturing startups were the first in the hot seat:

Concurrent to panel discussions and startup pitches, mHUB members conducted live product demonstrations in the prototyping lab throughout the event. Event Sponsor OMRON also participated in the demonstrations, as well as the Canadian Consulate, who brought in startups of to showcase on the mHUB demonstration floor.
Some member startups that participated in product demonstrations include: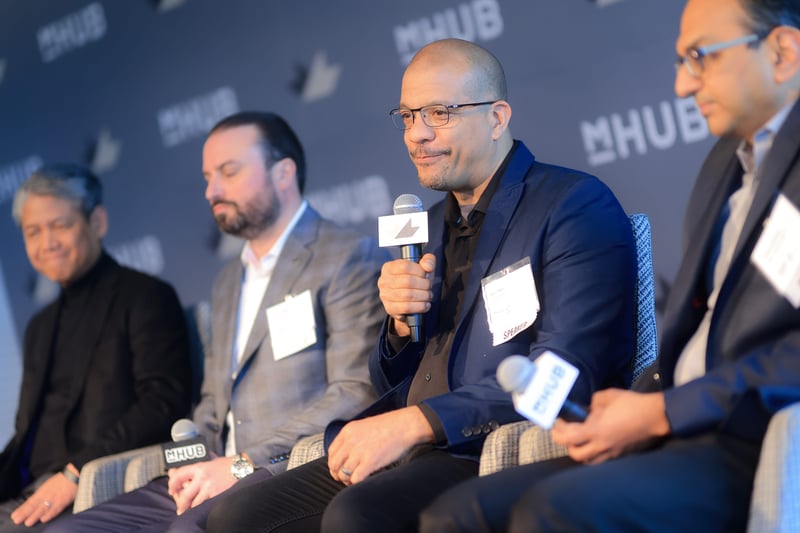 The second panel discussion, moderated by Carrie Zalewski, Chairman, Illinois Commerce Commision, addressed the key drivers enabling the current clean tech economy transition. The panel reflected on current federal legislation providing a rocket boost for clean energy transformation and how pairing this with local legislations such as The Climate Equitable Jobs Act and The U.S. Climate Alliance will really propel Illinois to be a leader in the space. Key innovations discussed included EVs and hydrogen as well as the hardtech solutions needed around communications, sensors, power electronics, and smart battery technology to enable the grid of the future. The conversation also included a take on completely different energy models.
The featured panelists were Gil C. Quiniones, CEO, ComEd; Sanza Kazadi; President & Founding CEO, Kazadi Enterprises; Aaron Wiegel, President & CEO, Wiegel Tool Works; and Venkat Srinivasan, Director, ACCESS and JCESR.
Meanwhile, startups pitches continued on, featuring these Sustainability and EnergyTech focused startups who took to the co-working stage: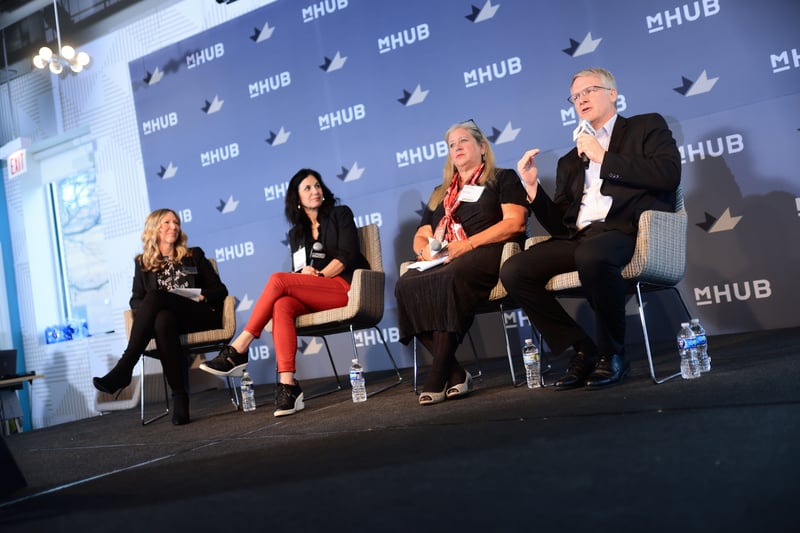 The third panel discussion on remaking U.S. manufacturing and the reorganization of global supply chains was moderated by mHUB CXO, Melissa Lederer. It focused on the massive investments into U.S. manufacturing through authorized federal investment and the national security forces driving a global realignment of supply chains. Panelists shared their supply chain experiences from the past three years and what they hope to see happen through the current reinvestment in U.S. manufacturing. They shared prediction on what industries will benefit most from more local supply chains and what global losers may emerge as the U.S. reclaims some of its manufacturing capacity.
The featured panelist speakers were David Boulay, President, IMEC; Chandra Brown, CEO, Brown Executive Strategies; and Kara Demirjian Huss, Vice President and Global Marketing Director, TCCI Manufacturing.
As the third panel kicked-off, the last hour of startup pitches began. The following MedTech startups closed out the startup stage of the mHUB HardTech Summit: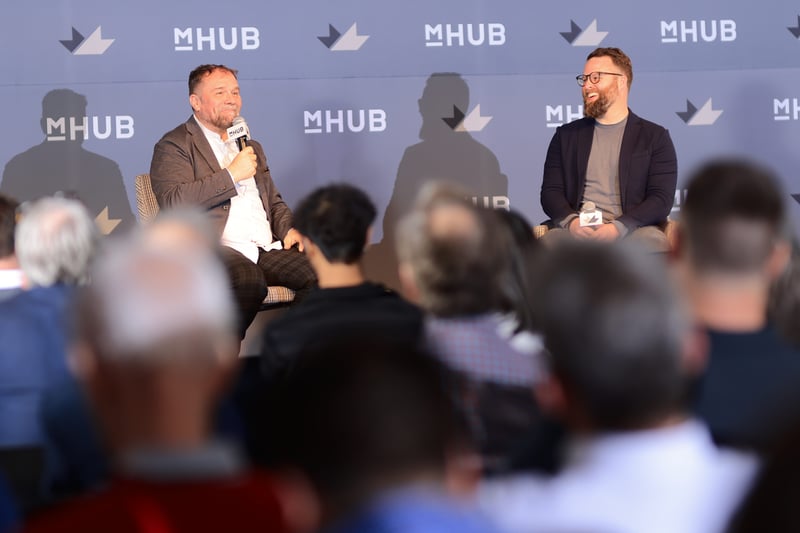 Participants who stayed into the late afternoon witnessed a lively keynote fireside chat with Co-founder of Arduino Massimo Banzi, moderated by Jacob Babcock, CEO of NuCurrent. Massimo Banzi has been hailed as an interaction designer, educator, and open-source hardware advocate. He shared his inspiration for starting Arduino and the importance (as well as IP implications) of keeping it an open-source project. Massimo shared some of his favorite applications of Arduino technology and shared advice for mHUB members on their own prototyping and founder journeys.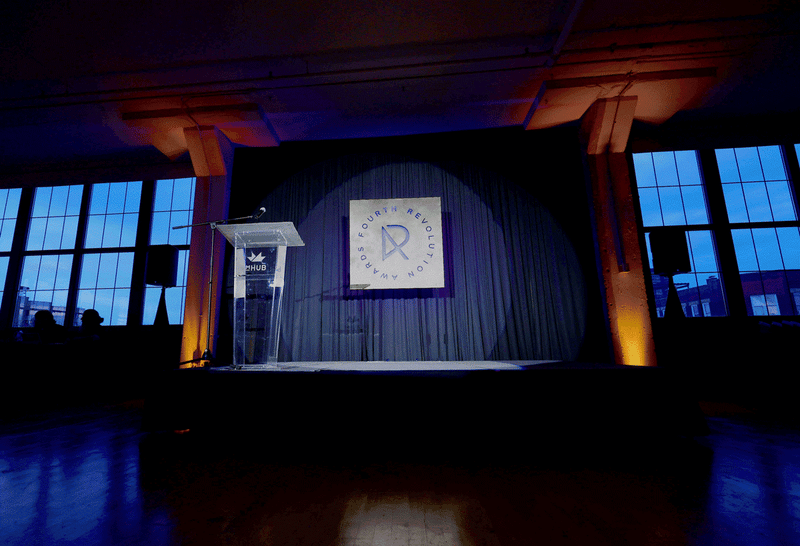 Once the mHUB HardTech Summit ended, celebrations continued at the Fourth Revolution Awards Evening Reception. Food and drinks were served during a cocktail and networking hour before a brief stage program was held to recognize this year's Honorary Industry Award winners:
Learn more about the full lineup of Fourth Revolution Award Winners
After the program, the two-part event concluded with dinner and live music from Chicago-based band and mHUB crowd-favorite, Verzatile.
Fill out this form before April 6 and get your second month of mHUB membership free!
mHUB is extending the membership promotion run on-site at the HardTech Summit until April 6. If you're an entrepreneur, startup, engineer, or solo practitioner, fill out the form below and express your interest in mHUB membership. If you decide to join, you'll get your second month free!
Fill out the interest form below before the deadline

mHUB membership will be in touch to learn more

Share this opportunity with others in your network