Pitch competition showcases cutting-edge MedTech startups founded by women and entrepreneurs of color
The mHUB MedTech Startup Pitch Competition was held virtually on Thursday, August 5th, 2021 to showcase disruptive MedTech startups founded by women and entrepreneurs of color. The pitch event was part of mHUB's broader priority to increase the diversity in the hardtech and manufacturing sector, while creating a platform to highlight startups from across the country whose novel solutions can have a profound impact on patient care. Five finalists virtually pitched for cash prizes and industry connections in front of a group of esteemed judges from all across the MedTech sector.
Congratulations to our winners:
1st place: Phiex Technologies, making it cheaper and faster to make medical devices by replacing 3rd party sterilization with self-sterilizing packaging.
2nd place: fluidIQ, developing technologies that use clever design to direct airflow using a science called "fluidics" to operate without electricity.
3rd place: Starling Medical, revolutionizing the at-home chronic management of 3 million+ people with bladder dysfunctions with their novel AI and tech-enabled bladder management platform.
We sat down with each of our winners to learn a little more about their value proposition and what the future looks like for their business.
—-
WINNER – 1st: PHIEX TECHNOLOGIES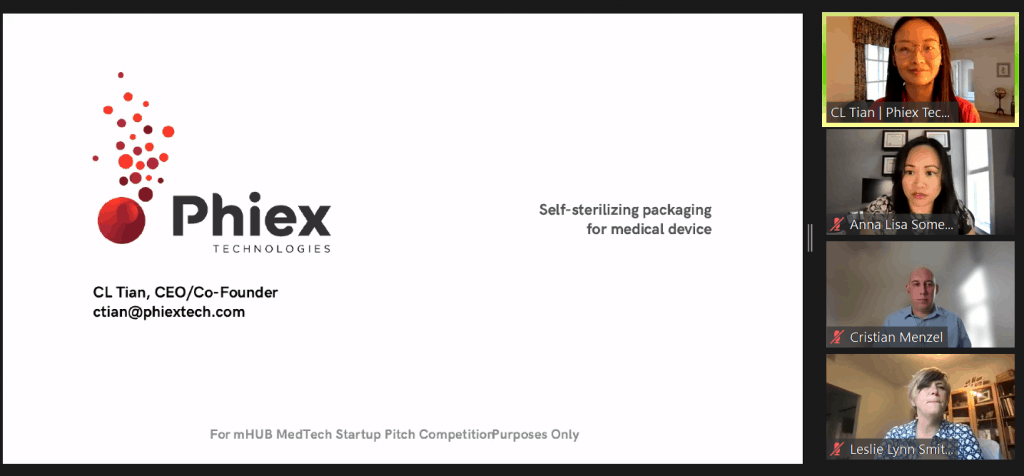 Where did your idea and value proposition start?
Phiex Technologies launched in late spring of last year driven by the same goal as many companies at the time – to help the world be well. We focused on what is a major sterilization problem barreling towards the MedTech industry: capacity. Sterilization is a required step before many life-saving devices can reach customers, but the capacity in the supply chain is being severely impacted by EPA regulation of one of the main sterilization gases. We provide a solution to this shortage which also helps our industry make devices faster and cheaper.
How has your business grown since the beginning?
Since launching, we've been able to greatly hone our focus, generate additional data, secure some important partners, and engage with a number of MedTech companies. There has been great enthusiasm, particularly from those forward-thinkers and various stakeholders, who see an opportunity to turn this supply chain risk into a major strategic advantage.
What growth do you expect to see in the next few years?
We expect to see significant growth in the next few years given the sterilization bottleneck exasperated by the EPA regulations and public pressure on local sterilization plants. The timing and conditions are right for rethinking how we sterilize. Ultimately, our industry will further streamline how we deliver innovative medical devices, move to true just-in-time manufacturing, and reduce carbon emissions associated with freight. We are thrilled to be a part of that!
WINNER – 2nd Place: fluidIQ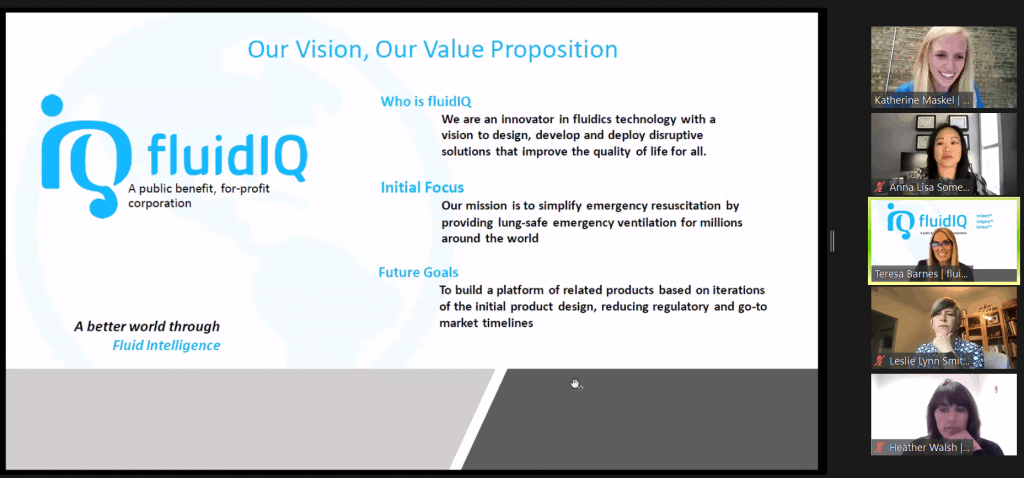 Where did your idea and value proposition start?
The idea for the HOPE Invent came from sheer desperation in the early days of the pandemic. Engineers, doctors, and patient advocates were urgently seeking an alternative to standard manual breathing to be able to save more lives. Being able to deliver air into the lungs of patients while reducing the personnel needed to support a single patient would be critical. It would need to follow protocols set by the world's top lung doctors to protect patients' lungs from harm that too much air and air administered too fast can cause. Having a small, hands-free, simple-to-use, resuscitator and ventilation device designed to relieve pressure on the EMS system while also providing a safer option for patients. They developed it to be 3D printed with no moving parts (as parts were difficult to get) and without reliance on electricity, batteries, or sensors knowing it would be a game-changer in this respiratory crisis and others to come, especially in rural areas and developing nations.
How has your business grown since the beginning?
The "beginning" for us was just 17 months ago when we came together. We founded the company in June of 2020 and made extremely rapid progress to get where we are now. We have focused on product development, the regulatory climb, and getting our product out to help patients and the medical responders working to help them. (Background: We have literally gone from concept to final design in an incredibly short timeframe. We have been collaborating with the National Institutes of Health's Clinical Center since month two and continue to work with them closely. We have prepared our package to FDA for clearance and expect it to be submitted this month. We are communicating with the world's top respiratory experts on not only the advancement of our first device but on at least two others on our roadmap. We have de-risked our product and our company by funding all of our R&D thus far ourselves. We just completed a half-million-dollar pre-seed round that will take us through the end of the year which will allow us to prepare for introducing our device into the market.)
What growth do you expect to see in the next few years?
Over the next few years, we expect to introduce an entire platform of products. We will deliver most, if not all, of the five products on our roadmap into the pre-hospital (eg. EMS) space as well as in the hospital. We expect to move the needle to improve outcomes, shorten the length of stay in the hospital and reduce costs to the medical system. With our lipstick-sized InVent resuscitation and ventilation device, we expect to displace the old manual resuscitation technology to improve emergency breathing support and improve the medical responders' ability to respond to the needs of patients. With subsequent products, we believe we can deliver life-improving tools including breathing tools for chronic disease management and sleep medicine – all using the same fluidics-based technology (fluidics is when air or fluids are used to operate things automatically).
WINNER – 3rd Place: STARLING MEDICAL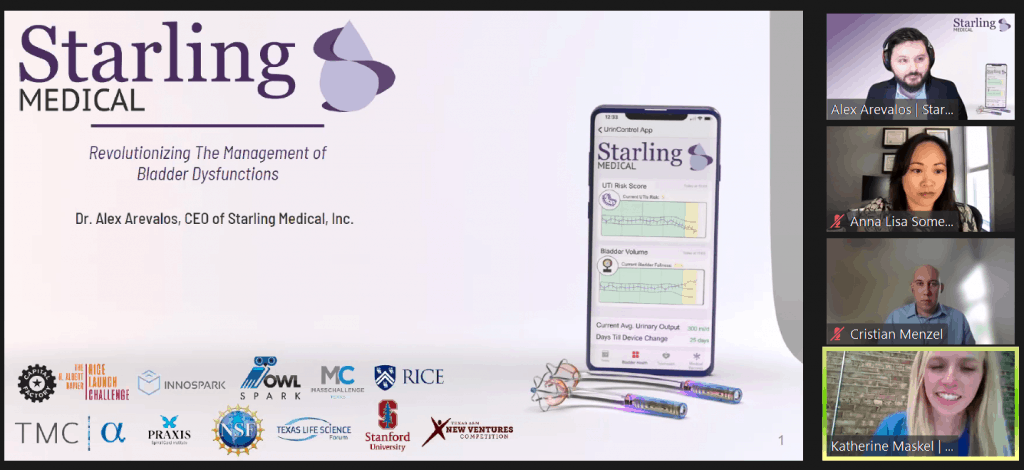 Where did your idea and value proposition start?
The founders of the company connected with the clinical problem so strongly because one of our founder's younger sisters was born with the bladder dysfunction we aim to improve the management of. She and her family have had to deal with the issues with catheterization their entire life. As the team dove farther into the clinical problem, we realized that there not only was a large, widespread, and severely underserved clinical need that affected millions of patients worldwide but there was a significant value proposition in personalized preventative analytical approaches to bladder health. From there, the team decided to augment the current protocols used to diagnose bladder health issues in this patient population by implementing a modern AI and tech-enabled solution designed to improve the quality of life of patients while improving the healthcare economics surrounding them for all stakeholders.
How has your business grown since the beginning?
We started out as a napkin sketch during a Masters of Bioengineering Class at Rice University, and we have grown tremendously in a short time since. We have brought in ~500k in non-dilutive funding to date that we have used to fund our significant product and clinical milestones to date. We have ongoing clinical studies with Stanford University and the Houston VA that we are using to train and validate our AI algorithms, and recently we completed our first human cadaver study of our device. We have received great feedback and traction from the physicians and future patients that we have validated our approach with as well as had early conversations with a few strategics in the space.
What growth do you expect to see in the next few years?
In the coming years, we expect to launch our first product as a point of care AI-based urine screening device for women and chronic catheter users with chronic recurrent urinary tract infections, before launching our UrinControl Prosthesis for neurogenic bladder patients in 2023. But more importantly, we hope to start fundamentally improving the quality of life of our future users lives to restore to them their independence and to give them back control of their urinary system such that one day soon we can tell them, "With Starling Medical, Now UrinControl of Your Bladder"
——
Don't Miss Out! Only 2 Weeks Left to Apply!
There are less than two weeks left to apply to the mHUB MedTech accelerator supported by Baxter International, Edward-Elmhurst Health Venture Capital, and healthcare community partner MATTER. Designed for high-growth, novel medical devices, selected teams will receive capital, industry connections, and access to over $6M of prototyping equipment and manufacturing resources. If you're the next unicorn that will transform patient care, learn more and apply today. Applications close on August 23rd.
If you are interested in being contacted about the next open application window for the mHUB Accelerator, complete the interest form below.