mHUB's Community Partner SparkShop is inspiring the next generation of STEM leaders by bringing fun engineering challenges to the classroom. mHUB sat down with the co-directors of SparkShop, Tiernan Murrell and Shonali Ditz, to hear about their mission and what inspired them to join forces with mHUB.
1. Tell us about your mission and community.
SparkShop is a Chicago-based non-profit that offers in-school programs that empower 4th and 5th graders to imagine their futures as engineers. Our mission is to inspire and mobilize the next generation of engineers, innovators, entrepreneurs, and manufacturing geniuses. We bring awareness and knowledge of the STEM fields to students in the Chicago area, specifically in classrooms where underrepresented students live and learn. Our goal is to create a larger and more diverse population of young STEM talent. To date, the SparkShop model has reached almost 3,000 students, most of whom fall into one (or multiple) demographics that are underrepresented in the STEM workforce. Just over 51% of our students are girls, 92% are non-white, and 85% come from low-income families.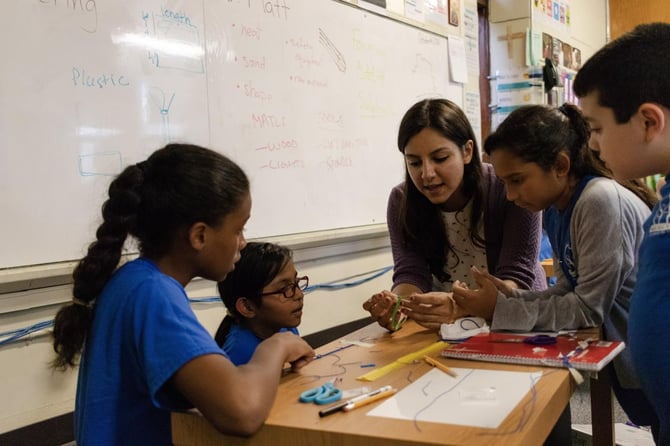 2. What's the secret to your success?
Equity and empathy are at the core of our actions. We have impacted the lives of almost 3000 students by applying user-centered design to understand and meet the needs of our school communities. Seventy five percent of our students have never encountered a STEM program before they met us, which tells us we're successfully bringing our program to kids who wouldn't otherwise have the opportunity to learn about engineering. We spend lots of time in conversation with teachers to find ways to make our program more equitable, engaging, and impactful. With this approach, we've built a unique STEM program that counteracts the societal forces that push young people, especially students with marginalized identities, out of the STEM fields.
3. What made you join forces with mHUB?
What value does this partnership provide your community? When we joined mHUB, we were roommates living and working out of our apartment. mHUB gave us the feeling of a "real office." Through our partnership, we had a workspace (that wasn't our couch). Our partnership with mHUB helped build legitimacy that we desperately needed in the early days of fundraising from more established foundations and companies. mHUB also opened their doors to our students, hosting field trips where kids could explore the space, experiment with machines, and meet engineers and entrepreneurs.
4. How do you hope this partnership will further your mission?
All of our successes have only been possible because of the people who support us. mHUB provides us with an incredible opportunity to connect with others in our city. As we grow and our needs change, we can lean into different parts of the mHUB community.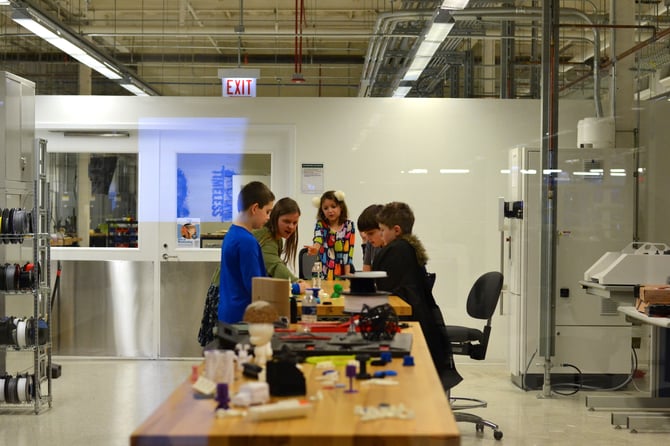 5. What's next for your organization?
SparkShop's team is growing! This summer we are welcoming our first full time hires. Our new, larger team creates opportunities for us to create impact in new and exciting ways. We will improve and expand the programs we bring to schools and involve our broader community in volunteer events. 6. How can the broader Chicagoland region support you? Our programming is 100% free to students, families, and schools. The broader Chicago region can help by contributing to offset program costs or signing up to our monthly newsletter to be the first to know about volunteer opportunities.
Keep your eyes on SparkShop