FOR IMMEDIATE RELEASE
Press Contact:
Kim Blomquist
872.222.5279
kim@mhubchicago.com
mHUB Announces Expansion of Development Leadership Team Hiring Ben Berlin

as Director of Corporate Partnerships
(CHICAGO October 6, 2021) - mHUB, the nation's leading independent hardtech innovation center is expanding its development and partnerships team with the addition of Ben Berlin, Director of Corporate Partnerships. As the reach and impact of mHUB continues to grow, this new role will be pivotal in serving both existing and new stakeholders at the forefront of manufacturing and hardtech innovation.
Since its founding in 2017, the mHUB entrepreneurial community has raised over $895M in capital, been awarded over 410 patents, launched over 1,200 products and created over 2,150 jobs. mHUB Hardtech Development services for contract research and development has resulted in over 1,000 new developments and efficiencies for corporate and SMM clients, generating over $585,000 in additional income for members. mHUB Accelerated Incubation programs, supported by the $15M Product Impact Fund, will attract over 60 hardtech startups to the region and develop them for rapid commercialization.
"mHUB continues to experience tremendous growth as the nexus for hardtech and manufacturing innovation and entrepreneurship," said Haven Allen, mHUB CEO and co-founder. "I'm excited to welcome Ben to the development team as his experience in corporate partnerships will ensure the correct paths and resources at mHUB are engaged to support the unique needs of corporate stakeholders eager to take part in the Fourth Industrial Revolution."
Ben Berlin, Director of Corporate Partnerships, will lead the development of corporate innovation and venture strategy for mHUB. This includes support of mHUB's accelerator program and hardtech development services as well as building general and corporate innovation partnerships alongside other venture related engagements. Ben has over 10 years of partnership and sales experience and joins mHUB most recently from Grubhub where he led all consumer-packaged goods and alcohol partnerships for the company.
Prior to Grubhub, Ben assisted with the launch of mHUB as Director of Corporate Partnerships for World Business Chicago (WBC). In that role, Ben worked closely with Chicago's corporate community and city leaders to help enhance WBC's impact and outreach. Along with building and stewarding partnerships, Ben was responsible for leading the WBC Fellowship Program.
"I'm energized by the incredible work being done at mHUB to accelerate product innovation for both small and large companies," said Ben Berlin, Director of Corporate Partnerships at mHUB. "In two short years, mHUB has brought an advanced manufacturing focus back to Chicago. It's time to double-down on this success by connecting companies to disruptive innovations, shepherding inventors from ideation through production, and extending impact to the entire Midwest and beyond – something I look forward to supporting."
Ben will help build synergies the Midwest and national ecosystems need to impact and inclusively grow around key technology areas such as smart manufacturing, Climate and Energy Tech, MedTech, smart devices, and more.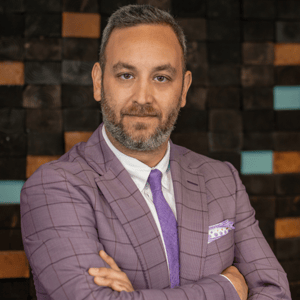 Ben Berlin
Director of Corporate Partnerships
Contact Ben
###
About mHUB
mHUB is a leading independent hardtech and manufacturing innovation center that exists to convene the entrepreneurial ecosystem around physical product innovation to ensure that the manufacturing industry continues to accelerate, grow and thrive. The mHUB community includes over 350 active and alumni startups and small businesses supported by a deep talent pool of product designers and developers, entrepreneurs, engineers and manufacturers, corporate leaders, industry experts, mentors and investors. mHUB provides a hyper-resourced environment to entrepreneurs with the goal of commercializing new hardtech innovation that will lead to new businesses, intellectual property, investment, revenue and job creation. Since launching in 2017, the mHUB community has generated more than $430M in revenue, launched more than 1,256 products, hired more than 2,153 employees, and raised nearly $895M in capital.