Pitch competition showcases cutting-edge Climate and Energy Tech startups founded by women and entrepreneurs of color
The mHUB Climate and Energy Tech Startup Pitch Competition was held virtually on Thursday, March 10th, 2022 to showcase disruptive startups founded by women and entrepreneurs of color. The pitch event was part of mHUB's broader priority to increase the diversity in the hardtech and manufacturing sector while creating a platform to highlight startups from across the world whose novel solutions can have a profound impact on the way we power our world. Five finalists virtually pitched for cash prizes and industry connections in front of a group of esteemed judges.
Congratulations to our winners:
1st place: Wastezon, assisting remanufacturers, repairers and recyclers to efficiently buy back electronics materials from domestic and institutional consumers.
2nd place: Verne, developing high-density hydrogen systems for heavy duty transport, starting with Class 8 trucks.
3rd place: Powerbox Energy Systems, dedicated to the development and manufacturing of affordable zero-emission smart off-grid solar energy systems for homes, businesses, and public facilities in sub-saharan Africa.
We sat down with each of our winners to learn a little more about their value proposition and what the future looks like for their business.
—-
WINNER – 1st: Wastezon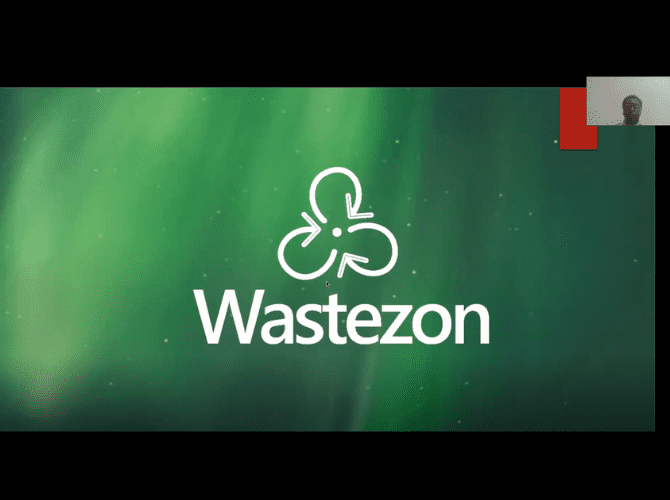 Where did your idea and value proposition start?
Wastezon was launched in Kigali, Rwanda in early 2019. We drew inspiration for starting Wastezon from our best friend who survived a garbage landslide accident when he was on a school assignment. We strongly believe we can leverage ML technology to divert materials from going to landfills in alignment with our vision of creating a waste-free world.
How has your business grown since the beginning?
Wastezon is rethinking and redefining the future of urban mining which relies on the extraction of minerals from the current electronics and electrical materials rather than virgin minerals extraction. We have an active user base of 1800 households and 125 recycling actors. Over 580 tons of electronic waste (e-waste) have been transacted on our app, hence diverting over an equivalent to 2826.42 metric tons of avoided CO2 Emissions.
What growth do you expect to see in the next few years?
In 2022, we are focusing on growing our remanufacturers user base, where we are targeting corporates that are interested in materials traceability to establish materials take-back programs. In 2023, we plan to launch a material traceability product tailored for the construction/real-estate industry with a focus on metallurgical and electronics construction materials. By 2028, we have an aim to mitigate at least 1 million tons of carbon emissions.
WINNER – 2nd Place: Verne
Where did your idea and value proposition start?
Our team took a class called Stanford Energy Ventures (now Stanford Climate Ventures) where we tested this hypothesis for a new high-density hydrogen storage solution to accelerate decarbonization efforts. Through this course, along with subsequent customer discovery in the National Science Foundation's ICORPS program, we came to our current business model of providing high-density hydrogen technology to heavy-duty transport, starting with trucking.
How has your business grown since the beginning?
The team has grown from the original 3 founders to a team of 8 full-time employees, supported by technical and commercial advisors. The Verne team now includes over 60 years of experience innovating on hydrogen storage technology and bringing new storage technologies to market Verne has received multiple grants, including from Bill Gates's Breakthrough Energy, Stanford TomKat Center, Caltech Rocket Fund, and the MIT CET. Additionally, the founders were named Forbes 30U30 Energy 2022. The team has built the first prototype and made significant commercial traction with OEMs and major fleets.
What growth do you expect to see in the next few years?
Verne will build its first full Class 8 system for testing in early 2023 with major OEM and Tier 1 partners. The team will continue to iterate on this system through private deployments with our partners before scaling up manufacturing by 2025. We continue to grow our team to stay at the forefront of hydrogen technology and are looking for talented engineers to join our mission to decarbonize heavy-duty transport.
WINNER – 3rd Place: Powerbox Energy Systems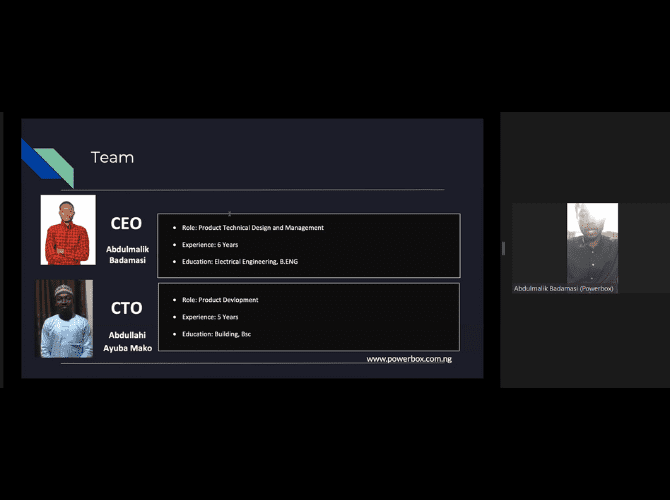 Where did your idea and value proposition start?
The idea started during a 1-year mandatory national youth service scheme at a border town located in Northern Nigeria. Arriving at the location, I realized the town had never had access to grid-power. Everyone relied on the use of small petrol generators. This made it very challenging to get access to power for basic use such as charging a mobile phone.
The challenge was persistent everywhere across the region. So I called up my friend/cofounder to share my thoughts with him so we can think up and deliberate on finding an efficient solution to solving the problem. We realized early, that to solve this challenge, the solution must be affordable, solar-based, and durable.
Over the following 2 years, we came up with a design and dedicated resources to finding the most efficient and cost-effective ways of developing and producing the system. Fortunately, we made it a reality by introducing the product into the market targeting customers with zero or inconsistent access to clean energy. We now have customers from all over the country seeking the Powerbox to meet their daily energy needs.
How has your business grown since the beginning?
Since launching the product, we have gained tremendous traction from customers both in urban and remote communities across the country. We currently have in place a pre-order system to manage orders due to high demand for the product. As we continue to grow, we are looking to increase our capacity for manufacturing and delivering more units to meet a steadily growing demand.
What growth do you expect to see in the next few years?
We hope to see faster growth in our manufacturing processes with better equipment and systems in place to serve more customers. We also hope to initiate a simple financing system to simplify the adoption and acquisition of zero-emission systems, enabling more low-income customers affordable access to clean energy across Nigeria and West Africa.
——
Don't Miss Out! Less than 2 Weeks Left to Apply!
There are less than two weeks left to apply to the mHUB Climate and Energy Tech Accelerator supported by corporate partners Nicor Gas and Invenergy. Further support provided by Everygreen Climate Innovations.
Designed for early-stage hardtech startups, selected teams will receive capital, industry connections, and access to over $6M of prototyping equipment and manufacturing resources. If you're the next unicorn that will transform the cleantech space, learn more and apply today.
Applications close on March 28th, 2022.
If you miss the application window and would like to express interest in the next cohort, complete the form below.