mHUB member Kavnia Coffee Company is creating a new kind of cold brew experience for coffee lovers, cold drip. mHUB sat down with the CEO and Founder of Kavnia, Olivia vonNieda, to learn about how cold drip got started and how the business has grown since launch.
1. Where did your idea and value proposition start?
In Feb of 2019 I was on a business school trip with friends in New Orleans. A buddy of mine tasted cold drip coffee and could NOT STOP talking about it. He ordered the brewing device to his one bedroom apartment, but it was three feet tall and made of glass. Together with his wife, who was pregnant with their son, they decided that would not work, so we started on a mission to make a cold drip coffee brewer for the modern kitchen. After two years of customer and barista interviews, hundreds of brews and dozens of prototypes, I broke up with the device. Turns out, that hardware engineering did not bring me joy, but cold brew coffee does. I adapted the brewing process that we patented for the device to brew on a commercial scale. Our customers loved the taste of the coffee that we brewed so we switch to selling the (almost) ready to drink coffee. Our brewing process naturally makes a concentrate, which we bottle and deliver right to your door. Once its in your fridge, it takes 15 seconds to prepare a glass. Add one part ice, one part water and one part Kavnia to start, but be creative! Add milk for a latte or add to overnight oats. The possibilities are endless.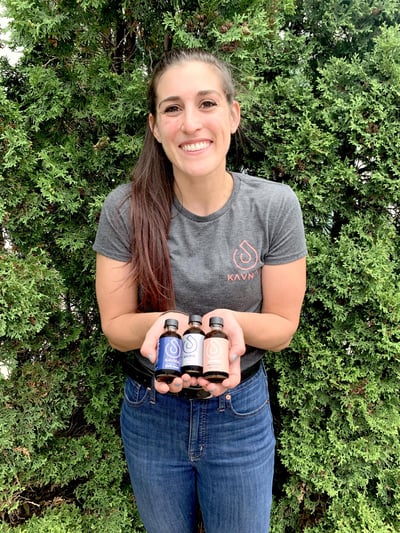 2. What led you to mHUB?
I don't think I have ever had a more ubiquitous and positive recommendation for any organization in my life! I knew I would be moving to Chicago, so started to network with Chicago based folks ahead of time. Almost everyone I talked to about hardware and maker spaces in Chicago said that I should join mHUB!
3. How has your company grown since launch?
We started selling at the Wicker Park Farmers Market and online to find product market fit. Customers have come back week over week and told us that they love our coffee! We have scaled up our production capabilities and built out a more holistic website. We've added new coffees and new package sizes.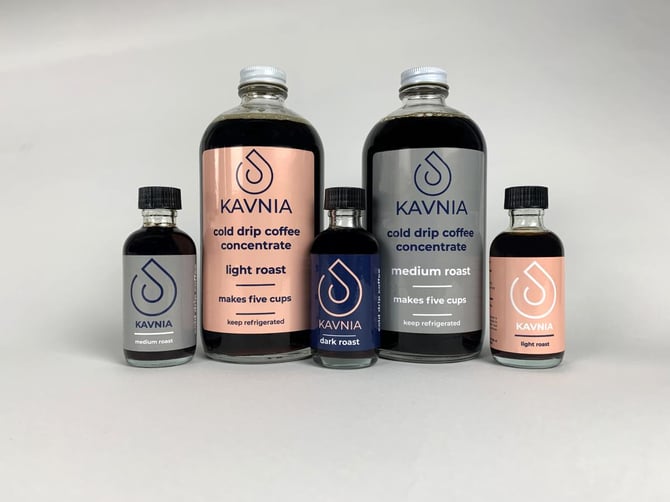 4. What's next?
We are spending the summer serving Chicagoans our innovative cold drip coffee. Keep an eye out for Kavnia at summer festivals around Chicagoland, such as the Old Town Arts Fair and the Highland Park Festival of the Arts. Folks can always find us the Wicker Park Farmers Market every Sunday from 8a to 2p or on our website www.kavnia.com (Chicago area delivery only!)