Every year, 3 billion batteries are thrown away in America alone. Haylon Technologies wants to change that. The vision behind Haylon is to unleash the full potential of battery technology and make electrified products more sustainable. This means extending a battery's lifespan and with consistent performance from first use to last. Haylon's proprietary hardware and software solution maximizes the performance of each cell. This improves battery pack performance so if one cell falters the pack remains operational over time. Paired with a smart battery management system, Haylon has developed a battery pack capable of adapting to its environment for an extended use-of-life.
In this Member Spotlight, learn how Haylon is expanding the possibilities for battery-powered devices and contributing to the move towards sustainable, clean energy.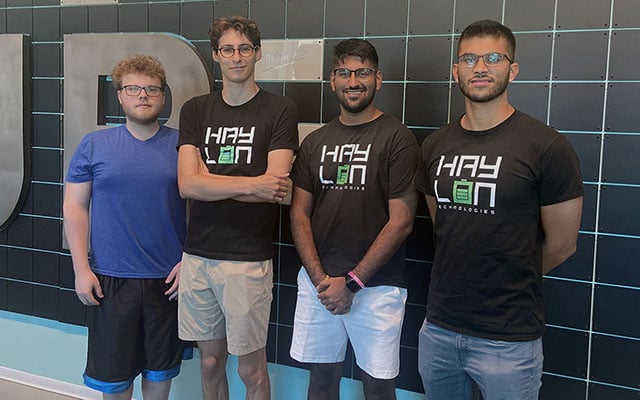 From left to right: Tyler Revesz, CSO, Dante Vaisbort, COO, Raj Lulla, CTO, Namin Shah, CEO.
Where did your idea and value proposition start?
Haylon CEO Namin Shah has always been fascinated by energy. From the start, Namin's vision was to make cool things go further and work for longer. Back in 2017, Namin co-authored his first research paper on hybrid-chemistry Mars Rover battery solutions with an NYU professor. From that concept, the Haylon team began thinking about industries where battery life and battery cost are huge concerns. The biggest pain seems to be in the electric aerospace market. Our prototype batteries for small unmanned electric aircrafts contain 27% more energy for weight than market leaders today, and they can be recharged twice as many times before needing replacement. Right now, batteries represent among the largest hardware costs for electric aircrafts. Haylon's tech has the potential to reduce that by around 60%.
How is Haylon making batteries better?
Fundamentally, Haylon can make energy-dense novel battery chemistries viable and extend the number of cycle-lives these battery packs can achieve in real-world use, meaning fewer batteries in need of disposal. Haylon accomplishes these technological gains through a combination of proprietary hardware and software, which also enables high-fidelity data reporting and battery monitoring. Haylon will use this new information to not only improve battery health further, but to also prevent failures before they occur and notify users when batteries need replacement. In the long-term, our vision is to move the world away from battery chemistries that rely on unsustainable, unethically sourced rare-earth metals, by making clean battery alternatives.
Who do you see as your initial customers and how will they use your products?
Our pilot customers have been small to medium-sized businesses that employ drones for critical operations. One is a company that provides "drones-in-a-box" to patrol high-security facilities. The greater range their products can achieve, the fewer drones-in-a-box needed per customer, and the less frequent their drone recharging downtime. Another pilot customer is in the drone delivery space. Longer drone flight times amount to more possibilities with delivery. It's important to note that most flight times cap out at around 25 minutes, and that's without a meaningful payload. Batteries are the number one constraint in the industry right now.
Where does the name Haylon come from?
In addition to sounding cool, Haylon is an acronym: Hybrizing Alternatives Yield Levels of
Optimal eNergy. We believe this name encapsulates our vision of creating a different path for device makers to employ the batteries that work optimally for their specific use-case.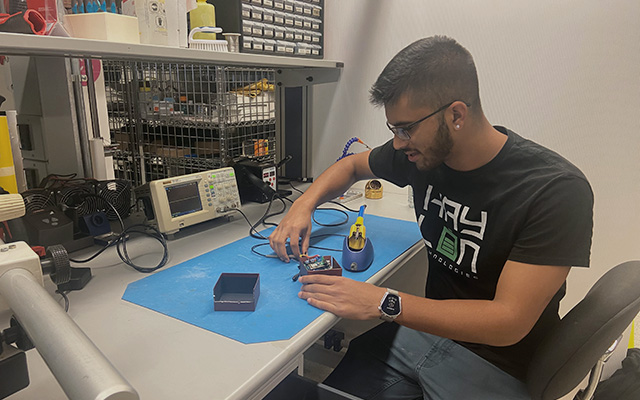 What led you to mHUB, and how are you utilizing mHUB's resources?
We learned about mHUB through some of our early advisors while still studying at UIUC and the University of Chicago. mHUB has been a tremendous resource for our team. We've used mHUB's coworking space, maker facilities, and hard-tech network. Our team has demoed at mHUB's five-year anniversary event and various collaborative efforts between mHUB and other Midwest organizations. We've sought advice several times from EIR Bob Daniel-Wayman and mHUB accelerator portfolio companies like Ascent Integrated Tech, and plan to collaborate with ARKE Global on e-bike battery packs.
How has your concept evolved since first starting out?
As mentioned, our first battery design predates Haylon. After we formed the company and refined the concept, our team cycled through several potential markets – a wirelessly-rechargeable AA battery, an electric razor that lasted longer, a pack that employed far-out novel battery chemistries – before arriving at our MVP for the drone market and wider electric flight. But the underlying objective has remained remarkably consistent.
What's the most exciting thing you're seeing in the battery storage arena?
There are numerous very promising new battery chemistries that are slowly marching towards commercialization – we're looking at a timeline of three to ten years for most of them. What's holding them back from being used today is that whatever strength they may have –energy-density, cost, sustainability – it's generally accompanied by a disqualifying weakness. Haylon's technology was designed on the premise that we can ameliorate the innate weakness of battery chemistries by pairing them with other cells that complement them. So, we can play a huge role bring these new chemistries to market, and collaborate with these new players and expand the possibilities for battery-powered devices.
What's on the horizon for Haylon?
Right now, our team is traveling to attend the Commercial UAV Expo and The Battery Show, where we'll be presenting our first product at the Soteria Battery Innovation Group's annual member's conference. Over the next few months, we'll be shipping out test packs to a select number of commercial partners. Once that's complete, we plan to kick off our pre-seed raise for around $1 million. If you are interested in speaking with us about Haylon, please contact naminshah@haylontech.com.
If you are a budding entrepreneur looking for a vast community of innovators, take a tour at mHUB to learn more about the hardtech ecosystem and how to get involved.