mHUB made an unprecedented announcement in April 2023: the $50M acquisition and transformation of 1623 W. Fulton St. into its new facility in Chicago. This prime location on the Near West Side aligns perfectly with mHUB's vision of being the most accessible and hyper-resourced innovation center for hardtech and physical product entrepreneurship. Sitting within a Planned Manufacturing District, Opportunity Zone, and HUBZone, the building offers the ideal space for mHUB and its ecosystem to grow and thrive. But it wasn't a deliberate or linear journey that landed mHUB at its new home. This is the story of how, and why, it happened.
When mHUB first opened its doors in 2017, it was at a former Motorola Mobility prototyping facility at 965 W. Chicago Avenue in Chicago's River West neighborhood. The building already had the infrastructure mHUB needed to offer prototyping labs and small-batch manufacturing runs to early-stage entrepreneurs developing hardtech and physical products. During its time at that location, mHUB supported over 500 startups and 200 manufacturers in creating over 5,000 jobs and $2.6B in economic activity, and established a priority around solutions that could improve humanity in climate & energy, medtech, and smart & sustainable manufacturing.
But mHUB was set to face a lease expiration at 965 W. Chicago Avenue in August of 2023, and with Bally's proposal to build Chicago's first casino and entertainment complex out of the old Tribune printing plant a block away, the landlord was uninterested in renting or selling the building to mHUB.
The Hunt for a New Home
Knowing that it would need to leave its existing home, mHUB set out to secure the future of the organization. Leadership knew it would be a challenge to find another facility with the specific requirements of being both industrial and commercial. Further, with its focus on increasing accessibility, location was of equal importance.
mHUB started its search around transportation hubs and toured buildings such as the Thompson Center and others throughout the city. It then found 1623 W. Fulton Street, an 80,000 square foot, three-floor building located in the Kinzie Industrial Corridor, at the anchor of Fulton Market, which had been vacant since 2019.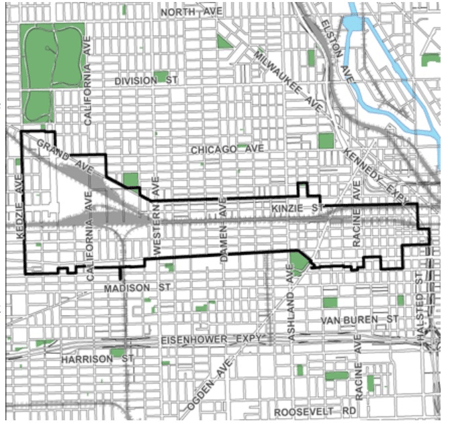 A map of Chicago's Kinzie Industrial Corridor.
The building has a storied industrial past and has been classified for historic and architectural significance by the City of Chicago. It was designed by Chicago architects Thielbar and Fugard with an iconic red brick façade and clock tower centered on Fulton Market Street. Built in 1926 for the Cameron Can Machinery Co., it later became a furniture warehouse for Cook Brothers and most recently a creative production office for Crate & Barrel's CB2 brand. It's situated in a designated Planned Manufacturing District, HUBZone, and Opportunity Zone and near public transportation and the growing Fulton Market tech scene.
1623 W. Fulton became the clear choice for securing the future of mHUB in order to drive the greatest impact on the local economy and global innovation. Here are the reasons why.
Benefits of Being Located in a Planned Manufacturing District
There are over a dozen Planned Manufacturing Districts (PMD) in the City of Chicago. PMDs are designated areas set aside for industrial use and were founded to protect the displacement of industry. Prior to the use of PMDs, it was common for developers to target industrial sites to convert them to more valuable residential or commercial use. Now, historically industrial areas, that also have easy access to transportation networks and labor pools, are protected from redevelopment using PMDs.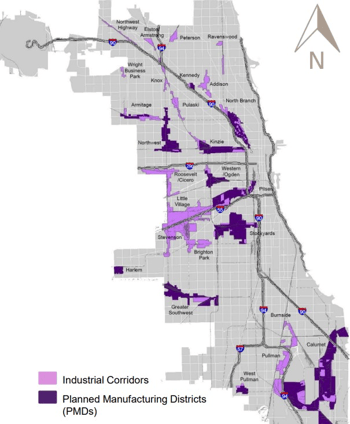 A map of Planned Manufacturing Districts in Chicago.
The Kinzie Industrial Corridor, where 1623 W. Fulton is located, is one of Chicago's 26 Planned Manufacturing Districts. It's located just west of Ogden Avenue and Chicago's West Loop. This is especially attractive to mHUB because it bridges industry to the west with the growing Fulton Market tech sector to the east. As a leader in hardtech innovation, mHUB sits at the intersection of physical product creation and digital technology. This building is that literal intersection.
Further, mHUB is committed to growing US manufacturing leadership. Manufacturing is the second largest industry in the City of Chicago, which boasts one of the most diversified economies nationwide. Still, the city has experienced a significant loss in manufacturers over the past few decades.
Manufacturing jobs are a great equalizer, providing middle-income wages, benefits, and job security at all education levels. Every dollar in final sales of manufactured products supports $2.74 in output from other sectors and has a job multiplier between 3X and 9X depending on the subsector. Simply put, manufacturing is good for jobs, the economy, and communities.
Through its innovation center, mHUB will support hundreds of product-based businesses that are now able to take advantage of the accessibility and affordability of a PMD and grow within the Kinzie Industrial Corridor, bringing new businesses that will create wealth and jobs for the community.
Benefits of Being Located in a Designated Opportunity Zone
Opportunity Zones are a program designed by the U.S. federal government to attract private investment in economically distressed communities. Established as part of the 2017 Tax Cuts and Jobs Act, their primary function is to stimulate economic growth, create jobs, and improve living conditions.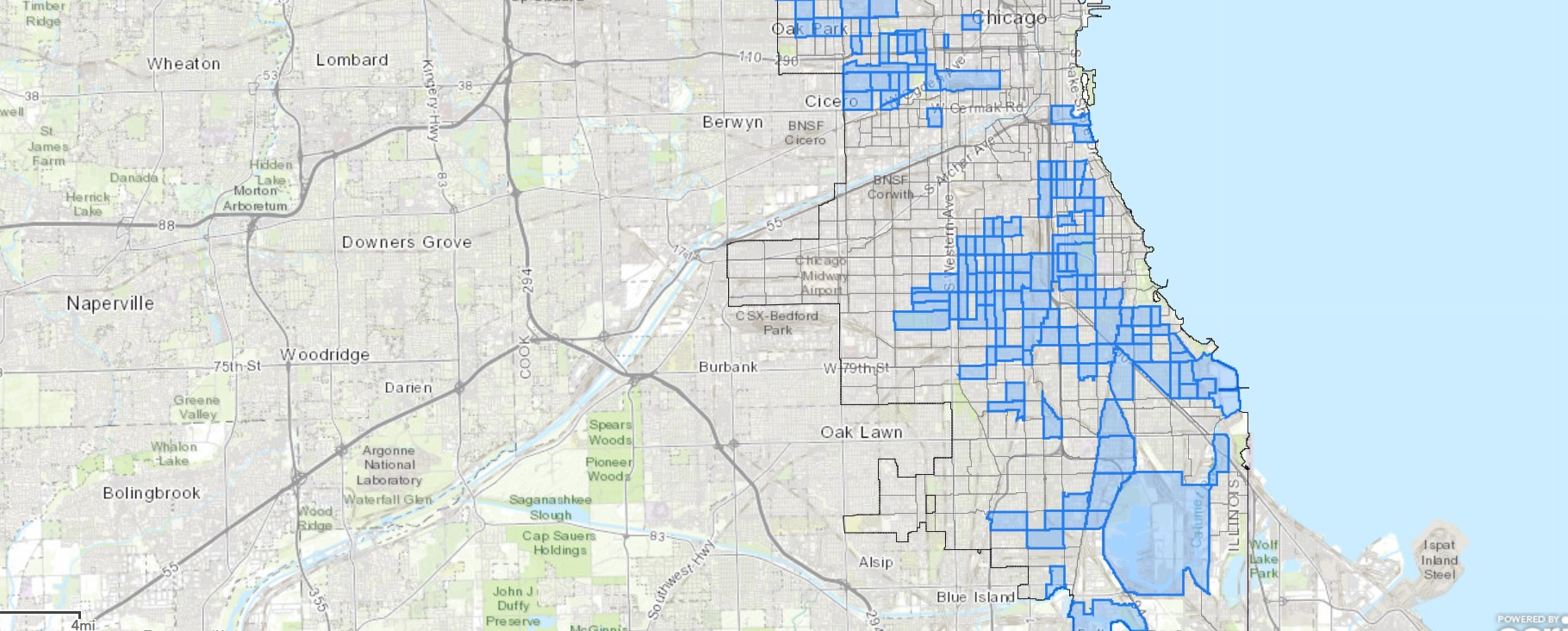 A map of Designated Opportunity Zones in the Chicagoland area.
The Basics of How Opportunity Zones Work:
States nominated their low-income, high-poverty census tracts to be designated as Qualified Opportunity Zones (QOZs).
Taxpayers invest capital gains into a Qualified Opportunity Zone Fund (QOZF), an investment vehicle that channels funds into QOZ projects and businesses.
Investors receive tax benefits such as deferral of capital gains taxes, or even elimination of taxes on future gains, for investments held in the QOZF for a 10-year period.
Between the tax benefits and positive economic impact, investors are incentivized to invest capital in OZ projects/businesses.
With its move to 1623 W. Fulton, startups incubating within mHUB may be eligible to be recognized as Opportunity Zone businesses and can capitalize on Opportunity Zone venture capital through Qualified Opportunity Zone Funds (QOZF). This requires a certain percentage of their operations and revenues to be conducted within the Opportunity Zone itself. This structure aligns with mHUB's mission to accelerate the commercialization of hardtech, uncovering another vehicle for startups to get funding and scale while bringing jobs and business to communities that need it most.
Further, mHUB will have the ability to launch its own QOZF where limited partners can take advantage of tax benefits while investing in mHUB's portfolio of startups operating out of the innovation center as well as those that have grown out of the facility but remain located within the area. This will incentivize startups to remain and build their businesses within an Opportunity Zone.
Increasing Accessibility to Chicago's South and West Sides
The new location also lends itself to another aspect of mHUB's mission: to increase accessibility and opportunity for underrepresented founders and entrepreneurs. As mentioned, the location of 1623 W. Fulton is adjacent to Chicago's south and west sides. The building is one block away from the Ashland bus line and pink and green CTA lines, connecting deeper into those communities.
mHUB's new location at 1623 W. Fulton offers greater physical access, but that's not enough to support underrepresented entrepreneurs at the earliest stages when founders are more vulnerable to risk and need a runway to get started.
That's why, in 2021, the mHUB innovation center launched its Catalyze Initiative, which creates avenues for equitable access through designated programs and stipends powered by grants, community partnerships, and corporate investment.
Through its new location, programs within the Catalyze Initiative become more accessible to Chicago's south and west sides through physical proximity. In addition, the structure of the PMD and Opportunity Zone will create additional opportunity for growth, funding, and employment beyond the duration of the programs.
Benefits of being located within a HUBZone
HUBZone stands for "Historically Underutilized Business Zones." This designation is given by the U.S. Small Business Administration (SBA) to economically distressed communities across the country that meet certain criteria, such as having high unemployment rates or poverty levels. Within designated HUBZones small businesses can gain easier access to federal contracts.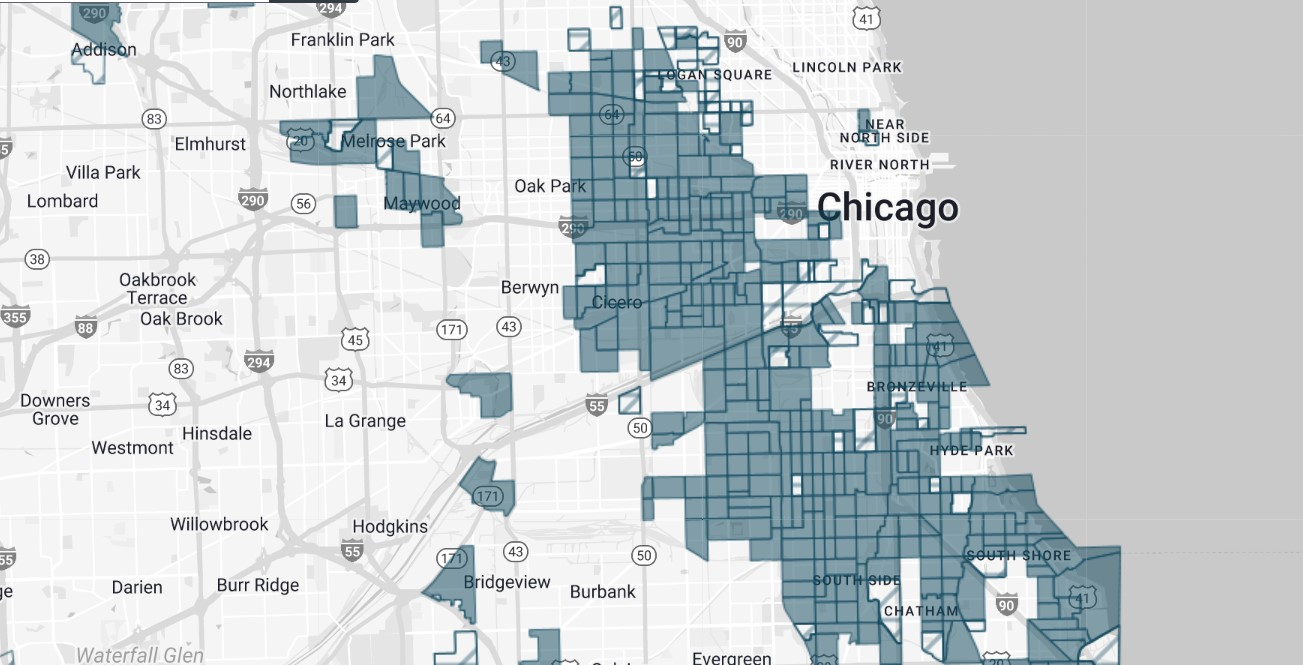 A map of HUBZones in the Chicagoland area.
The SBA defines a small business as having fewer than 500 employees, and has set aside 3% of federal contract dollars to be awarded to HUBZone certified companies each year. Small businesses must apply to be HUBZone certified and must also submit bids for each relevant contract opportunity.
Federal contracts and grants are great forms of funding for early-stage startups. Especially in the hardtech space. Innovation in areas such as healthcare, advanced manufacturing, and climate tech can take longer to scale and generate ROI for traditional investors. As such, many entrepreneurs in this space seek grants and federal funding as the kickstart they need to be commercial ready.
As an incubator for early-stage startups, companies utilizing the mHUB innovation center as its headquarters can meet the requirements of becoming a designated HUBZone business and qualify for preferential consideration in submitting for federal contracts.
Reaching the Destination
The Planned Manufacturing District, Opportunity Zone, HUBZone, and proximity to Chicago's south and west sides is what made 1623 W. Fulton such a great fit for propelling mHUB forward in its mission. The combination of these factors is what made mHUB's acquisition and build out of 1623 W. Fulton attractive to the City of Chicago and the State of Illinois, who knew that if mHUB did not find a home, the city, state, and region would lose a major economic development engine.
The building allows for a 50% larger prototyping facility with expanded labs designed to support energy startups including wet labs and new equipment. It makes mHUB one of the largest independent innovation centers for physical product development in the country. It will help drive Illinois' leadership in areas such as clean energy, sustainable manufacturing, and healthcare, where disruptive physical solutions are needed to implement impactful change.

An exterior view of mHUB's new HQ, at the intersection of Ashland and Fulton.
mHUB knew that financing the $50M building acquisition and renovation was ambitious. But it also knew that it aligned with statewide goals such as the commercialization of clean and sustainable technologies. As such, funding received from the State of Illinois initiates one of the primary investments within the mHUB led Clean Tech Economy Coalition. For the City of Chicago, mHUB's expansion aligned with efforts to spur economic development and job creation for underrepresented populations through industries such as manufacturing.
The resulting financing package includes $17.55M in TIF funding from the City of Chicago; a $15.52M tax exempt bond issued by the Illinois Finance Authority, organized by Cabrera Investments and purchased by Nuveen Investments; $9.4M in new market tax credits; $9.57M from other local sources; a $1.1M contribution from mHUB, and the recently announced $778K from the U.S. Economic Development Administration.
Securing the Future of mHUB
At the most basic level, this relocation secured the future of the mHUB organization and its impact on the regional economy. At a higher level, what manifested will turn the city of Chicago and Illinois into an epicenter of innovation around physical solutions for the physical world. As the nation builds towards a future of clean energy, improved health, and less fragile systems, mHUB presents great opportunity for Illinois to own and lead in key areas such as climate and energy, healthcare, and advanced manufacturing. It will attract innovators from across the country, and world, who are seeking the resources they need to prototype, test, and ultimately bring to market complex technological solutions.
The organization is proud and thankful to be at the helm of supporting the founders and entrepreneurs solving some of the world's biggest challenges through hardtech. Its new home is the next chapter in accelerating the impact of the mHUB ecosystem and making it accessible to all great problem solvers.
Book a tour to visit mHUB's expanded innovation center.
Learn more about who made mHUB's relocation possible: mHUB Closes on $50M Acquisition and Build-Out of 1623 W Fulton.