FOR IMMEDIATE RELEASE
Press Contacts:
Kim Blomquist 
872.222.5279 
kim@mhubchicago.com
Melissa Lederer
melissa@mhubchicago.com


mHUB to Transform Illinois' Advanced Manufacturing Competitiveness with Expansion into $50M Innovation and Commercialization Center
Historic 80,000SF facility in a Chicago Near West Side Opportunity Zone will expand equitable access to unparalleled resources and venture, making mHUB the largest independent manufacturing center in the U.S.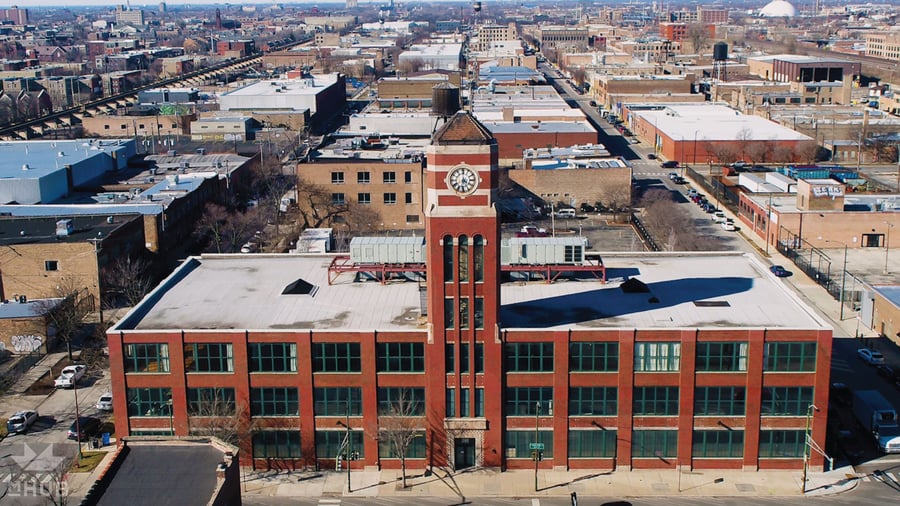 (CHICAGO April 27, 2023) – Today, manufacturing and hardtech innovation center, mHUB, announces the $50M acquisition and build-out of a historic manufacturing facility within Chicago's Kinzie Industrial Corridor on the city's Near West Side. The building is located at 1623 W Fulton St (formerly 240 N. Ashland), a designated Opportunity Zone and planned manufacturing district on a 2-acre site that will increase mHUB's prototyping and testing facilities and office and convening spaces to become the largest independent manufacturing innovation center in the country.
Launched in 2017, mHUB has supported over 500+ startups and 200 manufacturers from all over the world that have created 5,000+ jobs and generated over $2.6B of economic activity. Collaboration between startups, industry, and investors has accelerated the commercialization of early-stage physical products in areas such as advanced and sustainable manufacturing, climate and energy tech, medical devices, and more. The organization has strong ties to the Midwest regions' universities and research institutions as well as an established network of contract manufacturers.
The $50M building acquisition and renovation is part of public financing organized by mHUB to advance manufacturing and cleantech innovation in Illinois. The package includes $17.55M in TIF funding from the City of Chicago; a $15.52M tax exempt bond issued by the Illinois Finance Authority, organized by Cabrera Investments and purchased by Nuveen Investments; $9.4M in new market tax credits; $9.57M from other local sources; and a $1.1M contribution from mHUB.
On the heels of historic Illinois policy achievements with the Clean Equitable Jobs Act, REV Act, and $400M tax incentive package for cleantech manufacturing, the mHUB expansion will help accelerate the commercialization of new tech solutions to address global challenges, institute an economic development engine in Illinois, and position the state for federal funding through efforts such as the CHIPS Act, Inflation Reduction Act, and Bipartisan Infrastructure Law. It will initiate one of the primary investments of the nationally recognized Clean Tech Economy Coalition (CTEC) alliance that is focused on commercializing energy infrastructure, grid modernization, and long-energy storage technologies.
"This historic investment will help drive Illinois and the nation's global leadership in hardtech, and particularly around the commercialization of clean and sustainable technologies," said Haven Allen, chief executive officer and co-founder of mHUB. "It will create an anchor institution in Chicago to execute on its commitments leading the nation's reemergence and manufacturing legacy. It's made possible through broad collaboration of the private sector, strong leadership at the city and state, and ongoing engagement with the federal government."
In addition to establishing Illinois as a global leader in the clean energy transition, supporters recognize the mHUB expansion as an opportunity to improve access and create generational wealth for underrepresented founders and low-income communities through the building's location within a designated Opportunity Zone.
The deliberate decision to place mHUB within an Opportunity Zone will ensure greater access to its programming for underrepresented founders on Chicago's south and west sides. The location will enable mHUB to expand its venture capital strategy through a series of venture funds, direct investing, and Opportunity Zone real estate and equity investing. mHUB's 250+ existing startups relocating to the new building can immediately begin capitalizing on Opportunity Zone venture capital.
"With this historic investment, mHUB is graduating from an economic development initiative to an essential economic development institution that will create positive impacts in our city for years to come," stated Chicago Mayor Lori E. Lightfoot. "mHUB has demonstrated its long-term commitment to Chicago's future and to delivering equitable outcomes. We look forward to seeing this new center become a beacon to bridge all communities around industry growth and opportunity."
In addition to greater accessibility to Chicago's south and west sides physically, the mHUB relocation will support the acceleration of an $8M fundraising campaign for its Catalyze Initiative, a suite of programs to drive a diverse and equitable economic development model. To date, Catalyze has received $2.45M in support from Landis Family Foundation, Chicago Community Trust, We Rise Together, Bank of America, Christopher Family Foundation, and federal congressionally directed spending appropriation.  
"mHUB has quickly ascended as a national model for inclusively building industries of the future," said Michael Fassnacht, president and CEO of World Business Chicago and chief marketing officer for the City of Chicago. "It's leadership within manufacturing provides Chicago with a unique competitive advantage and prominent national role in building our regional economy while creating opportunities for wealth and jobs for all." 
The mHUB expansion has garnered interest from the private sector with alignment to organizations that recognize this project as a vehicle for collaborating with stakeholders across the clean energy, manufacturing, community development, and innovation landscapes.
"At Invenergy, we've seen and proven the value of building long-lasting partnerships to help reclaim America's position as a technology and manufacturing leader, in the energy sector and beyond," said Michael Polsky, founder and CEO of Invenergy. "We look forward to continuing our partnership with mHUB to advance early-stage technologies and congratulate them on this important expansion which will create jobs, help build a more sustainable world, and drive US competitiveness for years to come."
mHUB's expected impact over the next five years includes supporting over 450 new startups and existing manufacturers in creating 4,500+ direct jobs, generating over $2.1B in revenue, securing over 550 patents, and attracting $1.95B in investment. This economic activity is estimated to drive a cumulative impact of $49M in state income tax, $228M in federal income tax, and $13M in sales tax.
Supporting the acquisition and redevelopment of the property is JLL, Gensler, Executive Construction Inc, Syska Hennessy Group, Cabrera Investments, Eversheds Sutherland, Baker Tilly, Applegate Thorne-Thomsen, IFF, Commercial Club of Chicago, Alderman Walter Burnett, and World Business Chicago. The building plan and capital investments were informed through a series of focus groups with over 20 hardtech startups, manufacturers, and key industry partners such as Argonne National Lab, Evergreen Climate Innovations, Illinois Institute of Technology, University of Illinois, National Society of Black Engineers, University of Chicago, and Northwestern University.  
To learn more about the mHUB ecosystem of startups and partners, visit: https://www.mhubchicago.com/ecosystem
About mHUB:
mHUB is a leading independent hardtech and manufacturing innovation center that exists to convene the entrepreneurial ecosystem around physical product innovation to ensure that the manufacturing industry continues to accelerate, grow and thrive. The mHUB community includes over 428 active and alumni startups and small businesses supported by a deep talent pool of product designers and developers, entrepreneurs, engineers and manufacturers, corporate leaders, industry experts, mentors and investors. mHUB provides a hyper-resourced environment to entrepreneurs with the goal of commercializing new hardtech innovation that will lead to new businesses, intellectual property, investment, revenue and job creation. Since launching in 2017, the mHUB community has generated more than $1.14B in revenue, launched more than 1,502 products, hired more than 5,193 employees, and raised over $1.49B in capital. The mHUB Product Impact Fund is a $15M venture fund that invests in seed and early-stage physical product companies from around the world who participate in mHUB's 6-month long, hands-on accelerator programs. To date, mHUB has invested in 36 startups across sustainable manufacturing, climate and energytech and medtech.


Get a sneak peek of the new mHUB space from these renderings provided by Gensler: