Stroma Vision leveraged the mHUB Accelerator, Hardtech Development Services, and Product Impact Fund to propel their industrial IoT startup
Their faces are beaming. Even under the ring lights of a zoom call, Anil Üzengi and Mete Öztürk cannot stop smiling. They have just received news that their company, Stroma Vision, has won a prestigious iF Design Award for their cutting-edge worker safety camera system. Joy emanates through the screen as they proudly tell the story of their product development journey with mHUB, the leading independent hardtech and manufacturing innovation center based in Chicago.
Anil Üzengi (left) and Mete Öztürk (right) in the mHUB Innovation Center
In May of 2021, Stroma Vision co-founders Anil and Mete, CEO & CTO, showed up at mHUB's 65,000 square foot prototyping facility - ready to propel their startup through the mHUB Accelerator. Working hard through the accelerator program and knowing that the first 6-months would culminate in a live, interactive Demo Day event, Anil and Mete were determined to produce a prototype that was as close as possible to the 'finished' product. This was the main driver for Anil and Mete to engage mHUB Hardtech Development Services, a team within mHUB that connects highly knowledgeable and experienced product innovation professionals with startups and small-to-medium sized manufacturers needing solutions or support with strategy, design, engineering, and manufacturing.
"Anil and Mete were not starting from scratch," explains Bill Fienup, mHUB co-founder and VP of Innovation Services. "They had begun developing safety-driven IIoT-enabled cameras for the automotive industry back in 2017, and it was a natural progression for them to evolve their hardtech for the manufacturing floor and industrial settings – places where their tech could have a huge positive impact on worker safety."
Watch these IIoT Founders on their mHUB Accelerator Journey
After engaging with Bill and Bianca Thai, mechanical engineer and Director of mHUB Hardtech Development services, Anil and Mete agreed that a brainstorming session in June with ten engineers and designers from mHUB's Hardtech Development services would be beneficial. With over 550 devices actively deployed across Turkey and Europe for Fortune 500 clients, such as Unilever, Vodafone, and Bridgestone, to name a few, Anil and Mete had a wealth of knowledge about how their existing fleet of smart cameras had been performing. They had a very deep understanding of end users' needs and potential product modifications that required thoughtful deliberation.
Meticulously coordinated by Bianca, a 3-hour long skunkworks session was scheduled, and she hand-selected industrial designers, mechanical engineers, and fabrication specialists to participate in the brainstorming session with Anil and Mete. At her request, the Stroma co-founders prepared a private website with curated content ahead of the skunkworks session to give the innovation professionals plenty of information to have a productive brainstorming session.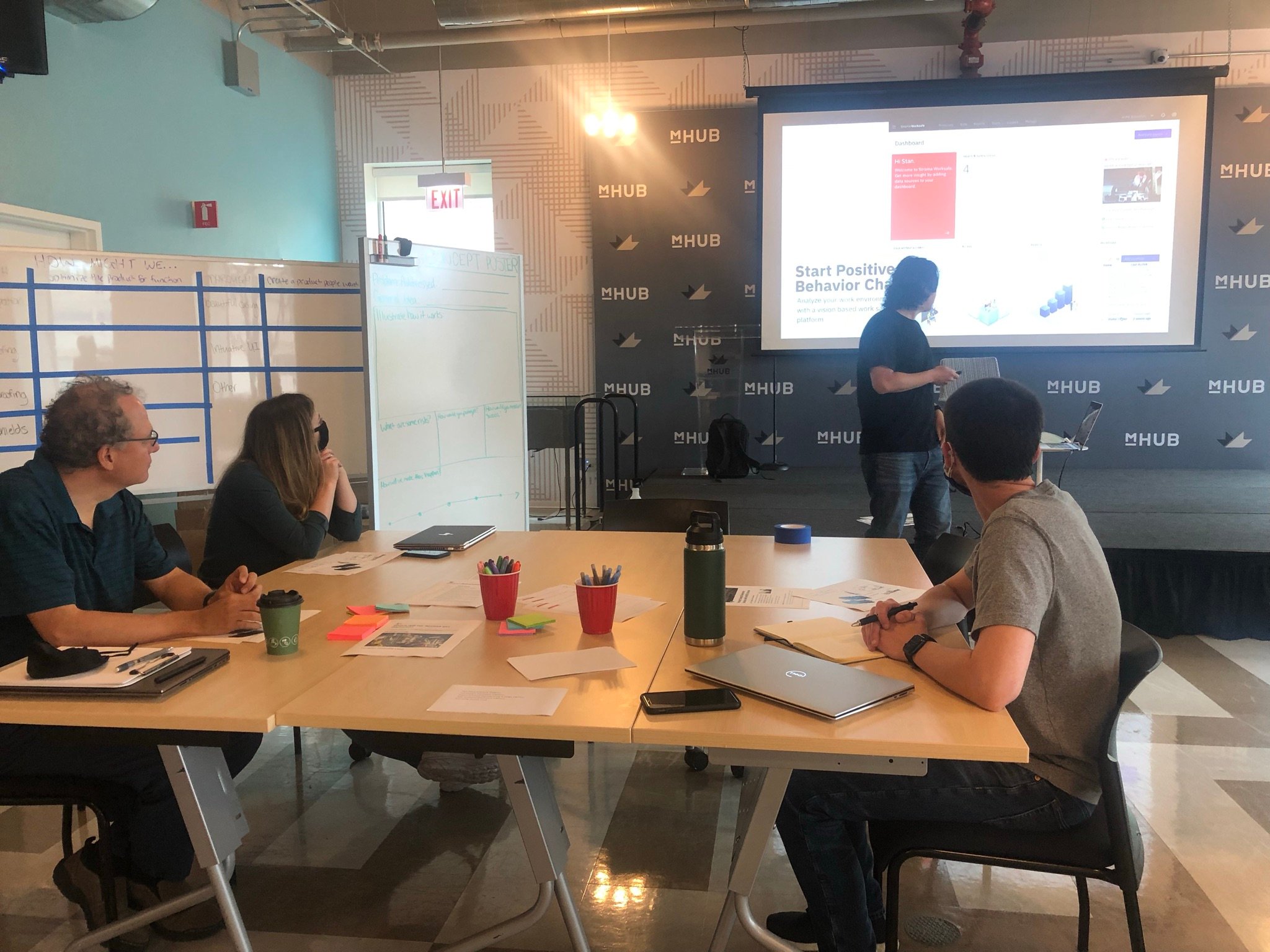 "We prepared rough sketches of the product design," explains Mete, "including data on personas, different deployment environments, where and how our hardtech is to be used, products and services we are planning to offer, market need, product capabilities and requirements, our targeted budget, environmental requirements, constraints for electronics, and other specs."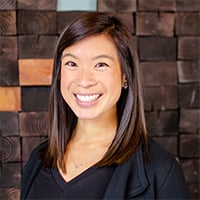 "It was truly impressive how much Anil and Mete prepared for the brainstorming session," says Bianca. "They had design ideas, mood boards, and a presentation for the group. The talent accessible through mHUB HD services is comfortable jumping in at any stage of product development, and in many cases, without extensive material prepared ahead of time. This really was an impactful session and a pivotal point for Anil and Mete to engage with the product developers and start forging important relationships within the mHUB community."
mHUB member and Industrial Designer, Zack Zlevor, was among the skunkworks participants. "Anil brought the customer perspective, the business insight that is needed to support a human-centered design approach," states Zack. "In the first section of the brainstorm session, we talked about the end users and decision-makers, who are essentially health and safety managers in factories and industrial settings. Mete, who has an incredible range of skills, had done some early-stage component design which gave us solid starting points for discussion."
"We needed 'outsiders' to help us think about heat dissipation, enclosures, IP ratings, waterproofing, water ingress, swivel mounts, EMI shielding, and what happens if the camera or terminal falls down," explains Mete. "Where could we place the Wi-Fi antenna? How could we make it waterproof and also allow air current to take heat away? We had so many questions to pose to the group. I enjoyed the 'round robin' where subgroups generated ideas and potential solutions for each of the product design challenges. These concepts were circulated, and people put different colored stickers on the ideas they liked the best. Then we had further discussion on that as well."
"The skunkworks session definitely opened Stroma up to new possibilities of what they could explore," continues Zack. "Every option is going to have different variables for manufacturability, expenses, etc. Ultimately, the brainstorm gave them validation that the path they were on made sense for what they were trying to do."
After the brainstorm session and with precise coordination by Bianca, Stroma Vision contracted work from several mHUB members through mHUB Hardtech Development services. These members included Zack Zlevor of Zlevor Designs, Sean Hannon, Mechanical Engineer & Fabricator, David Kinnich with Skate Kastle, and Matt McGregor of Karman Innovations.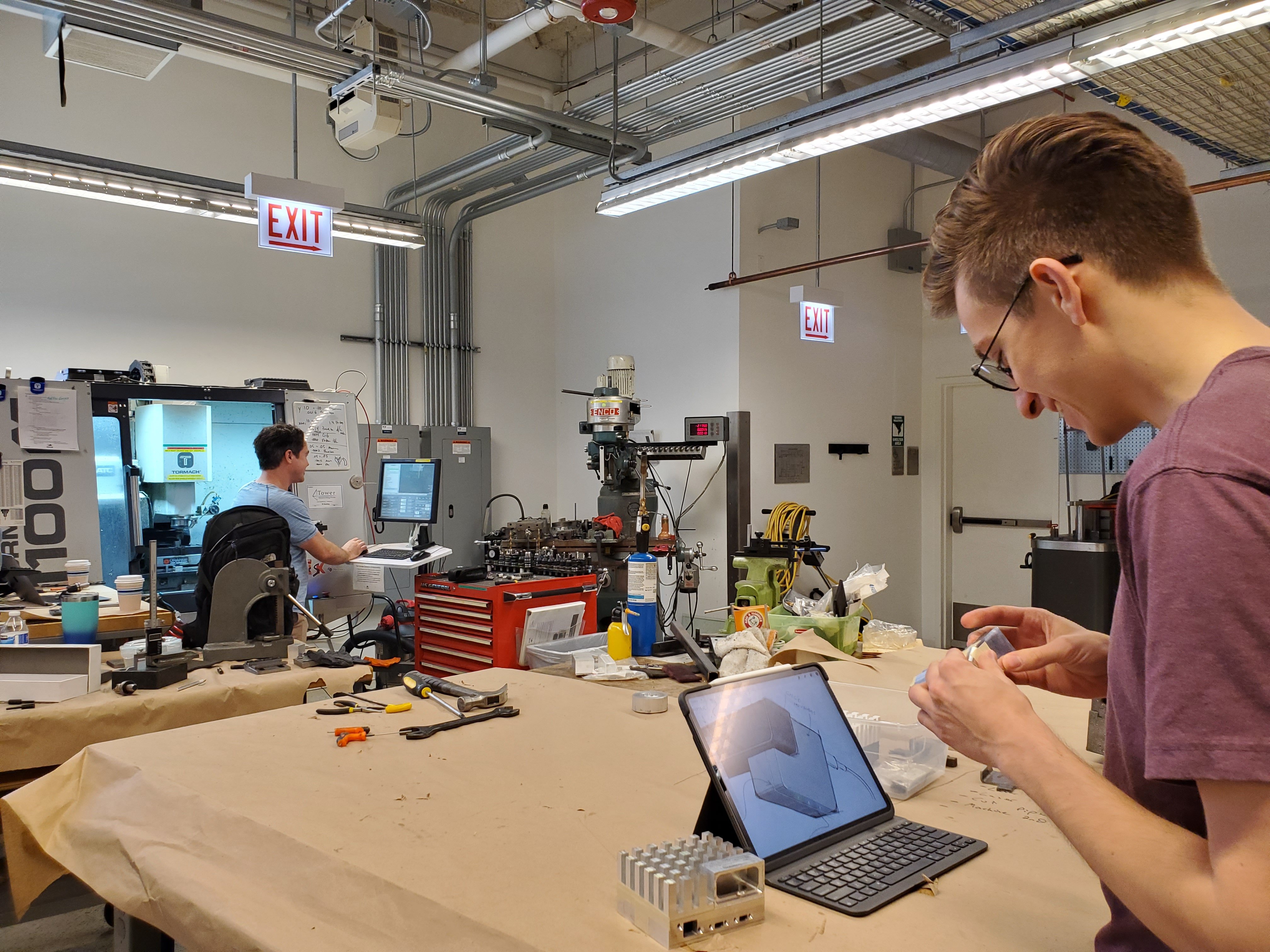 Matt McGregor (left) at the Tormach CNC Machine and Zack Zlevor (right), Industrial Designer
"I was brought into the project as a design engineer to support the 'look and feel' of the camera and terminal as well as the physical arrangement of components inside the device, making sure that everything fit and worked well within the new constraints," explains Zack. "It was a really good fit because both Anil and Mete are highly technical people. Mete did the electrical engineering and created multiple layouts of the circuit board. We worked really well together – even as we dealt with supply chain issues."
"The chip shortage is a very real obstacle for product developers," states Mete. "The first electronics design, prior to the brainstorm session, had taken me 4 months. With supply shortages, I had to change IC's (integrated circuits), take them out and find replacements. Then when those replacements became unavailable, I did another PCB iteration. Then when those components were not available, we decided to not re-design the board a third time and just wait for the materials to become available."

"Anil and Mete didn't let the supply chain issues slow them down. When they couldn't take the PCB any further, they dove into the mechanical engineering side," continues Zack. "Bianca brought Sean Hannon in from the get-go, who is an incredibly talented mechanical engineer, and we worked together on the CAD files. Working with Anil, Mete, and Sean, and then David and Matt to support with the machining and fabrication effort, we went from camera and terminal sketches all the way to a physical, Looks-Like-Works-Like prototype in only 2 months. Working with mHUB enabled Stroma to meet some really intense deadlines."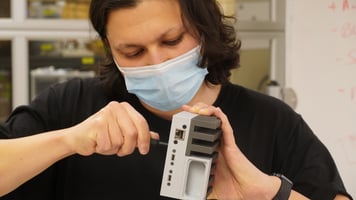 "The deadline was to get the prototype made in time to present it for Demo Day – which is a special mHUB event where corporate partners and potential investors come to see your hardtech," explains Anil. "Sean played a key role in taking Zack's aesthetically-focused designs and confirming manufacturability."
"We were prototyping two objects: their camera, which would be on a forklift, a vehicle, or somewhere on a manufacturing floor; and second, their network box, which would be placed on a factory shelf or in a server room," explains Sean. "They had a PCB, they had the components to put inside of the camera and their device which goes inside the network enclosures. I reviewed the configuration of components and ensured there was enough space, the right wall thicknesses, worked with Zack to make the CAD files that would be used to manufacture all the pieces, and made sure that the material could be properly machined."
"Anil and Mete wanted them to look like a set and wanted them manufactured in the actual material," continues Sean. "So rather than 3D printing the prototypes, we went with CNC-machined aluminum, which is what motivated us to hire two experts that can run two machines simultaneously. Each device had multiple components; the camera had at least four aluminum machine components and the network box required at least two aluminum machine components - of all different geometries, so they had to have different setups. We provided the files to David Kinnich and Matt McGregor, who are expert machinists running their own businesses out of mHUB. They did the CAM work and simultaneously worked on making 2 sets of the device so Stroma would have it available for Demo Day."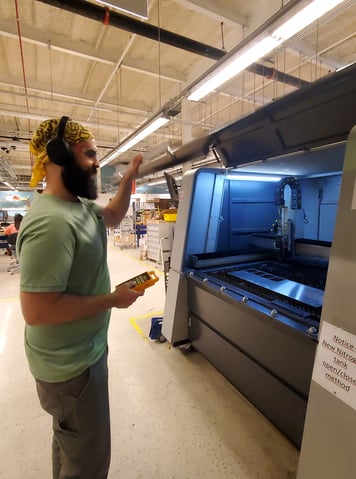 All of the machining and fabrication was done in-house at mHUB. David and Matt employed CNC machining and tapped the aluminum components for assembly. Zack and Sean added finishing touches to the Demo Day displays utilizing a variety of mHUB's equipment. Gaskets and clear covers were cut on the CO2 laser. A steel display stand was cut on the fiber laser and bent into shape. All metal components were powder-coated, and some aesthetic flair was added with the flat bed Roland UV printer.
"One of Anil and Mete's goals for their real product was to make sure it had an IP rating, which means that the camera and terminal are designed in a way that protects them from dust and water. So we ordered the actual gasket material to achieve that IP rating and cut it on mHUB's laser cutter to get a realistic assembly," continues Sean. "We used mHUB's CO2 and fiber lasers, the Tormach CNC machines, the tapping arm, the sandblaster, got three distinct colored powders from Prismatic Powders, and used the powder coating station. I was powder coating the night before Demo Day," laughs Sean (pictured to the left at mHUB's BOSS Laser).
"We finished with less than 24 hours to Demo Day," shares Anil. "And that's the thing about mHUB. It speaks to the dedication of the people - everyone working on the project cared. Stroma was able to find a specialist every step of the way, and Stroma was not the only business to benefit. One brainstorm initiated by the mHUB Hardtech Development services team led to a collaboration between 5 businesses, and all the entrepreneurs involved benefitted."
"Having a space like mHUB is amazing," continues Mete. "Having access to millions of dollars' worth of equipment is great, but none of it would matter if you didn't have a team of people that cared about what they were doing. The dedication, the late-night work sessions, the willingness to do whatever was needed to get the job done, it went perfect! I couldn't have imagined it going any better. To come in with everything on time and in our budget, it was really perfect."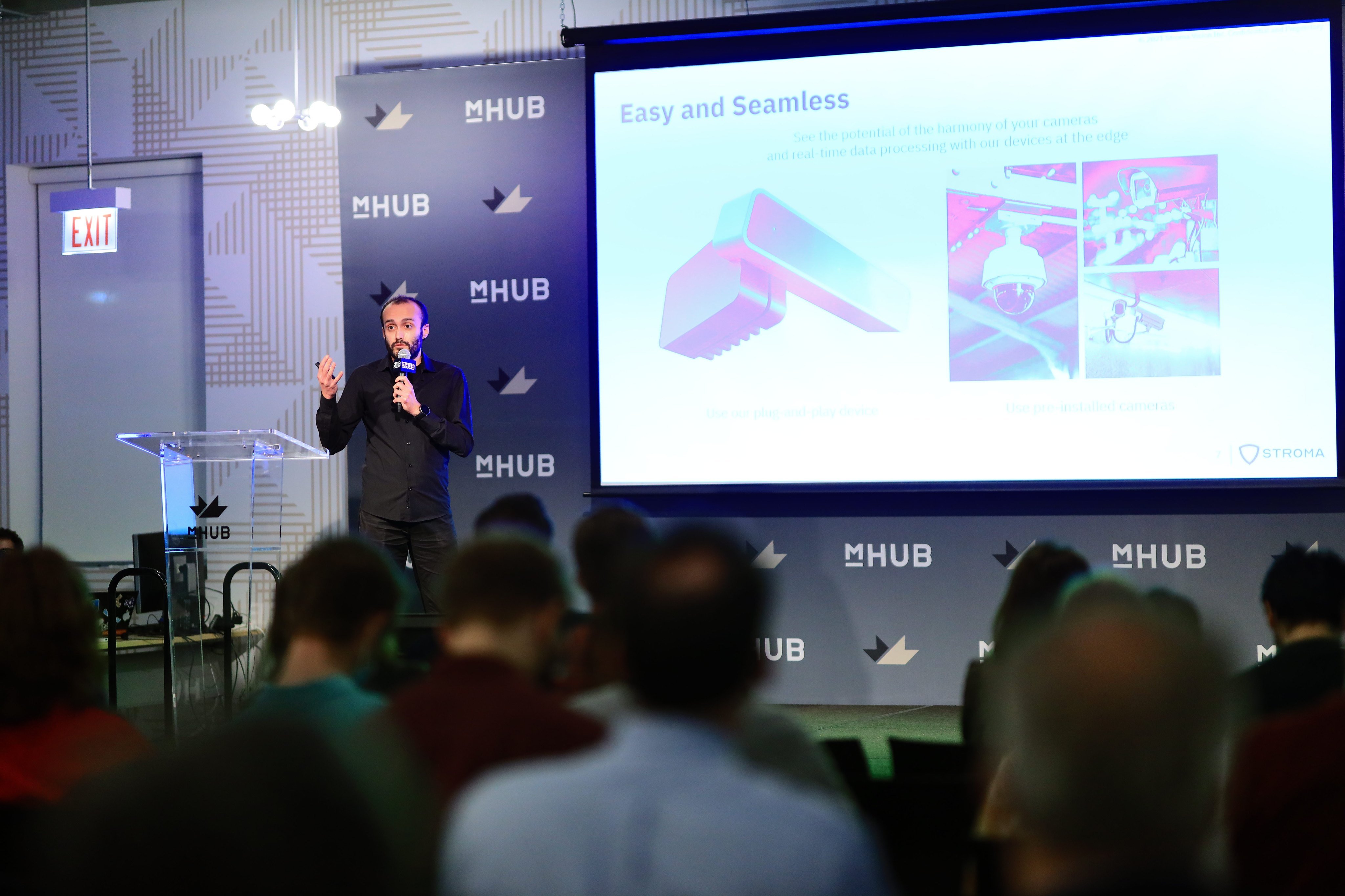 Anil Üzengi pitches at the Live Demo Day event held at mHUB
Stroma Vision received investment from the mHUB Accelerator's corporate partners, Avnet & Panduit, at the half-way mark of the 6-month mHUB accelerator program. By being accepted into the program, Stroma also received investment through the Product Impact Fund I, a $15M venture fund that invests in seed and early-stage physical product and hardware companies with deployment through 2023.
These investments gave Anil and Mete momentum as they headed into the November 2021 Demo Day with a final prototype, and they reported a successful event. Four months later, Stroma submitted their WorkSafe™ edge devices to be considered for multiple awards.
"For the iF Design Award, Stroma's product had to be in Hanover by March 11th, and we were worried that it wouldn't get through customs in time," explains Zack. "I woke up at 4:00 AM one day and called Anil. He agreed that the best way to get it there in time was to ship me!"
Zack left 48 hours later and delivered the package in person, making sure the judges would have a perfect package to evaluate. From Germany, Zack then traveled to Istanbul to meet up with Anil and Mete for a much-deserved break and celebration.
Upon his return to Chicago in April 2022, Zack learned that Stroma's WorkSafe™ system won a Red Dot Design Award. This is the second time within a two-year period that a product designed by Zack has received a Red Dot Design Award. A week later, Stroma Vision's WorkSafe™ edge devices also won the international iF Design Award.
"As 2022 winners of both the iF Design and Red Dot Design Awards, and now a finalist for an IDEA award from the Industrial Design Society of America, we are ECSTATIC," announces Anil. "Stroma Vision's WorkSafe™ edge devices have received credible acknowledgement, and we will benefit from a network of vital industry contacts - from system integrators, manufacturers, and potential customers."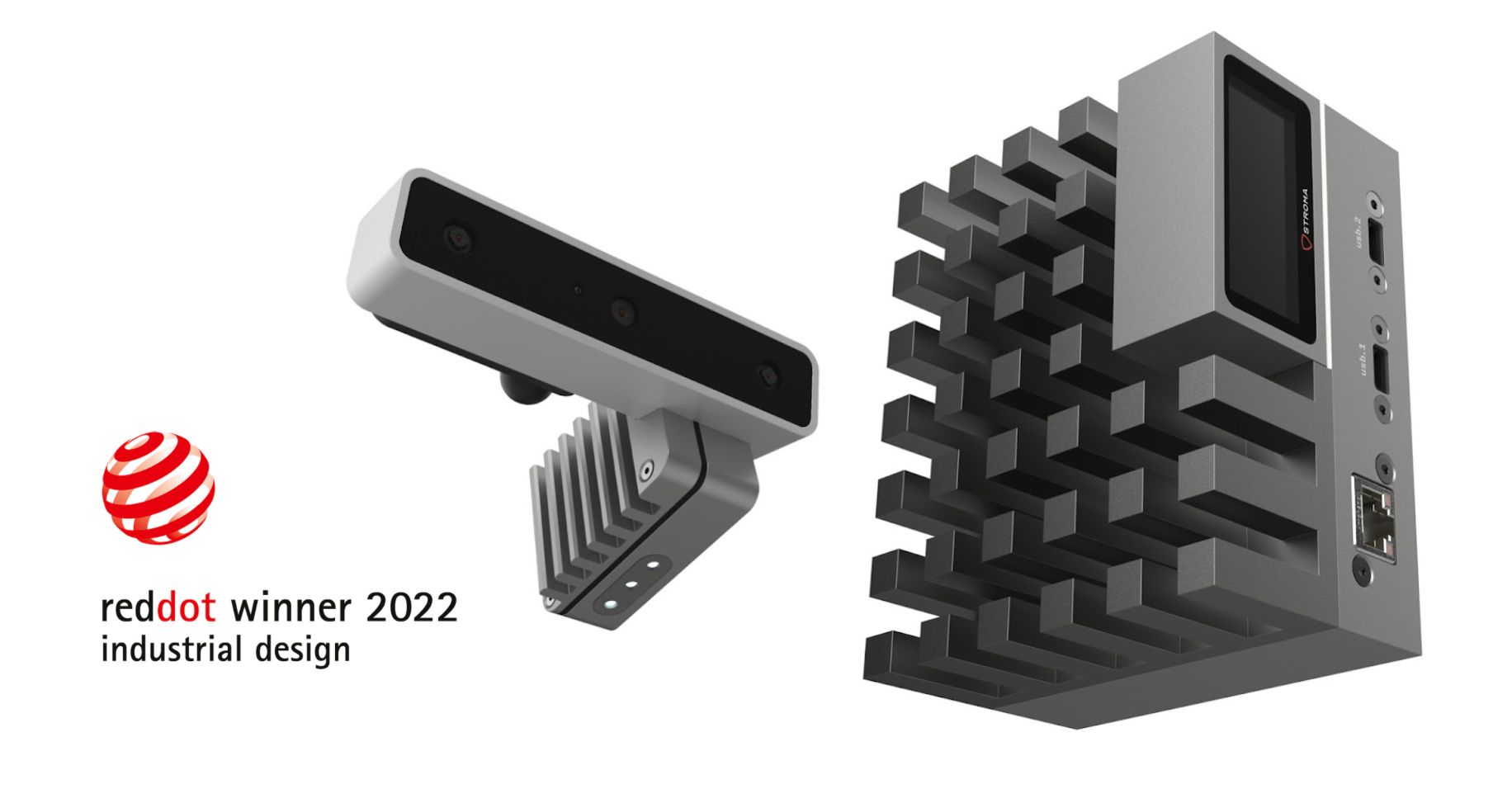 "My time working with Stroma has been fantastic," shares Zack. "Lasting friendships and business connections were created through this project, and it's all because of the way mHUB brings everyone together."
mHUB exists to convene the entrepreneurial ecosystem around physical product innovation. Since their opening in 2017, mHUB has built a community of hardtech businesses across market sectors. Comprised of over 270 active and alumni startups and small businesses, mHUB has supported members and alumni in raising $1B in capital, launching 1,398 products, creating 3,987 jobs (employees hired by mHUB members), and generating revenue to the tune of $721 million. mHUB is proud to support hardtech startups through their accelerator, Hardtech Development services department, and hardware venture fund.
Reach out to get involved with mHUB.