When the pandemic hit the U.S. in early 2020, entrepreneur Brian Clark was highly motivated to do something about it. He began conducting research around transmission prevention strategies rooted in science and technology, and came across germicidal ultraviolet light (GUV), a wavelength of light that has the potential to significantly mitigate the impact of viruses, bacteria, and germicidal spores in the air and on surfaces. Through his research, Brian discovered that GUV—also known as far-UVC 222nm—could be leveraged to develop IoT devices that, if deployed on a wide scale, could be a groundbreaking approach to keeping individuals, families, and communities clean and healthy without the use of harsh cleaning chemicals.
Brian, an entrepreneur who previously served as Founder and CEO of Ascent, brought the concept to his siblings Andrea Clark, who works in public health and holds two master's degrees in science and public health, and Daniel Clark, President and Founder of Linear Health Sciences. Together, they launched Beacon.
"We discussed the science around GUV and collectively realized there was an enormous opportunity to create something that could help people and communities," explained Brian Clark, Beacon's Chief Executive Officer. "We decided to form a company that could build cutting-edge, disruptive technologies that would positively impact the health and wellness of everyone, beginning with our namesake product."
The siblings recognized the need for deep manufacturing expertise to bring Beacon to life, so they reached out to mHUB, the nation's leading independent hardtech and manufacturing innovation center. "We knew mHUB could help us prototype quickly," shared Brian. "They were in Chicago, had the engineering and product development resources that we needed, as well as the specific expertise we were looking for."
In April 2020, the Beacon team connected with Bill Fienup, mHUB Co-founder and VP of Innovation Services. "It's a really unique technology we're dealing with," explained Bill, "other UV light is harmful to people, but Beacon shared with us the in-depth research they uncovered about the far-UVC 222 nanometer wavelength of UV light." Research shows that far-UVC 222nm is safe for use around humans.

"We were confident that the diverse talent within mHUB's ecosystem could be tapped to support Beacon's effort to rapidly prototype their product." mHUB's rich talent pool of over 500+ highly skilled engineers, designers and developers provides access for startups and manufacturers to outsource innovation and product development. mHUB Hardtech Development services can jump in at any point of the process to support product innovators from generating concepts, concept-to-prototype, prototype-to-production, and everything in between.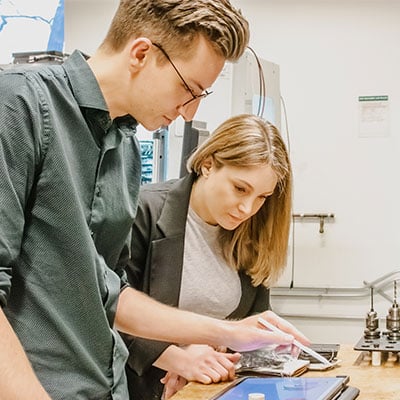 Together, Beacon and mHUB began assembling a team of experts who could commercialize the technology. Susie Spigelman (shown at left with Bill Fienup) joined Beacon as Chief Operating Officer, bringing more than a decade of early-stage startup experience. Two mHUB Members, Brian Donlin, Industrial Design Consultant, and Mike Rafferty, a mechanical engineer and owner/founder of KVGear, were also brought onto the project to design the product.
"Early in the pandemic, I participated in a design brainstorming session to lay out the basic arrangement of the lamp's housing and internal components," explained Mike. "Shortly afterwards, I took on the role of building 3D CAD models and doing detailed design of all custom-manufactured components. The goal of this phase was to design a lamp housing that could be easily built without the need for tooling."
Zack Zlevor, Industrial Designer (left), collaborates with Beacon Co-founder, Susie Spigelman (right).
It was critical to develop a community-centric product. "Having a background in public health, I knew we had to build a product that could serve everyone - from individuals, to families, to communities," said Beacon Co-Founder, Andrea Clark. "Working with mHUB, we had the first prototype made within about 4 months. In tandem we worked with the FDA and US EPA to understand the state and scope of the regulatory landscape."
Rapid prototyping is an iterative process. The Beacon team took the learnings from the initial prototype and applied them to Beacon's second version, which was designed specifically with residential customers in mind. During the second phase of product development, Katrina Armistead, Manufacturing & Design Engineer, was brought into the project to make sure Beacon's design could be certified by Underwriters' Laboratory (UL), a global safety certification company headquartered just 25 miles northwest of mHUB.
Development of Beacon continued, with Mike leading the process of designing for manufacturability. "I used the updated CAD models that Brian and Katrina revised to start the process of designing for manufacturability," explained Mike.

As the team approached completion of the second version, the decision was made to make Beacon a smart device, controllable through an app. To avoid delaying submission of the most recent Beacon prototype to UL, an 'off-the-shelf' app was incorporated into the product.

"The folks at mHUB have been fantastic partners," commented Brian. "They have a deep understanding of product development and were able to answer all our questions. Perhaps even more importantly, they took a customer-centric design approach, thought things through, and helped us create a truly beautiful product that functions well."
mHUB HardTech Development Services curates the pairing of startups to the right expertise within the mHUB ecosystem that is best suited to meet the needs of each unique project. Coupled with speed and quality, mHUB HardTech Development Services applies a collaborative, iterative, agile, and forward-thinking approach to rapid prototyping and product development.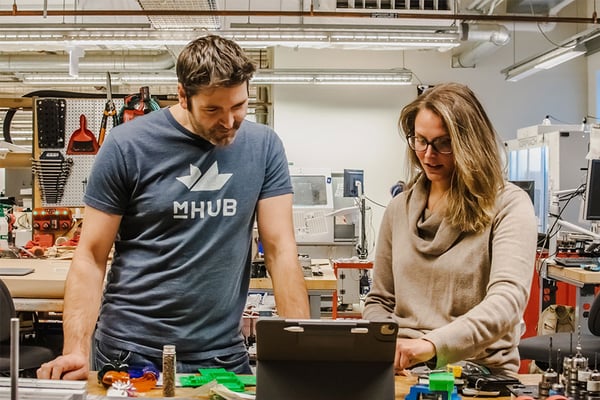 Andrea Clark, Beacon co-founder (right) works with Bill Fienup, (left) in the mHUB product development innovation center.
In 2022, Beacon was ready to iterate their product to prepare for the market and chose to continue working with mHUB HardTech Development Services. "The team at Beacon had taken the product we developed for them - a device that meets regulatory standards - and they used that to obtain extensive feedback from their core customer market," explained Bill. "We have a great relationship, and the team at Beacon saw value in the price and speed at which we can deliver. When it came time to incorporate that feedback into the final go-to-market design, we added
Zack Zlevor
, an
award-winning industrial designer
and mHUB member, to the project."
"For the final product, Beacon wanted a customer-centric, attractive design that resembled the smart technologies customers are used to seeing in their homes," explained Zack. "We made Beacon smaller and more portable, reducing the size by half, and optimized the finishes to create an attractive-looking product. After the final design review, the updated enclosure was 3D printed at mHUB's prototyping lab and steps were taken to help Beacon prepare for contract manufacturing and customer delivery."
Beacon's market-ready product is
available for purchase
on the company's website now, with delivery expected by late Q1 / early Q2 2023.
"Our grand vision is the equitable distribution of germ and sickness prevention," said Beacon's Susie Spigelman. "We want every single Beacon purchase to have a positive ripple effect that makes all communities healthier and safer places to live, work, and play. We have structured Beacon in a way to support this vision, donating up to 10% of sales to bringing Beacon to underserved communities that may not have sufficient access to disinfecting and cleaning tools."
Visit
beaconlight.co
for more information about the Beacon light and learn more about
mHUB HardTech Development services
for startups and manufacturers.
###

About mHUB
Located in Chicago, Illinois, mHUB is a leading independent hardtech and manufacturing innovation center that exists to convene the entrepreneurial ecosystem around physical product innovation to ensure that the manufacturing industry continues to accelerate, grow and thrive. The mHUB member base includes over 500 highly skilled engineers, designers and developers that are available for contract research and development projects. mHUB oversees and coordinates innovation teams on behalf of clients through its in-house Hardtech Development department. Our prototyping lab and entrepreneurial community successfully deliver projects from concept and design to prototype and production.

About Beacon
Beacon is a Chicago-based startup that builds cutting-edge, disruptive technologies to positively impact the health and wellness of individuals and communities. Beacon's namesake product is a disinfection solution that leverages germicidal ultraviolet light, the first wavelength of UV light scientifically proven to be safe and effective for use around humans. Up to 10% of all sales will go toward providing Beacons to underserved communities. Beacon is available for on the company's website now, with deliveries expected to begin in early Q2 2023. To learn more and sign up for the latest product updates, visit them at beaconlight.co.