Sotaog is Optimizing Operations and Growing Revenue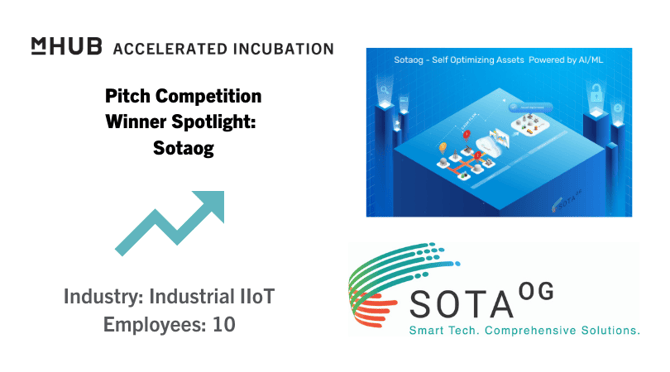 Sotaog was the third place winner at the mHUB Industrial Startup Pitch Competition. You can find a recap of the event here.
Sarah Tamilarasan, CEO & Co-Founder of Sotaog had a few not so positive experiences with industrial analytics: expensive & clunky optimization tools that didn't provide full access to data at hand. In 2017, Sarah took it upon herself to spearhead digitalization and Sotaog was born. We sat down with Sarah to learn more about the original Sotaog vision, the growth it has experienced, and what the future may hold.
Where did your idea and value proposition start?
In 2017, Robert Estill and I shared a passion for the Energy industry and we cofounded Sotaog. The value proposition story dates back to 2006 when I started my career in the energy industry at a Fortune 500 company. It was my 1st experience with Industrial analytics. Several layers of tech were stitched together by high end consulting firms. The end product was expensive, clunky and data was still inaccessible by different business units. Around 2010 I accepted an offer a smaller company valued at approx. $1Bln. I stumbled across the same problem. This firm did not have a tool to optimize their operations to the tune of millions per year. I took the opportunity to spearhead digitization, convinced C-suite to spend $2M over 3 years which delivered an ROI of over $78M.
In 2017, Sotaog was founded on this vision to "Deliver Self optimizing operations powered by AI/ML" We're passionate about delivering 10X value and increasing operating cashflow by ~3%+. We increase your operating cashflow with complex modeling that leverages data science & synthesizes data across multiple sources, identifies optimal configuration and automatically deploys recommendations to increase operating cashflow 24/7.
How has your business grown since the beginning?
Over the past 3 years, we have grown over 100% year over year. We followed the strategy where we spent 50% on Product development and 50% on customer traction. This helped us actively build and iterate the product based on customer feedback. Thus the AI/ML Real time Optimizations are deployed to solve impactful day-to-day operational problems with a focus on increasing cashflow by min of 3% and 10X value through supporting analytics.
What growth do you expect to see in the next few years?
After 2+ years improving CAPEX and OPEX for the energy industry, SotaOG is evolving its stack to use artificial intelligence for unprecedented optimizations. 2020-2025, we are looking at scaling within Oil and Gas. In addition, we are actively looking at capitalizing on the subset markets such as Pipeline, Cleantech, etc.