mHUB Announces Partnership with South Korea to Grow International Product Startup Ecosystem
Program will help Illinois product-based startups connect with global markets and drive investment from South Korea
Posted on 8/2/2019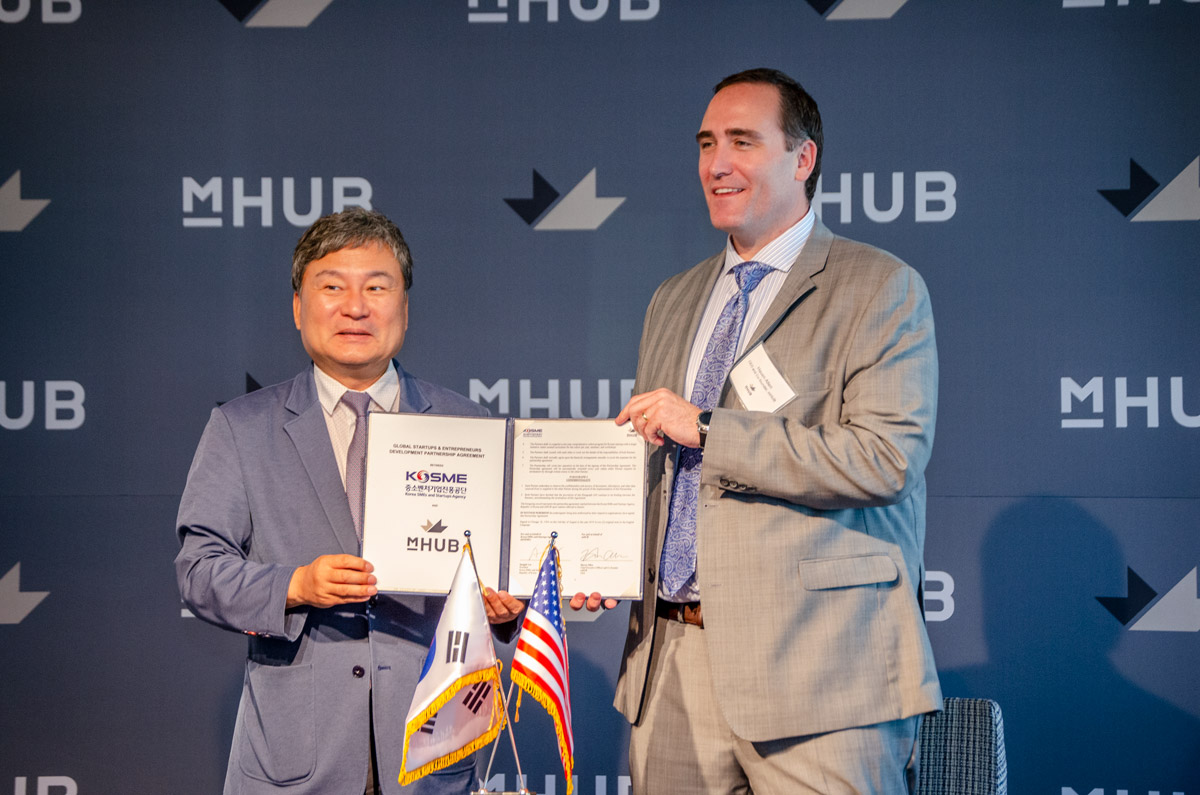 CHICAGO – mHUB today announced a partnership with the
Korea SMEs and Startup Agency (KOSME)
to provide programming and resources for Illinois and Korean product-based startups looking to enter global markets. KOSME is providing $100,000 to mHUB to implement this program. The partnership agreement was signed during a ceremony at mHUB in Chicago's River West neighborhood.
"This partnership will open access to a vital market for Midwestern product-based startups," said
Haven Allen, CEO and co-founder of mHUB
. "By creating strong connections with South Korea, we will drive investment and talent to the region, and create a pipeline of innovation between two of the world's leading manufacturing and R&D centers."
The partnership will create a global ecosystem for Illinois and Korean product-based startups by providing soft landing spaces and access to the programming, communities, and networks of both mHUB and KOSME. The program will launch with a cohort of 10 South Korean-based startups locating at mHUB for a customized program focused on
entrepreneurial training
,
prototyping
,
mentoring
and market development. Each company will receive an individualized roadmap and access to mHUB resources for one year.
"I am very excited about our partnership with mHUB, not only because mHUB has accelerated, grown and thrived a vibrant manufacturing hub community in the U.S. but also this partnership marks a significant milestone as it goes beyond borders as KOSME becomes one of mHUB's first global partners to develop startups in the manufacturing industry from both countries," said Sangjik Lee, president of KOSME.
South Korea is a rapidly growing trade partner for Illinois with more than 25 Korean companies operating in the state and more than 60 Illinois-based companies doing business in Korea. With strong R&D investment and manufacturing centers, Illinois and Korea are ideal locations for product-based businesses to grow and thrive.
"South Korea is a major trade partner for Illinois. In 2018 alone, trade between Illinois and South Korea exceeded $4.96 billion. This new partnership with KOSME will make our relationship with South Korea even stronger and will encourage innovation in Illinois and abroad," said Margo Markopoulos, director of the Illinois Office of Trade and Investment.
Leaders from mHUB, the
State of Illinois
,
KOSME
, the
Korean Business Development Center
, Chicago, and
World Business Chicago
gathered to sign the agreement. The first cohort is planned to begin at mHUB by October of this year and will begin with a 3-week intensive program, followed by 11 months of virtual incubation and community access. The year-long program is coupled by a general partnership to give access and resources to any startups or entrepreneurs traveling between Illinois and South Korea.
The partnership is one of three global development programs launched by mHUB since 2017 to create connections and open market access to Midwestern product-based startups. Through these partnerships, global startups receive access to innovation centers across the world to reach new markets.
###
mHUB is the nation's largest and fastest growing innovation center for physical product development and manufacturing. mHUB is a community of product designers and developers, entrepreneurs, engineers and manufacturers, a network of manufacturing mentors, industry experts and investors and a source of intellectual and economic capital. mHUB is home to more than $5 million in resources including ten unique prototyping labs and microfactory for onsite low-volume production runs.
About KOSME
The Korea SMEs & Startups Agency (KOSME) is a non-profit, government-funded organization established to implement government policies and programs for the sound growth and development of Korean SMEs.
To achieve its purpose, KOSME operates financial and non-financial programs for SMEs. Through financial programs, KOSME provides financing for SMEs to expand operations, develop new products and convert their business structures. With advisory programs including consulting, training, marketing and global cooperation programs, KOSME supports SMEs to enhance their global competitiveness.