The initial investment in the MedTech startups participating in the mHUB Accelerator have been announced by the program's corporate partners, who have identified the technologies that best align with their business strategies and innovation pipelines.
February marked the halfway point of the mHUB MedTech accelerator program that welcomed nine startups to Chicago in November. This milestone was met with a corporate pitch event that engaged program sponsors Baxter and Edward-Elmhurst Health Venture Capital in presentations to demonstrate the progress each team has made and to showcase current prototypes. The event helped inform partners around initial and potential further investments into select teams.
Baxter and Edward Elmhurst Health Venture Capital have spent valuable time learning about and supporting the nine startups since the very early stage of reviewing applicants for acceptance into the program. Since November, they have conducted workshops, hosted site visits, and acted as mentors to each team.
By midway through the mHUB accelerator program, startups have tackled customer validation, market access, and product feasibility. In the final three months, they will continue identifying initial customers, setting up pilots, building business models, and moving towards active fundraising. At this stage, both partners have announced initial investments.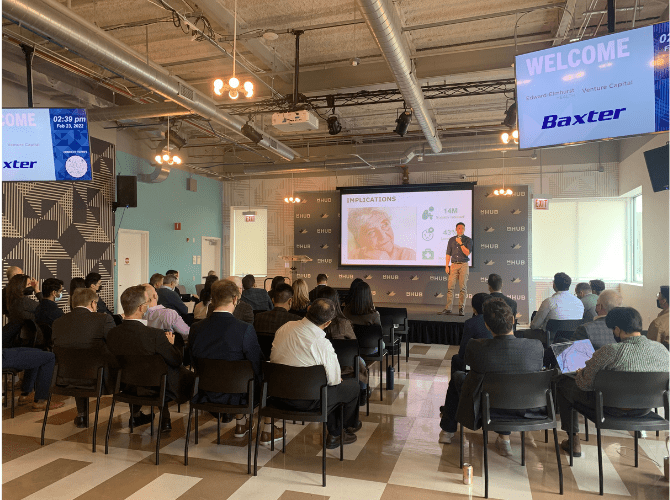 Both Baxter and Edward-Elmhurst Health Venture Capital will make an initial investment in all nine of the participating teams. They recognize market disruption for all technologies included in the cohort and their ability to meet acute patient needs. Further, they acknowledge the determination of each team to make this a reality. Baxter and Edward-Elmhurst Health Venture Capital are eager to continue their support with this initial investment and ongoing mentorship.
Baxter has also identified four teams most tightly aligned with their business units and will allocate additional capital to each. Those startups are:
HIVE, developing CloudConnect, a smart IV line designed to monitor when patients take (and forget to take) IV medication, continuously sending data to clinicians to empower them to act quickly and potentially prevent expensive readmissions
NXgenPort, developing NXgenPort (NGP), a device designed to maximize remote care in cancer patients by combining chemo-port efficacy with microchip and sensor technology to help monitor and report physiological measurements in vivo


ProMedix, developing HydraSense which is designed to provide a rapid, accurate, and noninvasive assessment at the clinical bedside or remote care setting to help diagnose sepsis and monitor patient decline and response to treatment


Walela, developing sensor technology designed to measure fetal heart rate and blood pH to help improve fetal and maternal outcomes and reduce unnecessary c-sections.
"Baxter is excited to support these startups that align with our early-stage innovation needs and provide guidance on product innovation and development," said Jim Martucci, Lead Innovator, Baxter. "By leveraging the expertise of Baxter's team, these start-ups will be empowered to bring more comprehensive solutions to the MedTech field."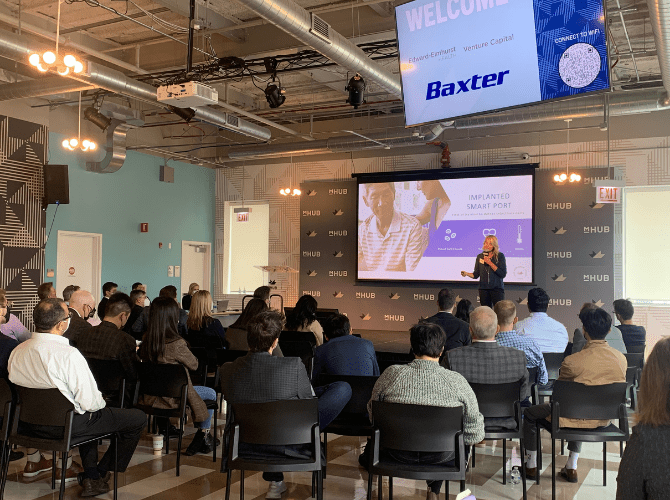 Edward-Elmhurst Venture Capital has already indicated an interest in identifying additional funds to further invest in specific accelerator teams as the organization works more closely with the cohort through mentorship sessions and curated workshops.
"All of the teams participating in this accelerator have demonstrated great potential to provide value to the communities that the Edward-Elmhurst Health system serves," said Mel Cohen, managing director, Edward-Elmhurst Health Venture Capital. "We are excited to partner with these startups and provide ongoing mentorship and support."
All nine MedTech teams were recognized for their novel technologies, understanding of patient needs, and go-to-market strategies. They will pitch to investors and the greater innovation community in May 2022 at the end of the 6-month mHUB accelerator program.
mHUB congratulates all nine MedTech teams and looks forward to sharing similar announcements in the future as all program participants uncover investment opportunities and enter exciting relationships that will continue to propel them beyond the program.
###
Interested in engaging with the mHUB Accelerator as an industry partner? Complete the form below to express interest.