3D printing is on track to be a $25B dollar industry by 2024, $50B by 2030. The applications for 3D printing continue to grow, from housing, aerospace, and prosthetics to a future of on-demand, localized manufacturing, bioprinting, and metal printing. mHUB, the nation's largest independent hardtech innovation center, has a 3D printing lab for rapid prototyping and component printing. It has helped innovators launch incredible businesses to accelerate the adoption of additive manufacturing. In this article, mHUB talks to Mike Vasquez, PhD and founder of 3Degrees, a Chicago based consulting company focused on 3D printing and materials Science. They work with diverse companies across the world to develop and test materials, establish production capabilities, build their workforce, and manage 3D printing data. 3Degrees is on a mission to educate, empower, and train organizations to achieve success with 3D printing and additive manufacturing. 3Degrees applies unmatched materials expertise to this dynamic and complex industry to help clients solve problems, overcome uncertainty, and win. Many of these topics are discussed on the company's podcast: 3Degrees Discussions.
Recently, 3Degrees welcomed Secretary of Commerce Gina M. Raimondo to mHUB to discuss the success of its partnership with America Makes. America Makes is the National Institute for Additive Manufacturing. 3Degrees is a member company of the America Makes consortium and has participated in funded research as well as deploying training curriculum that they have developed.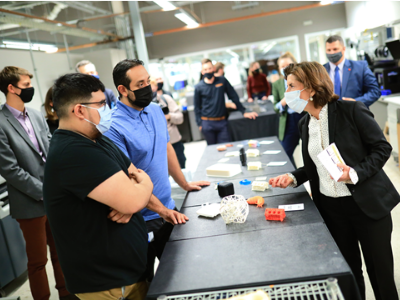 America Makes and 3Degrees launched the Advanced Manufacturing Experience pilot in 2021 to provide training in additive manufacturing, mentorship, and funding to the underserved West Side of Chicago. Here, Mike Vasquez of 3Degrees and two program apprentices talk about the additive manufacturing industry and workforce training for the future of 3D printing.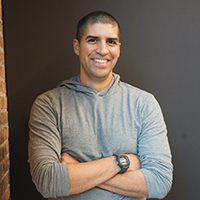 Mike Vasquez, Founder of 3Degrees Consulting
Where did your idea and value proposition start for 3Degrees?
In 2012 I had just wrapped up my PhD from Loughborough University in the UK. My research had focused on developing new materials for production 3D Printing. I knew I wasn't going to stay in the in UK and was looking for jobs stateside. I happened to be giving a conference presentation around that time about the research I had done, and a few companies came up to me asking if I could help them with their 3D Printing technical strategy. From there I realized I might be able to build my own business consulting with companies to help them successfully implement additive manufacturing, 3Degrees. Nearly 9 years later and having worked with over 70 companies, I think we've been at least a little successful at that.
How has the additive manufacturing industry changed since you first launched?
In some ways it hasn't changed all that much. Certainly, there is more widespread understanding of the different basic technologies like FDM, SLA, and SLS. However, now more than ever, there are so many new and niche technologies that it's intimidating for many organizations trying to figure out where it could make an impact for their business. The other advancement we've seen is the pursuit of the technology for uses beyond prototyping into full end use parts.
What led you to get involved in job training programs such as Advanced Manufacturing Experience (AMx)?
We've all seen the headlines about supply chain disruptions and how the manufacturing base in the US has been gutted for the last 30 years. As a consultant to both Fortune 100 and small/medium sized companies, I've seen this firsthand traveling across the country – speaking with them about how to build and strengthen their supply chains using 3D Printing. The other thing that always comes up is 'Hey this technology is great' but who can we hire to actually run our 3D Printing facility. On the flip side, when I come home to Chicago, I constantly heard the news about the lack of job opportunities across the city, especially in manufacturing. That issue certainly wasn't an unwillingness to work hard, in most cases people had no idea what a career path in 3D Printing could look like much less how to get on that path. If you think about it, many families used to have at least someone that they knew who worked in manufacturing or at a factory. Nowadays, it's not obvious how you might find out what's going on in those white non-descript, windowless buildings on the side of the highway. That's when I started the AMx program to help solve these problems. I thought we could leverage existing/vetted/credentialed content from America Makes, connect students to mentors across the 3D Printing industry, and tour a number of cutting-edge 3D Printing factories.
When did you first learn about West Side Forward – how did you get connected?
3Degrees is a member of mHUB. Ed Coleman, the President of West Side Forward, sits on the mHUB board. So that's how I became familiar with the organization.
What were some of the biggest successes of the program?
We successfully launched our first class in August 2021 with several more planned for 2022. We had support from a number of industrial stakeholders across the 3D Printing sector. Several of the students are continuing to stay engaged with the 3D Printing industry including Jesus and David that are working part time with 3Degrees on a 3D Printing project.
How has mHUB supported you as a founder and your mission to impact the future of the manufacturing industry?
mHUB has been extremely supportive in serving as a host for AMx events and training.
What's on the horizon for 3Degrees?
In addition to AMx, we have spun off a software company called TraceAM with the mission to help manufacturers organize and analyze their 3D Printing digital data to accelerate qualification of parts, processes, and suppliers. In the last year, we have worked with partners such as Renishaw, Ohio State University, and Fabrisonic. We have also been working with the America Makes and Air Force Research Lab teams on implementing a proof-of-concept materials database to augment their Digital Storefront data repository using the TraceAM software.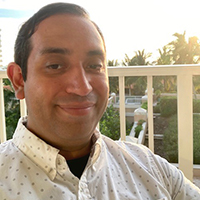 David Castrejon, Compounding Supervisor at American Blending & Filling
How did you hear about the Advanced Manufacturing Experience (AMx)?
I heard about additive manufacturing from a co-worker who was making 3D figures from home. He builds them in parts and then assembles them. They were quite interesting and piqued my interest from their various build processes. When I searched for more info on the web I learned about 3D manufacturing from West Side Forward, America Makes, and 3Degrees.
What excites you about careers in additive manufacturing?
What excites me about additive manufacturing is that there is an unlimited amount of potential. From building artificial limps to 3D printed circuit boards. Then there are 3D printed houses that can make building fast and affordable for everyone. The applications continue to grow.
What were some of the projects and experiences you had as an apprentice of the program?
There was a bit of a learning curve since there is a design and build component in 3D printing. Once you understand the building of a particular process like additive printing, then you have to design and set print parameters to work with that printer. There is a trial and error process in configuring your prints. Each time you print, you develop a better understanding of how to orientate, size supports, and develop an understanding of how the process is being built layer by layer.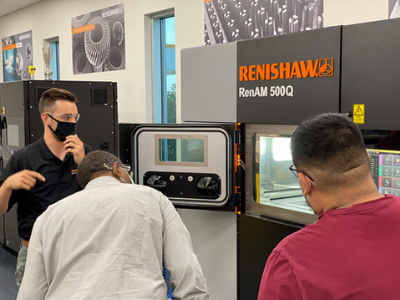 What's next for you?
I would like to dive deeper into 3D printing. I like how you can 3D print a circuit board, limb, house, and even something that is broken can easily be replaced by building a replacement part . Then create and automate parts that can be controlled at such small scales. Essentially building your own robot.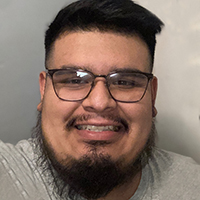 Jesus A Lazaro, Student at Northeastern Illinois University
How did you hear about the Advanced Manufacturing Experience (AMx)?
I was introduced to the program by my aunt. She had seen the ad posted on social media and thought I might be interested. Soon thereafter I applied, and within a month, I started attending the course. I was a bit nervous at first, due to the fact that I had no background in 3D printing and I didn't know what to expect. But as the course progressed, I got to hear from Mike, as well as many other wonderful people in the industry, it became really interesting and fun to learn. We were also able to take an online course from America Makes which was really great and very exciting to learn from. However, I think the one thing that stood out to me the most was being able to go to some facilities and get a tour of what it is that they do. It's one thing to sit in a class and learn about the 3D printing, but to be able to go and actually see it in person, is something that has stuck with me.
What excites you about careers in additive manufacturing?
What excites me about additive manufacturing is how traditional industries like automotive, medical, and construction are now starting to have some sort of additive manufacturing in their projects and in their production.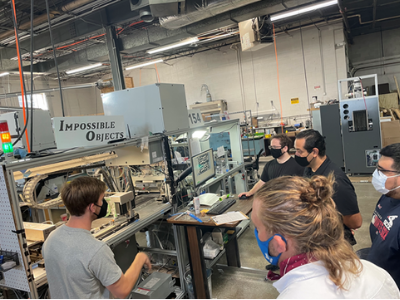 What were some of the projects and experiences you had as an apprentice of the program?
At the beginning of the course, one of the first projects that we had to do that was pretty fun. It was customizing some rings with either a picture or a name of your choice, made from a 3D printer. For mine I chose to put the Soccer team Liverpool FC with the coordinates of the stadium on the side.
What's next for you?
What's next for me is I would like to get more knowledge of 3D printing, from not knowing anything at all in the beginning about 3D printing to what I know now is pretty great, but I feel that there is still a lot to know, and I would love to get a deeper dive into it.
If you're looking to learn more about additive manufacturing, visit 3degreescompany.com and americamakes.us.
If you're looking to visit a 3D printing lab and other robust prototyping labs, book a tour of mHUB.