Our grand opening celebration, #GOmHUBChicago, was a success! We hosted 1,000 guests over the course of the day for panel discussions with manufacturing and technology leaders, an open house of our 63,000 square-foot facility and a captivating keynote by Beth Comstock, vice chair of GE. We also threw an incredible party featuring delicious food and drinks along with a few #mHUBStyle touches that literally elevated the cuisine and a featured a beer dispenser that looks like a drill press. However, we know the real work is just beginning.
We're growing our community and setting the stage for technology entrepreneurs to bring innovative ideas to life by providing critical resources, such as a state-of-the-art-prototyping shop, educational programming, mentorship, and access to manufacturing industry insiders and investors. Hardware is hard, but mHUB helps early-stage innovators move efficiently from prototype to product to sustainable business, driving a greater likelihood of success. Our new video sums up our mission:
The press took note of mHUB's big day:
Official Press Release: "Physical Product Innovation Center mHUB Officially Opens Its Doors"

Chicago Tribune: "Sparks Fly as New Manufacturing Innovation Space mHUB Opens"

Chicago Inno: "Inside mHUB, Chicago's Massive Home for Hardware Innovation"
NBC5: "Innovative Tech Hub Aims to Transform Manufacturing"
WGN Radio: "Wintrust Business Lunch 3/1/17: Dow Jones, Insurance Loss, & mHUB"

Illinois Science & Technology Coalition: "Inside mHUB, Chicago's Newest Manufacturing Incubator"
mHUB's grand opening was also noted on ABC 7, Fox Chicago News and Telemundo. But we want to walk you through the highlights here, too.
Technology, Art, Heart
After dignitaries including Mayor Rahm Emanuel, mHUB Chairman Hugh Sullivan, GE Vice Chair Beth Comstock, ASK Power CEO Steven Kase, Alderman Walter Burnett, Jr. and mHUB's executive director, Haven Allen, welcomed the crowd, all eyes turned toward Maxwell Emcays, mHUB member and artist. Emcays spoke about his process and how he, "merges mHUB's technology with art, with work that touches the heart." He then presented Mayor Emanuel with an inspirational piece of custom artwork that captures the spirit of mHUB and the soul of the city.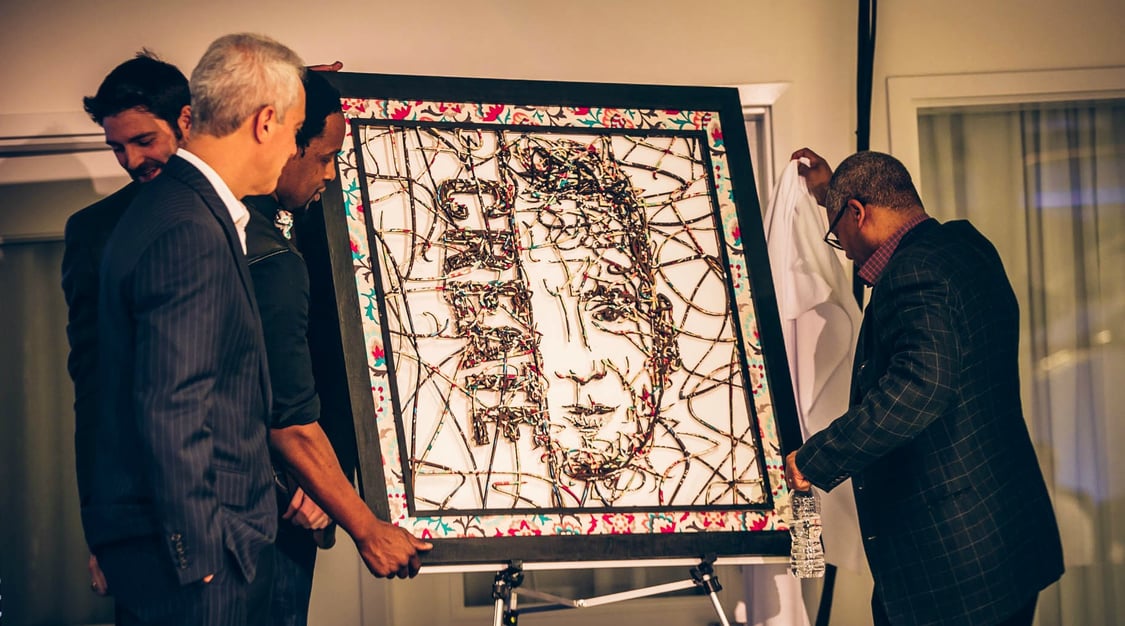 Ribbon-Cutting #mHUBStyle
After once again promoting mHUB as a critical piece in the puzzle of Chicago's tech ecosystem, Mayor Emanuel donned a pair of safety goggles and cut the metal ribbon. If you think this photo looks cool, then be sure to watch the sparks fly as the mayor wielded mHUB's plasma cutter.

Left to right: Cynthia Macias, Hugh Sullivan, Bill Fienup, Haven Allen, Mayor Rahm Emanuel, Beth Comstock, Alderman Walter Burnett, Jr., Steven Kase, Maxwell Emcays, Manas Mehandru. All photographs in this post are by Gregory Rothstein & Rena Naltsas.


Sparks of Inspiration
After the ribbon was sliced, attention turned to mHUB's true sparks of inspiration: our members and our 12,000 square-foot prototyping shop. Mayor Emanuel met several of the men and women who are building the next phase of Chicago's innovation economy, including the teams behind Verena Solutions, Lystr , NWTN, Jolted Thoughts, Aloo. and more.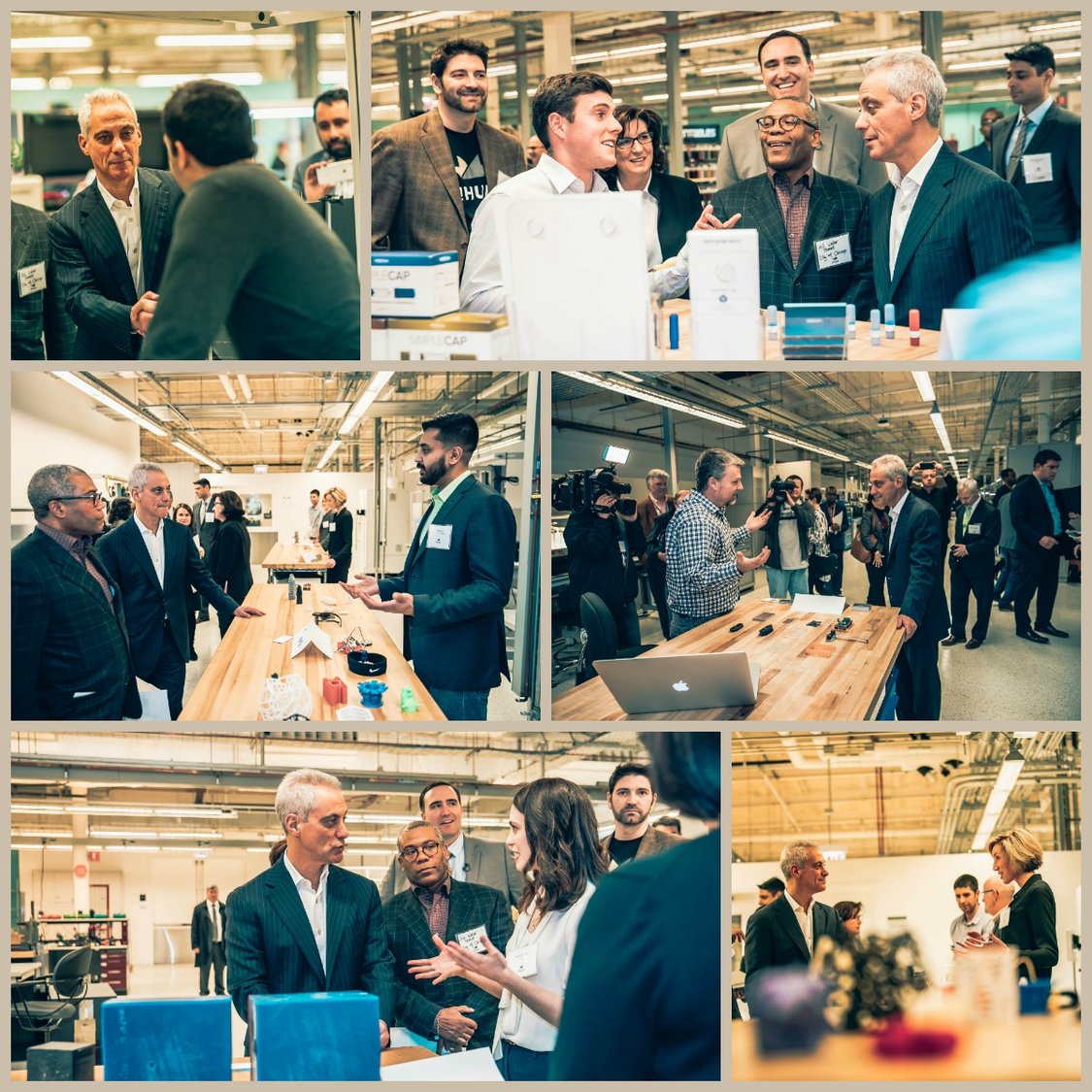 Manufacturing and Technology Innovation Thought Leaders
Eager guests flocked to our event space to hear thought leaders discuss manufacturing innovation, the intersection of physical and digital and the economic impact of innovation centers.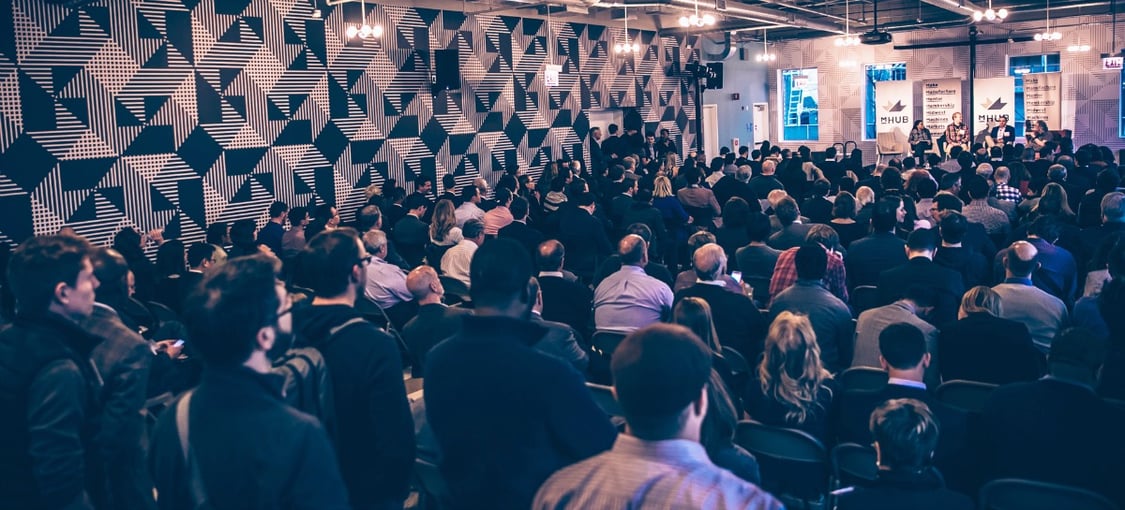 The Future of Manufacturing Innovation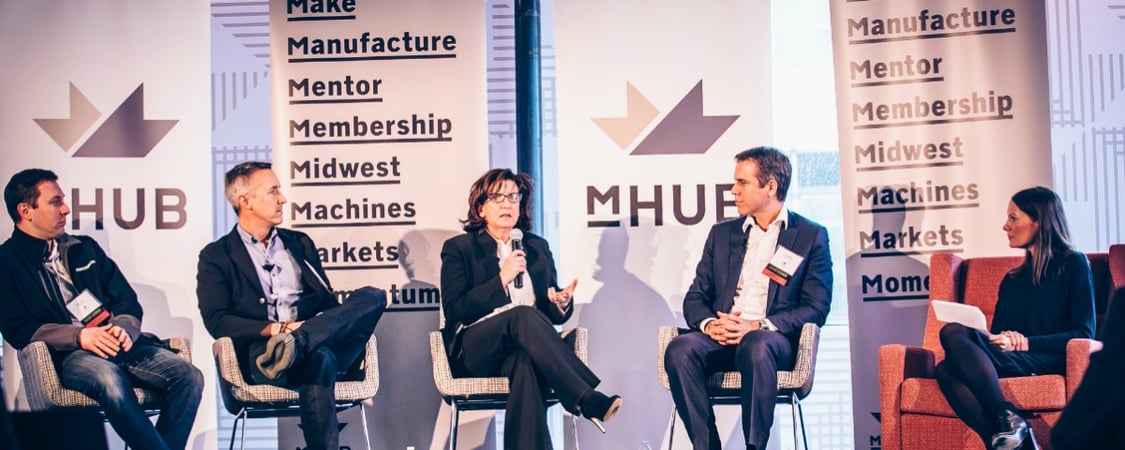 The first session kicked off as Bill Fienup, managing director and cofounder of mHUB, introduced the session on the Future of Manufacturing Innovation. The session was moderated by Dr. Caralynn Collens, CEO of UI Labs (far right) with panelists (right to left) Lou Rassey , CEO and founder of Two Roads Group; Dyan Finkhousen president of GE Fuse; Scott Wilson, CEO, CCO and founder of MINIMAL; Zach Kaplan, CEO of Inventables.
The panelists discussed emerging trends of "Industry 4.0," a time when mass customization and manufacturing as a service reign. They also discussed the pillars of advanced manufacturing, such as big data, advanced materials and automation, as well as how the manufacturing industry should respond to current trends.
Takeaways:
The future of manufacturing is driven by data and community, or as Dyan Finkhousen put it, "The crowd, the cloud and AI." The amount of data generated by a modern manufacturing facility is a game-changer. Modern equipment predicts use patterns and even schedules its own maintenance.

Zach Kaplan noted that the very definition of a manufacturing facility is changing. "Small factories are popping up everywhere- even schools where they're called makerspaces ." He also noted the impact of low-cost, high-tech equipment. "A manufacturer will be willing to take more risks on a $900 machine than a $100,000 one," which paves the way for

disruptive innovations.




Scott Wilson, who places himself among the "OG" or initial cohort of the crowdfunding community, spoke to the disruptive nature of selling directly to consumers. "By removing hefty fees to the retailers, manufacturers have more money to invest elsewhere in their systems."




Panelists agreed that there's more to crowdfunding than raising money: a symbiotic relationship develops as the crowd becomes your community and even your brand ambassadors.
The Internet of Things: The Intersection of Physical and Digital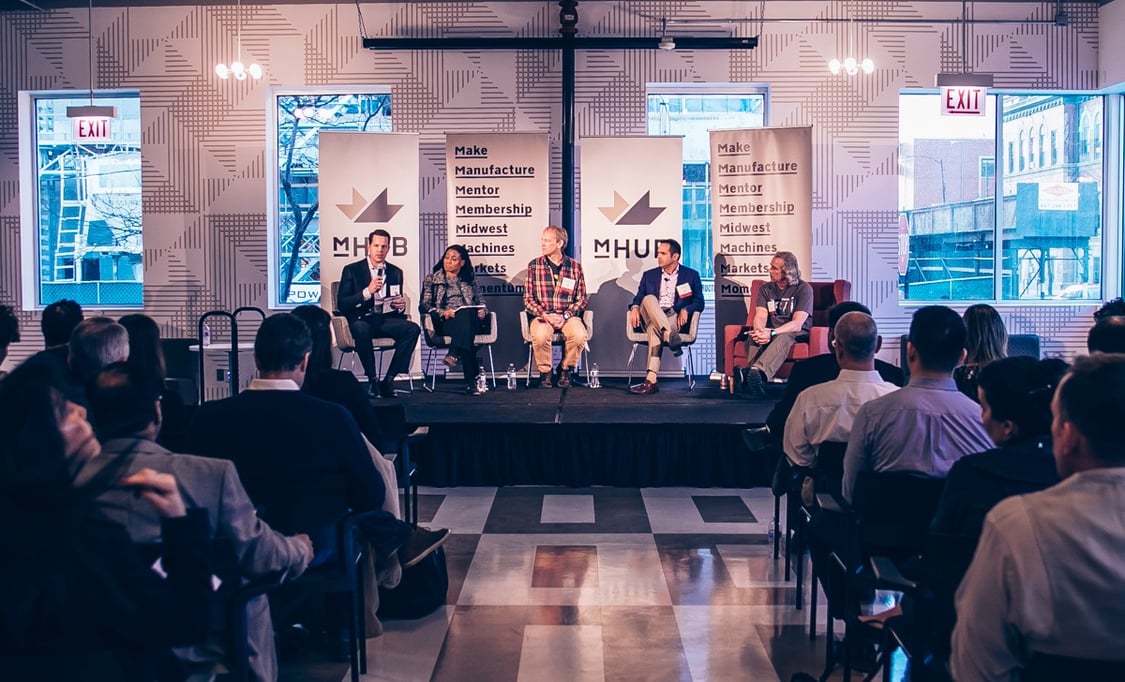 Manas Mehandru, mHUB's director of operations, introduced the second panel, The Internet of Things (IoT) – The Intersection of Physical and Digital. Moderated by Howard Tullman, CEO of 1871 (far right) with featured panelists (right to left): Julian Sanchez, director of the technology innovation center at John Deere & Co.; Pete Beckman, codirector of the Northwestern-Argonne Institute of Science and Engineering; Karen Kerr, senior managing director of GE Ventures; Matt Jennings, regional president of Bosch Software Innovations.
These industry leaders from across the ecosystem discussed the fundamental importance of connected devices in industrial and consumer market segments and how Chicago is well-positioned to become a global leader in this movement.
Takeaways:
Julian Sanchez talked about the big picture and the necessity for IoT device being IoT device connecting to an ecosystem that exists beyond a single company's family of devices. For example, "A grain harvester needs to be able to the grain elevator, which needs to then communicate with the river barge that will ship out the grain."


Howard Tullman asked the panel about the importance of retraining workers for the new industrial economy. Karen Kerr noted industry shifts, but not necessarily job loss. "Automated factories at GE actually create jobs" She also indicated how GE has evolved over time from selling the physical (light bulbs) to selling lighting solutions that include wireless controls, LED options and even energy solutions.
The Economic Impact of Innovation Centers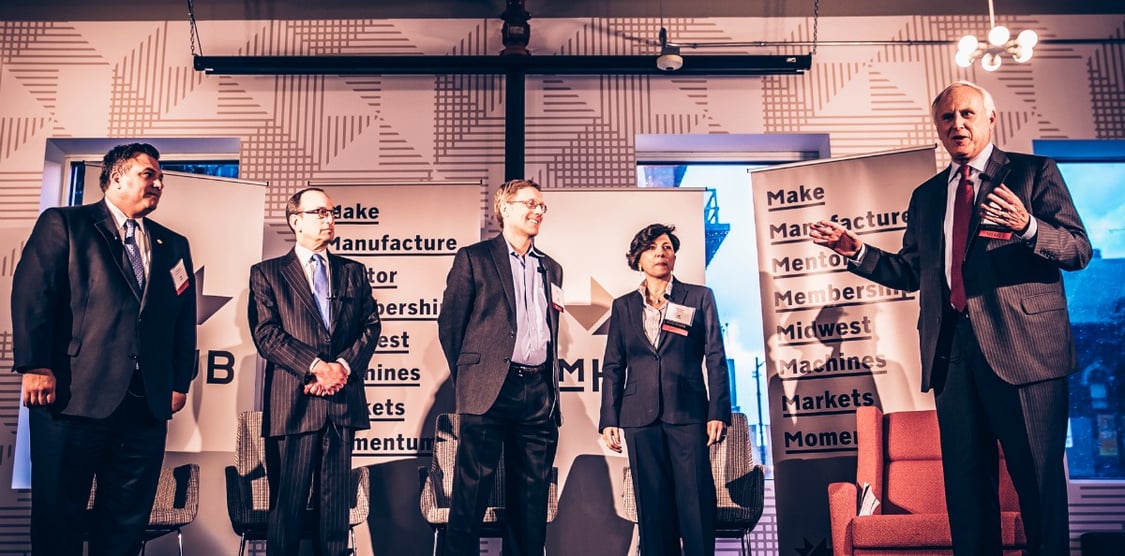 Cynthia Macias, mHUB's membership manager, introduced the final panel, The Economic Impact of Innovation Centers. Moderated by Bob Weissbourd, president and founder of RW Ventures (far right) and featuring panelists (right to left): Dima Elissa, CEO and founder of VisMed3D; Mark Muro, senior fellow and policy director of the metropolitan policy program at the Brookings Institute; Steve Koch, deputy mayor of Chicago; Jorge Ramirez, president of the Chicago Federation of Labor;
We know that manufacturing innovation is vital to Chicago's economic prosperity. This wide-ranging discussion touched on the changing labor force, a shifting culture of innovation, the integration of manufacturing into other key industries and communities and the implications these enormous shifts have on the local economy.
Takeaways:
There was a consensus that mHUB is at the forefront of an exciting new manufacturing revolution. The panelists and audience members are excited to see where this will lead and what we mean to Chicago.



Steve Koch informed the crowd that "Chicago has the most diverse economy of any American city." However, he stressed that manufacturing is a key part of the economy as it's the segment that drives

innovation and jobs. "It has the highest multiplier effect," meaning that there's a high return on investment within the manufacturing ecosystem.




Mark Muro added that 80% of patents come from the manufacturing sector.


That said, while innovation breeds expansion in the form of new businesses, industries and jobs, once established, the focus turns turn efficiency, which leads to economic contraction.


"

We must figure out what to do about relentless trend toward innovation that focuses on machine more than people," said Koch.


Jorge

Ramirez, reinforced a focus on people stressing "the importance of giving all kids 21st-century manufacturing skills . He noted that

"Education and training are key" and that it's the role of both industry and government to make give students the opportunities gain the knowledge and skills needed for future success.



"Advanced manufacturing begins with digitization," said Muro. "Today's advanced manufacturing facilities are smaller and cleaner--more similar to software companies than old factories with large smokestacks." As a result, such centers are better

suited to be integrated into neighborhoods where people live and play. mHUB is an example of this with nearby condos, restaurants, shops and houses of worship.
Working in an Emergent Era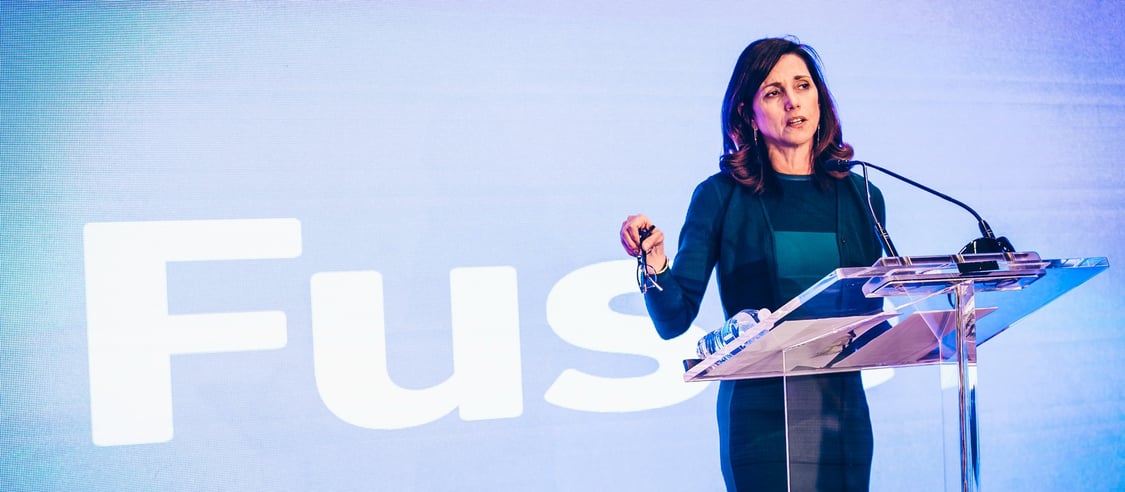 Mark Tebbe, chairman of ChicagoNEXT, introduced the final talk of the evening, keynote speaker Beth Comstock, vice chair of GE. Comstock became vice chair in August 2015. In this capacity, she leads GE's efforts to accelerate new growth. She operates GE Business Innovations, which develops new businesses, markets and service models, and drives brand value and partners to enhance GE's inventive culture.
Comstock noted that every business is on a path of transformation and must maintain the ability to adapt to changing circumstances, especially during periods of emergence . "Emergence," she explained, "is a time in which the old is going away, but not gone, while the new has not yet scaled."
Comstock shared tips for thriving in an emergent era:
Have a solid MO, or mission objective. To establish an MO, connect organizational vision with tactical objectives. She admitted that this is part habit, part intuition.


Focus on culture and change within your organization.


Organize around communication and make transparency a priority.


Set objectives and let your team move ahead. In the emergent era, coaches are more important than managers.


Incorporate feedback. Feedback loops are important. Everyone in the organization has to seek out and act on feedback. GE has tools to help workers at all levels provide real-time feedback from anywhere in the organization.


Be comfortable living in the "in-between." Use available metrics to forge ahead and try to predict where things are headed even though you don't know what's coming next.
Party Time!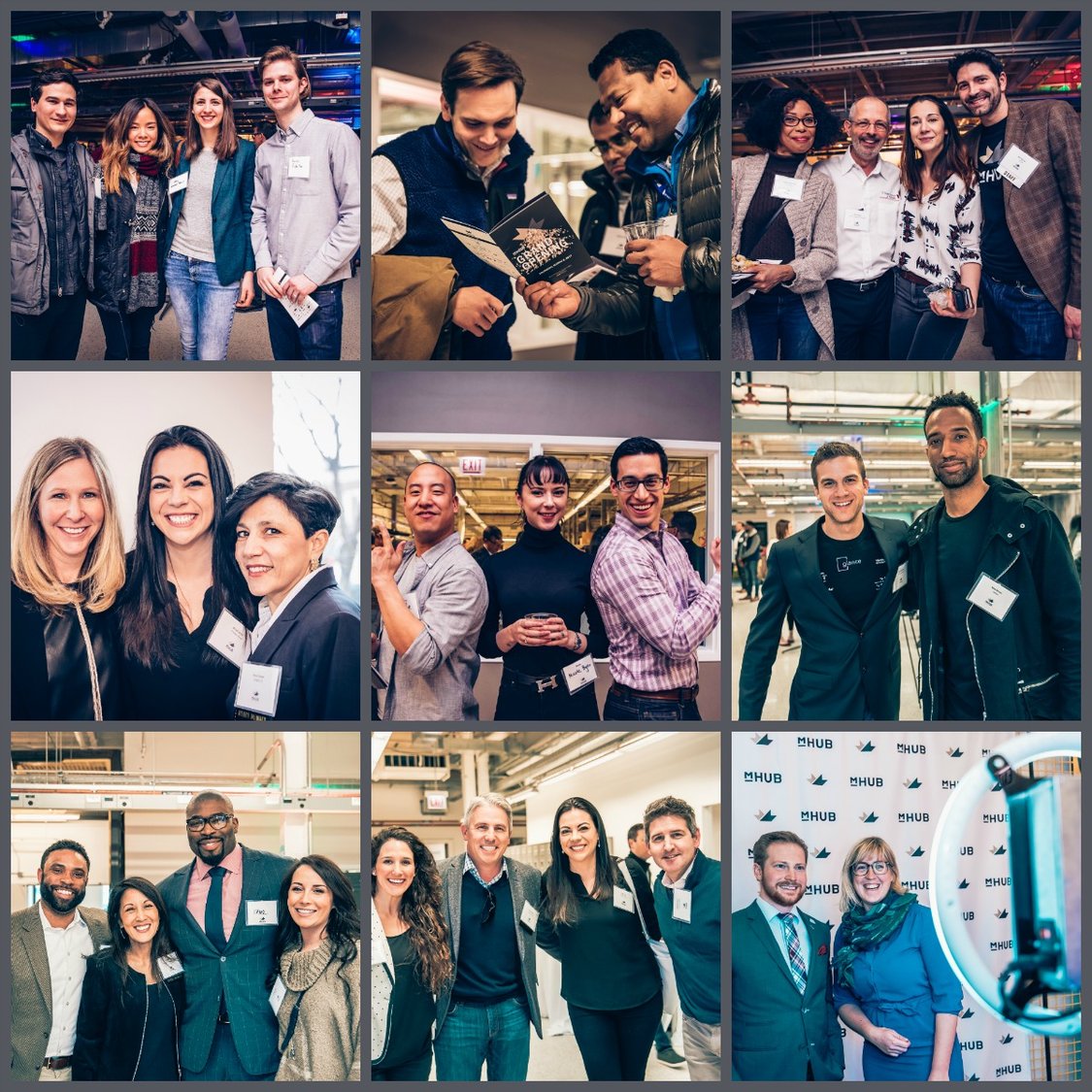 Our guests were grooving thanks to DJ C, and our neighbor, Big Shoulders Coffee kept energy levels high. We enjoyed beer thanks to our friends from Lagunitas. See mHUB's Facebook page for more photos from #GOmHUBChicago. Be sure to tag yourself and share pictures with your friends! Also, check out our GIF photo booth album over at SimpleBooth.
Did you miss our grand opening or want to take a deeper look at mHUB? Come for a tour. Ready to join our incredible community? Find the plan that's right for you and apply today.