U.S. Economic Development Administration Tours mHUB Chicago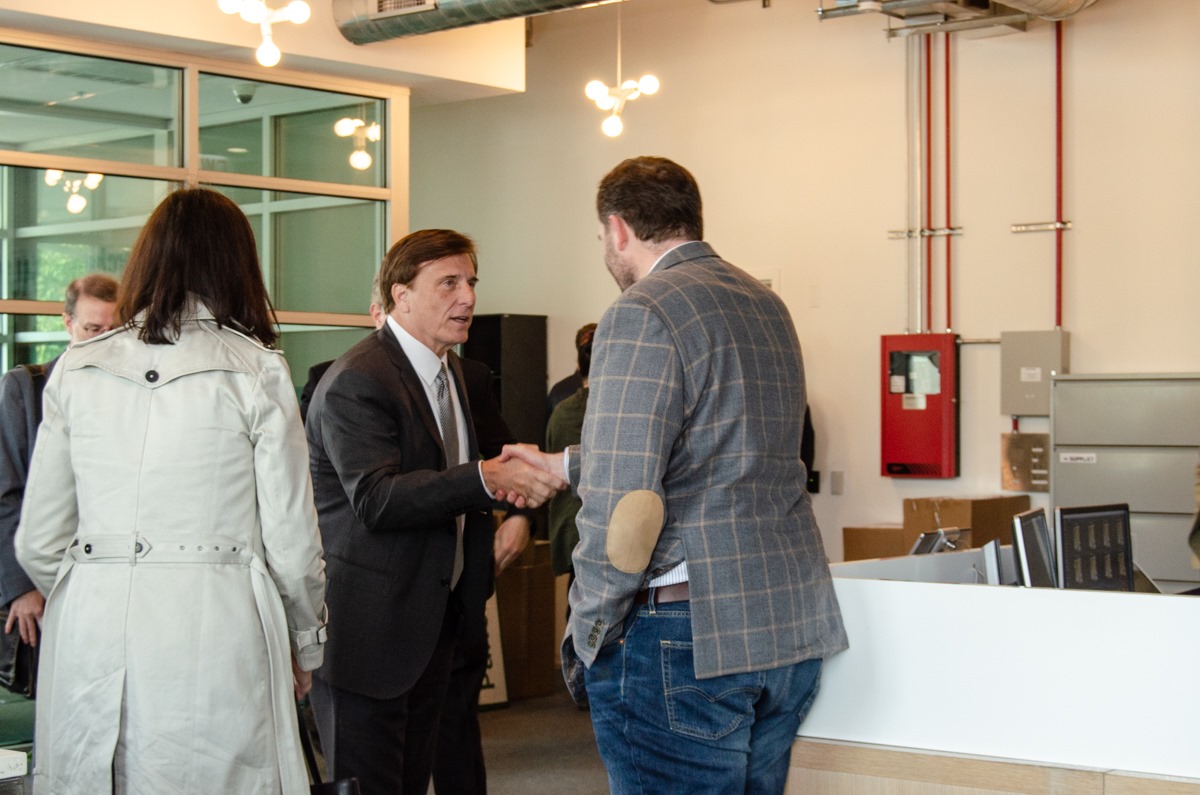 Leaders from the
U.S. Economic Development Administration (EDA)
joined
Haven Allen
, mHUB CEO and co-founder, for a tour of mHUB's 63,000 square foot facility to learn how it supports physical product development in the Midwest. Assistant Secretary Fleming, Deputy Assistant Secretary Alvord, and others experienced the shared workspace,
10 prototyping labs
, Accenture Industry X.0 Forge partner space, and more.
The U.S. EDA has played a significant role in the growth of mHUB with its continued investment and support through the Regional Innovation Strategies (RIS) program. In 2016, mHUB received a
$500,000 i6 Challenge Grant
, a program designed to expand high-growth entrepreneurship and increase access to capital for communities across America. The grant supported the build-out of mHUB's 63,000 square foot facility, supported the establishment of entrepreneurial educational programs, and assisted in securing advanced prototyping equipment that now make up mHUB's 10 prototyping labs.
With the support of the EDA's award, mHUB has grown from just 30 members to more than 1,200 users and its members have launched more than 600 products. 79% of member manufacturing production is domestic, and 67% percent is within Illinois, directly driving the local and national economies. That said, financing remains the number one need for physical technology and manufacturing startups. This is evident both within our community and amongst the broader product development ecosystem, with software investment outpacing hardware at 15 to 1 in early-stage investing.
In July of 2019, the EDA expanded its support to directly benefit mHUB's efforts to close the funding gap for seed stage hardware companies, announcing the innovation center as one of 18 recipients of the Seed Fund Support Grant within its RIS Program competition. mHUB will receive
$300,000 over three years to support the administration and operations of Product Impact Fund I (PIF)
, which will ultimately support 60 product-based businesses participating in mHUB's Accelerated Incubation (AI) Program. Over a 3.5-year period, the program will pair six sector-based cohorts of 10 startups with corporations to secure potential customers, investors, advocates, and mentors to launch and scale their cluster-based physical products within 12 months.
During the visit, the group met with five physical product startups who've utilized mHUB resources and community to help build their businesses. These member startups included:
•
Cast21
- Waterproof cast and brace alternatives changing the way the world heals.
•
Winston
- Winston scrambles, encrypts, and anonymizes your home internet activity.
•
Neopenda
- Innovating needs-based medical technologies for emerging markets.
•
Sabanto
- Farming-as-a-Service company performing row-crop operations using advanced autonomous equipment.
Manufacturing is essential to our economy and supporting domestic physical product innovation is an opportunity for us to lead the fourth industrial revolution while growing an industry vital to our national economy. The EDA's support through RIS has played a significant role in helping close the gap between software and hardware investing, which will ultimately lead to growth in U.S. manufacturing.