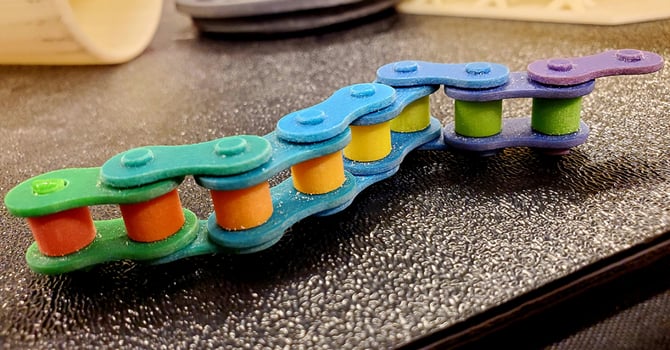 The supply chains that manufacture products and their subsequent distribution to customers have come under tremendous pressure since the global pandemic began. The pandemic exposed weaknesses in production strategies as well as up-stream and down-stream supply chains. The pre-covid supply chain architectures were complicated, labor intensive, Asian dependent and did not have the needed flexibility to handle a serious exogenous shock, much less a global pandemic. These architectures are further stressed by demand pressures they never intended to experience.
~7 Million:
Number of packages
shipped per day more than current system
can handle

1/2:
Estimate of warehouses
with insufficient space

3 out of 4:
Percentage of online
consumers who rank free shipping as
most important

~2 Million:
Total U.S. manufacturing
jobs going unfilled
How can the global economy respond to a dramatic spike in demand to manufacture products and cheaply deliver them when half of warehouses have insufficient space and nearly 2M manufacturing jobs are vacant?
The answer to the current supply chain disruption is automation and technology.
The time has come for automation for several reasons. Automation technology has evolved to where it can meet the demanding needs of these use cases. It is cost effective with a demonstrable ROI. Lastly, the apathetic barriers to change have evaporated. It is simply no longer acceptable to not automate due to the fear of a bad implementation or by throwing cheap labor at the problem instead. Right now, it seems clear: you either automate or perish.
The main areas of automation that will help solve these problems are warehousing and distribution operations as well as the manufacturing of products themselves.
Warehouse Automation
The warehousing industry is at a tipping point. The number of parcels being shipped is rapidly accelerating, and with the aim of same-day delivery. Meanwhile, there is a growing shortage of warehouse distribution workers and space. This has forced retailers to construct and retrofit warehouses with modern automation material handling systems and robotics. It's estimated that there will be more than 4 million robots operating in 50,000 automated distribution warehouses globally by 2025. That's more than a 12-fold increase from the 4,000 robotic warehouses operating in 2018. In the United States alone, by 2025 there is estimated to be 23,000 automated warehouses versus 2,500 in 2018. 1 The global warehouse automation market will reach $27 billion by 2025, up from $13 billion in 2018. 2
Companies supplying warehouse automation include:
producers of industrial robots
collaborative robots known as cobots
robot component manufacturers (including automated robotic picking systems, sensors, 2-D and 3-D vision systems, laser markers, and barcode readers)
warehouse handling and inventory management systems
distribution logistics automation
digital supply chain management
predictive data analytics
artificial intelligence
AMRs
drones
The companies that will win the race to be the suppliers of choice for warehouse automation are those who can provide complete "full stack" solutions. Those that can most effectively marry the convergence of hardware, software and services (both for implementation but also post installation maintenance and support). The result will be dramatic investment escalation in companies who can supply hardware-based solutions to these ecosystems. For these companies, their value proposition is significantly, if not mostly, derived from the algorithms and systems as a whole. That is, making the entire warehouse operation s more efficient and productive by solving tangible pain points.
Manufacturing
In getting products to end customers in a timely and cheap manner, the second half of the equation that needs to be solved is to redesign the current supply chain used for manufacturing. There are few environments more heterogenous and complicated than manufacturing. It is characterized by latencies, complicated supply chains nested withing the overall supply chain and a significant amount of trial and error. For example, it can take many weeks and multiple iterations to create and acceptable component much less an overall product, especially the more global the supply chain is. Automation and technology is the answer to this complex problem as well.
Automation for manufacturing is also accelerating especially in the last handful of years. The dropping costs of sensors, robotics and controls with advancements in artificial intelligence, connectivity and computing power has opened automation up to solving these use cases. Additionally, advancements in additive manufacturing, rapid CNC and other production methodologies have shortened dramatically the time it takes to get a product from concept to test and even production.
There are an ever-growing number of companies that are providing solutions and new manufacturing ecosystems to collapse the manufacturing supply chain. This simplification allows manufacturers to focus more on design and production and less on the knock-on effects and large latencies associated with current supply chains. These companies are using both network business models (connecting third party part manufacturers with customers), vertically integrated models (owning the machines and factories that make the part) or a combination of both to solve these challenging problems. We think the manufacturer of the future will use a network of cloud connected manufacturing nodes that will supply components locally and on-demand, virtually eliminating the complex supply chain of today.
Complex Supply Chain Today.

vs. Simplified Supply Chain Tomorrow.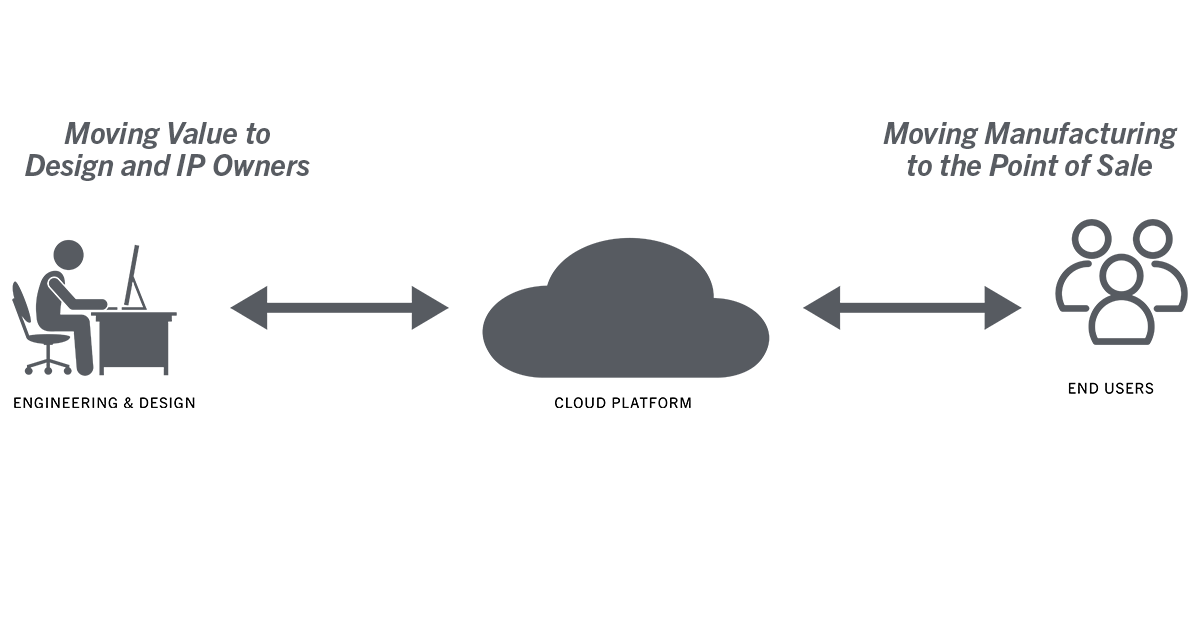 Footnotes:
[1] ABI Research
[2] LogisticsIQ
About the Author:
Corey Ryan is a Partner/Managing Director and Head of Industrial Technology practice in William Blair's Investment Banking group, a premier global investment banking boutique. Corey has extensive public and private company merger & acquisition advisory and capital markets (debt and equity) experience. Prior to Mr. Ryan's experience in investment banking, he was an entrepreneur, co-founding an industrial automation company based in Connecticut that provided various customized solutions for manufacturing. Corey has an MBA from the University of Chicago Booth School of Business and a B.S. in Engineering from the University of Illinois – Urbana Champaign.
RELATED CONTENT: Where are Industrial IoT startups focusing in the realm of Industry 4.0?