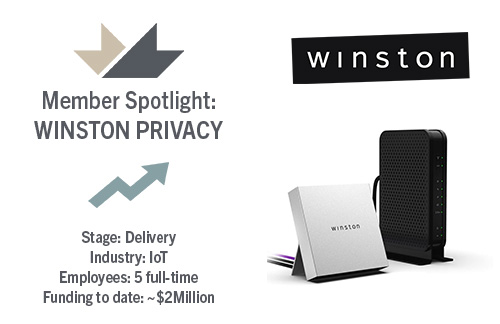 Imagine a time where software services that were originally created to protect customers are now the same services distributing customer's private information. That time is now.




Winston Privacy, an innovative internet privacy company founded in 2018 by Richard Stokes, was developed to protect our internet users during a time where IoT privacy is as questionable as ever. From hidden mics in home security devices and an epidemic of internet hacks, to private user information being sold by companies we're told to trust, our personal lives are becoming publicly available at a rate never seen before. Winston Privacy was established with a clear mission: to help Internet users take back control over their personal information.




Where did your idea and value proposition start?

According to a recent PEW Research study, 80% of social media users are concerned about advertisers and businesses accessing the data they share. To help combat the abuse of personal information, we created a hardware device that provides households with easy-to-use internet security by stripping away corporate tracking and surveillance.




After 14 years working in the advertising technology industry, I became frustrated with the increasing misuse of private user information by advertising companies. Ad tech and internet security companies continue to use unethical methods to target consumers and distribute information that many people assume is private. We used to watch TV, but now our TVs watch us.




Equally as alarming, many public Virtual Private Networks (VPNs) that are intended to secure your internet activity actually sell your data to the ad tech industry. By working through public VPNs, users become susceptible to the distribution of their online activity and private information without their knowledge. Unlike public VPNs, we can't sell our users' personal data because we can't see it. Winston was designed with a zero-knowledge stance where all encryption remains intact and personal data never travels over our network infrastructure.




You need to be able to stop the promiscuous sharing of your data without your consent. We designed Winston to offer reliable privacy, with our primary focus on convenience, ease-of-use, speed, and having an awesome user experience.




What led you to mHUB?

As an mHUB member since October 2017, I joined the community to gain access to an

office space

and the network I needed to

build a hardware tech product

. Since joining, I've not only built a product, but a business with over 3,000 units ready to be shipped.




How has your business grown?

We started off as an idea in 2017, then began prototyping and establishing our supply chain in early 2018. In February 2019, we launched our first field trial, then followed with a larger trial in March. We're now at a point where we have a significant number of units in use and continue to gather feedback. With the closing of our

Kickstarter at the end of June 2019

, we're expecting to ship more than 3,000 units. Winston Privacy began at mHUB as just an idea and has since grown to become a successful business. With mHUB's unique focus on hardware tech development, we turned to its network of professionals with valuable experience in hardware for advice and direction.




The office space has also become a powerful recruiting tool for Winston Privacy. Candidates who tour mHUB get excited to make use of all the community offerings including the network, classes, and events. With 5 employees currently on the team, we plan to expand to 7 in the coming months.




What's next for Winston Privacy?

We're completing an incredibly successful Kickstarter campaign with more than $300,000 raised at the time of this article, fulfilling our goal by more than 1500%. The campaign will close on June 30, 2019. Once finalized, we will focus efforts on growing the business and expanding production.




Richard Stokes was the founder of AdGooroo.com, one of the first digital market research services, and later became the Global Head of Innovation for Kantar Media. He founded Winston Privacy in response to the increasing abuses of privacy taking place in the AdTech industry. He's the author of "The Ultimate Guide to Pay-Per-Click Advertising". He has a Computer Science degree from the University of Illinois at Champaign-Urbana and an MBA from Kellogg / Northwestern University.