mHUB's annual Women in Manufacturing & Engineering Day returned for an in-person event on October 19th, convening nearly 200 change-makers from across the region in celebration of women in hardtech industries. Held midway through Manufacturing Month, the event featured networking opportunities, insights from industry experts, and an interactive activity to close out the program.
The event kicked off with opening remarks from Shannon McGhee, Director of Community Impact and Engagement at mHUB, Sylvia I. Garcia, Director of the State of Illinois Department of Commerce & Economic Opportunity (DCEO), and Michelle Lura White, Women's Business Development Manager for the Office of Minority Economic Empowerment (OMEE) at DCEO.
"Throughout Manufacturing Month, we [DCEO] are thinking about how we can celebrate the contributions of women entrepreneurs and women-owned businesses in Illinois, and how we can grow the next generation of women leaders in the manufacturing space," said Garcia.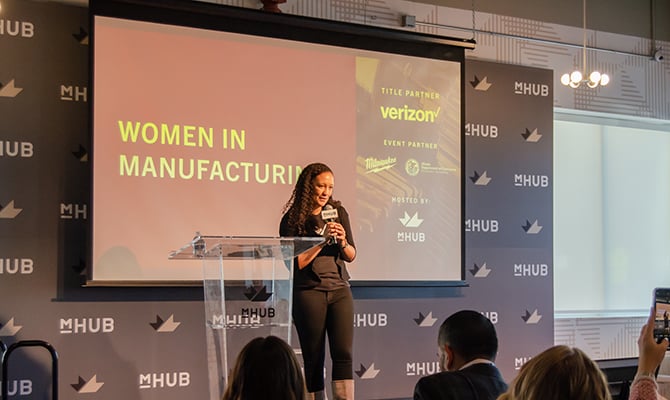 Illinois is the fourth largest manufacturing state in the nation with 18,000+ manufacturers employing over half a million people—and yet, only 40% of the workforce and 1 in 4 manufacturing leaders are women.
"All of us in this room know that there's so much more work to be done in getting women into STEM careers, but also into executive roles in those industries," said White.
State officials recognize that manufacturing is an essential part of Illinois' diverse economy, and how the enormous strides Illinois has made to close the equity gap further its standing as a powerhouse driving industry and innovation. Entities like the DCEO, OMEE, and mHUB are focused on embracing Illinois' long manufacturing history while ensuring that the industry grows to reflect the diversity of the state.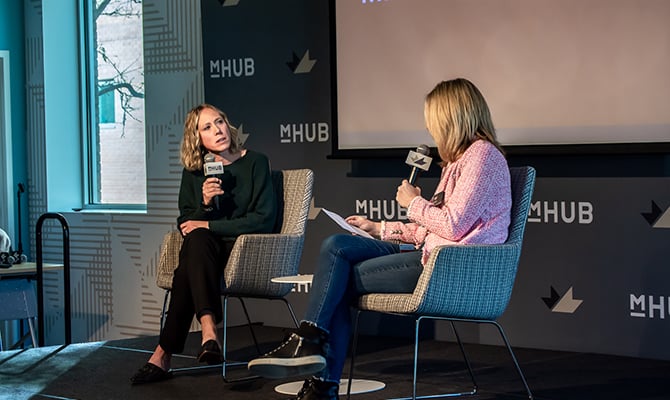 Following opening remarks, Director of Strategic Operations at Milwaukee Tool, Brenda Wittrock, began the event's first lightning talk with some words of wisdom. With over 20 years of relevant experience including in leadership roles, Wittrock had a wealth of insights to share with an audience of fellow women and students in hardtech industries.
From staying true to yourself and never settling for less, to asking questions, seeking connections, and paying it forward—Wittrock's candid advice addressed undervalued and underutilized tenants of success. These tenants became consistent themes throughout the day's event.
The importance of not only uplifting yourself but also others became another congruent theme. "Early in my career, I wanted to implement a great project or new initiative successfully. Now, I want to see my team shine," Wittrock said during the talk's Q&A portion, moderated by mHUB CXO Melissa Lederer.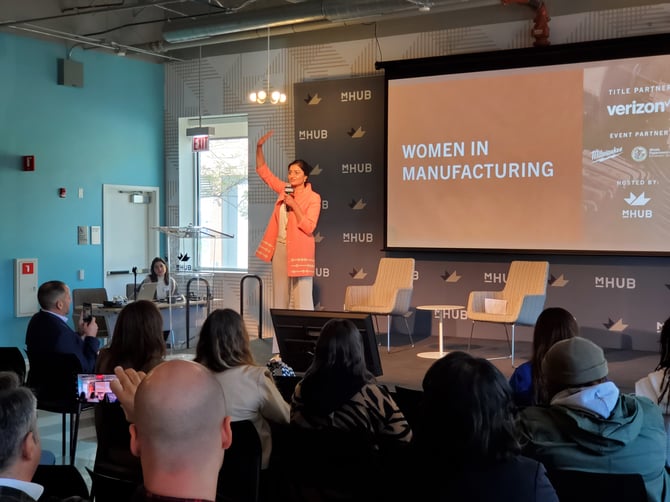 Aparna Khurjekar, Chief Revenue Officer of Verizon Business Markets and SaaS, led the second lightning talk by focusing on technological advancements and the future of 5G.
The impact of technological growth on manufacturing can be seen in the improvements and opportunities made in connectivity, automation, predictive maintenance, robotics, workflow management, and other vertical tech areas. Khurjekar encouraged women entrepreneurs and business owners to stay on top of the cutting-edge technology in their industry, citing the businesses who suffered at the birth of the internet by not catching its wave.
"Every 30 years, things are looking very different and growing exponentially," Khurjekar said. "Lean into the discomfort of doubt rather than the comfort of your conviction."
Khurjekar's words resonated as a call to celebrate the future of innovation, and the accomplishments of women making breakthroughs across STEM industries.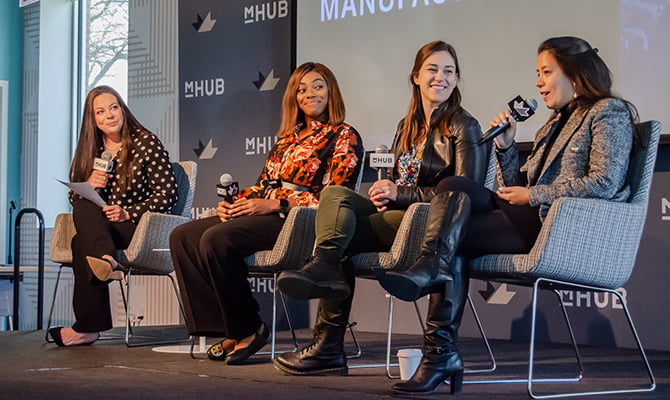 Following the second lightning talk was a panel discussion with Sophia Wennstedt, Co-founder and CEO of blip energy, Benita Mordi, President of the Chicago Chapter of National Society of Black Engineers (NSBE), and Elle Ramel, Chicago Director of GET Cities Chicago. The discussion was moderated by Kristi Dula, the Deputy Director of the Office of Entrepreneurship, Innovation and Technology at DCEO.
Each panelist's individual background and expertise gave them a unique perspective on the discussion topic regarding careers in manufacturing, engineering, and hardtech. Some key takeaways were:
The people in your network should not all look like you, especially if you are a founder and your recruitment is network-based

It should be more widely recognized that there is a balance between the value of experience and the value of a capacity to learn

If you struggle to reconcile with the way others perceive you, think of your business professional or founder persona as a costume you put on, or a role you play

As Shonda Rhimes said in her book,

A Year of Yes

, when you say no, you're saying yes to the other thing, and vice versa.

Advocate for yourself, or find the mentors and sponsors who will fight in your corner

If you're in an adjacent field or perhaps looking at opportunities for growth, remind yourself that manufacturing is more than automotive manufacturing and other STEM fields. There are several areas, such as textiles and design, which are also forms of manufacturing

Always support your local businesses, especially those owned by women and people of color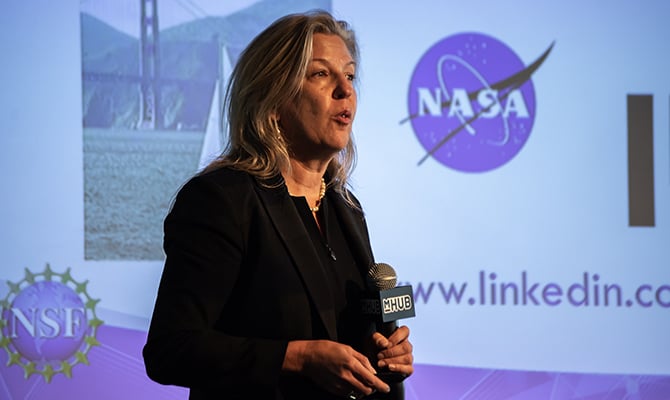 Linda K. Molnar, the Program Director of Technology, Innovation, and Partnerships at the National Science Foundation (NSF) led the third lightning talk following the panel discussion.
The NSF, which traditionally funds institutes of higher education to do fundamental and exploratory research, works across all areas of science and engineering. Recognizing the demand for societal change, the NSF has launched a new Directorate program to accelerate research in those areas.
As part of this Directorate, the Convergence Accelerator was launched to work across multiple disciplines and sectors, expanding from the NSF's original programming to make the greatest societal impact.
"We really want to think about US competitiveness, technology, moving things to market as fast as possible, and being transformative and inclusive in the process," Molnar said. "There's hard data that shows that diverse teams are the best teams."
Programs that value inclusion, sustainability, and making meaningful change to better the world, like the Convergence Accelerator, are great opportunities for women in manufacturing, engineering, and hardtech.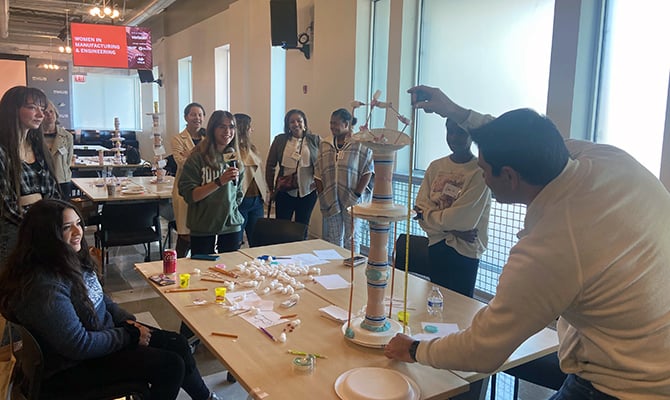 After a lunch break, mHUB's Women in Manufacturing & Engineering event ended on a high note with an interactive activity. The challenge was to with build a tower out of office supply materials that could stand two-feet tall and hold the weight of two washers at the top. Unsurprisingly, the teams of engineers and STEM professionals had no trouble with the task.
Thank you to mHUB Women in Manufacturing and Engineering Title Partner Verizon, and Event Partners Milwaukee Tool and the Illinois Department of Commerce & Economic Opportunity.
Are you an entrepreneur with an early-stage product idea? The mHUB mPOWER program is designed to rebalance opportunity and access for underrepresented founders building physical products. The next 6-month program will be tailored to women founders and provides participants with stipends, programming, and access to mHUB labs and shared workspace.