Emanuel to be recognized for his contributions to the manufacturing sector during industry celebration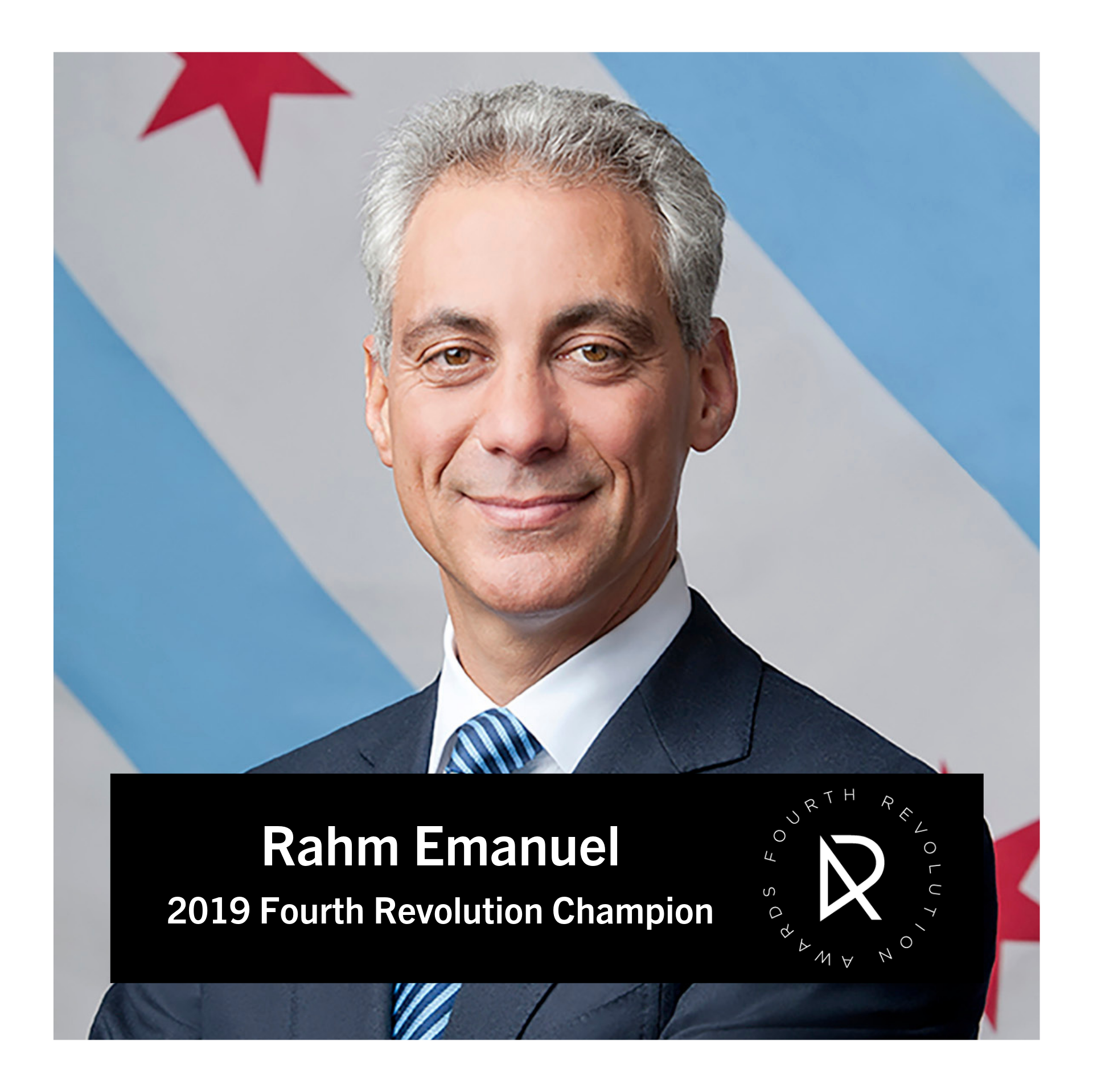 CHICAGO –
mHUB
and
MxD
today announced Rahm Emanuel as Fourth Revolution Champion of the third annual
Fourth Revolution Awards
. The award recognizes Emanuel for his leadership in establishing the region as a leader in the fourth industrial revolution and will be presented at the awards ceremony taking place on October 2, 2019, at the
Museum of Science and Industry
.
Emanuel was relentlessly committed to driving the manufacturing industry forward in Chicago throughout his 8 years as Mayor of the City of Chicago. His work through policy, workforce development initiatives, strategic business development and investment in innovation centers has brought thousands of manufacturing jobs to the city over three consecutive terms.
"We knew that manufacturing had to be a central focus in order to make any measurable impact on the regional economy," said Rahm Emanuel. "I'm honored to receive this award and also to see the continued momentum and success of the manufacturing technology ecosystem here in the city."
"Rahm Emanuel is a true champion for industry and there is no one better deserving of this award," said
Haven Allen
, CEO and co-founder of mHUB. "We are now a national leader in the fourth industrial revolution, and it was his vision that got us here."
Emanuel announced more than 250 companies relocating or expanding headquarter operations in the city throughout his tenure, many of which included manufacturing operations. Policy initiatives to incentivize companies who manufacture in Chicago through procurement have also led to recent growth of large and midsize manufacturers alike, including
Ford
,
Freedman Seating
,
CRRC
,
Lyons View
and more.
"It's the intersection of industry, research and public sector support that make this one of the most competitive regions for manufacturing innovation," said
Chandra Brown
, CEO of MxD. "Rahm Emanuel put a lot of those foundational pieces in place."
Emanuel will be recognized at the
Museum of Science and Industry
at the
Fourth Revolution Awards
, hosted by
mHUB
and
MxD
, on October 2, 2019. The ceremony brings together more than 350 leaders in industry, government and innovation. Current 2019 sponsors include
Museum of Science and Industry
,
Accenture
,
ArcelorMittal
,
Bank of America
,
Blue Cross Blue Shield of Illinois
,
CBRE
,
Comcast Business
,
Chamberlain
,
Fifth Third Bank
,
The Garage at Northwestern,
JLL
,
KPMG
,
Marmon Holdings, Inc.
,
Siemens
,
Sloan
,
UL,
and
Wintrust Financial Corporation
. Tickets are available at
www.4revawards.com
.
TICKETS AND SPONSORSHIP PACKAGES ARE STILL AVAILABLE
About mHUB
mHUB
is the nation's largest and fastest growing innovation center for physical product development and manufacturing. mHUB is a community of product designers and developers, entrepreneurs, engineers and manufacturers, a network of manufacturing mentors, industry experts and investors and a source of intellectual and economic capital. mHUB is home to more than $5 million in resources including ten unique prototyping labs and microfactory for onsite low-volume production runs. Learn more at mHUBChicago.com.
MxD
is where innovative manufacturers go to forge their futures. In partnership with the U.S. Department of Defense, MxD equips factories with the digital tools and expertise they need to begin building every part better than the last. As a result, our approximately 300 partners increase their productivity and win more business. Learn more at mxdusa.org.