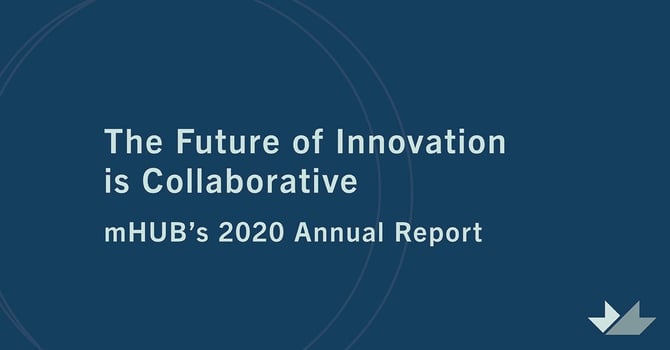 "It is with great honor that we present the 2020 mHUB annual report. This report highlights the heroic efforts of the community and our partner organizations. It is a celebration of collaboration and the selfless sacrifices made to positively impact society in the face of health, humanitarian and economic crises, and our collective focus on a reckoning of the systemic racial inequality and injustice in our country.
For all of us, 2020 will be remembered as an extraordinary year, both in terms of the unprecedented struggles and milestones achieved. On the heels of canceling the 2020 Product Showcase & Demo Day in March, mHUB rallied Chicago's startup community through the Chicago Proactive Response (CPR) COVID-19 initiative. This defining effort mobilized entrepreneurs, innovators, corporate partners, public health officials and foundations to activate resources that provided much needed economic and medical relief and enabled emerging startups direct access points to build, pivot and scale new technologies that addressed immediate health and humanitarian needs.
As we look forward to 2021, mHUB's startup, manufacturing and investor communities are poised for another strong year of growth and impact. With the launching of the Product Impact Fund and Accelerated Incubation program we began to address the access to capital gap for hardtech startups and will continue to attract teams from all over the world to join the movement. We will continue to expand Hardtech Development services to provide industry with access to high-skilled talent and much needed supplemental income generating opportunities for entrepreneurs.
Additionally, we will double-down on our effort to extend our impact throughout the Chicago community to support a rapid and equitable economic recovery. With the ongoing support of our broader community, mHUB continues to drive the Midwest forward to lead the next industrial revolution while championing innovators around the world. Join us as we highlight collaboration and what is possible when we come together."
Haven Allen, mHUB CEO & Co-Founder