Upcoming Events, Courses, and Talks
Whether you're looking for something educational or fun, mHUB produces events and classes that inform and inspire.
The mHUB HardTech Summit with the Fourth Revolution Awards
Share this event
This two-part event commemorates regional innovation around physical product development and related industries. Join mHUB for a day-long celebration of advancement in hardtech and manufacturing.
mHUB HardTech Summit
Thursday, March 23
1 PM - 6:30 PM
965 W. Chicago Ave

THE STAGE PROGRAM
The day's program will include conversations between corporate and institutional research leaders, startup pitches, Fourth Revolution Award announcements, and a keynote fireside chat from a hardtech founder and leader.
THE PRODUCT SHOWCASE
Concurrent with the event's stage program, mHUB opens its prototyping labs for 50+ startup members to demo their products to attendees.
Fourth Revolution Awards Evening Reception
Thursday, March 23
7 PM - 10 PM
West Loop Location TBA Soon!
*If you attend the mHUB HardTech Summit, buses will be transporting reception ticket holders from mHUB to the evening reception.
After the mHUB HardTech Summit program concludes, a ticketed Fourth Revolution Awards Evening Reception will convene to celebrate the accomplishments and leadership of the regional manufacturing industry. This new format will include brief remarks to recognize award winners followed by networking, food, drinks, and live entertainment.
Thank You Event Sponsors:
Blue Cross Blue Shield of Illinois
Comcast Business
OMRON

Click here to see the full event agenda!

Venue
Date and Time
03/23/23 @ 1:00 PM
03/23/23 @ 1:00 PM
Tags
Register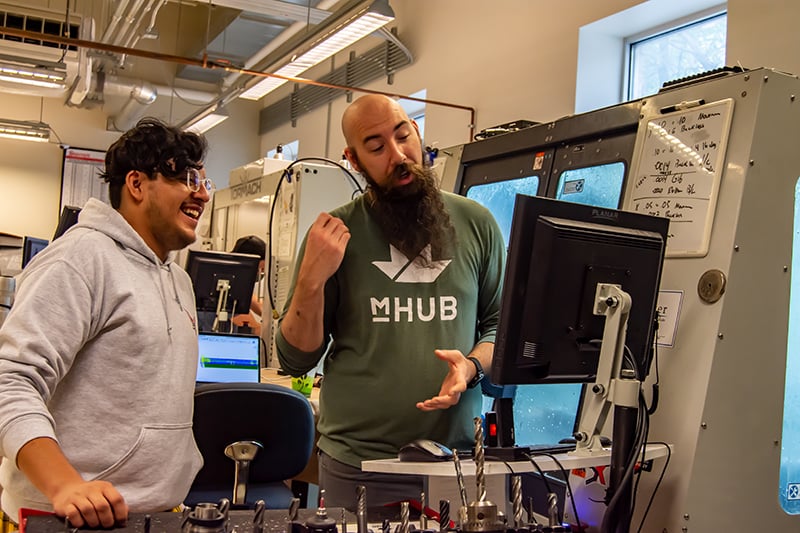 Resources Tailored to Your Unique Startup Roadmap
All classes and events are available to the public. Curriculum courses are tied to a specific track and stage of development, making connections to tools in the mHUB ecosystem to ensure members are maximizing the right resources at the right time.
To unlock auxiliary resources and pair learnings with hands-on guidance and tools, explore membership or the mHUB mPOWER and Hardtech Development fellowship programs.
Explore Membership