FOR IMMEDIATE RELEASE
Press Contact:
Kim Blomquist
872.222.5279
kim@mhubchicago.com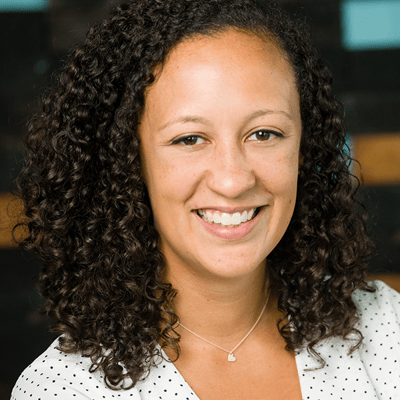 mHUB has named Shannon McGhee, previously Director of Marketing, as Director of Community Impact and Engagement; a new role for the organization focused on creating more access and opportunity for female founders and entrepreneurs of color as part of a broader mission to support economic recovery.
In this new role, Shannon will lead in the development of programs that pave stronger pathways to high-growth hardtech entrepreneurship for underrepresented innovators. She will also partner with mHUB board of directors and across leadership to strengthen internal diversity and inclusion efforts and with partners across the city to create a more connected and inclusive startup ecosystem.
"Shannon has been an invaluable leader for mHUB and I couldn't be more excited to have her driving this important priority for the organization," said Haven Allen, mHUB CEO and Co-Founder. "Her passion about creating a more equitable manufacturing innovation ecosystem is infectious, and her energy and thoughtfulness are what we need to really make change and impact."
Shannon has spent her career developing grassroots and public information campaigns focused on healthcare, small business support and access to capital, and economic development in the private and nonprofit sectors. She was a part of the team that worked on the original vision and plan for mHUB at World Business Chicago and rejoined the mHUB team in 2018 as Director of Marketing after two years at public affairs firm Hawthorne Strategy Group where she led work for clients including Small Business Majority, Chicago Children's Choir, Building Illinois Bioeconomy at Southern Illinois University Edwardsville. As mHUB's Director of Marketing, she led efforts to increase the innovation center's brand reach through marketing, thought leadership, public relations and marquee events including Product Showcase and Demo Day and the Fourth Revolution Awards. Shannon was named to Crain's Notable Women in Manufacturing in 2020.
"The infrastructure we've built in just three years truly reduces financial barriers for entrepreneurs across the startup journey," said McGhee. "By scaling these learnings to strengthen targeted programs that provide resources and capital to women and people of color, we will begin to re-wire the system and open up access for those that have historically had a steeper hill to climb to launch startup companies."
Kimberly Blomquist also joins the organization as Director of Marketing and Communications, bringing a broad range of marketing expertise including digital strategy, communications, multimedia content development, events and media relations. Prior to mHUB, Kim led marketing and communications efforts for a fine art auction firm as they grew nationally through acquisition and the launch of new locations and services. Most recently she oversaw marketing and business development for a leading interior architecture firm specializing in workplace design. Kim will lead mHUB's national marketing efforts with a keen focus on growing reach for mHUB's core business, as well as its Accelerated Incubation program and Hardtech Development services.
Learn more about the mHUB team at https://mhubchicago.com/team.