mHUB Announces Michael Seedman, Former SVP and GM of U.S. Robotics, as Vice Chairman of Board

CHICAGO – mHUB Chicago today announced Michael Seedman as vice chairman of its board of directors, joining chairman Hugh Sullivan as co-leader of its board.
Seedman's role as vice chair is effective immediately and follows his service as a board member and mHUB mentor since the organization's creation in 2016. His experience as an entrepreneur, high-level business leader and funder has been invaluable to the organization and its members. Seedman and Sullivan will lead together through the end of 2018, with Seedman taking over as chairman of the board in 2019 as part of mHUB's new three-year term rule for board chairs.

"Michael has been a phenomenal advisor and partner in helping to lead mHUB through what has been an incredibly successful first year," said Hugh Sullivan, mHUB board chairman. "He is an outspoken champion for Chicago's tech ecosystem, and for innovation in physical product development. There is no better leader than Michael to help mHUB reach its full potential in the coming years."

A serial entrepreneur, investor, consultant, designer, and business executive, Seedman's leadership roles include senior vice president and general manager of U.S Robotics, industrial partner for Ripplewood Holdings, executive partner at SAC Private Capital, and executive partner at Siris Capital. He has also started multiple companies, including Practical Peripherals and Entrega Technologies, both of which sold to strategic investors. Michael presently serves on the Board of Trustees of the Illinois Institute of Technology (IIT) and the Adler Planetarium, and is actively involved with FIRST Robotics as the Illinois sponsor for First Tech Challenge.

"I am thrilled and humbled to lead the organization through some seriously ambitious goals over the next three years," said Seedman. "mHUB is unlike any other incubator that I've come across. If there's any group able to continue this momentum – it's this team and community."

mHUB has grown exponentially since launching in 2016 with 30 members. At the close of 2017, membership increased by 567 percent with members generating $19.5M in revenue, 350 jobs and 235 new patents for the regional economy. To-date in 2018, mHUB membership has increased to 500.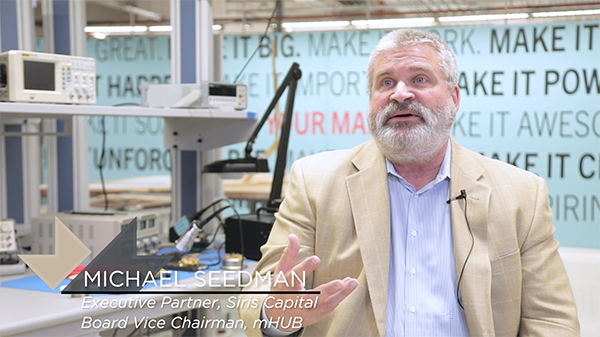 ###

About mHUB
mHUB is creating the conditions for product innovation to thrive. Our mission is to galvanize Chicago's manufacturing ecosystem by generating innovative ideas, attracting world-class talent, and fostering collaboration. By providing access to labs and equipment, industry experts and entrepreneurial and technical training workshops, and a community of other product innovators, mHUB helps turn ideas into prototypes, and prototypes into sustainable new businesses that drive economic impact, and ensure the region's continued leadership in global manufacturing.
mHUB full-service, co-working memberships begin at $300 with several packages for early-stage entrepreneurs up through established enterprises, including part-time prototyping shop access, reserved desks, and private office rentals.