FOR IMMEDIATE RELEASE
Press Contact:
Kim Blomquist
872.222.5279
kim@mhubchicago.com
DOE Selects the Midwest Regional Innovation Partnership for Award from Energy Program for Innovation Clusters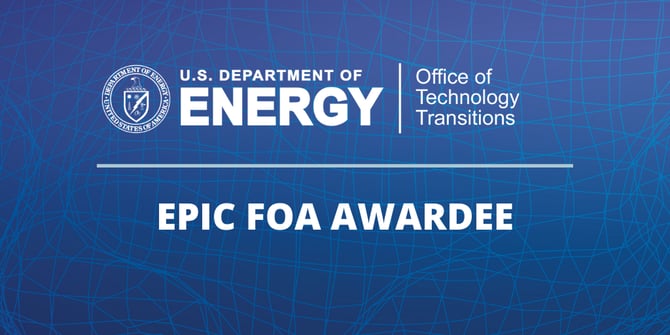 (CHICAGO June 3, 2021) - Clean Energy Trust, Centrepolis Accelerator at Lawrence Technological University, mHUB, and Spark Innovation Center today announced that their Midwest Regional Innovation Partnership was selected for an award of over $900,000 from the Energy Program for Innovation Clusters (EPIC). The program is sponsored by the U.S. Department of Energy's (DOE) Office of Technology Transitions (OTT).
The Midwest Regional Innovation Partnership will address the urgent need for energy innovation while creating manufacturing jobs to drive the Midwest region's economic recovery. Two of the DOE's Lab-Embedded Entrepreneurship Programs, Chain Reaction Innovations based at Argonne National Laboratory and Innovation Crossroads based at Oak Ridge National Laboratory, will serve as project affiliates, along with the National Renewable Energy Laboratory.
The partnership will integrate and support both new and existing programs for venture acceleration of energy hardware startups in the Midwest. The partners plan to support more than 360 startups and small businesses via the tailored programs, which include both virtual and in-person events, sector-specific curriculum, mentorship, prototyping resources, and connections with industry. Beneficiaries of the program will be a diverse array of midwest founders from across the region, including those from universities, low-income communities, and urban areas.
EPIC is a $10 million funding opportunity created by the Department of Energy's Office of Technology Transitions to underscore the importance of regional clusters, which increase productivity of area companies, drive the direction and pace of innovation, and stimulate the formation of new businesses, further reinforcing the cluster itself. For a full list of EPIC awardees, visit the Office of Technology Transitions' website.
By developing a regional cluster of unified, accessible, best-in-class innovation resources, the Midwest Regional Innovation Partnership will increase the commercialization of energy hardware technologies to reduce energy consumption and emissions while increasing domestic manufacturing, creating U.S. intellectual property, and creating well-paying jobs in the Midwest.
"At Clean Energy Trust, we see firsthand how hardware-based energy startups face unique challenges in scaling and attracting capital," said Erik Birkerts, CEO at Clean Energy Trust. "This partnership will build upon the Midwest region's long standing legacy of manufacturing and innovation to support climate technologies as they prepare to bring their innovations to market."
"The Midwest Regional Innovation Partnership program enables a unique and more direct collaboration between accelerators, national labs, investors and other key stakeholders to advance cleantech hardware technology," Dan Radomski, Michigan based Centrepolis Accelerator's Executive Director said. "This program allows Centrepolis to offer our services more broadly throughout the Midwest including utilizing our unique product development, prototyping and manufacturing readiness capabilities. This includes making our annual C3 Accelerator and it's $1.65 million seed fund available to support cleantech, climatech and circular economy technology companies throughout the Midwest to drive the launch of more domestically manufactured cleantech hardware products and at the same time deploying these innovations to support our nation's decarbonization goals."
"Energy Tech is a critical technology investment area for our country: one that can support advanced manufacturing domestically while addressing climate challenges globally," said Haven Allen, co-founder and CEO of mHUB. "There is extraordinary demand from early-stage startups for hardtech specific investment and resources here in the United States. mHUB connects entrepreneurs to these tools, both locally and nationally, and helps them build paths to successful commercialization. Thank you to the DOE for the opportunity to bolster our regional connectedness for innovation in energy."
"The Spark Innovation Center will work closely with TVA and the Tennessee Advanced Energy Business Council to develop and deliver a new Cleantech Accelerator in Tennessee in close collaboration with our MRIP partners," said Tom Rogers, President and CEO of the UT Research Park.
###
About Clean Energy Trust - Chicago, IL
Clean Energy Trust provides catalytic capital and support to early-stage startups in the Mid-Continent region of the United States working on solutions for clean energy, decarbonization and environmental sustainability. Based in Chicago, Clean Energy Trust invests in and provides hands-on support to help entrepreneurs scale and succeed. To date, Clean Energy Trust has helped its 36 portfolio companies raise $31 of additional investment for every $1 Clean Energy Trust has invested. Clean Energy Trust is proud that 60% of its portfolio companies have female or minority founders. Learn more at www.CleanEnergyTrust.org.
About the Centrepolis Accelerator - Southfield, MI
The Centrepolis Accelerator at Lawrence Technological University is accelerating the growth of Michigan's cleantech, advanced manufacturing, innovative hardware entrepreneurs and small manufacturers by providing access to funding, experts and key business and product development resources. Visit centrepolisaccelerator.com.
About mHUB - Chicago, IL
mHUB is a leading independent hardtech and manufacturing innovation center that exists to convene the entrepreneurial ecosystem around physical product innovation to ensure that the manufacturing industry continues to accelerate, grow and thrive. The mHUB community includes over 428 active and alumni startups and small businesses supported by a deep talent pool of product designers and developers, entrepreneurs, engineers and manufacturers, corporate leaders, industry experts, mentors and investors. mHUB provides a hyper-resourced environment to entrepreneurs with the goal of commercializing new hardtech innovation that will lead to new businesses, intellectual property, investment, revenue and job creation. Since launching in 2017, the mHUB community has generated more than $430M in revenue, launched more than 1,256 products, hired more than 2,153 employees, and raised nearly $702M in capital. For more information visit mhubchicago.com.
About Spark Innovation Center - Knoxville, TN
The Spark Innovation Center is an initiative of the University of Tennessee Research Park, and builds on the facilities and expertise at the University, Oak Ridge National Laboratory (ORNL), and the Tennessee Valley Authority (TVA). Spark focuses on helping promising energy technology companies grow, offering access to top quality lab space, expert mentoring, and coordinating support services from nine partner organizations in the region.