Did you miss our class on Business Modeling with Jarrod Lowery?
We're going digital! The mHUB curriculum is now online and open to the public. Take all business and product development classes online with leading experts in funding, business development, product design, prototyping, legal and finance. Miss a class? No problem: get in line and we'll notify you for the next course in that subject area.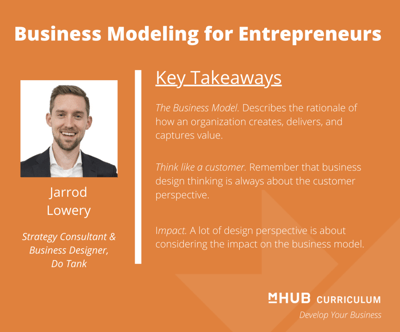 "There is a need for nimbleness and adaptability in business."
One of the strongest tools in the entrepreneur's repertoire: the Business Model Canvas. When used to its full potential, Business Model Canvas helps companies align on their current state, ideate new paths forward, and design an impactful future. This workshop, taught by Jarrod Lowery of Do Tank, helped attendees understand the difference between a user, buyer, and financer, and how to craft a compelling story about how your solution addresses each of their goals.