Upcoming Events, Courses, and Talks
Whether you're looking for something educational or fun, mHUB produces events and classes that inform and inspire.
mHUB Five-Year Anniversary and Product Showcase
Share this event
Join the Midwest hardtech innovation ecosystem for a day-long celebration to 50 product demos, 25 startup pitches, 3 panel discussions, a keynote from Charlie Bachtell, Founder and CEO of Cresco Labs, and an afterparty reception with live entertainment.
Ticket donation includes: food and beverage, live entertainment, swag, and access to the full program outlined below.
RUN OF SHOW:
1:00PM | Check-in and Product Showcase Opens
2:00PM | Opening Remarks
2:20 - 3:05 PM | Panel: Fostering Equitable and Sustainable Impact Through Entrepreneurship
Moderator: Nicole Wolter, President & CEO, HM Manufacturing Inc.
Panelists:
Jason Coleman, Executive Director and Co-Founder, Project SYNCERE
Darren Riley, CEO & Co-Founder, JustAir Solutions
Juan Salgado, Chancellor, City Colleges of Chicago
Jeannette P. Tamayo, J.D., Associate Vice President, Office of the Vice-President for Economic Development and Innovation, University of Illinois System
2:20 - 3:20 PM | Startup Pitches: Climate and Energy Technology
Arke Global, Nana Arkouful, Founder

Blip Energy - Sophie Wennstedt, CEO

Haylon Technologies - Dante Vaisbort, Cofounder

Icarus RT Inc. - Mark Anderson, CEO & Founder

InfiniRel Corporation - Bert Wank, Founder

Organic Harvest Digital - Oluwaseyi Olaleye, CEO & Founder

OXTO Energy Storage - Michael Willemot

3:10 - 3:55 PM | Panel: Growing the HardTech Venture Community Around Humanity-Centered Technologies
Moderator: Kevin Willer, Partner, Chicago Ventures and Chair of the Board, mHUB
Panelists:
Joey Mak, Executive Director, Chicago:Blend
Corey Ryan, Managing Director & Partner, William Blair
Thru Shivakumar, CEO and Co-Founder, cohesion
Nancy Sullivan, CEO and Managing Director, Illinois Ventures
3:20 - 4:20 PM | Startup Pitches: MedTech
AION Prosthetics - Charlie Erdman, Co-founder & Industrial Designer

Bionode - Sumeet Dagar, CEO

Innoblative - Alyssa Bailey, Director of Product Development

Intuitap - Geoff Hutchins, Director of Engineering

Lemonaid - Sybil Berry, Founder

Neopenda - Sona Shah, CEO & Co-founder

Neursantys - John Ralston, CEO & Founder
Walela - James Balman, Founder
4:20 - 5:20 PM | Startup Pitches: Smart Manufacturing
Ant Robotics - Max Antonenko, Founder & CEO

Ascent Integrated Tech - Paul Couston, Co-founder & CEO

Autobon AI - Krystian Gebis, Founder

Ganance - Alex Ocampo, Founder

Iothic - Christopher Autry, Founder & CEO

Sabanto - Craig Rupp, Founder & CEO

Stroma Vision - Anil Uzengi, Co-founder & CEO

Zenblen - Tom Xinyuan Zhang, Co-Founder & CEO
4:25 - 5:10 | Panel: Energy Infrastructure and Advanced Energy Storage to Drive the CleanTech Revolution
Moderator: Garry Cooper, CEO and Co-Founder, Rheaply
Panelists:
Megan Clifford, Associate Laboratory Director, Argonne National Laboratory
James E. Fritz, Senior Advisor & Commercialization Executive, Office of Technology Transitions, U.S. Department of Energy
Shashank Sane, EVP, Transmission, Invenergy
Carrie Zalewski, Chairman, Illinois Commerce Commission
5:10 - 5:25 PM | Closing Remarks
5:30 - 6:30 PM | Keynote: Charlie Bachtell, Founder and CEO of Cresco Labs
Fireside conversation moderated by Michon Ellis, CEO, CLOUT
6:30 - 9:30 PM | Afterparty
Date and Time
06/23/22 @ 1:00 PM
06/23/22 @ 1:00 PM
Tags
Register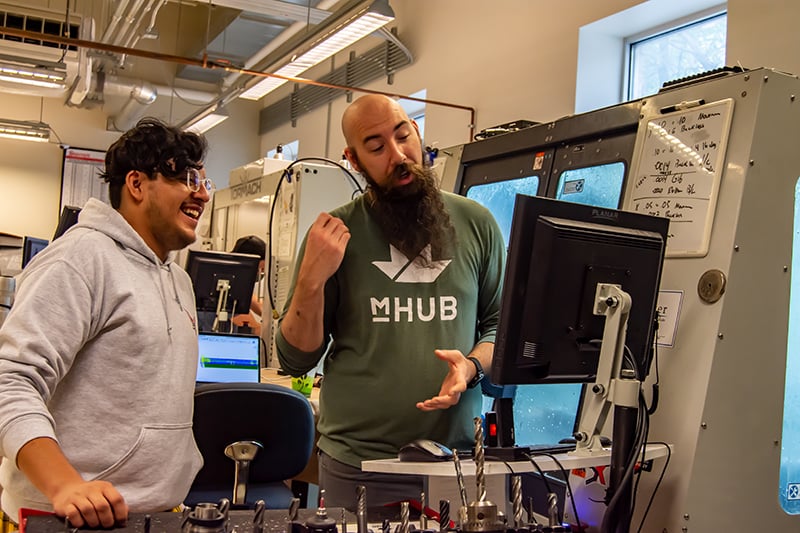 Resources Tailored to Your Unique Startup Roadmap
All classes and events are available to the public. Curriculum courses are tied to a specific track and stage of development, making connections to tools in the mHUB ecosystem to ensure members are maximizing the right resources at the right time.
To unlock auxiliary resources and pair learnings with hands-on guidance and tools, explore membership or the mHUB mPOWER and Hardtech Development fellowship programs.
Explore Membership