Upcoming Events, Courses, and Talks
Whether you're looking for something educational or fun, mHUB produces events and classes that inform and inspire.
3D Printing: When and how to utilize the technology for full production
Share this event
Class Desription:
There is little doubt that 3D Printing is an extremely useful tool for prototyping and product development. As the technology has evolved over the last few decades, advancements in materials, speed, cost, and reliability have made it attractive for organizations to explore its use for production applications. This talk will provide attendees with a framework to evaluate 3D Printing for full end-use manufacturing applications through a series of examples and case studies that discuss the pros, cons, and considerations companies need to review as they engage with this technology.
Mike Vasquez Bio:
Dr. Mike Vasquez is a 3D Printing expert specializing in pushing the boundaries of advanced 3D printing technology. He is the Founder and CEO of 3Degrees, a Chicago-based consulting company focused on helping organizations maximize their investment in the technology. Over the past decade he has worked side-by-side with some of the top machine manufacturers, material producers and end users in the industry, consulting with them to identify novel applications, test new materials and develop frameworks to maximize R&D efficiency and boost ROI.
Based on insights gleaned from the consulting, Mike has spun out two additional organizations. First, a software company called TraceAM with the mission to help manufacturers organize and analyze their 3D Printing digital data. In the last year, they have worked with customers such as Air Force Research Lab, Renishaw, Ohio State University and Fabrisonic. The second organization, AMx or Advanced Manufacturing Experience, was created by Mike to offer an on-ramp for new workers from disadvantaged regions looking to enter the field of Advanced Manufacturing. As a voluntary effort designed to give back to the industry and community, the pilot course was run in the West Side of Chicago and with support from America Makes and West Side Forward.
He completed his PhD in Additive Manufacturing at Loughborough University and received both his Bachelors and Masters from MIT in Materials Science and Engineering. Mike is regularly asked to speak as an expert on the topic of 3D Printing and has given talks at SxSW, the National Association of Attorneys General annual meeting and numerous industry conferences. Mike is the host of 3Degrees Discussions, a weekly podcast where he speaks with the innovators, entrepreneurs, and leaders in the 3D Printing industry. Currently the show has over 100 episodes including interviews from leaders at NASA, Ford and Boeing.
3Degrees Bio:
3Degrees is an independent, technology-agnostic 3D Printing and Materials Science consulting company. Our mission is to educate, empower, and train organizations to achieve success with 3D Printing and Additive Manufacturing. 3Degrees applies unmatched materials expertise to this dynamic and complex industry to help clients solve problems, overcome uncertainty and win.
Location
Date and Time
10/03/22 @ 2:00 PM
10/03/22 @ 2:00 PM
Tags
Register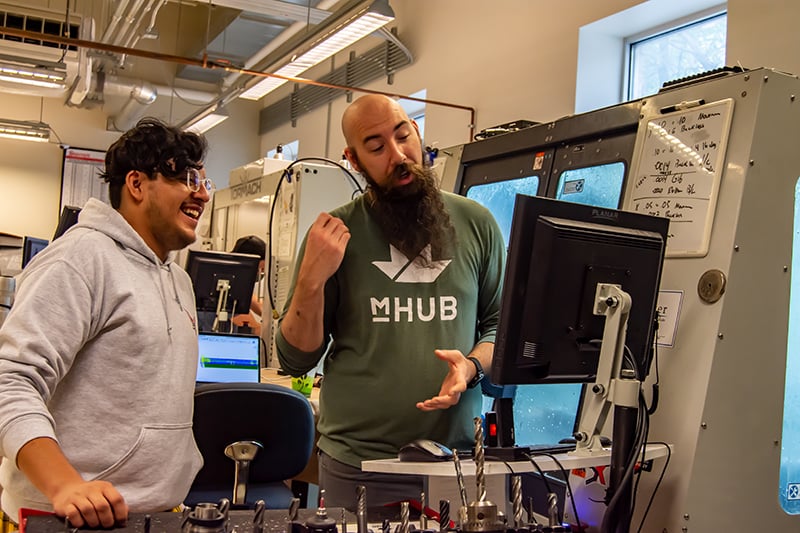 Resources Tailored to Your Unique Startup Roadmap
All classes and events are available to the public. Curriculum courses are tied to a specific track and stage of development, making connections to tools in the mHUB ecosystem to ensure members are maximizing the right resources at the right time.
To unlock auxiliary resources and pair learnings with hands-on guidance and tools, explore membership or the mHUB mPOWER and Hardtech Development fellowship programs.
Explore Membership