A few years back, James Barkley realized how difficult it was to find top tech talent as he was building a team for a manufacturing startup. This market need inspired him to change directions and create his own technology advisory and consulting business called Ekta.
Ekta is focused on comprehensive technology solutions and has had over 100% revenue growth since its launch in 2018. The company provides customized services from cybersecurity, data science, and custom software development, helping companies understand what new tech is worth adopting and how to integrate it into their current operations.
In this member spotlight, James Barkley, founder and CEO, and Talish Barmare, Marketing & Data Science Lead, describe Ekta's startup journey and what's next.
Where did your idea and value proposition for Ekta start?
Ekta's founder, Jim, moved to Chicago to work for a government-backed manufacturing startup. As he was building a team, he realized that the talent pool was a big challenge in Chicago. Just finding one qualified DevOps candidate took nine months. Top tech talent in Chicago has a lot of scarcity. We see big tech companies like Google and Facebook gobbling up a lot of the talent with an insatiable appetite, and we see the startup and mid-market community in the Chicagoland area dramatically underserved as a result. Many consulting and contracting companies exist to simply "turn the crank" on software production - our venture studio model is designed to have a more impactful partnership with incentive alignment across all parties.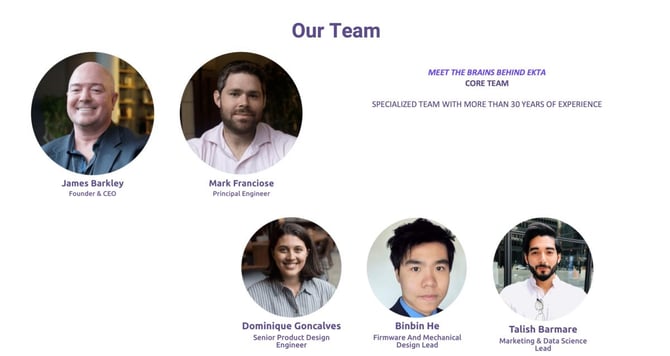 What led you to mHUB?
In our early years, we were a bit nomadic, wandering the deserts of downtown, west town and beyond. Our love of the built world and increased interest in IoT from our clientele caused us to do more product design and manufacturing in our line of business. Ultimately, mHUB is just the best fit. It's a great community with all the right ingredients and equipment necessary for us to be successful.
The most important thing about mHUB is the community and its connectedness with other technology members and accelerators, like MATTER & 1871. This gives us a great opportunity to collaborate on various projects and even take on R&D on promising ideas and take them to market. The great chemistry between the groups and having the network of network effect has really supported our efforts at Ekta.
Tell us about the growth you've experienced since your launch.
Since our launch, we have seen near 100% revenue growth every year up until COVID hit. We saw a decline, especially in the second half of last year, but are already on the upswing again. Our work is not just a fee-for-service model. Our business model is very much about planting seeds with strategic partners, and we have done that. Those seeds take time to incubate, and often include revenue or equity sharing. As these burgeoning companies and products mature, we expect to see increased growth from those investments. In addition to client projects and integrating our technology within the manufacturing risk assessment industry, we've made major strides in 2021.
What does the future look like for Ekta?
The future for Ekta is really promising. With markets opening up there will be an influx of fresh new businesses that will need technology expertise. Ekta takes pride in helping ideas to market and supporting great opportunities for innovation. We hope to conduct two data science studies within the next year in collaboration with the University of Illinois at Chicago and bring our in-house product Aegis to market.