In January 2022, mHUB launched a pilot program to drive equitable access for underrepresented founders. This first pilot of the larger mPOWER program was focused on women founders. The vision is to scale to other marginalized groups of business owners, including black founders, LatinX founders, and others. This program is part of the larger Catalyze initiative that mHUB is actively resourcing. Catalyze will support 4 programs for 5 years at a total level of $8.6 million. Like everything the team does here at mHUB, it's aiming high to drive real impact.


The Vision
mHUB is $1 million into this fundraising campaign and gearing up to launch these programs at scale. Catalyze includes four programs to rebalance opportunity in manufacturing entrepreneurship, including granted partnerships with community-based organizations to collaborate on stronger pipelines; two pre-accelerator programs (mPOWER and Landis Family Fellowship), which include stipends and microgrants for founders and engineers to de-risk the initial steps to business ownership; and an innovation scholarship fund to support commercialization for underrepresented business owners through grants and access. This prolonged approach reaches into different areas of the ecosystem, meeting entrepreneurs where they are by providing the specific resources they need at the right time.


Impact Today
The mPOWER Women Founders pilot, within the Catalyze initiative, began in January 2022 with 13 founders working to scale ideas into business propositions. Early support from Bank of America, Christopher Family Foundation, and Wintrust gave mHUB the seed funding needed to test the model.

The initial impact data is encouraging:
13 women founders
A mix of industries and stages
54% of participants were women of color
22 dedicated mentors and access to mHUB's core mentor base of 50+ more
35+ individual 1-1 technical training sessions
$51K in sponsored value
$36K in microgrants available to founders
An average increase in self-reported confidence amongst founders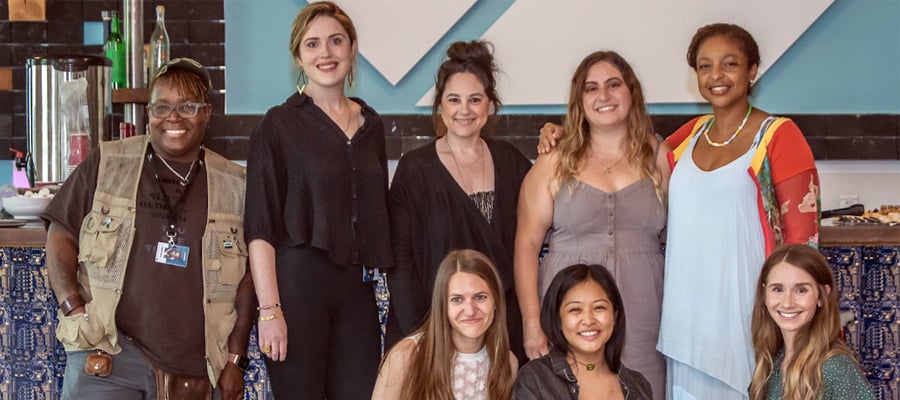 My favorite part of the mPOWER program was the connection with other women that were just as innovative and bright."
~
Coquie Hughes
, Founder, Pinatics
"As an entrepreneur you're used to riding the waves with ups and downs. Hearing other people's stories and learning what gets them up in the morning is really motivating."
~
Fiona Kalensky
, Founder, Therapalz

"[Through the mPOWER program] I've gotten very far with being a founder of a company. Much further than I would have had I been on my own."
~
Sybil Berry
, Founder, Lemonaid
mHUB also supported 8 fellows through the Landis Family Fellowship to develop underrepresented talent for product development and R&D projects. The program works to power the pursuit of business ownership for marginalized founders and extend their runway by plugging them into the gig economy at mHUB for supplemental income and to extend networks.
100% of fellows are innovators of color
50% are actively building a startup and pursuing contract jobs to fuel it, 50% are building pure service-based businesses
50% are women
Knowledge Gained
This has been an incredible year collaborating, learning, and growing with these program pilots. I'm encouraged by both the things that were reaffirmed and the new things learned from these programs.
Things we knew but were blown away by in impact:
Community is everything

because entrepreneurship is isolating. The value of this peer network was consistently been rated by founders as one of the most important elements of the program.


Separate is not equal. M

arginalized groups need and deserve safe spaces;

those can and should exist within existing

innovation communities

.


New learnings being implemented in these initiatives and across other programs:
There is real value in cohort-based programs.

The group learning aspect is so incredibly valuable for founders that we're pulling it across all of our programs.



Build, build, build.

Founders were overwhelmingly interested in more in-depth learning and programming in the prototyping lab. So, we're integrating more hands-on modules into the next iteration of the program.



We must always remind ourselves of the importance of grace. Running an inaugural cohort, evaluating what worked, and analyzing areas of improvement will continue to enhance future cohorts. I'm a perfectionist, and while I would have liked everything about this first run to be perfect, I have had to remind myself and our team that piloting is much like iterative product development. We worked hard to drive incremental impact and will take the learnings captured along the way to refine and scale to create transformational change.
What's Next?
mHUB continues to fundraise to support the full scale of Catalyze and is tracking to launch at scale next year. In the meantime, applications are currently open for the Fall cohort of the Landis Family Fellowship, with a growing number of applicants every day. We're also taking the learnings from this inaugural group and designing the next pilot cohort of the mPOWER program, which will be focused on black founders. More information on our partners and the timeline of that program will be announced soon. Stay tuned!
Interested in getting involved in the Catalyze initiative? Contact Shannon to start a conversation.